photo Ian Douglas
Mickey Mahar, Miguel Gutierrez, Age & Beauty Part 1
There's that tired analogy: the dancer is the paint to the choreographer's canvas. Sigh. For a medium that is activated by the people who perform it, it seems that dancers are often relegated to compositional elements—the choreographer just splashing and dabbing them into shape—rather than artists in their own right. Once, in a group conversation, a prominent Melbourne arts writer was surprised to learn that dancers sometimes even "contribute to the choreography." Suppressing that same exasperated sigh, we all politely informed her that this happens all the time.
I spoke with Miguel Gutierrez, an artist who cringes at the limited titles of choreographer or dancer, although he reputedly claims both. He was about to present a trilogy of works, collectively titled Age & Beauty, at New York Live Arts. "I just get so bored of the fact that we can't accept interdisciplinarity now without making a big stink about it. So many choreographers are also writers or are also painters."
Having been friends with Miguel for several years, I feel compelled to refer to him by his first name. In arts writing, this familiarity is sometimes frowned upon. I have found it impossible to divorce intimacy from dance and criticism, and prefer it that way. Miguel also has foregrounded intimacy and personal relationships throughout his body of work, and Age & Beauty has focused that interest.
"I feel like it's always, in a way, how I start. From thinking about who the people should be, and how they are in the work, that's always where it goes. And then I think—in the writing of some fucking grant [application]—I was talking about how this assembly of people is sort of like my idea of a future notion of a dance company, or something…knowing that the cast would be this kind of motley crew of folks [and] that I wanted to foreground the idea that 'Here is a group of dancers. This is the dance. These are the dancers.'"
We dancers refer to the "body," as if there is one essential body universally possessed, rather than distinct people with different histories, character and autonomy. A dancer's moment of execution is exactly the thing we observe; their own artistry revealed. Why then should it seem strange to centre conversation around a dance work on the dancer who danced it?
In Part 1 of Age & Beauty—Mid-Career Artist/Suicide Note or &:-/, there is Mickey Mahar—a 20-something, translucently white, avian male, his aloofness disguising sexual hunger. With no warning he is four feet in the air, unsure of how he will find the floor again, his limbs cartoonishly long. Mickey makes for a deliberately strange coupling with Miguel.
"I also think of the old adage, that the quickest way to see the difference between two people is to make them do the same thing. Right? So I love how it highlights this insane difference between Mickey and me. A place that Mickey and I really meet is in our shared interest in this hyper-specificity. You know, like anal let's-go-for-it kind of dancing, because he was trained as an Irish step dancer. And he's incredible—he's like champion calibre."
photo by Ian Douglas
Miguel Gutierrez, Age & Beauty Part 2
In Part 2: Asian Beauty @ the Werq Meeting or The Choreographer & Her Muse or &:@&, Miguel brings together his three longest-running collaborators: his producer Benjamin Pryor, lighting designer Lenore Doxsee and performer Michelle Boulé.
Boulé's reputation precedes her. Her work is performance and when she is at work you marvel at it. It's hard to detect a trace of self-consciousness because she's so attentive to the job of performing. In Part 2 she performs the entirety of her role from Miguel's Last Meadow (2009), including her now-famous James Dean impersonation, all in hyper fast motion. It's a race between her and the work. Inexplicably, she never falters, arriving in precarious place after place with utmost assurance at lightning speed. How does she arrange herself for a half-second and imprint the wholeness of that moment in your mind, and do this every second?
In Part 3: DANCER or You can make whatever the fuck you want but you'll only tour solos or The Powerful People or We are Strong/We are Powerful/We are Beautiful/We are Divine or &:'///, Miguel has consciously brought together a queer collection—his "motley crew"—of people who wouldn't instantly be identified as a group of dancers. Eight-years old, 64-years old, male, female, gender-neutral, black, white, small bodies, big bodies, but the work doesn't codify or obey performative expectations of those labels. The artists simply share this dance together.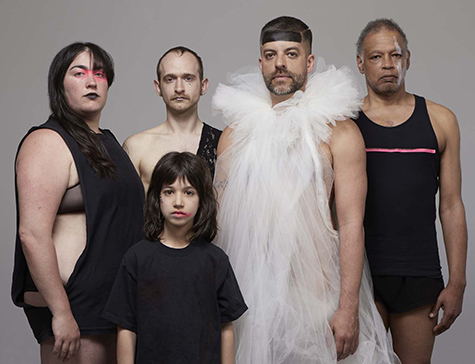 photo Eric McNatt
Miguel Gutierrez & collaborators
"It's become almost alarming to me when I see dancers who don't seem to have any kind of self-consciousness around that. Everyone's between 25 and 35, often they're all white, certain kind of body, and even a practice that feels uniformly shared. It just seems kind of strange, that that's just an inherited idea.
"At some point it became interesting for me to really look to theatre and to film as a kind of inspiration for how casting is thought of, where you're getting these specific, different people to fulfil different visual representations. Because, of course, visual representation is a part of (Ha! 'a part of!!')—an enormous part of the experience when you're an audience member.
"But I feel like we're just entering this moment where it's impossible to not think about who we place on stage. It just feels so major to me. Especially in this moment of discussion of representational politics in this country with the Black Lives Matter movement and especially in queer politics—the emergence of transgender discourse becoming really the frontline. It just feels like as far as I'm concerned we're forever shifted. And dance can choose to stay behind or move with it, you know? Or even advance it, I'm not sure yet."
This article has been distilled by Rennie McDougall from a conversation with Miguel Gutierrez which appeared on Culturebot.
Read Jana Perkovic's vivid account of DEEP AEROBICS, in which "Gutierrez employs every weapon in the arsenal of immersive performance to create a collective dance experience…that soon [has] us rather un-self-consciously dancing, touching walls, rolling on the floor, fondling each other and undressing to a serious level of nudity as the space heats up."
See also Sophie Travers' 2007 interview with Gutierrez prior to his working in Australia with Critical Path and subsequently with BalletLab on Brindabella.
–
Miguel Gutierrez, Age & Beauty Parts 1, 2, and 3, New York Live Arts, Sept 16- 26, 2015
RealTime issue #131 Feb-March 2016
© Rennie McDougall; for permission to reproduce apply to realtime@realtimearts.net