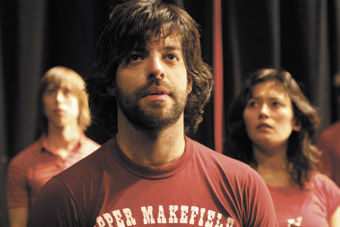 photo Alex Escalante
Daniel Linehan, Miguel Guiterrez, Michelle Boulé, from Everyone
WHEN I ASKED AMERICAN CHOREOGRAPHER MIGUEL GUTIERREZ WHAT HE HOPED TO ACHIEVE ON HIS FIRST VISIT TO AUSTRALIA HIS EMAIL READ: " ONE OF MY RECENT GOALS IS LEARNING HOW TO OWN THE EXPERIENCE THAT I HAVE GATHERED FROM MAKING PIECES OVER THE LAST SIX YEARS, YET AT THE SAME TIME LEAVE MYSELF OPEN TO CHALLENGE AND DISCOVERY… THAT SOUNDS VERY GIFT CARD I KNOW…"
This reaching for insight whilst deflating any emerging pomposity was what originally interested me in connecting Gutierrez to Australian artists. I saw him perform an excerpt of Retrospective Exhibitionist & Difficult Bodies at Danspace Project in New York in January 2005, during a visit for Critical Path to the annual Arts Presenters conference. I was struck by his self-mocking yet moving performance to a recorded after show-talk. Gutierrez' notes were disarmingly honest:
I looked at that video of a show we'd done at Jacob's Pillow and just laughed at how I sounded like a retarded valley girl. How can anyone (including me) believe any of this shit? It suddenly occurred to me that artists' ideas are so important and meaningless at the same time.
Whilst in New York, I also heard about Shtudio, the weekly performance night Gutierrez was curating in an off-the-beaten-track Brooklyn studio. I was intrigued by the buzz he managed to sustain in a city burgeoning with artistic output. So when I heard, almost a year later, that Melbourne based choreographer Phillip Adams was keen to invite Gutierrez to choreograph for BalletLab, things began to fall into place.
With support from NSW Ministry for the Arts and The Australia Council, Gutierrez will lead a five-day workshop in May for ten NSW based choreographers entitled, What you think what you feel what you know to be real. He will also give a talk at The Drill in Sydney. Gutierrez's original description of the project for participants read:
Creating performance is a way of tapping into how we locate ourselves in our lives and in the world. As such we attempt to find out what our own personal 'truths' are and make them known in our work, or sometimes they seem to emerge from our creations. In this research workshop we will look at the idea of what it means to be 'real', 'natural', 'authentic', 'free' and 'open.' We will work with a variety of methods of improvisation that valorize these terms and see how they relate to our understanding of the conditions and contexts of our work as makers and performers.
Now that he is approaching the engagement he is again disarmingly open:
I am a bit intimidated by my own language in the description of this workshop, but I think that is a good thing. I have led tons of workshops but I have a feeling this one will be quite different…I always like to use workshops as an opportunity to explore something new and unknown to me. In this case I feel like I'm a sort of 'bridging space' trying to understand methods and ideologies that I have worked inside of but move into the next phase of my own work.
In Melbourne, Gutierrez will join BalletLab's third stage of creative development for their production, Brindabella, to be presented by Malthouse. He'll create a short work that will sit, as a tableau, within Brindabella. Phillip Adams writes of Gutierrez' intervention:
I am not interested in Miguel reacting directly to what has been previously conceived. He will take a section of our source, La Belle et La Bête, and re-position the story with his own interpretation. Miguel's interpretation is silhouetting and contouring the evolution of Brindabella—helping to shape the artistic process towards a more refined and symbolic work. Additionally, I am interested in allowing the BalletLab Company dancers the experience of working in a dual choreographic situation. The experience of forming new relationships with international artists will enrich their artistic and professional development within and beyond the project.
Gutierrez is equally inspired:
This is an unusual proposition and, coming out of just making two evenings of work, I'm relieved to have the context for this piece already set up. It's an exciting exercise. Also, I'm intrigued by the fact that Phillip's work and my work don't really look anything alike, so I feel like this gives us the opportunity to articulate what we're doing more clearly.
Representing a new generation of American choreographers, rarely seen in Australia, Gutierrez is well established in his hometown, New York. As well as his work as a curator for Dance and Process at The Kitchen, he is also on faculty at the American Dance Festival, is frequently resident at the Ensemble Studio Theater's Lexington Center for the Arts, and Danspace Project is co-producing his new work. He was a Movement Research Artist-In-Residence from 2001 to 2003. He has danced with Joe Goode, Sarah Michelson, Jennifer Lacey, John Jasperse, Jennifer Monson, Juliette Mapp and Ann Liv Young. In 2002, Gutierrez won a Bessie for his performance work with John Jasperse Company. He recently performed in Deborah Hay's O.O and in June 2007 will dance in French choreographer Alain Buffard's (not) a love song. Gutierrez was named as one of "25 to Watch" by Dance Magazine and "2005 Artist of the Year" by New York's Gay City News. Quirky projects such as his creation of the dance video Deceptacon for electro music outfit, Le Tigre, add to Gutierrez' appeal.
Since forming Miguel Gutierrez and the Powerful People in 2001, Gutierrez has created a series of productions with a critically acclaimed signature style. In 2002, the group presented 31 performances of its first evening-length piece, enter the seen, at Aqui the Bushwick in Brooklyn. The next production, I succumb, was presented to sold out audiences at Dance Theater Workshop's Splitstream series in 2003.
dAMNATION rOAD premiered in 2004 at The Kitchen, sold out for eight nights and won a Bessie for visual designer Christoph Draeger, an artist who had never worked in theatre. In addition to collaboration on these group works, Gutierrez and musician Jaime Fennelly performed their improvisation-based duo, Sabotage, at a variety of venues along the eastern seaboard and in Europe. Retrospective Exhibitionist & Difficult Bodies premiered at Dance Theater Workshop in 2005 and was the work which established Guitterez' name internationally at such prestigious festivals as Holland's Springdance. Springdance has co-commissioned Gutierrez's Everyone, which features nine performers and a new collaboration with musician Chris Forsyth. Everyone will premiere in April 2007. Gutierrez writes:
Everyone is about the world right now and right now and right now. Nothing is interesting. Everything is interesting. This is a huge failure. Nothing works. Nothing is going anywhere. There is nowhere to go. Everything is perfect. Everything is a perfect mess. I know now. I know who this is for. This is for us. This is for me. This is for everyone.
Alongside touring Gutierrez hopes to record the music he has been neglecting of late and talks about the need to "take a step away from creating to assess what to do next. I want to travel a lot and take in other ideas and questions and be released from my own…I want to learn again what it is to have an adventure." An Australian adventure beckons.
–
Miguel Gutierrez Critical Path workshop, May 21-27, www.criticalpath.org.au.
Information on Brindabella is available at www.balletlab.com/news.
RealTime issue #78 April-May 2007 pg. 30
© Sophie Travers; for permission to reproduce apply to realtime@realtimearts.net