Unmissable from the floor of the main hall of the Casula Powerhouse, the words "Have you seen MY Emily?" stretch grandly the length of a long mezzanine wall. On approach, you find it ends with a painting by Emily Kame Kngwarreye (Untitled, 1994) followed by six vertical video screens — a playful, experimental performative video work by Wiradjuri artist Amala Groom.
On each screen a woman speaks directly to you — as her partner in conversation or confidante as she comments on the exchange. It's like arriving at a party and being rapidly addressed by a succession of eager strangers, six of them, taking turns that require you to shift attention from screen to screen, person to person and from a position of ignorance (especially if you arrive part way through) that requires you to piece together this reconstruction of an unsettling encounter. But this fascinating challenge for the viewer doesn't stop there.
Glasses of champagne in hand, the women are elegantly outfitted and coiffed as discrete individuals — all of them played by Groom. But as the words flow, it dawns on you that three of these women, though differently attired, represent just one — the hostess for a reception — and that the other three are variations on Groom herself, the guest. What you are witnessing is in fact a dialogue but one distributed and multiplied to amplify a sense of party ambience, tension and subsequent reflection. It's a cleverly immersive and simultaneously disorienting device.
Even if you take in the work at its starting point (not common in the weird world of video viewing in art galleries) where Groom's personae lay the groundwork for the narrative, there's still work to do, to accommodate the diversity of voices and the dispersion of the narrative and ponder their purposes. The narration, delivered by Groom in present tense by all six characters at once, reveals that she is the guest of the wife of a former Prime Minister of Australia (the artist declines to name her). Groom, one of a number of Indigenous representatives to a UN event, is immediately wary:
"Me 1: This is my job as the performance of my cultural sovereignty to follow my feelings which have led me here to New York. [….]
Me 3: I fear this to be an opportune escapade for the former Prime Minister to shower us, the 'Indigenous Australians,' with alcohol and pleasantries so that he may exploit us in furthering his ever ambitious career pursuits. This is politics. This is all about optics. Do not be swayed; there will be photographs, there will be videos. Be diplomatic but do not leave the room empty-handed."
The former Prime Minister's welcoming speech, focusing on American race relations "in a room full of Aboriginal and Torres Strait Islander delegates," is for Groom, "not only distasteful but offensive." She turns her attention elsewhere: " Only minutes after arriving at the event, the artist, already frustrated to the point of exasperation, focused her attention on [the former Prime Minister's wife] who was conveniently sitting next to her."
Chorally, Me 1, 2 and 3 announce, "We are me," and Her 1, 2 and 3, "We are her" and the discussion commences with a "quite robust conversation spanning both religion and politics." But it quickly falters at the mention of political art, Groom's writing deftly gear-shifting between speech and reflection with comedic and satirical verve.
"Her 1: So what do you do for a job?
Me 1: I make political art.
Her 2: I need to change the subject.
Me 2: I would normally just say I am an artist, but I am provoking this lady into having a semi-uncomfortable conversation with me.
Her 3: How do you contribute to the Gross Domestic Product?
Me 3: I still subscribe to the Black Tax which means that Aboriginal peoples should be receiving a percentage of the Gross Domestic Product to support our own political, social and economic independence so that we may be self-determining on our own lands which the Colonial Project has stolen from our Ancestors and continues to steal from us."
The discussion grows particularly tense when it turns to the ex-PM's wife's proud ownership of the Emily Kame Kngwarreye painting referred to in the work's title.
"Her 1: Have you seen my Emily?
Her 2: I own a very expensive painting.
Her 3: I cannot pronounce Kngwarreye.
Me 1: In the sitting room? Yes, it's beautiful.
Me 2: Did she really just say that?
Me 3: And the world just stopped."
The repetition of "her Emily," "my Emily" and "Have you seen my Emily?" morphs into a grimly comic litany amid the ex-PM's wife's increasingly insensitive utterances.
"Her 2: This painting is 'authentically Aboriginal' and therefore is an extension of my own personal authenticity.
Her 3: I own a piece of your culture, can't you see? Have you seen my Emily?"
Me 3: One cannot purchase culture, it's not a materiality. Yes, I have seen 'your' Emily."
Preferring traditional Aboriginal art, the ex-PM's wife is afraid of political art. Me 2 comments, "She equates political and social commentary on contemporary society and race relations as being 'angry,'" adding and later repeating, "Hmmm, does she know the revolution is coming?" while Me 3 wonders, "Does she think 'angry' art is going to jump off the wall and go at her?"
Amala Groom has taken a conversation she experienced and elaborated on it to make explicit what she thinks the ex-PM's wife actually believes, rendering the woman's utterances ignorant, cruel and sometimes just unbelievably silly — as in Her's opening lines, " I am rich …. I am so rich" and when she sings:
"Her 2: I think you are also really angry, why are you so angry? Can't we all just get along? 'Kumbayah my Lord, kumbayah… '"
The viewer doesn't know which of the Hers' words are actual and which invented, but Groom adopts a tonal strategy that keeps all utterances on a similar plane with a simple vocal realism in which there is no mimicry, no differentiation between voices, little exaggeration, just a gentle flow of casually uttered sentences of largely similar length, the rhythm reinforced with the raising and lowering of champagne glasses. This approach tempers the sheer bluntness of the lines I've quoted, allowing them room to correspond with the laid-back, ironically well-mannered demeanour of all the women in this work. It allows us to be amused, shocked here and there and yet contemplative. Have you seen MY Emily? might come from a place of anger (at the ex-PM's wife's comments) and it might well engender anger, but Amala Groom has fashioned a seductive video installation that implicates the viewer with face-to-face engagement in a casual conversation which seduces us into becoming attentive listeners and amused observers.
One of the most striking characteristics of innovative Indigenous art practice over recent decades has been the extent of artists' inclusion of images of themselves in their works (Fiona Foley, Christian Thompson, Warwick Thornton, r e a, Tracey Moffatt to name a few working in video), not simply as self-portraiture but as personal statements of connections with country, culture, history and community, as well as satire, as in the video works of Richard Bell. In her first major commission and institutional solo exhibition, Amala Groom has extended this practice with a work that is at once personal, satirical and formally innovative.
–
Have you seen MY Emily? (2017), artist Amala Groom, curator Adam Porter, commissioned by Casula Powerhouse, 6-channel digital video, 9′ 56″; Casula Powerhouse Arts Centre, 30 Sept-19 Nov
Amala Groom is a Wiradjuri conceptual artist whose practice, as the performance of her cultural sovereignty, is informed and driven by First Nations epistemologies, ontologies and methodologies and articulated across diverse media. In 2017, Groom's work has appeared in The Public Body .02, Artspace; System of Objects, National Art School; Moving Histories Future Projections, a dLux Media Arts exhibition toured by Museum & Galleries of NSW, 2016-17; and in Visual Bulk, Hobiennale 2017.
Top image credit: Amala Groom, Have you seen MY Emily? 2017, Casula Powerhouse, production still, courtesy the artist
The backlit silhouette of a lone female figure appears centrestage in a voluminous skirt of billowing waves. A soft light shines on her face as the sound of a turbulent current escalates around her and we are introduced, via recorded voiceover, to the Djurra Dreaming narrative of the Bundjalung nation of north-eastern NSW, of the mother summoning her sons from the sea, to the shore, to her, for she is also the headland.
This arresting image is immediately followed by the entrance of the three sons sliding on their backs to emulate the watery expanse from which they've come. The brothers, dancing with sticks which are at once paddles and subsequently spears, are depicted as archetypal men of the Dreaming. Featured solos set them apart as individual characters, while also serving to subtly shift us from the Dreaming into the here and now. A chair is placed on stage and the woman (Sarah Bolt) is reintroduced as a frail patient in aged care. We discover the three men are also her sons, who will also return, as her death is imminent.
Director Kirk Page's Djurra is important for so many reasons, first and foremost as a multi-disciplinary performative ceremony including dance, spoken text and physical theatre in which ritual is enacted.
On opening night Djurra is framed by coinciding events, the first of which is a large-scale sand painting created by local artist Digby Moran. The mandala's repetitious squares within squares act as a meditation, gently guiding the observer to quiet contemplation.
Immediately preceding the performance, at the base of the steps of the Lismore City Hall a large crowd gathers to witness a performance by local Indigenous girls' dance group Nini Ngari-Gali, organised by Sarah Bolt through NORPA . This is followed by a Welcome to Country ceremony in English and in Bundjalung Widjabul language given by Roy Gordon, who along with Rhoda Roberts is one of the cultural consultants on the production. One of the speakers was from a group of weavers commissioned to respond to the Djurra Dreaming history by creating a collection of traditionally woven artifacts installed in the foyer directly opposite the entrance to the theatre.
By the time we take our seats we have unwittingly processioned to our modern day dance ground.
Edward Horne's set is spare, uncluttered, rendering the stage space flexible. Two large woven mats hang as textured curtains upstage, utilised as vertical projection surfaces on either side. The large horizontal space between also serves as a projection surface, creating a triptych effect with images softened around the edges like floating thought bubbles. A large roving platform is manipulated by the cast to emphasise distance, from one continent to another, from one state, one room or one bed to another, while also serving as the mother's eventual deathbed — the exposed innersprings of a mattress, suspended directly above, appear to emulate that in-between space otherwise known as purgatory.
This deathbed image is augmented by a captivating dance momentarily taking us out of the narrative. Performed by Joel Bray it begins on the floor, gradually ascending through deft harness work. Bray embodies the spirit through a series of circular movements growing ever more expansive, from smaller sequential isolations, progressing to floor rolls, graduating to larger and larger leaps until he eventually takes flight, eschewing his (and presumably the woman's) mortal body.
In an earlier scene, the eldest brother played by Damion Hunter, introduces the harness by emulating the whirligig motion of a helicopter's rotating blades. By holding onto a short pole attached to the floating platform while directly addressing the audience, Hunter succinctly embodies the precarious dangers of combat his character has left behind.
This transcendental approach is extended to the execution of text, to varying degrees. Not quite abstract nor surreal but not entirely literal, the text was subtly stylised in places, notably by James Slee who plays the youngest brother, who has never ventured far from his childhood roots. With an obvious hip hop background Slee includes the odd quick alliterative analogy accompanied by equally subtle changes in a rhythmic delivery indicative of rap.
In Bray's first soliloquy I recognise substantial autobiographical elements meshed into his onstage persona as the middle brother who has purposefully distanced himself from, yet is staunchly proud of his familial origins — evidence that the text has been developed through a collaborative devising process.
In another of Bray's soliloquies — delivered after his mother's funeral and about men and mourning and upholding a code of male stoicism — I witness something deeply poignant followed by a sense of missed opportunity. This brief scene is framed by a ritual of funereal preparation performed in unison, of shaving, combing and donning the multi-purpose suit jackets that in this instance serve to speak of solemn resignation. It's followed by Bray's reminiscence of his mother's description of a cry. His physiological recollection of a lament as consisting of five short inhalations followed by a long exhalation as having the inverse properties of a laugh — five short exhalations and a long inhalation — so succinctly describes the way in which men are programed to compartmentalise emotion and distance themselves from attachment. As one of the most universally topical issues, this beat is over all too soon.
Djurra's text doesn't preach declarative fact at the audience, telling them what it is to be Aboriginal in any generalised sense. Rather, its potential strength lies in its revealing the Blackfella condition through character content, through circumstance. For Bray, it's what it is to be a white Blackfella when having to explain his race to each person he meets while travelling abroad. For Slee it's the significance of staying on country and maintaining kin connections, and for Hunter it's the obligation to share personal wealth with community while secretly paying for his mother and brother's upkeep while he's on tour in the armed forces.
The text became problematic where it felt simply under-rehearsed or broken in mid-sentence, forcing the audience to work harder than it needed to stay on track and when its delivery was not sufficiently well modulated to get a sense of the work's dramaturgical arc, ultimately compromising levels of intimacy and audience access. This could also be said of transitions between scenes, which were at times slow and clunky.
As an actor in the inaugural Black Playwrights Conference of January 1987, I can attest that even this raw state Djurra is testimony that we have come a long way from the early days where we were trying to establish an Indigenous vernacular within mainstream theatre. The use of parallel narratives is becoming a more widespread technique, illustrating the element of embodiment, of actually 'becoming' in order to access the Dreaming and using the theatrical space to sing those histories alive as seen in Bangarra Dance Theatre's Bennelong which features a vignette where all of the male performers declare, "I am Bennelong.
Kirk Page's strength as a director lies in his physical performance history and the inclusion of the harness work, aided by the continuity provided by Jade Dewi's choreographic hand. Video artist Rohan Langford consolidated images rather than introducing new information, while at low levels, Karl Johnson's lighting provided an atmospheric quality to the Dreaming scenes, in juxtaposition with the present day narrative, which was imbued with a bright clarity of the everyday. Composer Ben Walsh was also able to work across a broad emotive range without overpowering the work, lending an almost cinematic structure in the versatility of sound the work demanded. I feel this short season is not the end for this production. It would be good to see the actors given the chance to truly inhabit Djurra and for the production to continue to evolve.
Read an interview with director, Kirk Page about the making of Djurra.
–
NORPA, Djurra, director, devisor Kirk Page, cultural consultant Roy Gordon, performer-devisors Joel Bray, Sarah Bolt, Damion Hunter, James Slee, choreographer Jade Dewi, composer Ben Walsh, contributing artists Mitchell King, Blake Rhodes, set & costume designers Charlotte Hayward, Edward Horne, video artist Rohan Langford, lighting designer Karl Johnson, cultural consultant Rhoda Roberts, dramaturg Julian Louis, Lismore City Hall, 29 Nov-2 Dec
Independent choreographer, performance‐maker and teacher, Vicki Van Hout is a Wiradjuri woman born on the south coast of NSW. Vicki travelled to Lismore courtesy of NORPA.
Top image credit: Damion Hunter, Djurra, NORPA, photo Kate Holmes
Two works presented by Sydney's PACT in its Afterglow series — the organisation's principal program of works from emerging artists — offer distinctive visions. Thomas E S Kelly's Shifting > Shapes is a contemporary dance theatre exploration of the drama of shape-shifting in Aboriginal culture, and Fishhook's FEMMENACE is a contemporary performance work in which women face fears that are embodied in disturbing stage imagery.
Karul Projects, Shifting > Shapes
Choreographer Thomas E S Kelly takes a multifaceted approach to the subject of shape-shifting commencing with a mockumentary in which he interviews a trio of people who reveal that they have other selves — fish, cat and gorilla. Intermittently funny, the video conjures everyday fantasies of transformation and then moves on to something more serious: a solo dance performance imbued, at first impressionistically and then quite specifically, with Dreamtime shape-shifting.
The first stage of NAISDA-trained Taree Sansbury's performance is relatively abstract, drawing on but not mimicking traditional Aboriginal dance. Holding her centre of gravity low, she articulates her hands sharply at the wrists, steps firmly and becomes recurrently animal-like — but not literally —whether crouching, moving on all fours or dragging herself across harshly lit terrain. Kelly's soundtrack evokes desert — a bell, clanging metal, a hollow distant wind — but with urban beats, amplifying the sense of an ancient culture's timelessness.
With pronounced spinning and stamping (to an emphatic drumming), a sense of determination in the movement emerges, but oscillating with bouts of involuntarism — the body freezing or arms flicking forward. Hands now and then flutter over the heart, evoking depth of feeling in what looks like incipient, compulsive transformation, the body low, elbows reaching out, a finger drawing a snaking line in the dust. A voiceover tells a Dreamtime story of Dirawong, a totem lizard, protecting its people from the Rainbow Serpent and in the process becoming a headland. In a final phase, Sansbury stands still before us, struggling to name herself and succumbing to forces that recall the push and pull and trajectories of the earlier dance — crawling, rolling, arms thrusting, the body locked — but now as if possessed, while eerie electronic birdsong underlines her otherness. Finally, Sansbury utters calm acceptance of her shape-shifting being.
Sansbury's shape-shifting performance, made in collaboration with Kelly, is earthed, fluent, tautly controlled and convincingly driven. Shifting > Shapes is another fascinating work from Thomas E S Kelly, the maker of (MIS)CONCEIVE (seen in Next Wave 2016) in which Sansbury also appeared and, like it, exudes relentless energy which can at times blur the clarity of the choreography, as it did in Shifting > Shape's overlong centrepiece. Next to the rest of the work, the introductory mockumentary seems an odd fit, tonally and conceptually, but, strongly danced, Shifting > Shapes has the makings of an economically expressed and even more powerful work.
Fishhook, FEMMENACE
Three long illuminated poles dance in the dark. Light flares, No Doubt's "Just a girl" blasts forth and a trio of young female performers advance on the audience before roosting in an upstage scaffolding tower. This opening assertiveness of sexuality in Fishook's FEMMENACE is immediately put to the test in a string of quickfire exchanges that recall post's laterally logical way with words. Each, between Cheryn Frost and Cath McNamara, is speculative — What would I do if trapped by an Uber driver, was followed on the way home, attacked at home? Crash the car, scream…? — and complicated with the repetition in each of "What if it was a woman?" "What if there was a gun?" "A gun changes the whole situation." The first menace faced by women in FEMMENACE is essentially male and the conversation, even though delivered drolly, is a kind of panic control, subsequently played out by the trio leaping about on the scaffolding.
Menace is not felt in Tahlee Kiandra Leeson's langorous recital of an erotically witty account of a teenage sexual encounter in which personal euphemisms dominate — pinecones for breasts, lunchbox for knickers — followed by regret that "I was too much in the moment to see how he touched my body. Jesus Christ, my cunt hurts." This time an aura of sexual pleasure is followed by greater threats.
In the work's major scene, Frost in a totally consuming HAZCHEM outfit adjusts and breaks down the scaffolding. Leeson is locked in a black bag from which she eventually struggles barely free, swathed in black and aglow with tiny lights while a voiceover reflects anxiously on love — "we fit together and fall apart." McNamara appears modelling a glittering, sexy bridal outfit, adorned at crotch level with a sparkling, mysterious sculptural extension. In stark contrast, from bride to mother, she returns in a pyjama top, heavily pregnant, squats downstage and proceeds to pull out innards of cloth while slowly backing up, leaving a dark trail. The combination of sustained images of, I'm guessing here, suffocating love, fear of pregnancy and a singing HAZCHEM worker cleaning up in its wake made for a grim if not altogether cogent spectacle. The menaces evoked are multiple — including relationships and women's own bodies — transcending the work's opening bluntness and evoking a more complex womanhood.
FEMMENACE is a raw work from an emerging ensemble (the trio are recent University of Wollongong graduates) capable of creating striking images and delivering idiosyncratic writing. Once Fishhook achieve greater clarity in their image-making and tauter structural cogency, FEMMENACE will become more than a recollection of vividly provocative moments from bold performers.
–
PACT, Afterglow: Karul Projects, Shifting > Shapes, choreographer, composer Thomas E S Kelly, collaborator, performer Taree Sansbury, lighting designer Gigi Gregory; Fishhook, FEMMENACE, creator, performer Cheryn Frost, co-creators, performers Cath McNamara, Tahlee Kiandra Leeson, lighting designer Gigi Gregory, sound design Stephen Kendrick; PACT Theatre, Sydney, 22-25 Nov
–
Here are brief profiles of the emerging artists appearing in Shifting > Shapes and FEMMENACE.
Thomas E S Kelly, a Bundjalung and Wiradjuri man of Queensland and New South Wales, studied at NAISDA Dance College, graduating in 2012, and went on to work in dance, theatre, puppetry and as a choreographer ([MIS]CONCEIVE and 1770: A Tale Not Often Told with Founding Modern Australia) and composer. He appeared in Vicki Van Hout's Long Grass and Les Festivités Lubrifier and Shaun Parker & Company's Am I.
Taree Sansbury, a Kaurna, Narungga and Ngarrindjeri woman from South Australia is NAISDA Dance College graduate who performed in Force Majeure's two-year Culminate/Cultivate program, undertook an internship with Australian Dance Theatre in 2014, appeared in Vicki Van Hout's Long Grass, Victoria Hunt's Tangi Wai: a cry of water, Martin Del Amo's Champions, Thomas E S Kelly's [MIS]CONCEIVE and Branch Nebula's Snake Sessions for the Artlands Festival in Dubbo, NSW.
Fishhook's members met while studying at the University of Wollongong and developed a partnership for devising experimental theatre, prizing physicality in performance given backgrounds variously in gymnastics, contemporary dance, ballet, and BodyWeather.
Cheryn Frost, a Yuwaalaraay woman and lead-artist on FEMMENACE graduated in 2015 with a Bachelor of Performance (Acting) from UOW, co-devised, co-wrote and performed Smut & Half Truths (2016 Melbourne Fringe Festival), collaborated on and performed in PACT Collective's iDNA (2016), and wrote and performed Confessional in PACT's Salon #2: Possible abilities (2017).
Catherine McNamara has a Bachelor of Performance (Acting) from UOW and Communications and Media (Journalism) degrees, studied ballet and contemporary dance for many years, recently trained in BodyWeather, collaborated on and performed in ERTH's Prehistoric Aquarium and was a dancer/company member of Victoria Hunt's Tangi Wai: the cry of water.
Tahlee Kiandra Leeson has a Bachelor of Performance (Acting) degree from UOW, performed in young Australian playwright Ava Caruso's The History of the World From Now (Adelaide Fringe Festival 2016), collaborated with Bonnie Cowan on Two Marbelous Girls, a performance action at the Ultimo Community Centre, and recently appeared in re:group performance collective's Route Dash Niner Part II.
–
Top image credit: Taree Sansbury, Shifting > Shapes, PACT, photo Carla Zimbler
"The Daly River Girl began its life in 2013 over a cup of tea with a fellow arts peer," says Tessa Rose in her program note. The making of the performance has taken four years and includes several creative development periods; one with the Yellamundie Writers Festival in Sydney and another in Darwin supported by Brown's Mart where the play's director, Alex Galeazzi and Tessa Rose worked intensively on the script to balance the painful stories with lighter moments from Tessa's extraordinary life. This development resulted in a work-in-progress showing which, even then in its raw state, showed clear signs of the powerful piece to come.
Tessa Rose is a warm and compelling performer who speaks directly to the audience, telling her story in non-linear segments that move fluidly across her life. The audience follows her journey — her early childhood with a Seventh Day Adventist foster family in Perth, her failed fostering with three other families, her adult career as a successful stage and screen actor in Australia and on tour in Europe, her teens as she is reunited with her Aboriginal family in Daly River, her excruciating experience of domestic violence as a young woman. Tessa Rose bares it all in a scrupulously honest exposé of her life.
The play opens with Naina Sen's video projection of a group of young girls laughing as they sing "Ring a ring o' Rosie" and dance in a circle with hands held. Backing this is Panos Couros' gently eerie, suspense-filled soundtrack which evokes the essence of this play — the melding of horror and laughter in the life of a resilient survivor who recounts her stories with wry insight.
As the film ends, the lighting changes to reveal Tessa behind a scrim, her face framed in the centre of a projected artwork by Tessa's sister Jacqueline Marranya — a circular pattern of dotted pathways with tendril paths branching out, each animated with a colour reflecting the story being told. The animation is subtle, almost slow motion so that a path is often fully coloured in before being noticed and then fading to black and white only to be coloured in again, while the evocative soundtrack both punctuates and links the various segments of story.
Standing before a projected photograph of her younger self, Tessa recounts the experience of her first Shakespearean role in A Midsummer Night's Dream, reciting her lines as Titania. Phil Lethlean's lighting design and Jessie Davis' lighting operation are seamless as action shifts frequently from behind to in front of the scrim, into film projection, into images of Tessa's past theatre productions, into animation of Jacqueline's artwork. The technical complexity is smoothly done but Tessa Rose's charisma is such that some of the most powerful moments occur when she appears in front of the screen with nothing but herself and her extraordinary life story and addresses the audience directly.
Tessa Rose has performed with Sydney Theatre Company, Queensland Theatre Company, Belvoir Theatre, Adelaide Festival and Darwin Festival. She has featured on the ABC's award-winning show Glitch and Glitch 2, as well as Cleverman 2 and Redfern Now, but this is her first time as playwright. As she says in a press release, "One of the hardest experiences of writing my play was bringing up all the years of pain and anger inside me."
She does not shy away from embracing the hardships and trauma of parts of her life. There is the repeated refrain "falling… falling" backed by a teeth-gritting soundtrack as Tessa clasps her head in response to cruelty from a violent partner, a bully at school, a casually cruel family member and rejection by her Daly River family for "not being black enough." It is a story that is unfortunately all too familiar, but Tessa Rose's humour and extraordinary resilience offset the darker moments.
The Daly River Girl is a brave and engaging solo show from one of Australia's known and loved performers. The NAISDA-trained performer (National Aboriginal and Islander Skills Development Association) sings, acts, dances and she and director Alex Galeazzi weave these together with great understatement, not simply as a showcase of Tessa Rose's skills but instead as a journey through a varied life and performing experiences. The Daly River Girl is a great piece of story-telling by a compelling performer. I anticipate that it will continue to develop and refine and will captivate audiences around Australia and overseas.
–
The Daly River Girl, writer, performer Tessa Rose, director Alex Galeazzi, lighting designer Philip Lethlean, sound designer Panos Couros, video projection artist Naina Sen, artwork Jacqueline Marranya, animation Kingdom of Ludd; Brown's Mart Theatre, Darwin, 8-26 Nov
Top image credit: Tessa Rose, The Daly River Girl, artwork Jacqueline Marranya, photo Glenn Campbell courtesy Brown's Mart
North-eastern New South Wales is the home of the Bundjalung nation. Djurra, the title of a new stage work produced by NORPA (Northern Rivers Performing Arts) and directed by Kirk Page, an Indigenous actor, physical theatre artist, dancer and choreographer, means "lore." For Aboriginal and non-indigenous audiences, Djurra's talented creators will conjure a Bundjalung Dreamtime creation story entwined with contemporary domestic reality. The generous sharing of culture is a hallmark of Indigenous art, but so too is communication of the pain and anger felt over a culture betrayed.
Djurra features artists with considerable experience and culturally diverse backgrounds: dancer Joel Bray, a Wiradjuri man, Bundjalung dancer Sarah Bolt, actor Damion Hunter, actor James Slee, originally from Kuku Yalanji and Goa clan group lands, Lismore-based Indonesian choreographer Jade Dewi, visual artists Charlotte Hayward and Edward Horne designing set and costumes, musician and composer Ben Walsh with Mitchell King, a Yaegl Bundjalung man, and Blake Rhodes, video artist Rohan Langford and lighting designer Karl Johnson. A key role has been played by cultural consultant Roy Gordon, a Bundjalung Elder, actor and teacher who began his acting career performing in Waiting for Godot, performed entirely in Bundjalung language with English subtitles, during the Festival of the Dreaming in Sydney in 1997.
NORPA Associate Director Kirk Page is a descendant of Mulandjali people in south-east Queensland, Badu Island in the Torres Strait, Germany and Wales. His credits, spread across a 20-year career in the arts, are considerable, including acting (Redfern Now, My Place, Bran Nue Dae and Krush), movement consultation, involvement in Bangarra Dance Theatre's Rekindling Youth Dance Program, as Assistant Director for Sydney Theatre Company's Bloodland and My Darling Patricia's Posts in the Paddock, and as an emerging choreographer in Force Majeure's 2013 Cultivate program. During rehearsals for Djurra I spoke by phone with Page. He was clearly excited by the scale of the work, its cultural resonances and a distinctive collaborative process.
Kirk, tell me about the cultural sources for Djurra.
Djurra is inspired by a creation story from this area, from Bundjalung country. The way I'm approaching it is to create a highly visual, image-based experience of an epic dream state, a liminal space. So one line is the creation story and running through it is another line, a real-time family domestic story. In the dream story there's the Gami [grandmother] who created the three brothers whose families eventually populate the country. The story goes that she was on the mainland — we're not quite sure if she was grandmother or mother; there are different versions of the story — and that the brothers who can't find her have left in their canoes. She finds she's been left on the shore and calls out to the men. Essentially, she conjures up the waves and the wind and brings the men back. So they return home. We also found in our research a story of one of the men returning from a war at the centre of the Earth. Each of the men has experienced conflict. So we found strong themes around return — returning home and, quite simply, listening to your mother.
What will your audience see and experience of this departure and return?
There are moments of abstract image-making that relate to the elements — fire, water, wind. We're also working with the men to create personas inspired by elements — wood, metal, air. Djurra's like a contemporary dance piece with some theatrical scenes. I'm really interested in the audience feeling they're being taken somewhere.
Describe to me some of the stage action.
We've built a rostrum on wheels that moves around the space. It provides us with a domestic space and it's also an island — a sort of floating, liminal space. We have some rigging so there's flying, ascending and descending. We can tip gravity off-centre and have the men function in the space where they're not exactly upright. There are also some great scenes in which the men remember their youth; this week we've been looking at just what lore means and how it plays out in our lives and the extent to which we follow it.
How do you dramatise something like that?
At this point it's essentially storytelling, the men recalling moments in their lives when particular things happened. Were they signs, or callings? There are ideas around listening to the environment, having that 'bigger listening' to the world and the Earth and the elements.
How do you portray family life?
The men return, appearing one by one. There's also some really great audio and visual material. We're signalling the elements and the men with big video moments (Rohan Langford) and some incredible sound design (Ben Walsh). Ben really wanted to create all of the sound material from the earth, on country. So he's gone out to Evans Head and Lennox recording wind and trying to create the female whose voice is the wind.
How do you represent modern life in this interplay between contemporary life and the heritage of the Dreaming?
We've done it [in part] through the costuming. The men appear in suits. There are also scenes of death and the cycle of life. The men are returning dressed as if for a funeral. Or the suit is the colonisers' skin or a layer of protection or a way of creating status or being accepted through the formalising of attire.
You're directing a work with a lot of elements — music, sound, video, a set designed by visual artists, and Dreamtime and dance and domestic scenes performed by two actors and two dancers. But although a choreographer you're not credited as one for Djurra.
We started with tasks and building images. Jade Dewi, a local Javanese lady who's a contemporary dancer and choreographer, is really putting the performers through their paces and having them create personas and building on their capacities.The dancers are spectacular and I really like the way an actor's body interprets. We've been getting them moving, getting them confident first and building scenes.
When you say 'personas,' do you mean the performers are playing particular characters?
I've tried to steer away from the idea of character; it conjures up the false creation of an empty body. They are sort of characters — youngest brother, middle brother and the eldest. But really it's what they represent as archetypes rather than being naturalistic characters
Is the choreography influenced by traditional dance?
These are Indigenous bodies so they interpret and have a sense of movement that is their own. Some have performed cultural dances in the past. The movement will be contemporary dance — everything from walking to being quite still to quite virtuosic. It's not going to be beautiful, flowing movement.
In the press release for Djurra, there's mention of brokenness, eulogies and rage. How central are these ideas in a work in which you're sharing culture with a racially mixed audience?
In the black community there's often tragedy and lots of death, whether it's from suicide or substance abuse. We've tried to frame it as a metaphorical war. One man is returning from overseas where he's been fighting a war for another country. There's also the rage that comes from inherent anger around the position of a lot of black men in this country, whether they're on the bottom rung or at the top. There are problematic elements for both. If you're successful you have a voice but then there's judgement at community level that says, "Oh, you don't get to speak for us!" And there's the rage about our history. That's been a difficult thing to handle, so that we don't just have screaming heads on stage. [LAUGHS]. We're composing a journey through the story so it's not just angry. But you're definitely going to see people talk about what it feels like.
What will an Indigenous audience get from Djurra?
I'd really like them to see themselves onstage, to see their stories, especially the local people from this area, to see their own culture, their own history played out and having that put to the forefront on a platform that is magical and beautiful and heart-wrenching. It's really about inviting these people into the theatre space to see a story that's not someone else's; it's theirs.
And what might it mean for a white audience?
I'd like them to walk away with some insights and understanding about the day to day to lives of Aboriginal people and what lies beneath the rage and the hardness. And to also experience the beauty of these stories and our culture and who we are as people.
So it's celebratory as well as critical. What has making Djurra meant for you?
It feels like I've been having my own initiation of sorts. It's a really wonderful opportunity to have a voice and to work in an artistic realm in a way that I wouldn't usually do. Over the years, I've enjoyed the experience of devising theatre and I like sharing that skill and [at the same time] sharing another way of working with Aboriginal and TSI artists.
–
NORPA, Djurra, director Kirk Page, cultural consultant Roy Gordon, performers Joel Bray, Sarah Bolt, Damion Hunter, James Slee, choreographer Jade Dewi, composer Ben Walsh, contributing artists Mitchell King, Blake Rhodes, set and costume designers Charlotte Hayward, Edward Horne, video artist Rohan Langford, lighting designer Karl Johnson; Lismore City Hall, 30 Nov-3 Dec
Top image credit: Roy Gordon, Kirk Page, Djurra rehearsal photo Kate Holmes
One characteristic of improvised music in this century has been a growing commitment by some practitioners to engage with outback Australia. The last time I experienced Warmun (in a remote part of the East Kimberley) was with my partner Hollis Taylor. We'd just endured a night of hell when our campervan was overrun with hundreds of creeping, crawling, biting critters that had joyfully hitched a ride with us (evidently caused by accidentally parking on the site of a dead kangaroo). The following bright Sunday morning found us waiting for the petrol station to open with the hope of a new day. The most endearing quality of that place was that the petrol pumps were all painted up in traditional iconography — as were the rocks nearby. The rocks are still there, but the petrol pumps have been replaced with some corporate logo horror which shall remain as nameless as it deserves.
The relationship of white Australians to their Indigenous brethren remains a permanent news item — an open sore that never heals. The recent debate about colonial statues is typical of how contemporary a trauma it remains — certainly for blackfellas, and for many whitefellas too (see Stan Grant's "Between catastrophe and survival: The real journey Captain Cook set us on"). The early thugaroo Lachlan Macquarie, whose ubiquitous name is impossible to escape in NSW (he plastered it over everything he could get his hands on), had a new statue plonked down in Hyde Park as recently as 2013 under the watch of no less than Lord Mayor Clover Moore. Clover, how could you?
I arrived in Sydney in 1976 and a few years later I ran into one of the many contradictions of our confused Australian culture. While playing in a country and western band (covering completely ludicrously displaced tunes like "I'd rather be an Okie from Muskogee") in outback Queensland, I was gobsmacked to realise that, along with white audience supporters of small-time dictator Joh Bjelke Petersen, there were many groups of Aboriginal fans of country music. They loved the stuff. I couldn't, or wouldn't, put the cultural ramifications of that together, and so determined that I best stay clear of working with Indigenous culture as it would most likely turn out for the worst (not that there is anything inherently wrong with country music as originated and played well in the USA by citizens of that country; it was the unquestioned import that disturbed me).
In Warmun
And now here I am in Warmun, deeply involved with a regional residency organised by the intrepid Tos Mahoney of WA's Tura New Music. Tos has been building relationships with remote communities of The Kimberley for most of this century, and based on the trust he has nurtured, some extraordinary results are showing. I am contributor and beneficiary of this ongoing work.
The first thing that has to be asked is why anybody from Warmun would even talk to a whitefella, let alone collaborate on a musical adventure. Like many outback communities, Warmun is something of a refugee camp, with survivors of various nations who have had their land first stolen, then have been subjected to employment as feudal serfs, then kicked off their land again when the white owners were legally obliged to pay a living wage. In addition, Warmun was wiped out by catastrophic flooding in 2011 (there is a large fridge still sitting in the branches of a tree six metres off the ground) followed by the crooked activities of a builder and serial conman. Contracted by the WA Department of Housing, Craig Dale allegedly embezzled $3 million of federal money in the rebuilding of the town.
Earlier, in 2001, something similar happened when phantom payments amounting to thousands of dollars were made under the stewardship of convicted criminal Kevin Maxwell Curnow, causing the town's corporation budget to collapse with $1.5 million of debt. Somehow, the Gija people are a forgiving lot. It is a privilege to work among them.
The project: car wrecks as family
So what's the project? It's another manifestation of The Wreck — the transformation of a car wreck into a musical instrument [a project commenced by Jon Rose in 2012 and continued with Tura New music in 2016-17]. Wrecks are iconic markers of the outback. While mapping this continent performing the Fence Project, I started photographing the hundreds of wrecks that I came across. Leave a wreck long enough and it morphs entropically into the landscape, indeed eventually bedding down in company with the raw red constituent chemicals from which it originated.
You can't just rock up to an Aboriginal community and pick out your wreck and go to work; that would be a non-starter, as all the wrecks belong to someone. They are not simply detritus; former objects of mobilisation that have themselves become immobile are, once the spare parts have been selected, too expensive to destroy or move to an official dump. These wrecks are family. They signify a personal and sometimes painful set of stories. In an odd and contemporary linking between the natural and the supernatural, they are kin containing stories, travels, temporary shelter, memories of love, children, accidents, dogs, disasters and hope down the road.
Once a suitable wreck has been negotiated, there has to be interest and desire from the community to set the project in motion. Every move is one of consultation; otherwise there will be no community project — just a classic case of whitefella toiling in the sun with blackfellas standing around in general amusement waiting for whitefella to leave, maybe leave some money, probably not come back.
Lindsay Malay is our next door neighbour. He is part Aboriginal and part Afghan and very keen on this project, providing all kinds of help and practical assistance. But first things first: we gotta get smoked by Gabe. I'm wanting to get on with the project, but Tos assures me, no smoking, no project. He is right. I'm still not in tempo. So we get smoked and welcomed to country as it should be.
The white house
We are staying in the "white house." That's not an ironic political name; it just happens to be painted white. The structure is also built on stilts to accommodate the heat and the wet; this also means snakes and other inquisitive animals are unlikely to visit. Wrong. On the second day my shoes are stolen from the balcony. A quick survey of the surrounds around Lindsay's house finds dozens of single shoes masquerading as dog bones. Well, I find one shoe but the other remains missing (or dismembered). Our two canine crims turn out to be simply curious. They follow us around, more interested in displays of fighting than taking chunks out of our legs. "Us" is the excellent photographer Bohdan Warchomij, who has had guns pointed at him in his line of work in war zones, so deranged dogs amount to trivial pursuits. Despite signs in town demonstrating success with the de-sexing program, shoes and dogs become a running sub-plot over the next weeks.
Two days later, the sole of one of my "tough Australian made" work boots falls off. Much to my amazement, Steve (who runs the East Kimberley Job Pathways workshop) has half a shop's worth of work boot replacements right there in Warmun. The same cannot be said about the availability of functioning tools. It's a challenge. As foreman Kevin explains, "someone has greater need than we do for functioning tools" and who's to argue with that philosophical view on reciprocity? Barry, Walter and Glen are the Pathways home team and we get on well. Barry is completely skilled up on welding and unorthodox use of the Bobcat forklift, and he takes a keen interest in the redesign of the wreck. It is hard to assess what they really make of the project — possibly a passing apparition.
An available wreck
Initially, we ask about two suitable wrecks but for logistic reasons they are not available. Lindsay introduces us to a local man who has 'the' Wreck beyond the beyond. Ceremonially burnt, no wheels, engine rusted to chassis, barely any floor left, the panelling decorated with dot paintings and representative Rainbow Serpent generated not by human hand, but by 20 years of weathering. We could have it, but how to get our beautiful Wreck to the workshop? From out of outback central casting steps "Chook." With an excessively long white beard, ruddy face and an avalanche of expletives, Chook offers to bring it via the biggest forklift in town to the workshop and stick it…where was that? Somewhere dark where the sun doesn't shine, if I remember right.
Meanwhile, the temperature has risen to 34C in the shade, but the Wreck is not in the shade. I'm trying to show positivity by getting stuck into removing the drive shaft with an angle grinder. With sweat pouring off my face, extremely poor vision (due to a recent unsuccessful cataract surgery) and the thought that my left violin hand could be severed and sent flying across the yard at any moment, Kevin and Steve suggest we wait until the oxy-acetylene cutter is fixed — eh, maybe next week with a bit of luck. Whenever I see Tos, we break out with the Bernard Cribbins classic "Right Said Fred," a 1960s pop song about a hapless gang of British workers under-employed in the piano moving business. Our piano is the Wreck. Days start to tick by and our time in Warmun is limited by all kinds of parameters, a performance date being the key one. Such linear materiality is not much of a currency in a community such as Warmun, but they humour us. Enter Dallas and Deno. They have the tools, they will do it, they need to be paid. And verily it was done upon the next day. No surprises there as Dallas and Deno have the government contract for fixing most of the roads in the East Kimberley and are the proud owners of the biggest wreck site and car spare parts in Warmun. They know their stuff.
Last year's Wreck
Last year's Wreck was converted by the Bardi people of Lombadina and Djarindjin (170 kilometres north of Broome). An old Toyota 'Troopie' was selected, the engine removed (to be replaced by loudspeakers in the form of a V8) and a mass of ringing exhaust pipes welded to the side — it looked like a stunt vehicle from a Mad Max movie. A ladder and rack provided access to the roof and rotation hub section for players with the nerve to get up there. The bonnet (hood) was removed and welded to the side of the engine area for ease of access and was played as a large gong. Inside, the Toyota was stripped out of soft fittings, thus increasing the volume and depth of the principal resonating chamber. As is becoming de rigueur in these wreck projects, fence wire and strainers converted the vehicle into a formidable string instrument. More by neglect than design, all the doors of the Troopie still functioned, so cathartic door slamming became the thematic material for the whole three-week experience at Cape Leveque. Amplification, smoke and lights completed the show, which took place in front of the school, exactly on the border between the two communities (who very much run separate agendas).
This year's model
This year's Wreck, by comparison, is a tougher proposition, as it is literally a rusted bucket with no working parts (e.g. doors). But if the last one took after Mad Max, this one is clearly influenced by the sails of the Sydney Opera House — an institution with which I have had a special relationship at times!
There are three bonnets welded to the top of the cabin — clearly the Sydney Opera House! The hope is to encourage some of the exceptional painters at Warmun to get up there on a Bobcat and paint 'em up. There is a hinged percussion section bolted onto one side of the Wreck, and an abundance of 44-gallon drums in Warmun adds an auxiliary percussion section. The four fence wires are accessible both front and back of the Wreck. The engine and drive shaft have been removed to make way for speakers and other gear.
Despite the ruthless attacks and wilful stupidity of its CEO Michelle Guthrie, the ABC remains a central conduit to a functioning community here in the Kimberley. Morning show host Vanessa is following the wreck story from last year's manifestation at Lombadina Djarindjin to this year's project with genuine interest and curiosity. I demonstrate some of the sonic qualities down my phone live on her show. Later that day, my two constant canine companions produce a stirring performance of my latest composition, "Sonata for two crazed fighting dogs and violin obligato."
The Wreck: neutral cultural zone
Wreck could be a neutral cultural zone in which to create connections between European and ancient Indigenous vocabularies and avoid such trite Jindyworobakism retrofitting orchestral works with a didgeridoo or simply cutting-and-pasting the exoticism of Aboriginal culture within dominant practices such as jazz or opera. Composers of popular and unpopular music have eaten out the supermarket of exoticism in any case; there is nothing left on the shelf that is not tainted. A car wreck is so far removed from an accepted musical practice that it allows a return to first principles and little in the way of baggage — or maybe it's just a piece of sonic detritus (finally an end point to Cage's love of traffic sound).
The development of a music that discards much of the baggage of European and American cultural empire building is probably impossible to achieve in an internet age. But to my knowledge, there is no tradition of wreck music stretching back to the Renaissance and beyond; there are no popular music genres with car wrecks in the feature role like the electric guitar. (There have been performance art events with car wrecks, but these do not constitute an ongoing tradition.) In the context of Indigenous society, wrecks become the containers for a collection of embedded contemporary stories (I hesitate to use the word "dreamings" as I don't want to push a whitefella's presumption onto this proposition any more than I want members of the Warmun community to stand around singing "Kumbaya" or droning away on "Om"). The wreck is a canvas ironically clean of presumptions.
But why don't you just bring in some decent musical instruments for them to play? The arrival of a musical instrument in a remote community brings forth an ownership conundrum. It's either owned by no-one or by everyone (or at least everyone related through the kinship system of moiety). Apart from the pressure of humbugging, there are problems: who will replace the strings on the guitar, where are the drumsticks, how to fix the amp? A wreck is already part of the community — it can be transformed, but it doesn't need fixing.
Ready to go
Gabe gives us permission to set the Wreck up on the Joonba ground. This is the community place of spiritual and celebratory dance gatherings. Gabe, not knowing what wreck music is going to sound like, is hedging his bets: we are allowed on the edge, not the centre, of the space. Over the next days, we are visited by various age groups from the school; the teenage boys' class goes wild. They reduce some of the side drums to crumpled metal. Their teacher controls them with an ear-shattering cyclone whistle. Straight out of Picnic at Hanging Rock, a visiting party of Perth private school girls try their hand: they push the violinist in the class forward to bow the amplified fence wires. I have made samples of every aspect of the Wreck, including the non-existent motor and horn; with these well-audible in the live mix, and some quick demos of technique from time to time, the music just goes off.
The concert
The first half of the advertised concert features a junior class playing homemade harps designed and instigated by Catherine Ashley. Not your average symphony harpist, Catherine is up for all things challenging beyond the concert hall. Now it is common knowledge in the music business, don't go on stage with children or animals. Catherine's tiny tots have the audience hooked, oohing and aahing in seconds; then, almost on cue, it's time for the wild dogs to attack and all hell breaks out with screaming kids running helter skelter. Like a tropical downfall, it's all over as quickly as it commenced and the Wreck is cranked into action. Soon enough the energy of metal, fence wire, smoke and lights takes centrestage. As with last year's manifestation, after some initial shyness, it's often unclear who is in the tag team and who's just hanging out. Eventually the smell of food wafts into the performance area and…enough of all that wreck stuff. Everyone rushes to fill their stomachs. Food is a big drawcard.
On the second night of performance, kids of ages 5-12 play for several hours, in the course of which they go from beginners who have never held a drumstick or a bow in their hand to some sort of self-educated, fresh, joyful yet incomprehensible system, with waves of sound penetrating the night air. Some might say a music of chaos; others would say a music of polyrhythms. Intense, yes. They play long and hard. There's no food tonight. The power goes down and sound man Guy Smith disappears into the darkness under the gallery director's house to wade through all the squelchy cane toads to re-connect. The smoke machine is still pumping and Catherine, playing fence wire, looks like she is about to pass out. Meanwhile, the talented dancer who had committed to performing around the Wreck shows up on crutches, injured in last night's basketball contest.
The morning starts in Warmun at 5am with raucous mass fly-pasts of ravens, cockatoos, corellas and a host of other hyperactive avians. Amid the mayhem, pied butcherbirds start up a golden duet in the nearest highest tree (song post). Blinding sun reveals the day.
The symbiosis of staggering beauty and piles of trash is a common enough outback trope in both white and black communities. In Warmun, there are grey-haired nomads and the odd big art sale to think of, so large signs point to the trash bins. In the traditional way that South Sea Islanders left their pre-industrial trash on the beach and let the tide take it away, so the original inhabitants of Australia let nature take its course. It's just that with plastic, tin and wrecks, Nature needs a lot of years to take its course. Many inhabitants of Warmun simply don't see trash, and after a few weeks here I'm not sure I'm seeing it either. Aboriginal people have a casual disregard for the tenets, products and detritus of capitalism. It is not that they are wilfully refusing economic orthodoxy, they simply have another take on what's important, another take on ownership — a 65,000 year point of view linking the critical animate and inanimate forever. Things can be discarded, kinship cannot.
–
The Wreck Residency has been produced in 2016 and 2017 by Tura New Music in association with the Warmun Arts Centre and with the support of the Ian Potter Foundation and Healthway. The first Wreck performance took place in 2012 in White Cliffs, NSW. In 2013 a wreck was hauled 1,000 kilometres from White Cliffs to Carriageworks to be performed as part of the Sydney Festival.
Top image credit: Warmun schoolkids play wreck, photo © Bohdan Warchomij
The past is ever present in Sera Davies' new documentary Namatjira Project, its tragedy haunting the frame, its possibilities opening up the future. In the film's first moments, grainy images of Indigenous artist Albert Namatjira's funeral in 1959 are intercut with scenes from a contemporary stage play, Namatjira (2010), celebrating his life. This moving film is the result of an eight-year collaboration between the arts and social change organisation Big hART and Namatjira's descendants. It is also the story of a meeting between black and white cultures that is inspiring in its potential, even as it is coloured by an all too familiar Australian tale of exploitation.
At the heart of the film are two friendships. The first, between the artist Albert Namatjira and his mentor Rex Battarbee, is evoked through archival footage and voice recordings of the pair. Battarbee, a World War I veteran, severely wounded and traumatised by his experiences in France, embarked on a series of extended tours in outback Australia during the 1930s, looking for landscapes to paint. Namatjira encountered Battarbee's work in 1934, when the artist exhibited in the remote Northern Territory town of Hermannsburg (Ntaria). Two years later, Battarbee returned and took several trips into the surrounding desert with Namatjira, teaching him the basics of oil painting. It was the only training Namatjira ever received, yet by the late 1930s, with Battarbee's help, his extraordinary landscapes were being exhibited and sold in Australia's major cities. Namatjira achieved considerable fame, met the Queen and was the first Indigenous person "granted" Australian citizenship — an "honour" the artist unsurprisingly regarded with ambivalence.
The astoundingly frank racism of the era is shown in a newsreel detailing Namatjira's visit to Sydney's Taronga Zoo at the height of his fame in the 1950s. The presence of "a full-blooded native," the newsreel narration proclaims, provoked a clear reaction in the animals — "especially the apes" who recognised a fellow "descendent of the jungle." Despite such widespread attitudes in Australia at the time, Namatjira and Battarbee remained close friends until the former's death in 1959.
Between these sounds and images of the past, the documentary traces the development of the contemporary Namatjira stage production by the writer-director Scott Rankin and Indigenous performer Trevor Jamieson, working with Namatjira's family. The intimate artistic partnership between Rankin and Jamieson neatly mirrors the friendship between Namatjira and Battarbee, illustrating the wondrous possibilities generated when individuals from different cultures open their hearts, minds and knowledge to one another.
This is no simplistic feelgood yarn. Davies' film is frank about how fraught the meeting of black and white cultures can be, and how difficult it is for even the warmest friendships to transcend the power imbalances and institutional racism woven into Australian life. The entire Namatjira Project — encompassing the stage work and film — has been driven by the desire of the artist's descendants to regain control of Namatjira's work. Despite copyright on his paintings being bestowed by Namatjira to his family in his will, the Northern Territory Public Trustee sold these rights to the Sydney-based Legend Press in 1983, for just $8,500. This single transaction has left Namatjira's family in dire poverty, while the artist's estate has generated millions of dollars.
The collaborations around the creation of the Namatjira stage production portrayed in Davies' documentary are also difficult, informed as they are by the copyright controversy, the wider history of Indigenous dispossession and complex politics within the Aboriginal community. One of Namatjira's relatives, for example, expresses disquiet to camera about Trevor Jamieson playing the artist, feeling that the actor comes from the wrong cultural background. Davies' camera also captures the tense discussions with Namatjira's relatives about the representation of the artist's final years, during which he endured the pressure of having to support 600 members of his extended family. Clearly, the fruits of cross-cultural collaboration are potentially rich, but the process requires patience and understanding that can only be attained over time.
Namatjira Project echoes an earlier documentary in a similar vein, Catriona McKenzie's Mr Patterns (2004; see RealTime 62), which traced the friendship between art teacher Geoffrey Bardon and the Central Australian artists of Papunya in the 1970s. The fruits of that friendship were also marred by exploitative practices in the wider Australian art world. Indigenous painting is one of this country's great contributions to the visual arts, and like so much of our history, it is a field rich with little-known stories of cross-cultural collaboration — and the exploitation of Indigenous talent.
Big hART's Namatjira Project relates a fascinating slice of our history through a complex, multilayered story. It is also a tale about cultures connecting in ways that can enrich, as with this project, but, when mishandled, can be highly destructive. The film shows us that non-indigenous Australia has much to learn, and how we might begin to open up to that process. Addressing historical wrongs like the selling of Albert Namatjira's copyright would be an excellent place to start.
Read more about Namatjira Project.
–
Namatjira Project, director Sera Davies, producer Sophia Marinos, featuring Trevor Jamieson, Derik Lynch, Kevin Namatjira, Lenie Namatjira, Scott Rankin; Big hART, 2017. Currently screening nationally.
Top image credit: Rex Battarbee, Albert Namatjira (circa 1950), photo Tamara Mara
Cold time, in these southern trees the sap is running now, so I cut bark for coolamons with my son. I'm working on a shield as I begin to prepare for the season of Law, ceremony and initiation, fast approaching in the next few months. It is a propitious time for me to view Aaron Petersen's documentary Zach's Ceremony, which follows the journey of a young Aboriginal boy and his father from 2005 to 2016, when the boy becomes a man and goes through ceremony, comes into Law.
I approach the film with trepidation, glimpsing on the internet excited claims of "never-before-seen footage of secret initiation ceremonies!" I worry that Men's Business images will be shown to women and children, that our gendered controls of sacred knowledge, designed to protect the agency of both sexes, will be compromised. My fears are allayed as I find that only the pre-ceremony business involving the whole community is exposed. But the film opens another can of worms for me, in its exploration of the destructive intersections between Western masculinity and Aboriginal manhood.
Alec Doomadgee, a Waanyi, Garawa and Gangalidda man from the Gulf country up north, culture man and role model, is attempting to act as a one-man-village raising his son, Zach. Struggling alone in the city to provide the nurturing support traditionally undertaken by multiple aunties, uncles, parents, grandparents and older siblings, Alec is confounded by a conflicting imperative to forge his son into a fine example of the contemporary 'Indigenous success' mythology — an enterprising, neoliberal individual who is equally at home in lap-lap or blazer. But this story is not about him — it is about a boy who longs to come into his own knowledge and identity from the unenviable position of being the son of a great man.
His father's presence looms large both in Zach's life and onscreen, in a struggle that is sometimes awkward, sometimes poignant. The film is not narrated, although often it feels like Alec is attempting narration in front of the camera, or to curate his family's story in the public domain. It is difficult for any Aboriginal person, though, to avoid tour-guide registers when coming under the white gaze. That is how we survive in this colonial economy. An animated montage of the history of Indigenous dispossession in Australia would work as a standalone introduction to Indigenous issues for novices, but is an unobtrusive and unifying element of the film.
I wondered in the opening sequences how gender would be framed. I had a moment of worry when the first mention of a woman, Zach's absent mother, is quite damning and followed instantly by a cut to images of simpering, bikini-clad models signalling the rounds at Alec's boxing title match. Following his victory, Alec preaches a 'you can do anything if you work hard enough message' to young Zach. After this, the difference between this competitive Western masculinity and Aboriginal manhood is made shockingly clear when we see father and son on their traditional lands back up north.
This monumental shift recurs whenever they return to that remote community. Alec's code-switching to Aboriginal English always signals a reversal from masculine bravado to a humble gentleness grounded in connection to place and people. Zach's own shrill adolescence flips over into a rumbling, steady repartee with his cousins. Powerful local matriarchs, unrestrained by the straitjacket of Western throw-like-a-girl femininity, fill the screen and the viewer's heart with their enormous strength and wisdom. The ceremony the filmmakers are privy to involves these glorious old ladies leading a complex process of handing over the boys for their transition into Aboriginal manhood. Talking head shots of clan elders in a variety of locations maintain interest, while some occasional gritty hand-held realism is sensitively included without overuse.
We see the chasm between traditional roles and Western masculinity when Zach emerges transformed from ceremony and returns to his father's house in Sydney. Having been through ceremony together, there is a loving and playful intimacy that he shares with his little brother, a softness and deep capacity for care that is what true manhood is all about. But Zach reverts during his 16th birthday party to that lawless, unaccountable maleness that Anglo modernity bestows on all young men, and the viewer is at once devastated as well as relieved not to be left with a simplistic, romanticised message of 'walking in both worlds.'
Zach's Ceremony is ultimately not as uplifting as the adults speaking for and through Zach try to make it. But there is a truth in Zach's eyes and words (and even his sneaky Dave Chappelle references) that triumphantly subverts the powerful genres and agendas whirling around his image, making us connect with him intimately and care deeply about his fate.
The DVD of Zach's Ceremony will be released by Umbrella Entertainment in July.
–
Zach's Ceremony, director, editor Aaron Peterson, writer, producer Sarah Linton, cinematographer Robert C Morton, music Angela Little, art direction Brendan Cook, associate producer Alec Doomadgee, executive producer Mitzi Goldman, distributor Umbrella, 2016.
Dr Tyson Yunkaporta is a Bama fulla currently working as a senior lecturer at Monash University, with research interests in Aboriginal cognition, methodologies, memory and pedagogy.
Top image credit: Zachariah Doomadgee, Zach's Ceremony, still courtesy Umbrella Entertainment
Three guitars are held aloft, one played by the musician's tongue, and all of them are blasting out Acid Mothers Temple's euphoric brand of psychedelia. It's the kind of blistering sonic lather that is rarely encountered at 6pm on the stage of Melbourne's State Theatre. But tonight, and for a majority of Supersense's "festival of the ecstatic," the theatre and the Arts Centre that houses it, are doing their best to portray a different kind of space — one that is transformed and transformative.
Audiences descend into the belly of the Arts Centre via stairwells and passageways that gurgle and heave with a soundscape that anthropomorphises the building, suggesting digestion. Yet what is being absorbed, and by whom or what, is a question that arises repeatedly over the festival's weekend.
Memory Field
A thematic concern with dream, memory, the alien and otherworldly pervades the Supersense program. Amid these, and perhaps despite its name, Memory Field feels very present. A duet between Bangarra dancer Waangenga Blanco and PVT drummer Laurence Pike, Memory Field begins in a haze of static and a pool of light. The stage is divided in two, Blanco caught in the spotlight on one side, Pike sculpting the soundscape from behind his drum kit on the other.
Blanco incorporates elements of traditional movement from the Torres Strait in his choreography. This vocabulary is woven through the tormented lyrical style, as the dancer makes angular contact with the floor to crawl, roll and claw his way around the perimeter of the light's broad circle. Over the course of the performance, his charting of the light's limits turns its initial enquiring focus outwards, the movement actively labouring beneath the weight of increasing distress.
Blanco's circular journey is met beat for move by Pike's restless score, which teeters, staggers and shudders through the Playhouse. As the circle, or memory field, finally tightens around Blanco's writhing body, a tightness takes hold of Pike's obstinate patter, uniting the performance elements in a claustrophobic embrace.
The way in which the artists sustain this seamless tension gives the piece's exploration of memory (perhaps of ancestral culture) an ominous quality. This in turn reflects the oppressive cyclicality embedded in the act of remembering when the past itself is unforgettable. In a way that is uncommon throughout much of the festival program, Memory Field thus refuses transcendence. Instead it sets past and present in a deadlock, and holds the audience at this impasse, in a manner both challenging and memorable.
The Dream Machine
Touted as "the world's first work of art you look at with your eyes closed," The Dream Machine seems to come with the implicit promise of upending artistic convention. Conceived in the 1960s by Ian Sommerville, Brion Gysin and William S Burroughs, the work was originally intended to transport the participant into the phantasmagorical, using a record player and flickering light.
For Supersense's reimagining of the work, an ensemble of artists from across the program, including guitarist Dave Harrington, saxophonist Arrington de Dionysio, harpist Zeena Parkins and the festival's curator Sophia Brous, have been assembled to provide a live soundtrack for mass delirium. The audience is sprawled across the stage of the State Theatre, eyes closed, when the strobing begins. The music crests and light explodes across the hallucinatory field behind my eyelids. Hot shades of orange and pink burst and blur, following the blazing pace and squeal of Dionysio's saxophone veering across the multi-instrumental clamour. I surrender to the tide of colour and sound, slightly nauseated, but mostly thrilled.
We are given brief respite when Parkins and cellist Oliver Coates perform an interlude that is striking for the sudden sparsity that is felt sonically and visually. This transitory lull achieves a sense of subtlety otherwise lacking in the performance. For while The Dream Machine's hallucinatory powers are novel, its dynamics feel less innovative, the score relying heavily on two distinct peaks that intensify the visions one sees while listening. These render the work somewhat predictable, with the audience anticipating the return. That said, as I open my eyes to the sound of Brous muttering poetry, her breath catching on the edges of the score as it winds down, reality feels just a little too sharply focused, suspending a desire to keep dreaming in its wake.
The Ecstatic Music of Alice Coltrane
We return on Saturday night for a different kind of transcendent experience. Again, we sit on the State Theatre's stage, but this time the aesthetics of ecstatic intimacy are challenged by the numbers in attendance. The space's transformation into a long hall hemmed in by white curtains forces disgruntled patrons to spill out beyond the peripheries of the space.
The overcrowding is mostly forgotten as the Sai Anantam singers vividly animate the legacy of Alice Coltrane, musician and founder of the ashram from which they've travelled. During the performance, transitions from prayers on high to deep, gospel grooves occur repeatedly, each time drawing the listener a little closer to a conception of the divine that intertwines the cosmically vast with the exquisitely personal. This feeling of totality is encapsulated in the breadth that the synthesiser's ascending glissando lends to chants of victory, peace and bliss.
However, the Arts Centre's limitations continually impede inclusivity. Invitations are extended for the audience to make use of the songbooks they are handed on entry and the performers' sound levels turned down to allow the voices of the audiences to fill out the arrangements. But by design, the space favours loud, grandiose and amplified sound, muffling audience input. Consequently, when a handful of people do take up the invitation to sing, their unamplified voices fail to rise up in elation as they would, one assumes, in Coltrane's ashram.
Arts centres like Melbourne's only function efficiently when their Western, metropolitan bias is the default setting. A festival like Supersense directly and indirectly problematises this notion, as its access-all-areas approach denies the space any claim to passivity. Yet in such an initiative, the most effective interventions tend to be ones in which the performers instigate subversion, while the arts centre plays itself. Where an artist like Keiji Haino benefits from being able to pump his screeching sonic miasma into every acoustically submissive corner of the Playhouse, the songs of Alice Coltrane are lost in the ungainly process of imitation that the space undergoes in trying to create context for work that sits outside of its cultural ambit.
In this way, it's unfortunate that the crowd seemed resistant to joining the Sai Anantam singers in song, but it's also unsurprising. One doesn't enter a spiritual state of ecstasy through a side door or the back stage. Such a reaction relies on more than externalities. It must originate, primarily from within.
Overground
This is perhaps why Overground, the "festival within a festival," most closely resembles something of the ecstatic. Featuring performers from inside and outside the main program in an afternoon of collaborative improvised works, the festival transpires in the Arts Centre's foyers. In these spaces, encounters between artists and works may be accidental and ephemeral, the results unexpected and electrifying.
Such is the case in an hypnotic collaboration between Deborah Kayser, Peter Knight, Matthias Schack-Arnott and Cleek Schrey. Schrey, who on Friday night had conjured the falling walls of biblical Jericho through the refrains of Appalachian folk song, here seems to use his instrument to summon the demonic. The tortured whining and sighing he elicits from his hardanger fiddle urges on Kayser's wraithlike moans, so that for a time, the scene wavers on the brink of becoming a séance.
Curated in collaboration with The NOW Now and Liquid Architecture, Overground eschews assimilation of any one element into another. Instead, it instigates fluid, responsive exchange between the artists, the audience and the site's specifics. In doing so, the pretensions of the Arts Centre and its audience are dispersed, opening both up to the possibility of rapture.
–
Supersense, Festival of the Ecstatic, curator Sophia Brous; Arts Centre, Melbourne, 18-20 Aug
Top image credit: Memory Field, Waangenga Blanco, Laurence Pike, Supersense, photo Mark Gambino
Dancenorth delivers an intensely moving, lithe and at times visceral short work with Tectonic, touching on place, history, nature, colonialism, industrialisation, climate change and rising sea levels, on a site that underpins the premise spectacularly.
Tectonic is presented in two parts. In the second, a traditional song and dance cycle by the Urab Dancers from tiny, slowly sinking Poruma Island in the Torres Strait introduces us to the friendly people at the heart of this increasingly universal story of impending catastrophe and potential displacement. Their presence, part of an ongoing collaboration with Dancenorth, renders Tectonic personal. Ancient patternings of rhythm and gesture echo back and forth between the two parts of the event.
Townsville's unique beach site slopes down to the water, overlooking the Coral Sea and Magnetic Island. 180 colour-coded fitballs are uniformly half buried in the sand to form an enormous grid delineating the performance area. Dramatic side lighting constantly changing the visual sense of depth and colour, the resonant soundtrack and a tropical night sky with a slight wind moving the palm fronds, all collude ethereally to focus the senses on the dance.
At first, a figure in shimmering black and green, suggestive of elemental forces, stands near the tideline, her back to the action, imposing even at a distance. As the other six dancers, in loose flesh-coloured trousers and tops, enter the grid of balls, it becomes clear that there is a relationship between the far figure and the others, a kind of orchestration occurring via her gestures. At first this appears synergistic, the dancers bouncing on and flipping from the fitballs.
As the figure (an imperious Samantha Hines) edges closer in barely perceptible increments, the mood darkens. Suggestions of fear, aggression, exploitation and sickness appear and the dark figure now seems invasive and polluting, a harbinger of industrialisation. Sand runs through the dancers' fingers like time running out. They frantically bound across the fitballs, dive-bombing into the ground and rising up to repeat.
The central figure begins to remotely and remorselessly lift and drop the others, allowing them to almost stand before a flick of her hand fells them, onto their backs, splayed over the balls, gradually moving them all the way back to the shoreline. Once on the far side of the grid, they strip and slowly disappear into the water and darkness.
The work includes an outstanding duo by Ashley McLellan and Jenni Large, which is so close, intense, despairing and evocative of death that I'm anxious for the children nearby in the audience. The Dancenorth ensemble is fearless and expressive, and I see no flagging of energy between a show early in the run, and one at the end. The unhappy conclusion of the first half of the show is tempered by the cultural vitality presented by Urab Dancers in the second half. They continue to dance and sing even though the sea has advanced 30 metres in a decade to literally lap at the back doors of their homes. Their spirit suggests that if we act as a global village, we can work to reverse the havoc wrought by rampant industrialisation, everywhere.
The public flocked to (and in some cases, stumbled upon) the free show's twice-nightly sessions and milled along the foreshore, children on shoulders, smartphones recording the moment for social media. Dancenorth Artistic Director and Tectonic choreographer Kyle Page has taken public accessibility for contemporary dance to a new level, with a diverse audience of some 7,000 people engaging with the work on the Strand during its week-long run, part of the biennial sculpture project Strand Ephemera and coinciding with The Australian Festival of Chamber Music.
–
Dancenorth, Tectonic, choreographer Kyle Page, dancers Harrison Hall, Mason Kelly, Jenni Large, Ashley McLellan, Georgia Rudd, Samantha Hines, Jack Ziesing, Urab Dancers of Poruma Island, costumes Andrew Treloar, sound design Alisdair Macindoe, lighting design Tom Wright; The Strand, Townsville, 29 July-5 Aug
Top image credit: Tectonic, Dancenorth, photo Amber Haines
Rachel Storey's Palace of Memories is a brief, fascinating three-part documentary about Barrangal Dyara (Skin and Bones), a massive art project by Aboriginal artist Jonathan Jones that sought positive ways to close the gaps in Australia's collective memory of history, both Indigenous and non-indigenous.
Presented by Kaldor Public Art Projects this year, the installation Barrangal Dyara resurrected the forgotten history of colonial Australia's most astounding architectural achievement: the massive Garden Palace for the Sydney International Exhibition in 1879. Commissioned by Sir Henry Parkes, the "Father of Federation," the Garden Palace was heralded as something that would put Sydney on the world map. It housed government documents, census data and convict records, as well as huge exhibits from museum collections, including the earliest colonial acquisitions of Indigenous artefacts. Within three years it burnt to the ground under mysterious circumstances, and in a remarkably short period it vanished from the colony's collective memory taking with it records, aspects of which have been otherwise erased and denied since Federation.
But this is not the angle explored by either Jones' art project or Storey's ABC documentary. Both offer a gentle, reconciling journey of nostalgia for Australia's forgotten places and cultural achievements. Jones honoured the architectural achievement of the Garden Palace by placing thousands of gypsum replicas of Aboriginal shields where the enormous building's foundations once lay in Sydney's Botanic Gardens. In doing so, he also dignified the earliest collections of Aboriginal material culture destroyed by the fire — the very first artefact acquired by Captain Cook in Australia was a shield. However, Jones subtly challenged the 'primitive savage' stereotypes that informed those first collections, which wrongly perceived such cultural items as shields as mere weaponry and framed Aboriginal people as violent, placeless nomads with only a rudimentary culture and society.
Jones' installation emphasised the shield's ceremonial purpose. He invited Bangarra Dance Company to perform onsite and installed soundscapes of Indigenous languages and audio of a traditional grinding stone rather than the ubiquitous didgeridoo, illuminating the little-known fact that our First Nations peoples were grinding flour for bread tens of thousands of years before the Egyptians. Then came the installation's centrepiece — kangaroo grass beds placed at the site of the old building's dome, which originally housed a statue of Queen Victoria. Kangaroo grass was the native wheat planted and harvested for thousands of years in Australia — another forgotten piece of history revealed in this documentary by Bruce Pascoe, author of the definitive work on this topic in his book Dark Emu: Black Seeds, Agriculture or Accident? (Magabala Books, 2014). An aerial shot reveals that the grass beds have been planted in the shape of an Aboriginal symbol of two people facing each other by a fire, thereby inviting viewers to participate in a dialogue about invisible histories, shared histories.
In the Western academic tradition, the term 'memory palace' refers to a memorisation technique promoted by ancient Greek philosophers, in which visualised structures and landscapes in the mind helped scholars store vast amounts of information. In Aboriginal cultures, song-lines and Dreaming stories worked in the same way for thousands of years as internalised maps of memory for ancient knowledge. Rachel Storey's documentary offers insight into a process by which Aboriginal and non-Aboriginal people together might reclaim and retain cultural and historical memory through a deeper understanding of and connection to place.
Palace of Memories explores these elements with surprising depth and sensitivity for such a brief documentary. It's also a well-executed piece of neuro-linguistic programming, first offering the non-Aboriginal viewer the satisfying reminiscence of a proud piece of forgotten history, followed by an Indigenous critique. Conventional talking heads convey the feel-good content and informal interviews in outdoor locations soften the more challenging messages. Narrated diary entries from the era evoke colonial nostalgia, with fades to historical photographs and watercolours. This sanitises the violent reality of the fire, which Jones calmly reframes as a "cultural burn," a metaphor for Aboriginal firestick farming — burning off grasses in an act of regeneration and renewal. In this way, Storey piggybacks an Indigenous political message from the documentary's nostalgic foundation, as Jonathan Jones softly asks, "What else have you forgotten?"
Hand-held sequences of rapid shot duration depicting the installation process build tension to give us a sense of Jones' personal investment in his artistic vision. These elements combine to produce the feeling of enthusiastic, equal participation in an intriguing shared journey of historical revisionism, free from grief, guilt or recrimination. The documentary, like the artwork it examines, is a celebration, containing both truth and reconciliation while carefully avoiding a truth-and-reconciliation agenda.
–
Palace of Memories, writer, director, producer, camera operator Rachel Storey, editor Stuart Miller, camera operators Gemma Deavin, Micah Walker, episodes 1-3, ABC iView until 31 Oct, 2019
Top image credit: Barrangal Dyara, Jonathan Jones, Kaldor Art Projects, photo Peter Greig
This week, Australia rendered uncanny by 'white dreaming,' four decades of Adrian Martin's incisive writing on film culture and a digital collection of archival portraits of local artists fill gaps in our cultural narrative.
Mainstream Australian culture's insistence, in the past week, on continuing to traffic in the cheap comedy of Chris Lilley's blackface nonsense, warrants a return to a brilliant piece on ABC online in June by Stan Grant on the ways in which Indigenous culture is always both present and absent in Australian 'white dreaming' stories. Palace of Memories, a documentary on artist Jonathon Jones' work on the Sydney Garden Palace, pulls Grant into a "an eerie world, a world of loss and memory; a world both familiar and yet strange." He then presents possibly one of the most cogent arguments anywhere for Picnic at Hanging Rock as "a white dreaming story, an initiation into the land itself" and a key moment acknowledging the eerie presence of Indigenous custodianship and the myth of terra nullius:
"The girls are forever lost, the school headmistress commits suicide and those who are left have been forever changed, no longer 'British' but now altered into something else — becoming Australian. [Scholar David] Tacey says the film creates a 'grinding tension between the colonial overlay of society and the unconscious substratum of ancient and denied realities.' Tacey sees Australia as immature, inauthentic. 'This spirit of place,' he writes, 'is not mystical, it is social and geo-political.' Picnic at Hanging Rock and Palace of Memories are each a meditation on what scholars Ken Gelder and Jane Jacobs have dubbed 'Uncanny Australia.' In their book published in the late 1990s, they posed questions about how 'Aboriginal sacredness manifests itself in the public domain of the modern nation.' They saw Australia as 'unsettled,' disturbed by the recognition of the 'Aboriginal sacred.'"
Acclaimed Australian scholar and critic Adrian Martin (also a RealTime contributor in the 1990s) has launched a site archiving the accumulation of four decades of reviews, interviews, actor profiles, book reviews and essays about cinema. It's an extraordinary resource for lovers of film, presented in the low-tech glory of 1990s-style HTML. Here is an especially entertaining and astute take on that beloved Aussie classic, Babe, by George Miller, futher pinpointing the uncanny incongruity identified by Grant in cultural objects made for the global market:
"Babe is not bland, but it is bizarre. A student of Australian culture might take it as the perfect picture of our national, cultural schizophrenia – since it overlays a nostalgic evocation of British pastoralism with a thick layer of sentimental Americana. It is especially disconcerting to see a local comic icon such as John Doyle (of Roy and HG fame) dubbed with an American accent."
The National Film and Sound Archive has released a new collection of audio-visual and audio portraits of Australian artists from the 1950s to the 80s; each portrait is available to researchers and organisations for a fee. There are pieces on Emily Kame Kngwarreye, Rosalie Gascoigne, Margaret Olley, Olive Cotton, Banduk Marika and Martin Sharp. There's also some really interesting archival material: home movies from Philippe Mora of the Melbourne art scene in the 1950s and newsreels from the 1960s that cover the controversy surrounding the Blue Poles acquisition and the year when no Archibald Prize was awarded. This is the sort of stuff you'd otherwise have to travel to Canberra to look at — a fantastic resource for artists, writers and culture lovers. A documentary on filmmaker and photographer Tracey Moffat and members of Boomalli Artist's Cooperative is a particular highlight:
"Moffatt talks about growing up as 'the only Aboriginal kid in the school photograph' in the suburbs of Brisbane. She says: 'In the different mediums I work in, photography and film, I'm basically concerned with contemporary Aboriginal society. Be it people living in a traditional way or living in the cities and … I'm wanting to depart from a documentary or ethnographic mode. I just feel that nowadays people tune out when they think 'here we go again, another predicable documentary about Aborigines.'"
See excerpts from the collection here.
Top image credit: NFSA Archival image, Boomalli: Five Koori Artists — Tracey Moffatt, 1988
Good Little Soldier, a work by Australian performance-maker Mark Howett first presented in Berlin and newly staged in Perth by Ochre Contemporary Dance Company and The Farm, deals with post-traumatic stress disorder in soldier veterans. After an opening scene set in an outback kitchen, we are briefly thrown back to Frank's wartime experience in which he and his comrades capture a woman and a boy. Frank releases the boy to assist his colleague in pinning the woman to the floor. A bomb explodes and only Frank survives. The way in which his own family (wife Trish and son Josh) can be read as his enemies returned to haunt him is thus made clear.
Otherwise the work offers few allusions to either wartime experience itself or to how Frank recalls it. It is rather an exploration of the physical and emotional abuse that he inflicts on his family as a result of his trauma. The focus is therefore quite different from works like Angus Cerini's Debrief (1999) or the National Theatre of Scotland's Black Watch (2006), both of which included accounts of battlefield experiences and interviews with veterans about how events were replayed in their memories. One of the most terrifying stories Cerini related was how one man awoke with his hands around his wife's throat. Good Little Soldier is in this sense an extended dramatisation of such later, domestic events. But what is actually occurring in Frank's mind, or indeed the others' minds, is only darkly refracted — rather than explicated — through his abusive behaviour.
The strength of the piece lies in the way it segues between domestic situations which could plausibly be occurring in a 'real' world, into unambiguously hallucinatory scenes. Frank is silhouetted against the window as his ghostly, white-attired dead comrades climb down the walls and suspend his squirming body in the air (crawling down walls has been a choreographic trademark of The Farm since Lawn, 2004; watch trailer here). In another striking sequence, Frank, spotlit from above in the darkness, pushes violently against Trish, before she is replaced by each of the ghosts, and then Josh, in a circling wrestling competition that cannot be resolved — the characters endlessly swapping places and matching each other. Choreographically, the piece is dominated by awkward, violent grappling and pushing: a messy rolling and bumping of bodies which form clumsy, writhing piles or temporarily balanced, off-centre structures, before tumbling down. As with Lawn and other works from The Farm, dancers hang off each other from unusual points, such as the head and neck. Faces seem more sites to push fingers into, or to wrap palms across, rather than sites of expressivity.
Good Little Soldier is episodic with each semi-pedestrian set of gestures, or slapping and physical configurations, caught in repetitive cycles. This has a nasty, imprisoned feel to it, but the production is otherwise somewhat flat emotionally. Frank finally raises his hand to strike Josh, and at one point he dons Trish's dress before slamming himself repeatedly against the wall. These two acts of shocking violence against his loved ones, and, by implication, against himself (to hit Trish is also to hit himself), act as markers within the protagonist's breakdown. But otherwise the transition from opening to conclusion is horizontal and open-ended. Each scenario is established before being repeated with minor variations, ending with an exhausted collapse, or a character's departure. Dramatic development within scenes is rare, and their arrangement largely discontinuous. Therefore the affective content depends heavily on the superb music of Dale Couper and Matthew de la Hunty, together with Laurie Sinagra's sound design — as is consistent with The Farm's overall multimedia aesthetic.
Speakers are secreted beneath the seating banks such that leviathanic bass rumbles grind throughout the venue, engulfing audience and performer alike. This sense of the corrugated iron shed which the family inhabits as being something we too are trapped inside, is accentuated by regular entrances and exits through the auditorium, or a moment where a drunken Frank thumps under the seating, asking Trish to let him into the house. Couper and de la Hunty's immersive score runs from low frequency noise music (signifying the war and moments where Frank slips into trauma), through to pulsing synthesisers recalling 1970s kraut-rock, distorted blues/country-and-western guitar solos, as well as manic junk percussion akin to early Hunters and Collectors (which featured Greg Perano on broken water heaters). The overall effect is like a more than usually theatrical gig from The Birthday Party.
The overall dramaturgy of Good Little Soldier feels at best loose. The expressivity of the work echoes instead the slightly rough aesthetic of the outback-style design, post-punk music and deliberately fumbling choreography. It functions more like a series of related installations. This is arguably the most 'German' aspect of the show (referred to by Mark Howett in a RealTime interview), placing it firmly within Hans Thies Lehman's category of post–dramatic theatre. Good Little Soldier is best seen as a striking collection of thematically related set-pieces, giving the performance an absorbing sense of danger and possibility.
You can watch the Berlin production of Good Little Soldier below:
–
Ochre Contemporary Dance Company & The Farm, Good Little Soldier, concept, direction, lighting Mark Howett, choreography, text, performance Gavin Webber, Grayson Millwood, Ian Wilkes, Raewyn Hill, Otto Kosok, performers, music Dale Couper, Matthew de la Hunty, sound design Laurie Sinagra, dramaturg Phil Thomson, set, costume Bryan Woltjen; Subiaco Arts Centre, Perth, 9-30 July
Top image credit: Good Little Soldier, Ochre Contemporary Dance Company & The Farm, photo Peter Tea
Warwick Thornton entered cinema's global attention in 2009 when his debut feature film, Samson and Delilah, won the Camera D'or prize at Cannes Film Festival, but his presence has been long felt in the Australian creative community in many capacities — as cinematographer for Rachel Perkins' Radiance (1998), as a photographer and conceptual artist exhibiting at such spaces as ACMI and Stills Gallery, and now as a documentary-maker. Earlier this year, Thornton's We Don't Need A Map was the bold choice for opening night at Sydney Film Festival (whose program dwelled heavily on issues of race) and this month broadcasts on NITV.
The film takes the Southern Cross as its focus. Unbeknown to those who tattoo it on their shoulders and fly it on their flags as a symbol of nationalist pride, the constellation has its own myriad significances for Indigenous Australians, whose knowledge of astronomy is a form of mapping, ritual, storytelling and moral education, that exist as one with stories of country. Thornton takes us away from the city and into a number of Aboriginal nations, to hear elders tell their culture's story of the great constellation, which turns out to be a crucial wellspring in creation lore. Along the way, we also hear from academics and artists, offering a 360-degree viewpoint on what the Southern Cross means when stripped of its exclusionary and muddle-headed political connotations.
Press materials describe the film as a punk roadtrip doco, with irreverent sequences involving bushranger puppets and dioramas, but it has much broader implications: Australia has a problem relating to the past, as if history has only recently arrived young and free in this most ancient continent, and Thornton proves himself a forensic dissector of the myths, delusions and rhetoric that dominate the history wars from the Eureka Stockade to the Cronulla riots, to today. His vision is a long-sighted one, grounded in ancient protocol and law and faithful to fact and history in a way that both reveals and respects the secrecy of Indigenous, pre-industrial knowledge, while also showcasing the insights and wisdom of some remarkable non-indigenous Australians.
LCH    I learned heaps from this documentary. The image of the Southern Cross constellation reflected in the side mirror of a car door seemed to me to be a great visual symbol of the film's approach. What's your impression of the film?
TY       That reflected image idea is a big part of the knowledge Thornton is working with. In our cultures Skycamp in many ways is a reflection of the earth, with sites, stories and songlines in an "as above so below" kind of arrangement, stemming from the Turnaround event of creation that separated the material and spirit worlds into earth and sky. They reflect each other, overlapping at sacred sites and through the kind of ritual practice that is depicted in the film. An image of a person or entity is sacred because it holds the spirit of that thing — so the word for spirit and image is often the same in our languages. This is the reason we often avoid images and names of the deceased. It is the same reason the old men in the film erase the Southern Cross symbol following the ritual.
LCH    To me the doco spoke to how symbolism can be twisted and mutated. It made me realise that nationalist usage of the Southern Cross in contemporary Australia is the most grotesque form of cultural appropriation. What are your thoughts on this?
TY       As the old men said, that image is sacred and cannot be kept; it certainly cannot be marked on the body outside of ceremony. The people who adopted the Southern Cross image for flags and tattoos as a symbol of nationalism based on exclusion and privilege are really cursing themselves and their own people, from this perspective. But it is simplistic to frame this as a "white" thing, or Australian thing, and I think the film explores this in a more nuanced way. I was particularly struck by the switched-on Anglo people who were interviewed — their self-awareness and critical reflection are a credit to them and their community. No denial or defensiveness — their level of awareness and perception in critiquing their own culture is a great strength and does not diminish them — it makes them complete people. They are comfortable with discomfort and committed to truth as a way of life. They set a good example for others to follow. Duane Hamacher, for example, who is interviewed at a stone calendar site at the beginning of the film, has done exciting work in this field.
LCH    It is fascinating to learn more about Indigenous astronomy, which has an understanding of the negative spaces between stars. Thornton describes it as not just being about navigation, but interviews someone who says, "the night sky, for us, was the whole of philosophy." As one of the elders says, "all these stars are connected to all these trees," and all the stars are related, too, rather than being carved into discrete, lonely constellations.
TY       The idea of astronomy as a mere navigation tool is very industrial and utilitarian, and our star knowledge goes way beyond that. All the memories are up there in the stars — the night sky is a vast mnemonic device that is used to store terabytes of knowledge. These memory maps are used to navigate mind and memory over deep time, to hold ancestral knowledge so vast that it would be impossible to contain in print. This knowledge is also held in songlines all across the land, and in inner maps held in the mind, so they can be accessed without actually being in the place or even looking at the sky. This is our literature in oral cultures, and it was the same for everybody in the world until very recently in human history. You can see it in the early works of Western literature, like Homer's epics, which were oral texts initially before being written down. This orientation to knowledge and memory results in a way of knowing that some people call "pattern thinking," which modern science is now exploring through complexity theory and fractals; it allows us to see the whole as well as the parts and discern patterns in what some see as chaos, to make accurate predictions about weather systems and human behaviour. Some of us are even currently applying this Indigenous reasoning to economic trend analysis (and let me tell you, the outlook for the near future doesn't look good!).
LCH    The film talks about how the Southern Cross connects land and sky stories. Is there any information embedded in the film that an audience member without deep Indigenous knowledge would miss?
TY       That information is present, but difficult to see through a Western lens, particularly a perspective based on binary oppositions — male/female, light/dark, land/water, heaven/earth. It is all about the connectedness and transformative overlap between things that some see as opposite, the vast songlines that connect freshwater to saltwater, Skycamp to earth, men to women. The inland stories are connected to coastal stories, and these are stories of transformation and transition. There is also lots of latent information embedded in the film about women's business and men's business. With the canoe ritual in the film we see the common overlap between the two — when the old lady is singing we glimpse the power of women's knowledge and the old matriarchal authority, the edge of it where it overlaps in a common space that can be accessed by all the community. The rest is so secret and so powerful — you'll notice the women do not share with Thornton beyond this. The power and agency of women in our culture is seldom acknowledged in the mainstream — the Western lens frames us as patriarchal and abusive when it comes to gender relations. That's the binary thinking again.
LCH    I don't think that mainstream Australia really understands that Indigenous custodianship and care extends from the land through the air to the sky — that's the extent of colonialism's theft, too. Do you think We Don't Need a Map conveys the expanse of Indigenous ecology and thinking, this sense of a galactic robbery?
TY       This is not just Indigenous knowledge, but human knowledge that all people had until recently. Industrialised and colonial thought is imposed and kept in place through a kind of cultural brainwashing, disconnecting people from what they really are. It is not as simple as black and white — it is about industrial and non-industrial reasoning. Scratch the surface and you'll find that all around the world people all call the Seven Sisters constellation the same thing, with a similar story. Orion is always a hunter or warrior. Castor and Pollux are always two brothers. Aquila is always an eagle. All people globally are connected to these songlines in the earth and sky, and have only recently had their knowledge and communities fragmented. Most people in the world are dispossessed from not only their ancestral lands, but also their ancestral thought. All this disconnection and diaspora serves the interests of only a few people in this temporary experiment of industrial civilisation. The good news is, it is only a blip in the vast human story, and will not last. Who knows, maybe your grandkids and mine will one day be sitting under the stars and seeing the same story together again.
LCH    At one point, one of the elders greets the black night by saying, "Hey, night." That's a pretty unusual thing to hear in film: the treatment or characterisation of an environmental concept as a person or a being. I think that kind of sentience has mostly been seen in science fiction films: I'm thinking of the Russian classic Solaris, followed by Steven Soderbergh's remake, in which the ocean has a consciousness.
TY       Science fiction has a solid tradition of exploring the sentience of complex, self-organising systems. In literature, China Mieville probably does it best, although his books have not been made into films yet. It only occurs in fiction because the Western academic requirement of objectivity is a barrier to understanding our true relationship with the sentient universe. This academic view is placeless and seeks a mechanistic and broadly generalisable explanation of all phenomena, while the observer must pretend she or he does not exist while reporting it. The place where the observer stands, the standpoint within a dynamic landscape, must also be invisible. Indigenous knowledge is seen as subjective by the Western academy, but from our viewpoint the cosmos is communicating with us, so the things we see from our personal perspective grounded in our location are part of the story. So in the film you see that old lady singing the star story and including everything that happens in that moment in the song — clouds passing across the sky, birds flying, fish jumping…this is all part of that story of Skycamp and its communication with us in the moment.
LCH    There are parts of the film that betrayed its television production origins: I found that the emotional tone and generic registers were not well sustained, and the digressions into rap, punk road trips and bush puppet reenactments were distracting. I think it would have been stronger and more sustained if it was a pure essay film, as the PR material described it. But I really loved the connection between talking heads in the bush, and Professor Ghassan Hage, who talks about how the Southern Cross is embedded in wider discourses of racism and fear that "have made refugees into exterminable objects" and of a "culture of exterminability" whereby we refer to inanimate, sinkable "boats" instead of people.
TY       That discourse of exterminability is made possible by the false objectivity I mentioned previously, rendering the observer/speaker unaccountable and as invisible as the victims of their discourse. This is why the academy has historically de-emphasised subjective, supra-rational, diverse and place-based ways of thinking. I think the film does well in privileging these kinds of seemingly irrational and disjointed worldviews. It draws on a punk aesthetic to reflect this in the domain of contemporary film, and as you mentioned earlier it is an act of culture jamming. I don't see this work as inconsistent; the film is characterised by constant and deliberate code-switching, not just between dialects and social registers but between genres as well. At times this is jarring but it is supposed to be. Warwick Thornton achieves this code-switching effect masterfully, and with a genius and humility that makes him my new favourite filmmaker. And he is never the invisible observer — we often see him in shot while he himself is filming another angle. This visibility makes him accountable for the knowledge he portrays and speaks to his cultural integrity.
LCH    Yes — the way that Thornton casts himself as the filmmaker and central character, guiding us through the film, as well as the self-reflexive shots of him beside his cameraperson, is really important in showing that he's a fallible human. He's absolutely not playing the role of documentary's traditional and supposedly objective, onscreen authority figure, like Michael Moore. How did you think the old stories told by elders related to the Western film techniques of talking heads and time-lapse photography? Do you think there's such a thing as an Indigenous cinematic language?
TY       Diversity is one of the few things that Indigenous cultures and languages have in common. As such, there isn't really a single Indigenous anything, let alone a common cinematic language. Thornton incorporated the same kind of talking heads you see in docos like SBS's series First Australians, but with the old people out bush in cultural contexts he did something quite new. He brought the viewer into the yarn, sitting alongside the knowledge keepers, and he wove the protocols of Indigenous knowledge transmission into these intimate episodes — something that is glaringly absent in the talking heads sequences filmed in the city. It forces the viewer constantly in and out of a sense of connectedness, so that we experience a sense of loss and separation over and over, instilling a cultural desire for authentic connection that endures long after the film is over.
LCH    Another interviewee in the film, Dr Romaine Moreton, says, "I don't think identity is contained in symbolism." To me the film spoke to the limits and power of symbolism in personal, community and national identity. What did you think of her take on the relationship between identity and symbolism?
TY       The transient cultures of industrial civilisation must constantly be shifting the meanings of symbols and memes to suit the shifting goals of 'progress,' which are dictated not by cultural needs but by the requirements of continual economic growth and resource extraction. Identity, meaning, movements and metaphors emerging organically from the demotic in human cultures are constantly co-opted and absorbed, then twisted to suit the needs of the powerful. Note for example the shift in the last 30 years in the meaning of symbols and metaphors pertaining to the idea of freedom. Freedom no longer means escape from tyranny, but the right of business interests to act without accountability for damage done to systems, land and communities. In Indigenous cultures, the symbols and stories that make up our identities endure in our Law, retaining their integrity of meaning over deep time. Our wealth is knowledge, not money and resources. Power for us is about accepting accountability for protecting sacred knowledge. Warwick Thornton honours his accountability to the knowledge that is shared with him in this film, and demands that his audience does the same.
–
We Don't Need A Map, 2017, director, writer, cameraperson Warwick Thornton, writer, producer, cameraperson Brendan Fletcher, interviewees Adam Briggs, Dr Romaine Moreton, Prof Ghassan Hage, Baluka Maymuru, Bruce Pascoe, executive producer Marcus Bolton, in English, Warlpiri, Wardaman, Dhuwala and Dhuawaya, broadcaster NITV, 23 July
Top image credit: We Don't Need a Map
Objectillogica: a modern wunderkammer, curated by Megan Schlipalius, is an exhibition based on the cabinet of curiosity fetish of the past. This exhibition is thematically anchored in Eurocentric history but looks to the more recent past of Australia's colonisation and the curiosities of the Holmes à Court collection, presented at Vasse Felix winery, a striking piece of architecture in the rambling countryside of Margaret River. Paintings and objects are clustered across the walls, sculptures adorn the floor and several glass-fronted, custom-built cabinets house a diversity of treasures, from carved animals to woven hair and feathers and bronze sculptures.
The Wunderkammer of the 16th to the 18th centuries was a prodigious source of inspiration for the noble classes. It was a way of knowing the world, an expression of power, as though the collections of taxidermied animals, fossils, relics, shells, artworks and other artefacts could offer a portal into far flung exotic places. It was also an early expression of colonial ideology. As writer Ian McLean observed in 2010, "The taxonomies displayed in its rooms and cabinets were imagined as micro-scenes of the world. They are amongst the first fruits of a new world founded on European colonial expansion and mercantile acumen of global reach, and signal a burgeoning desire to not just re-order the cosmos but to know, own and control it."
As such, the Wunderkammer was also an early expression of Enlightenment thinking. It projected forwards, as much as it looked back to the past through the collection of ancient objects. Today there are contradictions inherent within the idea of the Wunderkammer, for while it was once taken so seriously, as a method of categorising, understanding and containing otherness, it is presently viewed as an odd and whimsical pastime for those who had too much time on their hands. In another guise it has also infiltrated contemporary art and Wunderkammering, a term dubbed by McLean, is a curatorial and artistic strategy of mixing, matching and clashing together objects from different times. It fits well within a postmodern and post-colonial logic and over the past decade there has been something of a revival of Wunderkammer exhibitions and their critical evaluation within the Australian context, including Curious Colony: a Twenty First Century Wunderkammer at Newcastle Regional Gallery in 2010 and Wunderkammer: The strange and the curious, at UQ Art Museum in 2015.
Sourced entirely from the Holmes à Court private collection, Objectillogica subtly unfolds and brings together a selection of Indigenous, non-indigenous, colonial and contemporary works dating from 300BC to 2014. Despite the Wunderkammer originally being a kind of proto-museum of contemporary museums, Schlipalius told me by email that "the arrangement of works was mainly inspired by the notion of an anti-museum. This approach was initially inspired by MONA's Theatre of the World — although at a much more modest scale! I attempted to put disparate objects next to each other while creating a visual balance throughout the cabinets." The MONA connection is significant, as David Walsh's institution is also founded on antagonism to the usual museological conventions of display and curation.
Likewise, Objectillogica is an anti-museum in that it eschews the traditional taxonomic systems of museums and early curiosity cabinets. This exhibition is also in tension with the minimalist hangs of many contemporary art displays, instead pushing to fill all available space and, rather than being arranged according to similitude or taxonomic rigidity, there are thematic currents running through the show that make it compelling as well as cohesive. What is taken from MONA's Theatre of the World is the Wunderkammering approach of mixing ancient, modern and contemporary, artefact and art and, rather than drawing from all reaches of the globe, it is largely located in the Australian and primarily Western Australian contexts.
The show considers a specifically Australian 'wonder,' where it is apparent that the collecting process, by Holmes à Court, has been driven by a keen eye for the historically significant, culturally relevant and occasionally obscure. There are exquisite works of art on display here and the obscure has been brought to the forefront in keeping with the traditional Wunderkammer, as a way to reveal and revel in the curious. At the entrance is a linocut by Rew Hanks titled The Hunter and the Collector. It features botanist Joseph Banks surrounded by a plethora of objects that relate specifically to Banks, such as Banksia flowers, May Gibbs' wicked Banksia Men and the prickly pear weed introduced by Banks. At his feet is an image of the jar containing the head of Pemulwuy, the Indigenous warrior resistant to colonisation whose head was reportedly sent to Banks in England. This image critiques colonial attitudes and makes evident the damage wreaked on 'new worlds.'
This is where the relevance lies in presenting a Modern Australian Wunderkammer. Like a transhistorical lesson, it offers ways to rethink events of the past and reconsider our place in the world; there is revelatory strength in mixing old and new. This makes it serious business, with biting political commentary, but there are also currents of humour running through this interpretation. There is the obligatory crocodile, in this case Francella Tungaltalum's Yirrikapai (The Saltwater Crocodile), in a nod to museological tradition. There is a toolkit made entirely of extruded plastic by the artist Eamon O'Toole. The Wunderkammer presented here is still a way of knowing the world, of teasing out the idiosyncrasies of the local and national context with all its inherent layers of meaning and playfulness.
–
Objectillogica – a modern wunderkammer, curator Megan Schlipalius, Holmes à Court Gallery at Vasse Felix, Cowaramup, WA, 21 May-1 Oct
Top image credit: Danie Mellor, Hunter Gatherer, 2008, mixed media with shopping trolley, image courtesy the artist
The dystopian vision of the ABC TV series Cleverman ratchets up the tension in its second season. In the real world, nervous speculation about property bubbles and a resurgence of the Global Financial Crisis has people consuming Orwellian content by the bucket-load in a frenzy of cathartic dread and vicarious release. To this time of great social and technological uncertainty, Cleverman's Indigenous writers and producers bring a unique and unsettling perspective.
For a couple of years now, some of our old people have been muttering about apocalyptic rumblings in the landscape and the Dreaming world, of ancient things waking up or descending to leave their tracks in remote locations. Those things are out there, moving, setting things in motion that will radically change the way we live. The warning is clear: when you stop moving with country, then country will move you, in ways that are seldom gentle.
These rumblings play on my mind as I struggle to navigate my urbanised Anthropocene environment littered with desperate infrastructure projects pressed like Band-Aids of concrete and steel to staunch the haemorrhaging of a fragile economy. I squeeze daily past work sites populated by an army of bored workers in hi-vis vests taking turns to hold a stop sign at the end of the mining boom, an effort to massage precarious unemployment figures. So it is with a sense of gleeful unease and anticipation that I enter the similarly gritty world of Cleverman's second season.
As First Nations people, the creative team behind the series is familiar with apocalyptic disruption to culture and community — for them it is not an imagined future scenario, but a non-fictional reality of intergenerational trauma from dispossession. As such, there is a rich vein of lived experience and narrative involving both contemporary interventionism and past policies of genocide and removal, informing an innovative approach to the overworked dystopian genre.
The first season explored segregation and the myths of primitivism and progress through the introduction of the "hairies" of Aboriginal lore, an ancient culture uneasily labelled by the authorities as sub-human, despite their superior strength, cultural complexity and long lifespan. This recalls similarly disingenuous narratives of racial supremacy and primitivism deployed during Australia's colonisation.
The second season boldly introduces the theme of biological genocide, referencing the many historical policies of breeding out the natives — like the Stolen Generations and the Victorian Half-Caste Act — which were the first order of business at Australia's Federation. These efforts at extermination live today in custom if not in law, with Aboriginal people constantly being asked by settlers, 'What percentage Aboriginal are you?' in daily acts of micro-aggression imposing White limits on Black identity. This experience of past and present threats to Indigenous existence informs the nuanced exploration in Cleverman of a similar 'final solution' imposed on the hairies, expedited in the plot through high-tech genetic therapy.
This innovation is developed by a corporate villain (Iain Glen, best known as Jorah Mormont aka Sir Friendzone from Game of Thrones) who is also demanding 'access to the Dreaming' to weaponise arcane Indigenous knowledge. This brings to mind the intriguing notion that the psychedelic hippies of Bill Gates' generation first conceived the idea of cyberspace through the appropriation of Indigenous ritual 'spirit journeys' that utilise Native American psychotropic substances like peyote.
In comparison to the brightly lit long shots and use of open space employed in the first season, the early episodes of season two are characterised by darker, more internalised settings, close-ups, mid shots and a claustrophobic mise-en-scène. This sense of enclosure emphasises the increasing confinement and restriction imposed on the protagonists by shady corporate and government forces. The tight spaces are relieved and even jarringly juxtaposed with newly introduced wilderness settings showing the hairies' traditional lands in inaccessible and remote mountains, with some breathtaking drone shots of waterfalls, bushland and panoramic high-ground country.
Even though there has been a discernible change of gears this season, the pace of the show is still painstakingly slow for the genre. Veteran Comic-Con nerds must be wondering, 'When will this Cleverman Koen get clever already and start kicking some butt like a real superhero?' Unlike the the supermen of the Marvel and DC franchises, this Indigenous hero is taking his sweet time to grow and acquire meta-human status. Although we see a non-lethal blast skill emerging (reminiscent of the "fus roh dah!" from the popular game Skyrim), it's a little unimpressive as superpowers go. Koen also has a spirit bird who begins to guide him, and Wolverine-like powers of regeneration. The power of his law-stick is still uncertain, but is likely to end up resembling Thor's hammer in its magical properties if the highly derivative pattern of Koen's ability continues to develop as it has.
Cleverman's essential premise draws on the real-life role of Clever Men within law; I find myself torn between a longing to see the traditional powers of Clever Men represented and a relief that these secrets are being kept out of the public domain.
Koen's older brother Waruu comes more fully into his role as a "Jacky-Jacky" — a collaborator with colonising forces and institutions against his own community who facilitates exploitation in the name of Indigenous development and national harmony. This is a sensitive and explosive issue in our communities, originating with native mounted police and guides in the early days of exploration, boldly examined in Cleverman. Apart from this Uncle Tom-like transformation of Koen's nemesis, the character development so far is fairly minimal in the transition to season two.
But black characters have always occupied an awkward space in superhero fiction, from Catwoman to Luke Cage, and I'm sure that over time character complexity will build with the awareness and comfort levels of the wider audience. In the meantime, I will be voraciously consuming every second of Cleverman season two online, and will consider it data well-spent.
–
Cleverman season two, directors Wayne Blair, Leah Purcell, writers Jane Allen, Stuart Page, Justine Juel Gillmer, Ryan Griffen, performers Hunter Lochard-Page, Iain Glen, Tasma Walton, Frances O'Connor, Deborah Mailman; ABC TV, 2017, weekly episodes from June 28
Top image credit: Hunter Page-Lochard, Cleverman, promotional image courtesy ABC
In One the Bear, "Teddy" is an insult traded between two bears, One (Candy Bowers) and Ursula (Nancy Denis), to imply the other is an ineffectual ally and sell-out to the cause. Stripped of its fierce, carnivorous connotations, the "Teddy Bear" also derives its affectionate moniker from the first US president, Theodore Roosevelt, who invited prominent African-American activist Booker T Washington to dine with him in the White House, an act that attracted a strident backlash from the segregated South, but nevertheless planted a seed for further momentum in the African-American civil rights movement.
Commitment to portraying the lived experience of those fighting for social inclusion defines the work of the genre-busting Black Honey Company, whose members hail from African, Asian and Polynesian diasporas. Known for its award-winning feminist circus burlesque, the company now aims to play to a younger crowd, without holding back its political punches. Written entirely in verse, One the Bear follows the Icarus-like rise and fall of One who shares her aspiration to reveal the plight of bears with her close pal, Ursula.
Both are dumpster-diving bears who spend their days avoiding being captured and harvested for their bile, a reference to a brutal traditional East-Asian medical practice. In this case, bear bile is proxy for the cultural essence the bears desperately try to protect from appropriation. One and Ursula also chase escapist highs in the shape of neon glow-sticks — Kryptonite-like hallucinogenics that simultaneously numb their willpower and fan faraway visions of transcending their situation. Meanwhile, they keep the munchies at bay, snacking from cereal boxes labelled "Captain Cookies" and "Columbus Crunch," some of many blink-and-you'll-miss-them postcolonial jabs.
Amid the gloom, One and Ursula find themselves in many a mirthful state, including a vivid demonstration of the consequences of over-indulgence by way of purging bright Silly String from every bear orifice imaginable.
The pair become skilled at fending off various sinister forces of domination — the bear protection authorities and the wily ethnographer-journalists threatening to extract their essence graphically. One, harbouring ambitions to transcend her situation, displays her aptitude for delivering her message in song and dance. Her wish is granted in a chance encounter with a hunter/talent scout — One spits out her empowerment anthem, "Growl with Me," putting her on the fast track to mainstream exposure, which turns out to be nothing more than a tokenistic lure to cast wider attention on the plight of the bear community.
Nancy Denis' zany versatility is well used beyond her role as One's more grounded sidekick. She juggles a cavalcade of characters that simultaneously question, provoke, echo and bamboozle One to great comic effect, including nosy journalists, bear hunters and other exploitative characters. As talent scout and eventual manager, Denis plays the enabler to One's own transformation from raw street talent into celebrity community spokesbear, and eventually into a disturbing slick and passionless pop puppet. Sporting a Groucho Marx nose and other cosmetic enhancements in the final act, One goes through the motions.
Throughout, hip hop artist, sibling and collaborator DJ Kim Busty Beatz Bowers provides infectious tunes and chest-thumping verses, with "All That Fame" and "Furry pride" notable offerings alongside "Growl for me" in One the bear's cautionary tale.
The penultimate scene which reveals One's status as expendable celebrity jolts us into accepting the logical yet unthinkable result of the Faustian deal that has been negotiated. A bear staring down the barrel of a loaded gun cuts close to the bone.
Installation artist Jason Wing has created a dynamic space, populating the stage with urban paraphernalia, garbage skips and rocks, all bearing sacred markings that blend with optikal bloc's digitally generated constellations of stardust to complement our heroine's journey to pink-and-green glory. The characters are dressed by Melbourne's Sarah Seahorse whose neon-augmented urban activewear hammers home the hyper-consumerist explosion.
Pitched as a "fairytale for the hiphop generation," One the Bear is aimed at but does not talk down to younger audiences. In 2016, Bowers connected with high school students through workshops held at schools around southwest Sydney to build local interest for this quirky partnership between Brisbane's La Boite and Campbelltown Arts Centre.
If this ambitious hour-long production occasionally feels crowded, it will doubtless refine with time. One the Bear is a stunning gathering of artistic talents and a timely allegorical warning about cultural commodification and its oppressive narratives. And Bowers and Denis' skilful, iconic buffoonery excites hope for life beyond this production for the artists' bear alter-egos.
One the Bear will play at Brisbane's La Boite, 10-21 October.
–
La Boite Theatre Company & Campbelltown Arts Centre, Black Honey Company, One The Bear, writer, concept Candy Bowers, performers Candy Bowers, Nancy Denis, design, composition Kim Busty Beats Bowers, dramaturgs, Claire Christian, Sista Zai Zanda, directorial eye Susie Dee, video design optical bloc, production design Jason Wing, costume design Sarah Seahorse, lighting design Daniel Anderson; Campbelltown Arts Centre, 26 May-3 June 2017
Top image credit: Candy Bowers, One the Bear, Black Honey Company, Campbelltown Arts Centre, photo Document Photography
Nakkiah Lui has appropriated — or been appropriated by — the bourgeois comedy of manners. Tellingly, she doesn't satirise the form, though now and then tips it into riotous farce, but uniquely centres Black is the New White on a well-to-do Aboriginal middle class family who come to acknowledge that, like their white peers, they can be oppressors of fellow Indigenous Australians and, when it comes to arguing over the black/white divide, they are sometimes their own and each other's worst enemies. On the surface, Black is the New White is wickedly funny, infused with Aboriginal humour — blunt, droll, barbed — and, for a middle class family, not at all genteel. Its subjects are anxieties about self, love, community, gender and politics, joked about but indicative of a deeper unifying concern about race. That's not surprising, even for a family like this at a remove from the grimmer aspects of Aboriginal life in Australia. Their insistent joking is more than communal fun; it's a political weapon and a collective defence mechanism.
For a white Australian audience, Black is the New White offers potential insights into a class of people rarely portrayed on stage or screen, though increasingly in evidence in the professional characters in Redfern Now (2012-13) and scattered roles in a number of Aboriginal plays and television productions. Ray (Tony Briggs), the father in this family and a community leader, fancies himself as an Aboriginal Martin Luther King, wastes time debating the qualities of lettuce types on Twitter, plays golf, objects to his daughter's relationship with an unemployed white experimental cellist and, when frustrated, hides in a virtual reality helmet (not turned on). And he's doggedly racist. It's beyond him to shake the hand of or offer a drink to the inadvertently naked, feckless Francis (James Bell), the boyfriend of his daughter Charlotte (Shari Sebbens). Ray growls, "How dare you be nude and white in my house."
The restless gravitational centre of Black is the New White is Charlotte's challenge to her father: that he acknowledge his isolation from his community, that his wealth is disproportionate and that he let through a clause in a Land Rights case that severely disadvantaged his people. This manifests as a furious outburst in the second act but we witness its gradual escalation in the first. Though successful in cases against mining companies in court, Charlotte nonetheless feels out of her depth and is determined to do an advanced degree in New York, to learn how to change the law, not merely exercise it. Ray thinks that Charlotte should take up his activist legacy, doggedly insisting that she not go to New York, but instead accept a TV offer and become "a black female Waleed Aly."
In Shari Sebbens' finely nuanced performance we watch the affectionate Charlotte grow increasingly frustrated, attempting to maintain a smile and lay claim to love, honesty and her own place in the world as her father and sister Rose bluntly lay out their opposition to her relationship with Francis. A successful LA-based designer, Rose (Kylie Bracknell [Kaarljilba Kaardn]) is hostile to the diluting of black blood with white — it's genocide, she claims, citing a 74% Indigenous marriage rate with whites.
Eruptions of confrontation aside, Lui wraps her play like a Christmas present with perpetual joking, amusing political jibes, Francis' gaffes, communal hilarity (including song and dance), the playful sexuality of the black couples, and the presence of a "Spirit of Christmas" narrator (Luke Carroll) who, novelist-like, fills in back stories while remaining unseen by his subjects. (It's a limited, thinly integrated role, though played with verve it aptly compounds a sense of the play as fable.)
Black is the New White could conceivably have been built entirely around a black family and a lone white guest, but Lui ramps up the tension and the fun with the eventual arrival of Francis' parents. Dennison Smith (Geoff Morrell) is a former 1990s right wing conservative parliamentarian and Ray's political enemy. Lui briskly reveals a man who cannot express love for the son he is determined to push into work by cutting off his allowance, or for his seemingly dotty wife, Marie (Vanessa Downing), whose loneliness and sexual starvation have propelled her into erotic discovery. The revelation is sadly funny in Marie's telling and Morrell conveys its impact with palpable anguish and physical collapse.
Lui's sense of humour and the performers' engagement with it never obscure depth of feeling, although at the end of the play the sheer scale of change, resolution and conciliation, as so often in classic comedy, can only be sketched. Thwarted lovers Charlotte and Francis are reunited by their now bonded fathers ("Yes, a treaty!"). There is forgiveness, faults are admitted, humility attained and, above all, as Joan (whose considerable role in his successful career is admitted by Ray) argues, the preoccupation with difference between black and white must not be obsessed over. (That theme hits home most palpably with regard to the identity of Rose's husband, Sonny [Anthony Taufa], ex-champion Aboriginal footballer, role model and banker, when he has a DNA test for an appearance on Celebrity Who Do You Think You Are?)
Nakkiah Lui's considerable achievement is to have created a propulsive comedy rich in jokes, pointed ironies and serious commentary that simultaneously spring from the lives of the play's characters, each of whom is deftly portrayed in word and performance, their souls bared and pain felt. Director Paige Rattray and an admirable cast do great justice to Lui's play.
The production's brisk pace allows a stream of politically incorrect utterances (from both sides of the fence) and painfully incisive remarks to fly by, many likely forgotten if cumulatively conjuring a nervy cultural and political context. Perhaps the sheer number of themes lightens the play's focus, leaving behind a warm 'she'll be right' aura, the kind of coziness often associated with bourgeois comedy. But as Lui has expressly stated, she didn't want this to be another play about death and depredation, and her play introduces a new world to its white audiences and doubtless Aboriginal ones too. Will Lui, an experimenter to date, be "appropriated" by the comedy of manners after her play's great success and write more in the same vein, or is she honing her craft and enlarging its range and potential?
It'll be fascinating to learn what Aboriginal audiences make of Black is the New White if the play gains a wider reach, let alone the likes of Andrew Bolt and the much put-upon David Leyonhjelm — would it be a simple-minded, "Black racism; I told you so"? A favourite line in the play asserts that blacks are not passive-aggressive, it's a white thing; that got a confirming laugh.
–
Sydney Theatre Company: Black is the New White, writer Nakkiah Lui, director Paige Rattray, performers James Bell, Kylie Bracknell [Kaarljilba Kaardn], Tony Briggs, Luke Carroll, Vanessa Downing, Geoff Morrell, Melodie Reynolds-Diarra, Shari Sebbens, Anthony Taufa, designer Renée Mulder, lighting designer Ben Hughes, composer, sound designer Steve Toulmin; Wharf 1, Sydney, 5 May-17 June
Top image credit: James Bell, Shari Sebbens, Black is the New White, Sydney Theatre Company, photo © Prudence Upton
There's an air of mystery and wonder about the work of Christian Thompson. What is it that makes this protean artist and his obsession with self-portraiture such an enduring fascination? We are told that he is exploring the construction of a sense of self, and the play of race, gender, nationality, sexuality and the rest. But what does this really mean? After all, there is no subject that is more conventional than exploring the concept of identity. It is the 'nature morte' of the 21st century. What is it that distinguishes Thompson's work?
Now we have a new survey exhibition curated by Charlotte Day and Hetti Perkins at the Monash University Museum of Art (MUMA), an opportunity to trace Thompson's shifting approach to questions of ipseity and alterity across more than 15 years of work, and to admire the parade of fantastical caricatures and Indigenous dreams and queer heroes.
It's a timely exhibition — broad though not comprehensive — as Thompson was recently named as the inaugural recipient of ACMI's Mordant Family VR commission, worth $80,000. This current survey includes photographic, video, sculptural and audio works; so it is interesting to think that he will soon be working in the hybrid medium of virtual reality technologies. Is there some submerged connection between Thompson's interest in the movement between identity categories and spaces and the use of multiple art forms?
The exhibition is called Ritual Intimacies, a title which suggests — rather seductively — that Thompson's real medium is and has always been performance. It's an invitation to read individual works as a kind of documentation or material trace of some more ephemeral ceremony of self-becoming. This appeal to the performative is obviously part of a broader trend in international contemporary practice, but it does give a neat effect of formal cohesion and focus to this show; and through this optic Thompson's approach seems somehow less eclectic or quixotic than it might otherwise.
Of course, there are works which already have a documentary aesthetic. For instance, the earliest piece in this exhibition, Kangaroo and boomerang jumper, a machine-knit jumper with extremely long sleeves from the Blaks Palace (2002) series, is presented here in a museum vitrine and with an untitled picture of Marcia Langton wearing the jumper on the opposite wall.
The survey includes the Australian Graffiti (2007) series, the last body of work that Thompson completed before leaving Australia. This work still stands out as a unique aesthetic achievement; but here it resonates in new and interesting ways. Ritual Intimacies includes seven of the "untitled" pictures from that sequence. Each is a head-and-shoulders portrait of Thompson dressed in clothes recalling the New Romantic phase of flamboyant clothing. Around his head, and always partially covering his eyes, he wears a garland of native flora.
When they were first exhibited, these images suggested a sort of distortion or a natural 'graffito' of the face, an interruption transforming the body into landscape. In the present context, however, the images seem also to participate in a rite of personal mythmaking. The floral ornaments start to look like sacred headdresses or the paraphernalia of a private cult; the fierce eyes staring out from the shadows, behind the bright flowers, are like those of a zealous new initiate.
Another standout piece is Heat, a short three-channel video work from 2010. It features three young women, each on a separate screen and looking down the camera while from below, like heat rising off the ground, a gentle breeze slowly wafts their hair. Like so many of the videos and photographs in this exhibition the framing is head-and-shoulders and the women are bare-shouldered. It's an outwardly simple work, with its plain orangey background, but compositionally compelling with a strong savour of the sensual, and the memory of sun on skin.
Thompson's handling of the tension between simplicity of form and complexity of surface and texture is typically effortless. My favourite pieces in this exhibition are Trinity I-III from the Polari (2014) series. Again these are head-and-shoulders portraits of Thompson in character. Here he is made-up in uncanny drag, hunched, hulking and dominating the pictorial space. A thick column of marijuana smoke unspools from his open mouth, mingling with the tousled strands of a long ashy-blonde wig. These are pictures full of rhythmic and textural interest: between the reddened lips and the reddened eyelids; between the white face paint and the white pyramidal pile of flowers sitting on top of the wig; and between the smoky background and the rubbed white body paint, with Thompson's darker skin showing through.
Thompson has said that he tends to construct his photographs in the way that he would make a sculpture, emphasising the materiality of the figure and surface. This strong sense of three-dimensional presence is something that the Polari series shares with the well-known Billy King (2010) series, of which seven pictures are included in this exhibition: those luridly patterned hoodies with beaded necklaces cascading out of the hoods. Looking at the two groups together it's impossible not to feel an echo between those massed beads and the massed flowers.
Pitt Rivers Museum
In 2010, Thompson was one of two students to accept the inaugural Charlie Perkins Trust Scholarship to attend Oxford University. As part of the creative component of his doctorate, Thompson staged an artistic intervention in the Pitt Rivers Museum collection. Pitt Rivers is one of colonialism's more visible archives, an ethnographic collection second in size only to the British Museum. And, of course, it features a large amount of Aboriginal Australian material.
The result of this intervention is We bury our own (2012). It's a strange series, which has been widely exhibited (in the dining room at Trinity College, Oxford, among other venues) and is the problematic centre of the current survey. For me, this series recalls something Hal Foster once suggested about the figure of the artist-as-archivist: the way that they are often less interested in critiques of cultural representation and institutional integrity, and more interested in perpetuating or legislating existing archival practices. And I can't help wondering if Thompson's collaboration with Pitt Rivers archives might be a missed opportunity for a more substantial interrogation of the efforts of museums with major collections in ethnography and anthropology to sidestep demands for immediate decolonisation.
Thompson describes the process he developed for creating this series as "spiritual repatriation," proposing a psychical departure from the archive into contemporary creative practice. His methodology is to meditate on the photographs and artefacts in the collection in order to release their spirit in his imagination; and in this way, something intangible but real in these objects is returned to the world.
Certainly, this can be read positively in the broader context of attempts by marginalised communities to rewrite cultural histories distorted by colonial intervention. Christopher Morton, the curator of Photograph and Manuscript Collections at Pitt Rivers, suggests that Thompson's engagement with the collection will help change the archive in terms of its foundational colonial assumptions, but it would be interesting to know precisely how that might happen.
In short: is this really a meaningful contribution to the cultural restitution debate? In an enthusiastic and provocative catalogue essay, British novelist Marina Warner writes:
"Could such acts of spiritual repatriation become a way of letting regimes and institutions, such as colleges and museums, off the hook? […] The question remains unanswered, perhaps unanswerable, as the success of an artist's claim to spiritually repatriate an object or image must remain subjective."
Well, partly subjective, but never entirely. There are always shared perspectives and one can advocate for the effectiveness of the art object in itself, something that Warner does not do.
For me, Thompson's Pitt Rivers pictures — black-and-white self-portraits digitally overlaid with brightly coloured bits and pieces such as crystals and candles and butterflies — are an unexpected visual weak point in this survey. There's little of that absolute sureness of figure-composition that one can usually rely on with Thompson; the faces are blocked by the awkward placement of the votary objects and his body always seems pasted to the background. They are closed-up and incommunicative, images without breath or movement, and a rare failure of Christian Thompson's instinct for enchantment.
The Museum of Others (2016) is a follow-up series to We bury our own, and a re-evaluation of Thompson's engagement with the Pitt Rivers collection. This sequence of doubled portraits features the artist holding placards with likenesses of famous (or infamous) Englishmen such as James Cook, John Ruskin and Augustus Pitt Rivers in front of his own face. Their eyes have been cut out and through the holes we see Thompson's own eyes peering out, deep in shadow.
Thompson himself explains these pictures in terms of "othering" the Western gaze, but it's also possible to read them as the acknowledgement of a certain form of capture, as though Christian Thompson, by engaging with the Pitt Rivers Museum were somehow masked or effaced by these personalities, the ideologies they represent and the history of cultural, political and economic entanglements linking colonialism, liberalism and globalisation. As bold as these pictures are, they look rather malevolent, as if the old lords were suddenly reanimated.
But the masks do come off. This is one of the consistently surprising things about Thompson's practice: that shudder of excitement when he steps out from behind the exotic persona. The newest work featured in this exhibition is Berceuse (2017), a lullaby sung by Thompson in Bidjara and recorded as a three-channel video. It's a kind of companion to Refuge (2014), also included in the exhibition, another video piece in which Thompson sings in language. In both of these works he presents himself to camera without any costume frippery or flirtiness, without apparent irony or paradox. It is in these moments that the mystery of Thompson's attraction seems most explicable, pointing to the fundamental honesty which grounds his practice; such a simple thing, and yet the rarest quality in contemporary art.
Finally, speaking of words, it's worth noting that one of the most rewarding features of Ritual Intimacies is the chance to observe the way Bidjara language has steadily moved toward the centre of Christian Thompson's practice over the years.
See co-curator Hetti Perkins interview Christian Thompson below:
–
Christian Thompson, Ritual Intimacy, curators Charlotte Day, Hetti Perkins, MUMA, Monash University, Melbourne, 27 April-8 July
Top image credit: Desert melon from the series We bury our own, 2012, Monash University Collection, purchased by the Faculty of Science 2015
Richard Frankland's play Conversations With The Dead premiered 11 years after the 1987-91 Royal Commission into Aboriginal Deaths in Custody. The Commission published over 330 recommendations, including the promotion of self-determination through Indigenous representation and land rights. Since then the Mabo and Wik decisions have been watered down, ATSIC abolished, while Indigenous men and women continue to die in custody and by their own hands. On the 15th anniversary of the Commission publishing its findings, the Indigenous Affairs Minister insisted that such matters are up to states — despite the 1967 referendum that specifically empowers the federal government to make legislation applicable to Indigenous peoples.
While staging Conversations in 2002 seemed like a proclamation of angry mourning, watching it today after yet another 15 years of inaction and black deaths is liable to cause one to fall into the pitchest of pitch-black cynicism towards the potential of theatre, art and activism to have purchase on those situations needing intervention.
Yirra Yaakin may be refusing a reading of our sense of impotence, yet the production still prompts such questions. The 2002 premiere (reviewed by RealTime) should have been a wakeup call for a hideously uncaring, violent nation to get its shit together. But that did not happen, and it will not now. In the state where Conversations… is being performed we have Australia's highest per capita Indigenous incarceration rate, only slightly below that in the US for black people.
In his opening night speech, author and former Royal Commission Investigator Frankland insists that when you have stories, you have hope. But it's hard to entirely agree. In the play, Frankland's alias, Jack, offers a seemingly endless series of self-excoriating reflections, repeatedly talking with the helpless, often angry ghosts who surround him. Beer bottles are a constant, and Jack relates how each day he counts the places from which he could hang himself. He is only safe when inebriated, in a corner, back to the wall, having located the exit route and identified all the weapons in the establishment (chairs, glass bottles etc). In one scene, he relates how a racist comment left him standing weeping over a bloodied, unconscious drinker.
Much of the action is performed in and around a metal car frame, or on an abandoned car seat. The play becomes a metaphorical road-trip performed by a man locked behind mental, historical and social bars as he careens through a landscape of mourning towards violent self-immolation. Jack does indeed find death, rushing into a storm at a seaside cliff, only to be tossed back into a tree, where he loses consciousness. The play is silent as to whether or not he wakes. Although one feels he should, in light of Australia's never-ending race nightmare, the possibility that he will fall into a deathly coma cannot be ignored.
Two themes confuse this sorrowful reading, the main one being the mobility of the car itself. Australia has a history of road movies in which the protagonists traverse the fault-lines of race (eg Backroads, 1976, Beneath Clouds, 2002). The automobile set design for Conversations… symbolises not only a gaol cell (hung with socks such as those used by one man to hang himself) but also shifting bubbles of calm amid all the deaths invoked.
Jack is played by two actors: Maitland Schnaars and Alan Little. Jack works on a boat, and although the ropes and knots affixed to bars forecast the deathly nooses that blight his existence, in this sea-tossed cage ropes can be comfortably held and mastered. A similar emotional and corporeal ease occurs when Jack (now played by Little) converses with Uncle (Schnaars), who affectionately daubs the bars with a brush. Like the deceased body which both Schnaars and Little later wash clean of blood, the world they inhabit is treated with care.
The bleakness of the production is further countered by the sharing of roles. Schnaars excels at the presentational mode, speaking in third person about himself, while Little is more inward. Schnaars is tall and when his physicality lets go — as when he runs at the cliff — he funnels space, sucking it up and filling the room. Little is firmly grounded; more weighty than expansive. Not only Little and Schnaars speak for Jack. Simone Detourbet, otherwise playing the protagonist's sympathetic yet exasperated wife, also voices him at one point, entering something like a fugue state beside the others.
In short, the performance extends and shares its affects and roles. Jack is not quite Richard Frankland, and nor — obviously — can he be me. I am both a spectator and a gubba. Yet the absent bodies of the dead, ghosted so effectively on stage, do seem spectrally exchanged and embraced in this work, even as they physically fend off the entreaties of the living characters and, by extension, us in the audience. There is no catharsis in Conversations With The Dead. The situation is too dire. And the masculine self-harm dramatised here is genuinely disturbing. The gravelly, DIY aesthetic seems to reflect this jagged, aggressive maleness, which is both Jack's strength and his weakness. It too can be turned around and shared. The production functions then less as protest, and more as a collective remembering.
–
Yirra Yaakin Theatre, Conversations With the Dead, writer Richard Frankland, director James Taylor, performers Maitland Schnaars, Alan Little, Simone Detourbet, Peter Docker, Calen Tassone, Tornina Torres, design Chris Brain, lighting Chris Donnelly, music Zac James; Subiaco Arts Centre, Perth, 18-27 May
Top image credit: Alan Little, Tornina Torres, Conversations with the Dead, photo Jon Green
What constitutes contemporary Indigenous art? Who gets to answer that question? Who tells stories in this country, and what version of history are they representing?
In 1994 Wesley Enoch was the Artistic Director of Brisbane-based Kooemba Jdarra Indigenous Theatre which was founded in 1993 and finished producing work in 2007. He and actor Deborah Mailman premiered their groundbreaking 7 Stages of Grieving for the company in 1995. Enoch, a director and playwright, went on to become Resident Director with the Sydney Theatre Company, Artistic Director of Melbourne's Ilbijerri Aboriginal and Torres Strait Islander Theatre Co-Operative, Associate Artistic Director with Company B Belvoir St, Artistic Director of the Queensland Theatre Company and is currently Artistic Director of Sydney Festival and a well-known commentator on Indigenous and other issues. In the 1990s he wrote occasionally for RealTime and was part of a RealTime team of writers commissioned by LIFT (London International Festival of Theatre) to respond to its 1997 program alongside local writers.
In 1994, when he wrote this article, Enoch was directing Kooemba Jdarra's inaugural production, Indigenous writer and activist Kevin Gilbert's 1971 classic, The Cherry Pickers. (Gilbert was Chair of the '88 Treaty campaign for a treaty enshrining Aboriginal rights and sovereignty.)
The limitations described by Enoch in 1994 on Indigenous access to "meaning-making" in dominant Western culture have been forcefully challenged by Indigenous artists and companies in the two decades since, sometimes reaching large audiences, though not consistently. There are only two Aboriginal theatre companies, Ilbijerri and Perth's Yirra Yaakin, alongside Sydney's Moogahlin Performing Arts which operates the Yellamundie National First Peoples Playwriting Festival. Collaboration with the white artistic community, especially through Belvoir and mostly individual artists and dramaturgs, has been vital, though white writers dealing with Aboriginality have mostly learned that appropriation is not on.
Enoch emphasises the totality (everyday, environmental, mythic) that is Indigenous storytelling, which is not an adjunct to life and politics, but an essential part of it. Enoch's argument for opening up access to the infrastructure of Australian storytelling to diverse Indigenous voices remains as relevant as ever today. But his vision of storytelling goes beyond the theatre to the media, citing cases of "young Murri men breaking the law as a sense of giving yourself to a story; to be awarded public recognition, to get your face in the newspaper; hear your story on the radio or television," and thus fulfilling negative expectations. He writes, "The obvious need for Indigenous people to control the means of representation is part of the reconstructive process from a culture of resistance to a culture of repair." In that respect, there's still a long way to go.
This is the second instalment in our series, The Deep Archive, which brings select stories to light from the recesses of RealTime's more than 20-year history of publishing intelligent art criticism and commentary. LCH & KG
Contemporary Indigenous Arts Practice?
Kooemba Jdarra director Wesley Enoch battles definitions
RealTime #4, December-January 1994
There is no generic entity labelled Contemporary Indigenous Arts Practice. The word "contemporary" has been called into question; "arts" is regarded as a term defiled through association; "practice" is a sticky point; and "Indigenous" defies classic Anglo definition. Half-caste, migaloo, yellow skinned, douggai, mixed breed, invisible trouble-maker. 'You've done something with your life. You don't have to be Aboriginal anymore,' politically correct, fair skinned, pale one, up-market Murri, Myall.
The meaning of 'contemporary' without heritage?
What is Contemporary Aboriginal Art? In the modern dilemma of urban Aboriginality there remain many questions of authenticity in terms of the creation and maintenance of traditionally-based social structures devoid (through waves of psychological and physical attack) of the traditionally cultural means to create meaning. The destruction of dance, song, story, language etc through the process of invasion and systematic genocide, has precipitated a new wandering amongst Aboriginal generations who have not experienced the first-hand traditional heritage that we are expected to have in order to claim the mantle 'Indigenous.' Nor do we possess the cultural capital to fully analyse the dominant discourse in terms of appropriate change and acknowledgement of culturally specific development throughlines.
Dreaming: tradition and continuity
The character of contemporary Indigenous cultural meaning-making maintains a diversity reflected in traditional experiences. The diversity is exemplified by the sheer numbers of Indigenous languages spoken on the continent, the variance in geographic situation and the degrees of colonial resistance. The basic premise that Indigenous arts and culture are ways of explaining the world we inhabit has much credence when viewing the multiplicity of roles for stories originating from the 'Dreaming.' Questions of law, clan morals, geography, genealogy, history, survival information and basic social adhesion can be addressed through explanation of the origins of a region's topography, flora, fauna or climate. The facility for change is also built into Indigenous traditional meaning-making structures. The Great Horse Gallery at Laura in Far North Queensland shows the first sighting of the horse rendered in what would be called traditional design; similarly a dance from Bathurst Island depicting the gunning turrets stationed on the islands during WWII shows interpretive traditional enacting as a more modern experience; or the creation of explanatory myth-like structured stories for the coming of alcohol or money or AIDS or the Nissan four-wheel drive bespeaks a flexibility to accept and explain environmental changes through a facility of 'New Dreaming.' I argue that this 'New Dreaming' is legitimated (by Middle Australia) as Indigenous through its continuity of vocabulary and sense of inclusive expansion, in that the obvious bases of language, form and geographic context remain unchanged whereas content is the responsive element.
Regionalism, technologies & control
Lydia Miller, performer and director from Sydney via Cairns, disputes the use of "contemporary." She argues: "I believe that art is more about regionalism. It's certainly about the influences brought on urban society, or what we know as urban society which has come to mean the coastal areas as opposed to the more remote areas. But each has had different influences on them, so different styles have evolved geographically in which people cope in different ways. In terms of urban society, we are exposed continually to technologies. When we are talking about theatre and art, I think we are addressing the fact we are dealing with a number of multimedia forms through which we can facilitate ideas and the storytelling process. That's as old as history."
There is an inherent need for storytelling and the continuation of oral traditions of explaining the world that we, as Indigenous people, inhabit. This is not a uniquely Indigenous experience. In fact if history read more like an injection of technologies into Indigenous cultures, as opposed to the denial of access coupled with an outlawing of cultural practices, I believe that the more embracing and culturally analytical use of technologies that we are starting to see now would have emerged earlier. Video and telecommunications technologies are now used by family members [to keep in touch with those] in detention as a strategy to combat the high number of Indigenous deaths in custody. First Nations people in North America are starting to use hi-tech virtual reality to create environments depicting ancient stories of creation as teaching tools for their young people.
The imperative to make meaning through story is so intense that it has led to a two-sided manipulation of the media, which has provided the greatest access for Indigenous people to tell their stories. On the one hand, Middle Australia has used the media to maintain its dominance, while on the other, Indigenous Australia has distorted its image to fit into this self-fulfilling projection of negative stereotypes. Many young Murris I've worked with talk about an urban initiation based on breaking the law as a sense of giving yourself a story; to be awarded public recognition, to get your face in the newspaper; hear your story on the radio or television. Denial of access to storytelling or meaning-making structures encourages actions such as rallies and marches, and inspires thoughts of civil war or rebellion (where it is fighting for the right to write history in the winner's image). The obvious need for Indigenous people to control the means of representation is part of the reconstructive process from a culture of resistance to a culture of repair.
Internal cultural analysis
There should not be a sense of reclamation of traditional meaning-making without analysis, but in most cases for urban Murris this is impossible because of the amount of damage sustained in the last 206 years of resistance. I fear that if we try to recapture and appropriate what we interpret traditional cultures to be, we run the risk of denying the experiences we have had throughout the process of invasion. The instigation of internal cultural analysis must be one of our first steps in any form of reconciliation, be that with Middle Australia or with ourselves. Issues such as men's business and women's business, gender construction and its impact in areas such as domestic violence and homicide, the pressure to homogenise Indigenous culture (the appropriation of dances, language, songs and images from one clan to fill another's void), and the need for role model development should all be analysed. In many cases traditional values are appropriated as an excuse not to face opposition or to avoid exposure.
There is no sense in which this work can be seen as inauthentic. Our experience as Indigenous people cannot be devalued because of the colour of our skin, the choice of materials for our art-making, our education backgrounds, geography etc. There are many different performance interpretations of our Indigenous experience based on these factors, but none being more Indigenous than another. The role of contemporary Indigenous meaning-making through arts and cultural endeavour is a continuation of ancient structures of storytelling with an ongoing review of language, form and geographic context as well as content.
The Cherry Pickers
Kooemba Jdarra (which means "Good Ground" or "Sweet Land" in the Turrabul group of languages from South-East Queensland) is a company dedicated to these debates through live performance. Kooemba Jdarra came from a groundswell of support from Indigenous artists and communities for a company to explore that perspective in an all Murri Mura environment. The Cherry Pickers, the company's inaugural production directed by Lydia Miller and featuring seven professional Queensland Indigenous performers, sets out to tell a specific experience of Indigenous survival. The text has been appropriated and interpreted to reflect a 1994 Indigenous perspective, to play the dual roles of celebration of story and exploration of meaning and historical roots for our Murri Mura community in South-East Queensland. The further appropriation of performance form joined with Kevin Gilbert's appropriation of English and the conventional playwriting format basically facilitates the storytelling and in no way undermines its credibility as an Indigenous story. The script is used as a vehicle to publicly discuss issues of cultural appropriation, health and mortality, alcohol dependence and economic disempowerment. At the root of this is the acknowledgement that all culture must appropriate symbols, forms, language, stories, etc to create meaning tempered by a specific protocol and respect for our community.
The Cherry Pickers is a process of experimenting with material and perspective, an ongoing dialogue between community and artist about actively shaping our cultures, responding from within not without. The ability to generate and comment on our cultural development is at the heart of contemporary Indigenous arts and at the core of Kooemba Jdarra.
–
Top image credit: Clipping from RealTime #4, December 1994-January 1995
photo Alex Wisser
Mahdi Mohammadi, Tribunal, Powerhouse Youth Theatre
After playing to full houses at Griffin Theatre Company's The Stables in 2016, where Karen Therese was artist-in-residence, Tribunal will now play at PYT's Fairfield home from this week until 11 March. Fairfield is also the Western Sydney home to many of the people—Aboriginal and immigrant—who are the subject of this production. Some of them appear in it and what they have to tell us becomes a call to action.
In "A just hearing in the court of theatre," I wrote that Tribunal's Australian Truth and Reconciliation Tribunal, led by an Aboriginal Elder, "is a highly flexible hearing that allows for singing, dancing, re-enactments in which refugees deal with threatening Australian Government officials, and tender accounts of life in their countries of origin and in their new home. Above all, it allows Elder Aunty Rhonda Grovenor Dixon, to herself speak as a witness, providing a point-by-point analogy between the treatment of refugees and our Government's maladministration of the lives of Aboriginal peoples. When one of the refugees asks if they can tell their story in their own words, Grovenor Dixon replies, 'It's theatre, you can do what you like'."
Presentation is warmly and engagingly informal and the key performers—Grovenor Dixon, two young Afghan Hazaris, Mahdi Mohammadi and Jawad Yaqoubi, and community worker and lawyer Katie Green—are charismatic. Surprise guests and open discussion with the audience add to a sense of shared concern and allow us to identify directly with people we know of, if at all, as the largely anonymous subjects of news reports.
Tribunal reveals the persistent bureaucratic and social hostility with which Aboriginal people and refugees are treated and, for the latter, threats of deportaton for even minor traffic offences. The situation, as revealed by the latest Close the Gap report and the rise of the political right, is not improving, rather it has become more urgent than ever.
photo Alex Wisser
Rhonda Grovenor Dixon, Tribunal, Powerhouse Youth Theatre
I asked Karen Therese about the current significance of Tribunal. She wrote, "It's been only six months since we performed it at Griffin and the world has changed so much. It feels more important than ever now to listen to the words of Aunty Rhonda and Mahdi Mohammadi and Jawad. In Fairfield right now 6,000 refugees from the Syrian crisis are arriving to be re-settled—6,000 just in Fairfield. It's big. There are crowds of Syrians and Iraqis in the streets outside PYT when I get my morning coffee. Doing Tribunal in Fairfield gives me opportunities to literally witness the world in action. The neighbourhood here gives me hope. We welcome everyone to visit Fairfield and support the local community."
In one of Tribunal's most affecting moments in the 2016 production, Mahdi Mohammadi and Jawad Yaqoubi recounted how they managed to reach Australia, but not their friend Nabi. Karen Therese tells me, "Nabi is on Manus Island, he's been there for four years now. We send our thoughts and our love to him."
Tribunal is set to reach a wider audience, Karen Therese tells me that it will be presented at Melbourne's Arts House in July and before that in June as a "a live art version" at Sydney's MCA.
photo Alex Wisser
Tribunal, Powerhouse Youth Theatre
PYT, Tribunal, Thurs-Sat, 2-11 March, 7.30pm, The PYT Fairfield Theatre, 19 Harris St Fairfield
RealTime issue #137 Feb-March 2017
© Keith Gallasch; for permission to reproduce apply to realtime@realtimearts.net
photo Jeff Busby
CIRCA, One Beautiful Thing, Asia TOPA
Circa, One Beautiful Thing
If you're the kind of person who's clued in to RealTime it's likely pretty rare that you come across an artform you've never even heard of. Hence the considerable buzz surrounding Circa's recent collaboration with a group of mallakhamb performers: even in the form's homeland of India, mallakhamb is hardly mainstream stuff, and the almost millennium-old discipline was on the verge of dwindling into extinction until a recent resurgence of interest.
Mallakhamb centres on an imposing wooden pole of the same name, about two and a half metres tall and securely anchored so that feats of balance and strength can be performed around and upon it. There are other modes, including hanging mallakhamb, in which the pole dangles from a rope, and rope mallakhamb, which omits the pole entirely. It's a fascinating form, not least because it's not quite like anything else.
It's often compared with wrestling, martial arts, gymnastics or contortion, but to me the performance styles I was reminded of in Circa's One Beautiful Thing are bodybuilding and pole dancing. A series of physically impressive poses makes up each routine, performers twisting or straining their bodies into painfully demanding shapes and then holding the pose for the viewer to appreciate. It's as stripped back as the almost naked men performing, the possibilities of the human form producing the limits of the work's intent. Director Yaron Lifschitz's program notes make reference to more transcendental themes throughout the work's three parts, but for me the sheer materiality of the mallakhamb exerts a dense gravity far more compelling than any metaphors or allusions that might otherwise arise.
It seems a mostly gendered sport, with rope mallakhamb largely performed by women and the polework a male domain. The spectacle of muscularly defined men engaging in a particularly masculine form of pole dancing is a long way from the Western gendering of the same. Not that mallakhamb upsets any familiar divisions of the body and the gaze, culturally camped more as a sport than a dance, but its very division into gendered lines is hard to ignore. Plus, there's the leg-crossingly visceral moments in which men perform a high-velocity forward flip that impacts the pole at crotch-level, thighs catching them in place to freeze the pose.
The rope mallakhamb performers present more familiar images, their climbing and aerial posturing more seamlessly stitched into the Australian components of One Beautiful Thing. The local contributions seem to complement the Indian elements, focusing on group balance work, rope and strength, but where the overall production falls down is in creating something that is more than the sum of its parts. The various sequences of mallakhamb in several modes are bewitching in themselves, but the more recognisable interspersed circus and dance requires that the audience find the points of connection and departure that justify their inclusion. It's somewhat like a fascinating conversation that's just out of earshot.
photo Lana Lopesi
Amrita Hepi, Lukaitim Solwara (look out for the ocean), Next Wave for Asia TOPA
Next Wave, Lukautim Solwara
The range of voices speaking throughout the Next Wave one-off event Lukautim Solwara (look out for the ocean) is even more impressive—not just from the performers, who include Maori, Pasifika and Aboriginal artists, but from the dialogue between their contributions to the evening and its setting within the current Sovereignty exhibition at ACCA, a wide-ranging collection of works by First Nations people of SE Australia.
Lukautim Solwara could be positioned in a similar space to the club acts that have propelled some of the most interesting performers of this century into prominence, and its individual performances were dispersed throughout the meandering ACCA exhibition space across the course of one night. The event was led by Samoan artist Rosanna Raymond, whose presence throughout the evening was striking and memorable, her quite astonishingly accomplished command of adornment as a way of commandeering the historical visual representations of First Nations peoples was here expanded across the bodies of her collaborators.
The parade of deity-like characters who kicked off proceedings set the tone. Each was an assemblage of parts—grass skirts, body paint, nets, headdresses, armour, pearls—that accumulated to engender a character both mythic in scope and utterly unique. These were characters in both of the contradictory senses of that term, as a universal type and a distinct and solitary individual.
The scattering of these figures across the space produced varied results, from acts that explicitly responded to the existing exhibition (Amrita Hepi's dance with its costumed echoes of Destiny Deacon and Virginia Fraser's "Something in the air") to sequences that could carry just as much resonance without reference to the setting.
Lukautim Solwara was the product of an intense, 10-day period of collaboration and while its one-off nature gave it an ephemeral aspect it was a solid introduction to, or reminder of, a spread of talents of considerable power.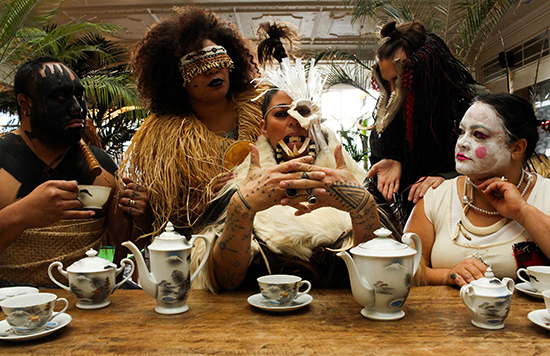 promotional image by Lana Lopesi
Lukaitim Solwara (look out for the ocean), Next Wave for Asia TOPA
Asia TOPA: Circa, One Beautiful Thing, director Yaron Lifschitz, associate director, producer Ben Knapton, design Libby McDonnell, lighting Jason Organ; Playhouse Theatre, Arts Centre, 16-19 Feb; Next Wave, Lukautim Solwara (look out for the ocean), creator, performer Rosanna Raymond with Léuli Eshraghi, Amrita Hepi, Thomas ES Kelly, Nicole Monks, Steven Rhall, Reina Sutton, Jaimie Waititi; Australian Centre for Contemporary Art, Melbourne, 17 Feb
RealTime issue #137 Feb-March 2017
© John Bailey; for permission to reproduce apply to realtime@realtimearts.net
photo Prudence Upton courtesy Sydney Festival 2017
Jacob Boehme, Blood on the Dance Floor
Jacob Boehme, Blood on the Dance Floor
I don't know if I could ever be objective watching, experiencing, reliving and now reflecting on Jacob Boehme's largely autobiographical dance theatre work, Blood on the Dance Floor, that draws on his experience as an Aboriginal man living with HIV. In a way, he is of my ilk, if not exactly my kin. His memories as a young gay male Indigenous dancer in the 90s are inextricably interwoven with mine.
NAISDA (National Aboriginal Islander Skills Development Association) of the late 80s and early 90s represented an insular family made up of youth from all over the country, needing to get away from Country to find out who they/we really were; dance was the vehicle that enabled us. As a result, I witnessed many young men embrace their sexuality and, as if overnight, lose their lives to it, as the HIV/AIDS epidemic took hold and flourished.
Entering the theatre we are personally greeted by Boehme with plenty of light embraces accompanied by multiple air kisses. Dressed in a pastel satin kimono and with heavy costume jewellery adorning his lobes, he is loud and camp, delivering blue banter with acerbic wit and a slightly gravelly, deadpan cackle. I am immediately transported to Sydney's Oxford Street in its heyday. Boehme's alter-ego is Percy. Sadly, I forget if she comes complete with her own in-built punch line.
Boehme deftly disrobes and Percy is no more. She does not return, nor herald a linear chronological beginning. She is, as she claims, merely an epilogue.
Before Boehme reintroduces himself in a new guise, he dances. Choreographed in collaboration with Mariaa Randall, the language is uncluttered, augmented by simple, small gestural motifs which consolidate the narrative. One of the more poignant moments features a bleeding finger, presented to the audience as one would an offending exhibit in evidence, before turning it on us in accompaniment to accusingly repetitious quizzing: "Are you clean? Are you clean?" Perhaps daring one of us to be the first to cast a stone.
The dance is definitely not what I'm expecting. I thought there'd be more clear evidence of the Indigenous community-based languages we were taught as students of NAISDA. The dominant language in Boehme's dancing resembles what I've seen from many of my VCA graduate peers from roughly the same era (90s onwards).
As a fellow Indigenous contemporary performance maker, it takes me a while to understand that if Boehme had danced the way I expected, he would be surrendering to a stereotype. In fact, the training at NAISDA drawn from Indigenous communities belongs to him (and to me) as do the techniques of Graham, Limon or Cunningham; they are alien in that none of them come from our respective Countrys. If Boehme is truly aiming to recapture ancestral processes—as he claims to be when speaking of his work as part of a panel at the Seymour Centre, titled Talking Dance: handle with care—then utilising the predominantly Western contemporary dance forms of the time he was referencing, was most logical as he was performing on Western theatrical country (the stage).
The set is also simple and spare, consisting of a raised rectangular mainstage with a short runway attached from downstage right. Quick shifts in theme and character, from relatives to friends and past lovers, are enhanced by block lighting that has Boehme recede in shadowed relief or lit in concert with video artist Keith Deverell's slow moving images in extreme close-up. Weathered limbs clothed in grubby, worn fabric evoke a nameless man Boehme had seen on the street, deteriorating from the AIDS epidemic's first wave. An eye as big as Boehme's head— bigger, still and staring—signifies close scrutiny from "Daddy Eyes" and is used as a segue to introduce his father, whom Boehme plays as a gruff yet likeable man who has always known his son was "that way," before humorously proceeding to problem solve how he might have grandchildren to carry on the bloodline. An image of red blood accumulating bubbles fills the screen, prompting us to think of the virus infiltrating Boehme's system and the futility of his father's wishes. Last is the horizontal brushing of a dark woman's chest with the tips of her fingers, reminiscent of a ceremonial act with ochre, while the father talks carelessly about the black woman working at the shop, before Boehme is told by his sister that the black woman is his grandmother.
The pace of the show is deliberate and steady. Boehme brings a changing perception of HIV to some of today's younger gay demographic. In a throwaway he speaks of the young men playing a type of careless Russian roulette, almost wanting to be a part of the positive "club." He describes the earlier gay sex scene, of the dark beats in parks and bars, in visceral detail. He speaks of his quest to find love in equal measure. At one point, with uncertainty, he asks us if he looks all right. He's about to go on a date. It epitomises the overall tone of the show, which is hopeful and surprisingly refreshing.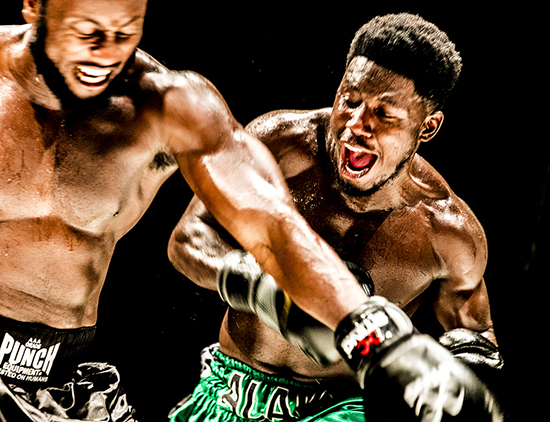 photo courtesy Belvoir Street Theatre and Sydney Festival 2017
Prize Fighter
La Boite, Prize Fighter
Prize Fighter's narrative is fast from beginning to end. Really fast, as quick as the interim between a pugilist's battery of blows. The play depicts the fate of a 10-year-old boy, Isa, forced to witness the execution of his family before becoming a child soldier in the war-torn republic of Congo.
Prize Fighter is told in a series of flashbacks as Isa fights in the ring for the crown of Australian heavyweight boxer. Light on their feet, Prize Fighter's five players dance, duck and weave around idyllic childhood memories until crushing blows precipitate memories of horrendous scenes nobody should have had to experience.
All too quickly the gruesome past is dropped and we are back in the ring which we never really leave since all the action happens on, or around an elevated square platform. In the shadows, old truck tyres serve as the peripheries of the jungle, of life outside the safe haven of competitive boxing.
Writer Future D Fidel also features on the final of three Dance Speaks panels along with Jacob Boehme. The panel's chair, Claire Hicks, director of Sydney's Critical Path, asks how the notion of care was considered while making the work. Fidel divulged that he feels it his responsibility to share his country's volatile history in increments through his semi-fictional narrative. He feels too that he has an obligation to other victims not to over-sensationalise the violence by staying with it too long. He eschews what he considers a two-dimensional tactic in favour of revealing the complexity behind the face of this still relatively new wave of immigrants to Australia.
Fidel prefaces his presence on the panel with a comment about being a ring-in, since Prize Fighter had been billed as neither dance nor physical theatre; although he did reveal it was imperative that the actors learn how to box. The exacting physicality performed throughout was a powerful visual metaphor for the enduring will to survive at all costs.
There is an assumption that shows like this are preaching to the converted. I consider myself among the enlightened. News coverage of NSW Australian of the Year Deng Adut as a refugee and former child soldier himself, had appeared as an abstract idea until I saw this show and could imagine myself in his shoes.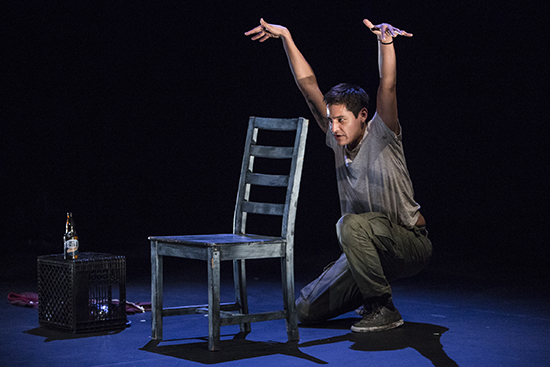 photo Jamie Williams courtesy Sydney Festival 2017
Cliff Cardinal, HUFF
Native Earth Performing Arts, Huff
Like Blood On the Dance Floor, Cliff Cardinal's Huff is a First Nations work produced by Canada's longest-running Indigenous theatre company, Native Earth Performing Arts. Like Boehme, Cardinal is both writer and solo performer who immediately breaks the fourth wall. From the beginning, we are made complicit.
The lights come up on Cardinal with arms bound behind him. He has a bag tightly taped to his head. We watch it inflate and deflate as he breathes. He addresses us while the seconds count down on his limited oxygen supply. He is in the middle of committing suicide before he changes his mind and asks a woman from the front row to free him. He then hands her the bag. The woman questions the reasoning behind this request, asking if she's keeping it for later. This does not go down well and he offers it to another audience member on the condition that he not relinquish it to Cardinal, even if he begs for it.
Cardinal is Wind, one of three brothers he portrays growing up on an Indian Reservation. An Indian Reservation sounds very much like many of the former Aboriginal Reserves in Australia. When I was a student of NAISDA, we had to be granted permits to enter certain communities. Reserves are isolated places, segregated. Like their North American counterparts, huffing or sniffing solvents by young Australian Aboriginals is a well-documented problem. There are too many hours in the day and not enough activities to fill them, but the relationship to country still remains of paramount importance.
What sets Cardinal's Huff narrative apart is the unseen presence of the Trickster, a shape-shifting spirit who wreaks havoc, creating mischief for the three brothers and their extended family. He could be a metaphor for the battle between conscience and impulse, but to Wind and his people the Trickster is tangible and has a firm hold. Huff is not a romanticised account of cultural belief, but a raw depiction of the ancestral world and its very real relationship to contemporary society.
Searching for comparative similarities in contemporary Australian storytelling I am drawn to the TV series Cleverman, a sci-fi fantasy, but the similarity lies in the work's success in making old knowledges relevant today.
There is a particular humour that is born from the kind of hardship and futility portrayed in Huff which by no means lessens the gravity of the work. I am reminded of Warwick Thornton's film Samson and Delilah. Huff's dark self-effacing comedy is epitomised in the opening description of youngest brother Huff's inability to spell "cat." He likely suffers foetal alcohol syndrome and is regularly sexually abused by his siblings. Dark humour is also evident in the confrontation with a skunk that marks Wind and Huff with putrid scent in folkloric retribution for burning down an old disused building, inadvertently killing a local fireman in the process. In a classroom, Wind ascribes a traditional Indian name, translated as Ratface, to the teacher. This leads to the boys' dismissal from the school, Huff defecating in his trousers under the humiliating gaze of his peers and the incompetent teacher's labelling him as "irrelevant."
Ironically, it is Huff's need to redeem himself that causes him to tell the truth about the hapless caper that resulted in the fire; a dark momentum takes hold and the play draws to an almost inevitable close.
Cardinal's performance of his script is virtuosic, leaving little to the imagination in his rendering of multiple characters. We move with him at the mercurial speed of a child and it's through the logic of a child that we are forced to appreciate the gravity of consequence. We learn that Huff has inadvertantly hanged himself—a suffocation game often played with Wind who was always there to bring him back from the brink. The play ends where it began, as Wind asks for the plastic bag back. The audience member denies him as instructed. No matter, Wind has a spare.
–
Sydney Festival: Ilbijerri Theatre & Jacob Boehme, Blood on the Dance Floor, Carriageworks, 21-25; La Boite, Prize Fighter, writer Future Fidel, director Todd McDonald, Belvoir, 6-22 Jan; Native Earth Performing Arts, Huff, writer, performer Cliff Cardinal, director Karin Randoja, Seymour Centre, Sydney, 24-28 Jan
RealTime issue #137 Feb-March 2017
© Vicki Van Hout; for permission to reproduce apply to realtime@realtimearts.net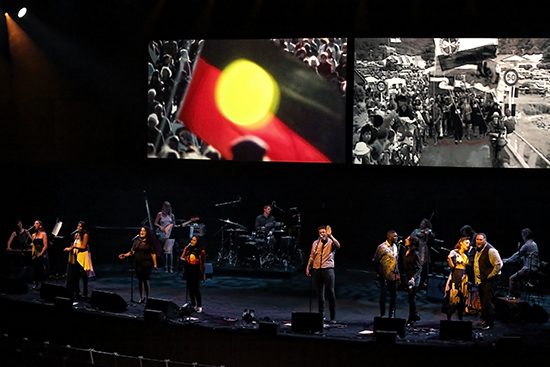 photo Prudence Upton
1967: Music in the Key of Yes concert, Sydney Festival 2017
Five concerts revealed the strength of the 2017 Sydney Festival programming of unusual concepts, forms and instruments. This was music-making of high order for welcoming audiences.
1967: Music in the Key of Yes
In the Sydney Opera House Concert Hall, Yirrmal Marika opened and closed this superb concert (which will be repeated at the Adelaide Festival) with a fine sense of ceremony. His remarkable vocal skills (performing largely in language), didjeridu playing and dance (birdlike to Emily Warrumara's account of the Beatles' "Blackbird") evoked a vast cultural history in dialogue with powerful popular songs in an event focused on celebrating a crucial political event, the 1967 Referendum that recognised Aboriginal peoples as Australian citizens.
On two large upstage screens, archival film deftly unfolded an impressionistic narrative from across the 20th century, featuring images of traditional Aboriginal pride, assimilation, destitution, protest, and the speeches (notably from Faith Bandler) and polling booths of 1967. Brief interviews with the public at that time revealed support, condescension, prejudice and hostility. Oddly missing from the footage were images of the beauty of country so fundamental to Aboriginal life.
The singers—Yirrmal Marika, Emily Warrumara, Leah Flannagan, Dan Sultan, Adalita, Radical Son, Thelma Plum, Alice Sky, Ursula Yovich—and a wonderful supporting ensemble led by Neil Murray drew on a wealth of Australian songs. "My Island Home," Archie Roach's "Took the Children Away," Warumpi Band's "Blackfella/Whitefella" and Yothu Yindi's "Treaty" were heard alongside Goanna's "Solid Rock," Midnight Oil's "Dead Heart" and American classics such as Sam Cooke's "Change is Gonna Come" (a powerful rendition from Radical Son), Nina Simone's "Feelin' Good" (Thelma Plum in a beautifully restrained account) and Patti Smith's "People Have the Power." Among other pleasures was Dan Sultan's affecting "The Drover," about Gurindji man Vincent Lingiari, the stockman who became a leading land rights activist.
With its songs passionately performed, subtly arranged and juxtaposed with historical film and an intriguing projected text by novelist Alexis Wright, 1967: Music in the Key of Yes generated an embracing sense of community between singers and audience. A rousing ensemble encore rendition of the Beatles' "With a Little Help from My Friends" was followed by a sense of return to ceremony in a gentle transition from "Blackbird" into Yirrmal Marika's performance of Geoffrey Gurrumul Yunupingu's "Wukun," a song about storm clouds (Wuku) which are images of the songwriter's mother's people, the Gälpu.
photo by Kjeldo
Ellen Fullman, Theresa Wong, Long String Instrument, Sydney Festival 2017
Ellen Fullman Long String Instrument
Eyes closed, ears wide open, I'm swathed in the complex hum and buzz of Ellen Fullman's 25-metre-long string instrument which the artist plays as she walks the great length of its resonating wires, holding them pinched between her fingers. The aural halo conjures string orchestras, sitars and electronic droning (the device is acoustic but its resonating boxes are miked), music rendered more complex by Theresa Wong's cello layering of slow, deep riffing and digitally treated high carolling. Eyes open, it's performance art: the slightly built Furman first moves slowly backwards for much of the length of her instrument, close enough for me to hear the soft click of her white-soled black sneakers, then all the way forwards and then, in shorter forays, in both directions, pausing only to apply rosin to her fingers or set a small motorised wheel spinning to generate a drone passage. Definitely a show for those into sheer reverie and the musical unusual. I ached for a post-show demonstration of the instrument's capacities. Which, in a way, was what Chris Abrahams offered in the show's opener on the Town Hall's magnificent organ, unleashing its highest and lowest notes—the latter unearthing a rumbling, mechanical beast—and, in between, playing passages of delicately considered counterpointing and soaring organ romance.
photo Jamie Williams
Gabriel Dharmoo, Anthropologies Imaginaires, Sydney Festival 2017
Gabriel Dharmoo, Anthropologies Imaginaires
After experiencing Montreal composer Gabriel Dharmoo's Anthropologies Imaginaires, I was buzzing and twitching with a profound sense of the pre-verbal, pre-instrumental music of tribal peoples as played by this virtuosic artist via complex vocalisations, physical self-manipulation and movement, subtle and rough.
Having just enjoyed the Denis Villeneuve film The Arrival, in which a linguist (Amy Adams) attempts to communicate with giant heptapod aliens, and reading Ross Gibson's 26 Views of a Starburst World (UWA Press, 2012) about the 1790s encounter between English surveyor William Dawes and 14-year-old Patyegarang (read in order to better appreciate the festival's attention to local language), I attended Anthropologies Imaginaires eager to appreciate a composer's account of ancient music-making across cultural and temporal barriers. I was in for a surprise.
What I encounter is a lean, dark-haired young man in black T-shirt and trousers who never speaks but performs a series of non-verbal utterances, tuneful and otherwise, each introduced by onscreen cultural experts who identify and comment on the tribes who made these proto-musics. The vocal elaboration and gesturing is convincing, commencing with a wordless prayer with wafting notes, clicks, falsetto and allied hand glides. As the performance proceeds, the cultures the artist evokes grow stranger, though the techniques—yodelling, overtone singing, vibrato-induced chest thumping and rasping growling make sense—but in this case all from one tribe? Then there are screen cutaways to a making-of-documentary in which the 'experts'—whose commentaries are beginning to sound weird—are revealed to be stage hands. A demonstration of the music of "Third-Sex Children," delivered from a low, wide-legged stance and in long-note falsetto and mask-like face-making evokes Chinese opera but perhaps also ancient Indian dance in which one performer plays multiple roles.
"Weborgez," is a 12-tone music culture in which music is literally presented as child's play. Irony and parody have clearly entered the frame. An exorcism for "male sexual guilt" in another tribe is executed by vocalising into a bowl of water, drinking and expelling the liquid as if vomiting, violently wrenched from the stomach, and then self-flagellating after cleaning up the mess. The audience giggles. Any sense of reality has long exited. But even so, the "Aquatic Songs" sequence, with water kissed, puffed into, sucked and voiced with a pulsing falsetto, seems plausible.
We are gently cajoled into becoming a trance choir so that, as an onscreen specialist derisively puts it, the leader can "solo purely egotistically." One tribe is condemned for its failure to drill and mine—the mumbling performer looks lost. In contrast, a "hit song" follows—jazzy, pop and "world,"—its culture celebrated for having survived via cultural absorption (akin, of course, to mining). Finally, the specialists are revealed for what they are: casual surmisers, ideologues, a Minister of Assimilation and a promoter of wine and golf tours. Our shared culpability in desecrating cultures we don't understand has been deeply sounded in Anthropologies Imaginaires with the tools of musical expertise, deployed with wit, vocal grace and dextrous physical performance.
photo Sakari Viika
Einojuhani Rautavaara
Sydney Symphony Orchestra, Rautavaara
Things that fly. Birds. Angels. Spirit. Mine did in the Sydney Festival's Rautavaara concert, lifted by superb performances of the composer's distinctive blending of impressionistic world-making and soaring neo-Romantic melodising. Einojuhani Rautavaara died on 27 July, 2016. This tribute event offered a scandalously rare opportunity to hear his work in an Australian concert hall, in this case one with an ideal acoustic, warm and responsive to the tiniest details in orchestration and the recording of the bracing calls of huge flocks of swans commencing migration from Finland's north.
Cantus Arcticus, Concerto for Birds and Orchestra (1972) features birdcall taped near the Arctic Circle in marshland and bogs awash with birdlife. It opens with an entrancing, warbling flute duet (beautifully acquitted) which is then joined by woodwinds, together anticipating the arrival of the birds and a corresponding swelling cello-led melody. The subsequent shifting dynamic (sensitively captured by conductor Benjamin Northey) between orchestra, individual birds and flocks (the calls sometimes pitch-adjusted by Rautuvaara) achieves a glorious synthesis of avian and human music-making, above all in the work's glorious third and final movement, the swan migration, transcending the fleeting suspicion that you're listening to the score from a nature documentary. A trumpet soaring above the fullness of the score's unsentimental sense of triumphant nature suggests the flock rising to leave while flute and woodwinds carroll indefatigably, as they did in the first movement, at one with the swans. Softly descending harp notes signal departure within seconds. Silence. Although heard many times on CD, this live performance breathed new life into my appreciation of Rautavaara's sublime entwining of birdsong and the music we 'sing' through our instrumental prostheses.
The intensely dramatic 11-minute Isle of Bliss (1995) also evokes birds if not so literally, its inspiration Finnish dramatist Aleksis Kivi's "Home of the Birds," a poem seeking repose, possibly the calm of death. After opening forcefully with a rising sense of urgency—woodblocks rattling and flutes piping, bird-like—calm briefly ensues until recurrent deep string orchestral strummings introduce a return to the opening melody, now yearning and soaring. It is twice interpolated with 'birdcalls,' which towards the work's end become incessant chatter beneath the emotional turbulence and then, on their own, dive into a sweet tumbling of notes and, wonderfully, a final lone, gliding two-note call, so distinctly birdlike. Northey and the orchestra have delivered us and the poet, with care and passion, to the Isle of Bliss.
With larger instrumental forces, Symphony No. 7 Angel of Light (1994) evokes the power and sense of transcendence associated with angels but also their role as intermediaries between god and humans. French horns and brass rise above full-bodied, sometimes keening, sometimes soaring strings in another of Rautavaara's surging constructions—here underlined with strummed harp—and their descents into thoughtful, meandering reflection. Angels here are reassuring, the movement ending in calm. The second movement's series of three powerful trumpet calls, from two slightly different pitched instruments—followed by brief bursts of fearsome percussion, conjures alarming angels, although their last fading appearance, undeniably bird-like (and wonderfully played), softens the angst. As does the dream-like third movement, a reverie ending with soft, repeated warblings behind the string and horn musings. The brass fanfare opening the final movement is followed by emphatic carrolling from woodwinds and strings—akin in the density of movement to Canticus Arcticus—underscoring soaring brass. In the ensuing softening, we see the trumpets muted but finally no less powerful in the work's climax, simply more integrated, bringing human and angel together. Rautavaara didn't aim to write a programmatic work, but the kinship of birds, angels and spirit were evident in the concert's admirably selected three works and superbly conducted by Benjamin Northey with the balance of restraint and release necessary to realise Rautavaara's vision.
photo Prudence Upton
AAO with Nicole Lizée (top R), Sex, Lynch & Video Games, Sydney Festival 2017
Nicole Lizée, Sex, Lynch and Video Games
Nicole Lizée with the Australian Art Orchestra, Sex, Lynch and Video Games was another festival highlight, an exciting and fruitful pairing of Canadians (Lizée, pianist Eve Egoyan and guitarist Steve Raegele) and Australians (AAO, led by Peter Knight).
Lizée 's David Lynch Etudes (she's also tackled Hitchcock) are played by Egoyan to projected and radically edited clips from David Lynch films. The outcome is funny, alarming and aesthetically satisfying in the fusion of playing that yields rippling waves, dark intoning, astonishing stuttering and grand romantic pianism with revealing investigations of very short film moments. My favourite was of Naomi Watts as Betty in Mulholland Drive (2001) surprised by the sudden appearance of Laura Harring as Rita. Lizee cuts and repeatedly stutters the film so that it becomes an intense, sustained portrait of Betty saying "You came back" in quickfire states of happiness, shock, fear, suspicion and hatred as the piano shuffles darkly. Watts is perfect for such dissection and elaboration. As are Nicholas Cage and Laura Dern in Wild at Heart (1990) elsewhere. At one point, Egoyan leans to the side and plays slide guitar as well as piano as a guitar is played in Twin Peaks onscreen. Motifs emerge that appear in this and other excerpts in the program: images totally flaring or sparkling, a brush appearing and painting in, for example, tears, small photos of characters (and Lynch) placed on a tongue, and an obsessive preoccupation with seemingly incidental details like the window that the camera tilts towards and away from Watts. I'm not sure what they add up to but they lend the works an intriguing totality. What is impressive is not only the dynamic between live piano and edited visual imagery but the cut-up sound of the film made musical in itself and in tandem with the keyboard.
In B-Bit Urbex, Lizée, now upstage with the orchestra at her computer, plays with malfunctioning early computer games, with a keen focus on their "pixelated cities." The simple, often stuttering images and freezes are aurally textured with complex music that has to responsively slow, compulsively repeat or hover. Band members clap in time, two trumpeters play into buckets of water, there's a wild big band passage and some fine gentle guitar work, pitched against the image of a plodding game robot. The unpredictability of these old games yields rich musical rewards.
photo Prudence Upton
Gian Slater, Tristram Williams, Sex, Lynch & Video Games
After a turntabalism improvisation between Lizée and Sydney's Martin Ng, which, though fascinating in part, warranted more duration to be revealing, the concert concluded thrillingly with Karappo Orestutura (literally "empty orchestra") in which a singer adjusts her performance to a malfunctioning karaoke machine (as played by the Australian Art Orchestra). Gian Slater, in superb voice, stays 'in tune with' the warped pitches, grinding glides and relentless repeats, maintaining, as Lizée requests, "composure." Things begin well enough, songs complemented by old footage of couples kissing, fighting, crying, hugging and images of fire. Then a screen explosion anticipates a world about to go wonky, which it does with Devo breaking up on screen and the singer seamlessly executing fractured vocals for "Whip It." Unexpected images pop-up: the joint-sharing scene from Easy Rider, the dead mother in Psycho, as if the imagined machine has locked onto some other platform. The climax is spectacular: Diana Ross and Lionel Richie onscreen in aged video gazing lovingly at each other, microphones in hand for "Endless Love," their voices finely realised by Slater and conductor Tristram Williams riding with aplomb every tape stutter, enforced glide and mad looping. The Australian Art Orchestra and Slater, along with a very busy Vanessa Tomlinson on percussion, rise to this demanding occasion with precision and gusto.
Nicole Lizée makes impressive new music—and new audiovisual experiences—from the manipulation, decay and malfunctioning of old technologies. In this concert, the challenging melding of music and media reached a deeply satisfying apotheosis.
You will find music and video works by Nicole Lizée on her website.
–
Sydney Festival 2017: 1967: Music in the Key of Yes, Concert Hall, Sydney Opera House. 17 Jan; Ellen Fullman Long String Instrument, Sydney Town Hall, 13, 14 Jan; Gabriel Dharmoo, Anthropologies Imaginaires, Seymour Centre, 9-15 Jan; Rautavaara, City Recital Centre, 11 Jan; Nicole Lizée, Sex, Lynch and Video Games, City Recital Centre, Sydney, 19 Jan
RealTime issue #137 Feb-March 2017
© Keith Gallasch; for permission to reproduce apply to realtime@realtimearts.net
Artlands is the new "brand" name for the bi-annual national Regional Arts Australia Conference and Festival which this year hosted international speakers alongside delegates from across the nation. Held in Dubbo, its ambitious and densely packed program was animated by the themes regeneration, connectedness and emergence. While it was possible to experience these in various combinations, this report reflects my own interests in the program, focusing on several highlights of its investigation into what we might mean by 'regional' in contemporary global culture.
A UK perspective: diversity and community
Skinder Hundal, Chief Executive, New Art Exchange, Nottingham UK spoke about New Art Exchange as a hub of cultural and social reinvention through diversity and experimentation in creative practice, focused on local/global interaction, and the engagement of local audiences by using local histories and practices. As well, he questioned our assumptions about how the arts ecology works, delivering a timely case study on the arts as a driver of inner city regeneration and bringing communities together. Rather than rethinking the idea of region, he proposed that we rethink the idea of centre. This was an exciting proposal, although the differences between UK and Australian regions are very marked.
Art practice and health
Focusing on ways to engage artists as agents of change in immediate and direct ways, exemplary presentations on this complex topic ranged from a discussion of art and social justice to art as a measure of quality of life, especially made meaningful through creative expression, including in the face of death and in tackling a serious crisis, such as HIV in the Free State of South Africa. When health funding is very limited, artists can be instrumental in creating strategies and discourse.
Here in Australia, Kym Rae, Director of the Gomeroi gaaynggal (Babies from Gomeroi lands) program, was very frank about the way fostering creative practice in First Nations communities could have a significant impact on mental health outcomes in much quicker timeframes than a solely medical approach.
Rural routes
On recasting art and theatre practice in rural communities, Henk Keizer, Co-Coordinator of Rural Routes in The Netherlands, spoke about long-term projects in the farming areas of the Netherlands that have needed, and employed, artists to articulate community experiences and concerns to government, commissioning theatre and performance to communicate more effectively. With regard to methodology, including in terms of research and development and the need to invest time in rural locations and communities, this was an effective lesson in the demise of fly-in-fly-out approaches to cultural production.
By contrast, even with a distinguished line-up of speakers—Michael Brand, Director, Art Gallery of NSW, Dolla Merrilees, Director, Museum of Applied Arts and Sciences, Blair French, Director Curatorial and Digital, Museum of Contemporary Art, Caroline Butler-Bowden, Director of Curatorial and Public Engagement, Sydney Living Museums and Steven Alderton, Director Programs, Exhibitions and Cultural Programs, Australian Museum—the institutional presence of large key organisations provided little more than animated press releases (albeit quoting some impressive regional audience numbers for their programs), but a dearth of considered embedding of cultural process over time. The MCA's C3West, a long-term project in Western Sydney (in partnership with councils and businesses) was an example of artists working with communities to deal with urban social and cultural issues, but without necessarily serving as a transferable model for regional needs.
The exceptions here were Sydney Living Museums, clearly taking the initiative with ongoing programming, and the Australian Museum with its considered repatriation of Indigenous objects program and community building through working with families and in relation to artefacts in its collection. These programs seem symbolic of real institutional change, deep understanding of cultural issues and the inclusion of Aboriginal history.
First Nations
The heart of the conference was without question the generous and rigorous presentations by First Nations speakers. I cannot stress enough the power of their direct address—based in personal experience—to move, inspire and galvanise.
In his opening keynote about sovereignty Mark McMillan, Associate Professor, Melbourne Law School invited us to consider creative making as a meeting place, where acknowledging sovereignty is a personal, transformative and mutual experience that takes place through culture and cultural production.
Lee-Ann Buckskin spoke eloquently about mentoring and agency, championing the expertise and experience of First Nations artists and arts workers; and Rhoda Roberts articulated the impact of institutional intent in including First Nations content and context across all aspects of cultural production. I particularly valued her impatience with 'closing the gap' rhetoric and her provocation that instead of First Nations people adopting Western cultural aspirations, that the broader population should "sit down with us." I can only hope that these ideas are taken up by all who attended, and that this translates into action across the sector.
Wala-Gaay
A highlight of the Festival program was a small but coherent exhibition at the Fire Station Arts Centre. Wala-Gaay was an ambitious group show of artists who were part of the Orana Arts Left Field Project, a long-term creative mentoring program in its second year. It presented a collection of powerful, visceral, diverse works engaged with historical references, lived experience and culture in the present. All were by local regional artists who were encouraged throughout the project to work in new ways with previously untried materials.
Jason Russell's (Worimi) Taken from Country is both a visceral image of violence and colonial rule, and a highly resolved physical presence that brings the viewer into the work. Arresting from the moment you enter the space, neck irons hang in line in front of an old saddle, keys attached—symbols of imprisonment and subjugation, equal parts beauty and horror.
Locked up, by Dylan Goolagong (Wiradjuri), reflected on museum practice and its historical roots in theft and acquisition, asking who has access to and who act as gatekeepers for First Nations cultural artefacts. A series of crosses and carved wooden blocks hidden in a set of old steel lockers, the work questioned viewers' notions of what is sacred by placing a physical barrier—a closed door—between us and some elements of the piece, while echoing the systems and structures of collection and display.
Our girls by Paris Norton (Gamilaroi) is a lyrical and painstaking memorial to young women who were stolen and taken to homes to be trained for a life of domestic servitude by the Aboriginal Protection Board. Each hand-painted and hand-cut circle of paperbark, as personal as a fingerprint, is an eloquent stand-in for records that were lost or destroyed, and lives profoundly altered, under this regime.
All these works are direct yet densely layered and moving. There is not space here to discuss the equally accomplished works by Aleshia Lonsdale, Alex Nixon and Robert Salt; and credit must also go to mentors Blak Douglas, Jonathon Jones, Chico Monks, Nicole Monks and Jason Wing, and curators Khaled Sabsabi and Emily McDaniel. While there were moments where the viewer could see the influence of a mentor, there was more a sense of artists entering into a field of practice rather than imitation, and the diversity of the work was testament to the benefits of structured support and creative dialogue. It was exciting to see a local event that so clearly stood out in an abundant program of interesting work from around the nation. This is a show that deserves to tour; and I hope to see more work – more bodies of work – by these artists in the future.
Conference/Festival divide
One of the troubling issues of the event however, was something of a separation between the conference and the festival. This was particularly visible for me as I spoke to local artists who felt 'priced out' of a conference where the frameworks and practices that shape the arts system with which they engage were up for debate. While being part of the festival was of course a valuable opportunity, and included artists from other regions as well, there still seemed an unnecessary and problematic divide between the makers and the decision-makers. Few artists were involved in articulating how to proceed in the cash-strapped present. (And if organisers think that the cost to attend was not prohibitive for many artists, then they need to get to know the reality of artists' incomes a little better.)
Equally, given the ways artists were being recognised as the motor of engagement, community building and delivering outcomes, a dialogue with what artists need to produce these outcomes—over the long term, and with adequate remuneration—should have been an important inclusion. Austerity politics and diverted funding have devastated budgets within the arts, but also in arenas where artists are increasingly the service bearers of not just creative or cultural outcomes, but diversity, health and community outcomes as well. And in this context is it too much to expect inclusivity to extend to queer artists and artists with disability? Both were conspicuous in their absence from the programs I attended.
Rethinking 'regional'
The conference concluded with a discussion of the future and a panel on thought leadership, bringing together Wesley Enoch, Artistic Director, Sydney Festival, Lindy Hume, Artistic Director, Opera Queensland and Mathew Trinca, Director, National Museum of Australia to imagine futures, collaborations and new approaches. While attempting to redefine the idea of what the regions are—in their diversity—there was a clear call for us as a field to name and promote and value what we already do, and to articulate that value more effectively in order to have it recognised.
I think Wesley Enoch queried the term 'regional' in the most productive ways: through speculating about working region to region, relocating large companies to regional towns and suggesting that large established institutions and organisations forego government funding. I took this to mean in favour of the smaller organisations that form such a significant testing ground in the arts ecology. He also proposed no longer taking culture to the regions, instead developing and supporting culture in the regions, and in a global not just national context. He also suggested how we can all take action in the current climate: go to more shows, practice your elevator pitch and meet five strangers and start a dialogue that lasts at least a year.
–
The next ARTLANDS will be hosted by Regional Arts Victoria in 2018.
ARTLANDS Conference and Festival, Dubbo, NSW 27-30 Oct
Liz Bradshaw is an artist and cultural researcher. She gave a presentation at ARTLANDS on creative education for dLux Media Arts.
Top image credit: Locked Up, Dylan Goolagong, Wala-Gaay, photo Liz Bradshaw
At its most overt, Wesley Enoch's 2017 Sydney Festival programming is about sensory engagement, indigeneity and innovative art-making. Alongside works that challenge the senses there's a cluster of works by and about First Nations peoples and an overlapping one, principally theatrical, from independent Australian and visiting artists. These are complemented by discrete programs of contemporary circus and Canadian performance amid diverse festival fare from around the world, beyond easy summary.
Unlike most festival directors, Wesley Enoch is, expectedly, forthright about matters social, cultural and political. Although his festival might not be themed top to bottom and despite its considerable breadth, it has a core, the man himself. Towards the end of our conversation in the festival office in the Rocks, he asks rhetorically, how it could be otherwise: "How am I so of this place and of this time that I'm responding and reflecting what's here?" It's a question he thinks all festival directors should ask of themselves.
He adds, "When I look through the program, I think my politics are there for everyone to see—my way of seeing the world. The big thing I find challenging is going from being someone who makes theatre to someone who curates a festival. I still think like someone who's got to make it. It's not a curated experience this one. It's about me going, this is what I want to happen; can we make it happen? It'll succeed or fail or spark conversation or people will go ho-hum. This is what a festival is about."
DIY festival
The large format program features the colourful festival logo breaking up over a lively black and white portrait of a Sydneysider. There are eight of these selected from public submissions and eight program covers to match, depending which one you pick up. As well as inviting the public to make art, Enoch says play with the festival logo is "all about extensions and connections; about it being broken apart and finding its own way back together again. It's an invitation to the audience to make their own Sydney Festival, literally from bits and pieces, to have confidence in themselves as individuals now that everyone's a maker—having at their fingertips the means of production to make a film or do whatever."
Enoch hopes that the curiosity festivals can excite might counter "the fracturing of our body politic. Individuals are now tribal in the way they see the world and we get a lot of [self-reinforcing] feedback through social media or our choice of news media. Things get reflected back to us that an algorithm says we'll like. I find that fascinating. It builds a confidence that I don't always like…We really need to say, 'Be creative in your own thinking, be curious in the way you see the world, engage with otherness, with difference, so that you bring a quality to your life that is outside your lived experience.'"
Enoch's program, delineating the sensory, Indigenous, Canadian and circus/physical theatre mini-programs, provides festival-goers with clear starting points for entering what at first glance might appear to be a maze. He underlines the importance of clustering, arguing, "If you do one [of a kind of work], it's saddled with the idea that it has to be representative of a whole practice. Once you do a number of them you have a diversity of approaches."
A festival of the senses
A featured festival work is conceptual and olfactory artist Cat Jones' Scent of Sydney, to be staged at Carriageworks. I mention Indigenous artist Archie Moore's 'perfume portrait' series, Les Eaux d'Amoore, with its robust scents. Enoch recalls, "One of them was stale beer and cigarettes wasn't it? That was full-on! As we're living in an increasingly digital, disembodied world in our leisure time, in our work, artists are asking, how do you get back into the corporeal, the body of things? I wonder if we have lost the subtle vocabulary for our senses."
Cat Jones will tell us about Scent of Sydney in next week's RealTime. In the meantime, Enoch explains that the scents will be made by the artist in response to the recollections of a small group of participants of the aromas they associate with subjects like democracy, resistance and landscape. Audiences will be able to experience the outcomes and ponder their own associations.
Also on the sensory front, in deafblind artists Heather Lawson and Michelle Stevens' Imagined Touch the audience wear goggles and earphones to share a quiet, dark, complex world. It can be experienced as a performance or a free installation. House of Mirrors in the Festival Village offers another kind of sensory disorientation. In Encounter, the UK's Complicite, utilising the depth of field and detail generated by the binaural microphone, takes its headphoned audience on a recreated journey up the Amazon.
Australia's bold independents
Parramatta's FORM Dance Projects is mounting Champions. Focused on women's football, it's directed by Sydney choreographer Martin del Amo whose engrossing signature works have often sprung from the act of walking—a short step to field moves. Created in consultation with Western Sydney Wanderers W-league, the work features 11 female performers enacting the drills, tactics and rituals of the game and expressing the joys of playing along with the frustrations of imposed gender limitations. We have an interview with del Amo in next week's RealTime.
Enoch was keen to premiere Champions at Carriageworks: "It doesn't have to be that Western Sydney is just a colony of Sydney." Conversely, Ich Nibber Dibber by those proud Westies, post—featuring the astonishing trio reproducing excepts of conversations from their 10-year performance history—will open at Campelltown Arts Centre.
Prize Fighter from Brisbane's La Boite plays out as a convincing real time boxing match in its telling of the life of a Congolese child soldier relocated to Brisbane. It was written by Future D Fidel, himself a Congolese refugee. Reviewer Kathryn Kelly wrote that it "showcas[ed] the breadth of African-Australian talent in this country with local performers Pacharo and Gideon Mzembe matched by recent NIDA graduate Thuso Lekwape…The opening night felt genuinely significant, evoking descriptions of the first night of Wesley Enoch and Deborah Mailman's Seven Stages of Grieving at Metro Arts in the 1990s."
Urban Theatre Projects and Blacktown Arts Centre come together to present Home Country, a work about intra- and cross-cultural tensions—Indigenous, Algerian and Greek—played out in a Blacktown car park from scripts by Andrea James, Peter Polites and Gaele Sobott. Also in Western Sydney is Hakawati from the National Theatre of Parramatta, featuring shared food and song from the Middle East.
Innovative Australian works from across borders include Melbourne's Patricia Cornelius, with her play Shit (about class and misogyny), Jacob Boehme's dance theatre work Blood on the Dance Floor from Melbourne's Ilbijerri Theatre (read the review "To live, dance and love with HIV"), Brisbane's Circa in Humans, from Tasmania, Terrapin Puppet Theatre's You and Me and the Space Between and from Cairns, Dancenorth's Spectra. Enoch says of the strong interstate showing, "I don't think Sydney sees enough of the work that's created outside of Sydney. Is that terrible to say?" I'm also interested in what happens when works like Prize Fighter get a rare second outing. There are things that can change, mature. Jacob Boehme's Blood on the Dance Floor is another example. Aesthetically, it's a real step on for Indigenous storytelling."
Indigenous culture: continuity, 1967, language
Enoch's prominent Indigenous program ranges across theatre, play development, dance and visual arts. The Season, by Tasmanian playwright Nathan Maynard, a descendant of the chief of the Trawlwoolway Clan and of the North East Tasmanian Indigenous peoples, made its first appearance in the 2015 Yellamundie First Nations Peoples Playwriting Festival. I ask Enoch the writer's age. "Oh, if you told me he was mid-30s I'd believe you; if you told me he was early 40s, I'd believe you—wise old man that he is. The writing reminds me of some of the early Jack Davis work where you have family environments in which cultural continuity is being expressed just through lived action. There's a lightness of touch, of comedy, that belies a heavy burden, especially coming from Tasmania where the dominant myth is that all Aboriginal people were wiped out." The Season addresses "cultural continuity around mutton-birding which has gone on for hundreds and thousands of years." Also in the program is Ilbijerri Theatre's "road trip comedy," Which Way Home, by writer-performer Katie Beckett, about a daughter's relationship with her single-parent father.
In Not An Animal Or A Plant, Vernon Ah Kee responds through drawings, paintings, text and projections to the 1967 Referendum which recognised Aboriginal and Torres Strait Islanders as citizens and included them in the census."He's bringing together his work as a conversation about that historical event. I don't think this country's even cognisant of the fact that this year is the 50th anniversary. It was such a successful referendum, 90.77% of the population voted. I wonder if it happened now, would it get through? What's changed?"
The referendum will not be forgotten with the mounting of 1967, Music in the Key of Yes, in the Sydney Opera House Concert Hall, featuring film footage from the period and a stellar line-up of singers: Leah Flannagan, Yirrmal, Dan Sultan, Adalita, Stephen Pigram, Radical Son and Thelma Plum.
Bayala, Let's Speak Sydney Language, is a very special component of the festival's Indigenous program, an opportunity to become familiar with—through documents, classes and a "sing-up"—with the once assumed lost languages of the Eora and Darug peoples.
Meeting Canada
Enoch is pleased to be presenting "a big chunk of Canadian work, including Huff by writer-performer Cliff Cardinal from Native Earth Performing Arts [Canada's oldest professional Indigenous theatre company]. There's been a lot of exchange between Indigenous Australians and Canadians for quite a while now, especially the further north you go in Australia and through the tri-nation agreement between Australia, New Zealand and Canada over at the past decade.
"Huff literally means to sniff, as in solvent sniffing. It's a multi-generational story where the performer plays all 20 roles. The youngest of three brothers has the gift from the Creator to make people feel good, and by the end, with all the tortuous things that he observes or that happen to him, he's lost it. Huff marries the spiritual nature of a lot of First Nations storytelling with this story of growing up. It has a lot of black humour. The storytelling is both beautiful and tragic as you'd expect from any First Nations story. That's where it works best: I'm laughing, but at the same time, I'm feeling like it's dragging me under."
Also from Canada is Company 605 in the dance work Inheritor Album; Tomboy Survival Guide's words and music investigation into gender identity; Montreal composer Nicole Lizée's form-bending Sex, Lynch and Video Games; and Anthropologies Imaginaires, Gabriel Dharmoo's fictional chants and rituals which "examine Western culture and the way we look at others" (program). Also featured is iD by Cirque Eloize, the centrepiece in Parramatta's Circus City, where all the circus works, associated workshops, forums and films will be presented. "Canada has a rich circus tradition but amazingly, we hear very little of it, except for Cirque du Soleil," says Enoch.
Remembering Myuran Sukumaran
Myuran Sukumaran was executed on 29 April, 2015 in Indonesia for drug trafficking. Sydney Festival, in conjunction with Campbelltown Arts Centre, is staging an exhibition of his paintings, curated by friend and mentor, the Australian artist Ben Quilty, and CAC director Michael Dagostino. Programming it makes a strong statement. "It's important," says Enoch. "Next year is the 50th anniversary of the Ronald Ryan hanging, the last legal execution in Australia. So there's a sense of convergence. I think that as a festival we're here to prod debate and discussion. There'll be some people who'll say, 'How dare you elevate a drug dealer to the 'hallowed halls' of art!' Well, if we believe that you incarcerate people because there's a possibility of rehabilitation, there is the case to argue for the redemptive power of art. And after 10 years, my opinion is that those two people (Myuran and Andrew Chan) found a way to be rehabilitated. Capital punishment is such a final thing."
We began our conversation with scents and senses and end with what is so evident about this Sydney Festival, its great sense of occasion—timely celebration of the 1967 Referendum, remembrance of the unnecessary death of Myuran Sukumaran, an embrace of Canadian art, and acknowledgment of the breadth and depth of Aboriginal culture and the innovative Australian art-making of which it is a sharer and driver. For all the breadth of its summer festival fare, Wesley Enoch's 2017 Sydney Festival is a rarity among its peers for its sense of purpose, its aesthetics inseparable from its politics. It looks to be the festival Enoch sought of himself, "of this place and of this time," of this city, of Australia in all its cultural complexity.
In a companion article, we offer a personal guide to shows RealTime readers might like to seek out.
–
Sydney Festival 2017, 7-29 Jan
Top image credit: Cliff Cardinal, Huff, Native Earth Performing Arts, photo Akipari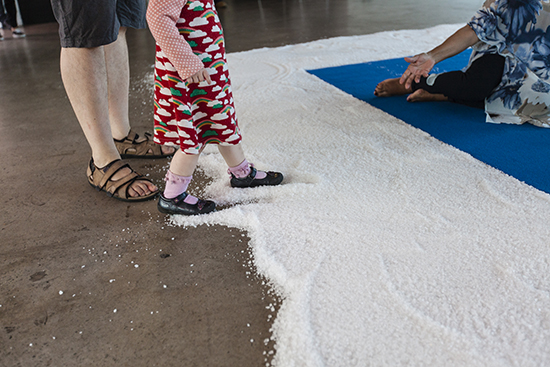 When We Talk About Food, We Talk About It From The Heart, We The People, Liveworks 2016
Where does art belong today? Outside the void of the white cube in museums and galleries, contemporary art is more present in everyday life than ever before. In shopping centres, squares, train stations and on street corners, everyone from developers to local council officers is in the business of exhibiting art in its many forms. As arts organisations continue to move outside traditional spaces, We The People placed contemporary art installations and performances in the lodgings of community organisations that surround Performance Space's Carriageworks home. Part of Liveworks and curated by Tulleah Pearce, the project was a kind of festival of goodwill and an effort to find new ways of doing site-specific work, with artists working with small community organisations for a number of months to develop works that reflect those groups' aims.
The rapid changes in Redfern seemed to form We The People's unspoken undercurrent of architectural and spatial politics. Though the process of gentrification began in 2000 with Indigenous people being moved on for the benefit of Olympics tourists, the process has visibly sped up over the last five or so years. In the new Redfern, creativity is conflated with entrepreneurialism and the "creative class," with customers for $5 matcha lattes supplanting the residents who shaped and created the value of the area's culture and history. Along with developers, small businesses and the public sector, artists and art organisations have also played a role in gentrification, an uneasy reality that is rarely discussed within the contemporary art world.
I interpreted We the People as a sideways correction of art's activity inside processes of gentrification. Rather than the project's self-professed aim of examining the social fabric of the Redfern-Darlington area, the works were more celebratory in nature: a way to praise the handful of non-profit groups remaining in the area and for Performance Space to relate to its local community (a bit like its Microparks projects in 2013-14). Or maybe just to create pleasant spaces for people to spend time in for half an hour on a weekend arvo. It was a reminder that even when they're not highly visible, small community spaces persist in this war of urban attrition, and perhaps that gentrification can never be entirely successful.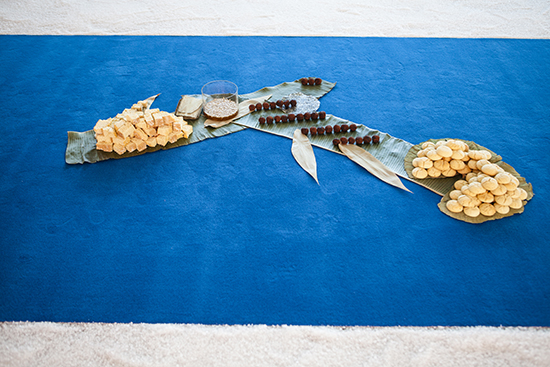 When We Talk About Food, We Talk About It From The Heart, We The People, Liveworks 2016
It's not just the presentation of work in public spaces but cultural production that is changing. Interesting in its aim if not always its manifestation, We The People's faults are reflective of a broader trend I've noticed in festival-like engagements by small to medium arts organisations in which the works have a strong core concept not fully realised: resulting in a certain flatness and unripeness. This is not a criticism of Liveworks per se but more a worrying tendency in the arts ecology: I fear there's not the time and space and funding available for curators to develop work—to mentor artists from a project's conception to presentation.
To me, the most engaging of the four We The People projects were the ones that engaged members of community organisations in the process of making the work. Anna McMahon's project used Indigenous foods as the sensory trigger for a whole range of community bonding activities. The work titled When we talk about food, we do it from the heart, took place at Yaama Dhiyaan, a hospitality training centre right next to Carriageworks, specialising in Indigenous food and culture. McMahon laid the length of the room—a standard office-y space—with a large blue carpet, laced with a perimeter of rock salt. We took our shoes off to approach the rug, along which were laid small piles of delicious food made at Yaama Dhiyaan. Damper baked fresh that morning could be dipped into a bowl of honey and sunflower seeds, and shortbread biscuits and chocolate lavender truffles were laid on large leaves. People sat and walked around and chatted and chewed as they pleased; McMahon created a nice space for people to hang around and meet other art-goers.
The project clearly involved members of the host group in a meaningful way, this time, Aunty Beryl van Oploo, and other community members who were visible and active during the exhibition, replenishing the food and just generally being around. Writer Rebekah Raymond from Humpty Doo, NT, provided text which was projected as a backdrop to the long exhibition space. Much installation art functions on a very intellectual level, but it was satisfying to engage in a tactile manner beyond visuals: big crystals of rock salt between the toes, tasting sticky honey, crumbling shortbread and still-warm damper.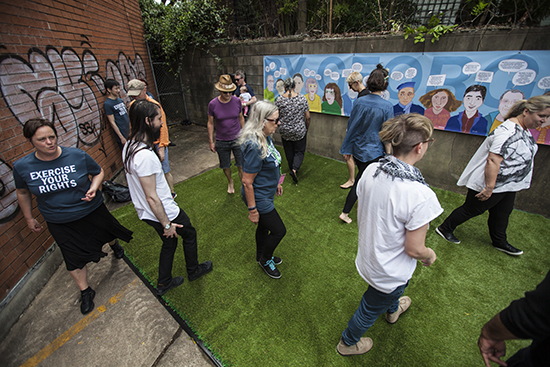 Audience participants, Exercise Your Rights, We The People
Likewise, Deborah Kelly's By George! Exercise Your Rights at the Association of Good Government, had a spirit of earnest light-heartedness. The Association is an idealistic group dedicated to reforming the current political system, its home an unassuming red-brick structure I had walked past hundreds of times before, facing Redfern Station. On a modest square of astroturf, we audience members took part in some gentle exercises led by softly-spoken Association member and fitness instructor Timothy Lum, who just seemed like a really nice guy. We rolled our wrists and walked gently on the spot while Kelly intoned some of the Association's core ideas: "against privatisation, a philosophy of equality." Dance academic Julie-Anne Long then guided us through movement-based mindfulness exercises, drawing our focus to small sensory aspects of the site—the feel of the turf underfoot, the sound of trains alongside us, a banner by Kelly and Leigh Rigozzi depicting Association members—and inviting us to make eye contact with each other as we walked. A wide basket of apples sat at the exit, so we could replenish ourselves with the fruits of society's labour.
The set-up was spare but suffused with Kelly and Long's 'come on board' energy. The simple, neat, unifying metaphor of exercise really worked: there was a feel-good atmosphere, everyone could participate and it generated that vibe of 'being up for it,' which good participatory art projects tend to do. A humble, neighbourhood project, it reminded me that art can be a gesture of kindness and generosity, an invitation to participate.
………..
For the other two works in We The People, Benjamin Forster's Kelkaj Fragmentoj at Esperanto House, and David Capra and Emma Saunders' See you at the Top, on a Redfern street corner, see our Liveworks overview.
Performance Space, Liveworks Festival of Experimental Art, We the People, curator Tulleah Pearce; various locations, Redfern, 20-30 Oct
RealTime issue #135 Oct-Nov 2016
© Lauren Carroll Harris; for permission to reproduce apply to realtime@realtimearts.net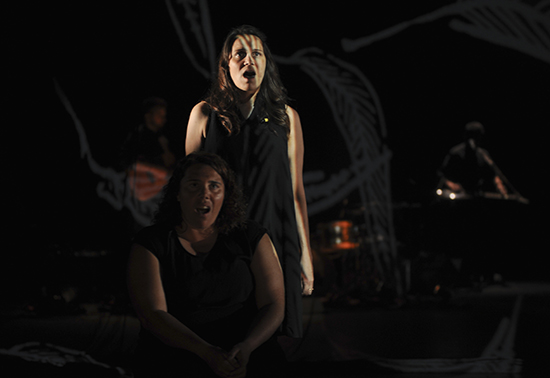 Kaleena Briggs, Nardi Simpson (Stiff Gins), The Spirit of Things: The Sound of Objects
Non-indigenous knowledge of Aboriginal culture is notoriously poor in Australia, worsened in recent years by the former Abbott Government attempts to cut back Indigenous curriculum content for schools. Aboriginal artists carry much of the weight of responsibility for conveying to other Australians the spirit and complexities of their cultures. In August, Sydney-siders saw Winyanboga Yurringa; written and directed by Andrea James, it focused on a group of women brought together by an elder around ritual and cultural artefacts. Now, another fine production, of a very different kind, also tells of the significance of objects so often locked in museums.
Popular Indigenous band Stiff Gins, Nardi Simpson and Kaleena Briggs, have celebrated their 17th anniversary with the premiere of an ambitious theatrical production, The Spirit of Things: The Sound of Objects. The singers open with "a happy song" in language, but interrupt it midway, declaring "this is a show," not a concert, proceeding to take us with them into some very dark places, albeit with passion and humour and, at times, apparently perverse delight.
On a visit to a museum archive the pair had seen objects taken from Aboriginal people and sites that hey felt should have been "rotting or burning" or, better, "at home." These artefacts "spoke to them," so the singers decided to choose eight and "sing them into being," accompanying each song with a story and projection.
A large transparent curtain hangs the width of the stage, a screen for ghostly images of feathers, leaves, water and stars, spilling wide across the floor. Through the scrim we see a guitarist, bassist and two drummers who play evocative arrangements with clarity and subtlety, if conversely, and unnervingly, amplified stadium-force, reducing the intelligibility of the singers' lyrics.
A crackling old wax cylinder recording prompts the artists to make their own version of the song they hear. It's about a good woman who dies, decays into bones and sludge, then sprouts feathers (as abstracted ones float across the screen) and becomes a bird, singing to her loved ones. The singers tell her, "You are never dead." Less hopeful is a story about a girl who becomes a victim of relentless racial abuse until she adopts "a mask" to defend herself from the world.
Even more painful is a tale full of dark ironies. A good relationship with a local white farmer secures goat's milk for a mother whose children she fears are the targets of child-stealing government officers. She expertly trains her offspring to watch for such men and in ways of escape. However, made drowsy by their loving mother's honey sandwiches, the boys, high in a redgum, fail to see the arrival of the officers. The mother takes fright, surrenders the girls to the river, where they drown, and witnesses her sons trapped in the tree. The singer completes her song with deeply affecting, sustained soprano sobbing, a lament for a good mother seen as bad through white eyes. Wave lines ripple across the space, a ghostly representation of a river since lost to drought.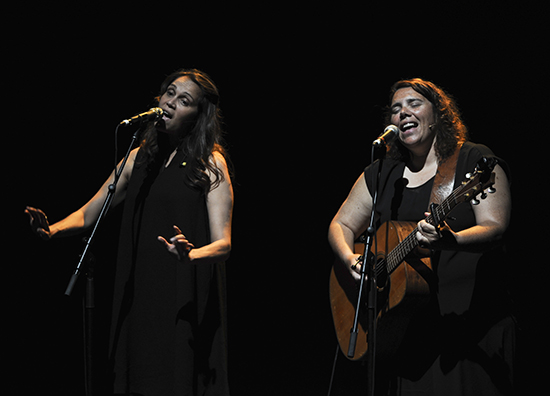 Kaleena Briggs, Nardi Simpson (Stiff Gins), The Spirit of Things: The Sound of Objects
Sitting beneath the night sky, the singers describe the stars in the Milky Way as the "fires of the dead" and speak of their desire to join those who have passed, one conjuring an image of her throat cut, the blood comfortingly warm; "flowing like juice out of a mussel," says the other. These are disturbing images, though clearly cosmologically satisfying for the artists. A subsequent monologue about a woman who is abandoned by her husband only for him to return to bond with his son–to her exclusion—seems grimly existential rather than cultural; she concludes, "I don't want them."
The final scene, the work's most alarming, serenely tells of an Aboriginal serial killer who strangles and cuts the throats of his people. He is pursued by the hated police who inadvertently take another man in his stead; but then find the killer when they hear his dog barking. Killed, his spirit passes into the dog, to the delight of the tellers who admit that, although he betrayed his people, he was a great man, born with the knowledge of a hunter. The singers sit, affectionately stroking the imagined dog as light fades.
The Spirit of Things: The Sound of Objects is a fascinating concert-theatre hybrid, performed with great ease by Nardi Simpson and Kaleena Briggs and, in monologues, with controlled emotional intensity (director Felix Cross). Design (Lucy Simpson), lighting (Fausto Brusamolino) and projections (Mic Gruchy) effectively transform the performance space, making it intimate and local and opening it out to a cosmological vision of the mutability of life, acquainting us with ghosts and the ever-present dead. For the work to entirely succeed we need to hear the songs clearly and be certain which object triggers which story. Hungry for understanding, I long to hear the Stiff Gins speak about what this bracing work's dark tales mean to them.
–
Performance Space, Liveworks Festival of Experimental Art: Stiff Gins, The Spirit of Things: The Sound of Objects, creators, performers, Nardi Simpson, Kaleena Briggs, director Felix Cross, design Lucy Simpson, lighting Fausto Brusamolino, video media designer Mic Gruchy; Carriageworks, Sydney, 27-30 Oct
RealTime issue #135 Oct-Nov 2016 pg.
© Keith Gallasch; for permission to reproduce apply to realtime@realtimearts.net
Mahdi Mohammadi, Jawad Yaqoubi, Karen Therese (background), Gholam Nabi (screen), Tribunal, Powerhouse Youth and Griffin Theatre
Tribunal is raw, conversational theatre built, rather fragilely, on a conceit: the holding of a public tribunal overseen by a female Aboriginal elder before whom refugees living in Australia tell their stories. It's a highly flexible hearing that allows for singing, dancing, re-enactments in which refugees deal with threatening Australian Government officials and tender accounts of life in their countries of origin and in their new home. Above all, it allows the elder, Aunty Rhonda Grovenor Dixon, to herself speak as a witness, providing a point-by-point analogy between the treatment of refugees and our Government's maladministration of the lives of Aboriginal peoples. When one of the refugees asks if they can tell their story in their own words, Grovenor Dixon replies, "It's theatre, you can do what you like."
Charismatic performers and the work's informal structure lend Tribunal necessary cohesion and warmth. Two young Afghan Hazaris, Mahdi Mohammadi and Jawad Yaqoubi, bringing wit and casual energy to the performance, offer unfamiliar tales. Mohammadi is a theatre director, formerly the leader of a women's rights theatre troupe built around Hazari women's dance. In Kabul they played to audiences of women—whose husbands had to be bribed into 'believing' the women were going on a picnic—as well as performing in schools and a women's prison. They also toured to India. However, back home, Sharia Law's hostility to dance resulted in threats and the death of a relative, a prelude to Mohammadi's leaving Afghanistan.
Another speaker addressing the tribunal is an impassioned community worker, lawyer and here, a strong performer, Katie Green, who worked for three years for Red Cross, supporting refugees released from detention. Her account of the arrival of refugees in Australia tells of "chaos," always "a mad dash," night time, "always dark," herself carrying a large amount of cash in an Aldi bag to be distributed $400 per person to arrivals. The upside for Green was the sheer joy of seeing refugees re-united with family. But, with only 89% granted of a Centrelink payment per week, long-term prospects did not look good for these people. Given the intractability of the situation, "I felt like a cog," Green says.
Karen Therese, wearing headphones, reproduces verbatim the words of a Human Rights lawyer, now based in London, who feels profound guilt at not being able to help a mother "who lost the plot," washing herself compulsively after her child was sexually abused. After some four years the woman and child were granted refugee status and admitted to Australia but denied justice and compensation. It's not precisely clear why the lawyer had to leave Australia, presumably compelled by the helplessness he shared with the Red Cross worker and, as he says, knowing "we were biting the hand [the Government] that was feeding us [Legal Aid]" and the likelihood, as has happened, of a reduction in funds.
L-R: Rhonda Grovenor Dixon, Mahdi Mohammadi, Katie Green, Tribunal, Powerhouse Youth and Griffin Theatre
Not long after his arrival in Australia and with a bridging visa, Mohammadi is bluntly advised by a Department of Immigration officer (Paul Dwyer playing all the baddies) to abide by a code of conduct including not "running a red light" if he didn't wish to lose his visa. It's this which triggers Grovenor Dixon to declare that she recognises similar codes her people have been compelled to live by. But first she invokes her own proud standing as elder and grandmother, recites the names of her totems, displays a magnificent possum coat (with artwork on the inside) and recounts her father Chika Dixon's activism on behalf of his own people, having defeated his alcoholism. Grovenor Dixon then recalls the code that led her grandfather, a fine tenor, to fear the loss of welfare payments if he spoke in language. The codes by which Aboriginal people are compelled to live today has resulted in mass imprisonment, the Intervention and suicide. Mohammadi says he can take no risks, there's "no more party"—a neighbour might complain. Grovenor Dixon sings "Miss Celie's Blues" from The Colour Purple and Mohammadi and Green dance, but the reprieve is short-lived, Mohammadi telling of young refugees killing themselves: "four while we were making this show."
Grovenor Dixon offers consolation, acknowledging shared resilience in the face of these nightmarish circumstances. As a buzzing and a rumbling pervade the theatre, the performers form an awkward, slow-moving tableau, shifting back and forth or repeatedly half-sinking to the floor. Its significance eluded me. But, we are saved by tea, offered by traditionally dressed Iraqi members of Fairfield's wonderful Parents Café which supports new arrivals to Australia.
Karen Therese opens the conversation to a hesitant audience—so much had already been said, so much to accommodate, all of us doubtless feeling the burden of privilege. A psychologist and guest of the production, Sarah Coconis, joins the artists, explaining that the impact of Australian racism (and our denial of it) "is worse than the original trauma" of being a refugee. We are, she says, like a bad parent, betraying those in our care.
Two final 'scenes' lift Tribunal to another plane. First a young man and woman (Bilal Hafda and Iman Etri), further guests of the production, step out of the audience and rap poems with verve, he telling us to "reclaim your honour" and "atone for your apathy," and she, traditionally attired, declaring in her last lines, "This is what a feminist looks like," having taken exception to an attitude that argues (as close as I can recall), "you're the norm, my clothing oppression, yours fashion."
Mahdi Mohammadi and Jawad Yaqoubi take centre-stage and fill in the missing part of their story, their coming to Australia. There were three of them in Indonesia after they fled Afghanistan. Mohammadi arrived here by boat, Yaqoubi by plane, having been granted refugee status, and Gholam Nabi Hayati who went by boat too but has now been on Manus Island for three years. The pair sing a song for their friend. Tribunal doesn't so much end as open us anew to the plight of others and our responsibility for them. Closure seems as yet barely conceivable, but as public concern about refugee and Aboriginal suffering grows, Tribunal compels us to apply greater pressure to the Australian Government to respond to the needs of those in its care—in reality, our care.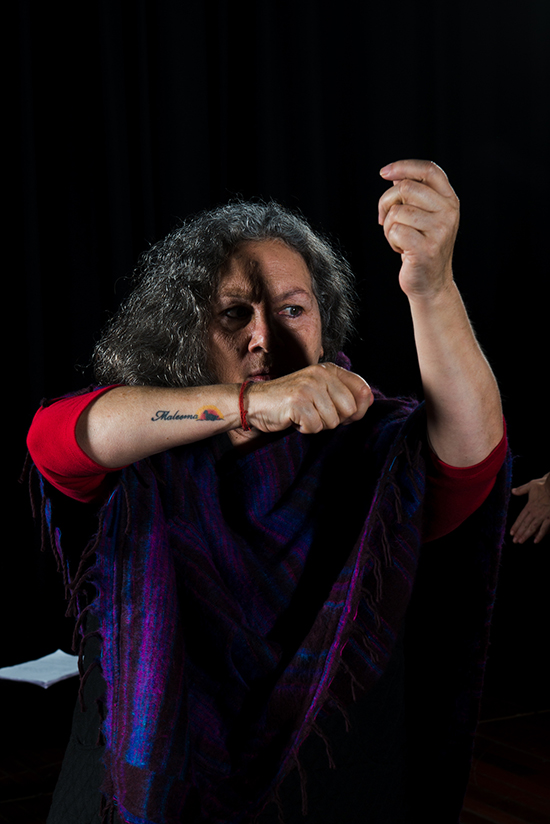 Rhonda Grovenor Dixon, Tribunal, Powerhouse Youth and Griffin Theatre
PYT [Powerhouse Youth Theatre], co-presenter Griffin Theatre Company, Tribunal, concept Karen Therese, creative collaborators/text/performers Paul Dwyer, Katie Green, Rhonda Grovenor Dixon, Mahdi Mohammadi, Karen Therese, Jawad Yaqoubi, design Province Studio (Laura Pike, Anne-Louise Dadak), sound, video design James Brown, lighting Emma Lockhart-Wilson; SBW Stables Theatre, Sydney, 12-20 Aug
RealTime issue #134 Aug-Sept 2016
© Keith Gallasch; for permission to reproduce apply to realtime@realtimearts.net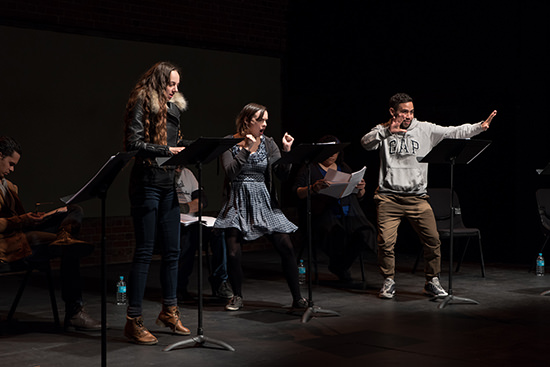 Reading of Melodie Reynolds-Diarra's Skylab, National Play Festival 2016
Successor to the long-running Australian National Playwrights' Conference, Playwriting Australia's National Play Festival is now in its ninth year. At its centre is a program of full and partial readings of new works developed through PWA's various strands. There are also regionally focused showcases featuring excerpts by emerging playwrights; industry forums and artist panels; talks and master classes. A litmus test of Australian playwriting, the festival is also a community of spirit: a rare opportunity for playwrights and other stakeholders—directors, dramaturgs, actors and producers—to come together over the course of four days to debate, discuss and embolden.
This year's festival, held at Melbourne's Malthouse Theatre, was notable for being the last before it shifts from an annual to biennial format, a consequence of funding cuts to the Australia Council. Happily, the high level of artistry evident throughout the festival's four days of readings assuaged lingering discontent with this state of affairs.
Cultural diversity in play
Perhaps most impressive were this year's two regional showcases, Lotus and Aotearoa Now, which featured works by Asian-Australian and New Zealand playwrights respectively. Formally daring and possessed of a striking energy, excerpts from these plays provided tantalising glimpses into cultures and dramaturgies that remain woefully under-represented on Australian stages. They also reflect a welcome and sustained focus on cultural diversity at PWA: of the festival's 13 playwrights, seven were non-Anglo, as were 15 of the 27 actors involved in the play readings.
This diversity was also evident across the main program of six plays, four of which were by female playwrights, including the wildly inventive Skylab by Indigenous actor Melodie Reynolds-Diarra. An emphatic, almost sui generis fusion of her Wangkathaa heritage, pop culture influences and an alternate history of the falling to Earth in WA of the Skylab space station in 1979, the play marks the first time Australia's three major Indigenous performing arts companies—Yirra Yaakin, Ilbijerri and Moogahlin—have collaborated on a single work. It could be described as magic-realist, but it is wholly distinct from the Latin American tradition.
Among Skylab's creative team is Iain Sinclair, PWA's Resident Dramaturg, who spoke to me about the special challenge of applying dramaturgy to works arising from, or incorporating, non-Western playwriting and performance traditions. It's a conversation that seemed especially pertinent given not only the festival's majority non-Anglo makeup, but also its overarching theme of 'craft,' which saw much discussion—flowing on from Michael Gow's keynote address ("The Agony and the Agony: A Totally Impractical Guide to Playwriting")—turn to dramaturgical first principles rather than the big picture questions which predominated at last year's festival.
Aotearoa Now acknowledging the audience, National Play Festival 2016
An emergent dramaturgy
Sinclair describes Skylab as a "beautiful dance," a metaphor that neatly suggests a reciprocal, non-hierarchical model of dramaturgy that is flexible and needs-based. "When the idea of craft is applied as a closed system," he says, it can imprison ideas rather than release them." If pioneering companies such as the Australian Performing Group (APG) initiated the breakdown of a British dramaturgical model based on the well-made play in the 1970s, then Sinclair sees culturally diverse artists as those most likely to lead what he calls a "post-enlightenment" dramaturgy that is responsive to the needs of individual plays, emerging "somewhere in the meeting point between cultures as a new Australian dramaturgy." Sinclair nominates Indonesian-Australian playwright Shari Indriani's Squint Witch, which featured in the Lotus showcase, as an example of this emergent dramaturgy, freely mixing "sacred performance, Gen Y neuroses and traditional Indonesian puppet theatre."
As a further illustration, Sinclair points to Isaac Drandic, actor, writer and Associate Director of Ilbijerri, whom Playwriting Australia is now in the process of teaming with playwrights who the company feels stand to benefit from his craft—as a kind of dramaturgical gun for hire. This is, in conjunction with PWA's dramaturgy mentoring program now in its fifth year, all part of a long-term strategy to centralise the role of dramaturgs in the development of new Australian work.
"Australian dramaturgy," says Sinclair, "is in a process of evolution. We have largely moved on from the typical dramaturgy of the 80s and 90s—a 'Pinterising' style led by deficit thinking that was always asking 'what is wrong with this play, what can we cut to fix it?'—to a next level dramaturgy that is fluid and artistically orientated. But unquestionably we are still a few years behind America and Europe." The key for playwrights who want to develop their craft, Sinclair believes, is industry exposure (easier if you're based in New York) and familiarity with the work of as many other writers as possible. Exposure is crucial for dramaturgs too. Sinclair reckons it takes being in the room for 10 to 15 productions before anything teachable can be learned, but humility is also vital: "dramaturgy," he tells me, "is less about dictating form or taste than being an advocate for what the medium does best."
In the first instance, Sinclair believes, this is simply the art of rendering ideas into behaviours. It's an idea that can be applied equally to the Lotus plays, with their often complex interaction of inherited and contemporary cultural traditions and to the six works—Skylab, Melissa Reeves' The Zen of Table Tennis, Steve Rodgers' King of Pigs, Olivia Satchell's I Sat and Waited but You Were Gone Too Long, Chris Summers' Pedagogy and first-time playwright Emily Sheehan's Hell's Canyon—that comprised this year's main program.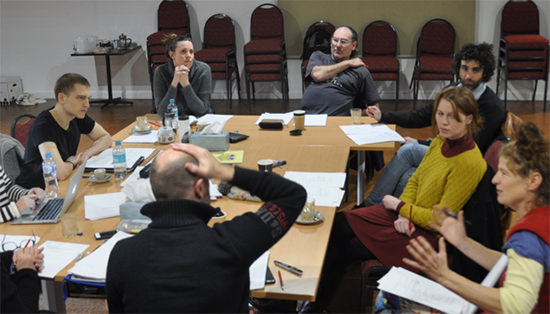 Workshop, Melissa Reeves' (bottom R) The Zen of Table Tennis, National Play Festival 2016
Stage-ready
At various stages of development, only two of these works feel stage-ready: King of Pigs and The Zen of Table Tennis, the latter surely in danger of what Sinclair calls 'shop spoiling,' so long has the script been around under different titles. Both plays are bold, finely crafted takes on difficult issues—domestic violence and trauma respectively—but it is Reeves' signature humour and eccentricities of character that add up to the richer vision; all the more reason to wish for its rapid progress to full production. Taken as a whole, it might be argued that it is a shortage of ambition rather than craft that undermines the progress of some plays; small casts, narrow concerns and an absence of politics confirm in my mind Hannie Rayson's assertion during her master class that Australian playwrights are, broadly speaking, reluctant to write about those in positions of power.
But that, I suppose, is a question of inspiration, and perhaps a topic for another festival—one that will no doubt build on this year's considerable achievements in diversity and craftsmanship—to unpack.
–
Playwriting Australia: The National Play Festival, Malthouse Theatre, Melbourne, 27-30 July
RealTime issue #134 Aug-Sept 2016
© Ben Brooker; for permission to reproduce apply to realtime@realtimearts.net
Winyanboga Yurringa, (L) Tessa Rose, Alexis Lane
Lost children have a strong grip on the national psyche, as documented by Peter Pierce in The Country of Lost Children: An Australian Anxiety (Cambridge University Press, 1999), reaching from the 19th century to the present in fiction, film, painting and real-life. Pierce could have more accurately written "White Australian Anxiety" for a phenomenon generated by settlers' fear of an alien landscape. Angela Betzien's The Hanging perpetuates the anxiety while Andrea James' Winyanboga Yurringa returns Aboriginal women to country hitherto lost to them and in doing so suggests, in turn, that endangered young women's lives need not be lost. Both are conventional plays, but the originality and, for white audiences, unfamiliarity of James' vision makes it a special experience.
Winyanboga Yurringa
Winyanboga Yurringa is Yorta Yorta for Women of the Sun, the title of the four-part TV mini-series Women of the Sun (1981), co-written by Hyllus Maris and Sonia Borg, which inspired James to write, as she explained in a recent RealTime interview, about a new generation of Aboriginal women.
Winyanboga Yurringa opens and closes ritually. Initially a lone female elder bearing a ceremonial digging stick stands astride a small circular rise and finally a teenage girl is dressed in the centre of a sacred site with traditional female attire. In between, the play is an ever-darkening comedy of conflicts between six very different Aboriginal women as banter turns bitter and anger and despair threaten to take hold. Below the rise is another circle—camping space and sacred site—girded above by a semi-circle of exquisite suspended sculptures and several in the distance, from which hang curled, leaf-like shapes. Transforming dramatically with the play's mood shifts they suggest a magical place, of serenely floating trees that can become eerie presences.
The elder, Neecy, has invited five women to the site with a purpose (something to do with the contents of a large box) but is thwarted by joking and bickering, Carol's need for alcohol and her fear of spiders and snakes, the teenage Chantelle's urgent desire to call her exploitative boyfriend (reception's too weak) and tension between two sisters—Margie, a lesbian with a white girlfriend, and Wanda, a mother of six with an abusive husband and a dislike for anyone insufficiently 'black.' A late arrival, Jadah, a pale-skinned photographer becomes the perfect target for Wanda's prejudices which she relays with relentless hostility: "do you make art for white people;" "why does she want to be a blakfella now?" That Jadah has made an artwork in which she has her family paint their faces black (as Bindi Cole, the AV artist for this production, did in a controversial photographic series) unsettles the whole group.
Tessa Rose, Winyanboga Yurringa
Neecy manages to corrall the women from time to time: they weave long grass, sing "Pretty Woman" rawcously, joke non-stop from the outset—"you can't go wrong with a small businessman"—and conjure a scary spirit, but increasingly share moments of sombre insight: "If not for grandmother weaving in the dark, we wouldn't be weaving in the light," and they rally to defend Jadah. A greater problem is the vulnerability of Chantelle with her mother in gaol, no job and, as she says accusingly, "you all argue." Rejected by her money-demanding boyfriend (reached on Jadah's phone), she wanders into the night and is assumed lost, causing panic (and some funny business about Aboriginal people using GPS). But her carer, Neecy, knows that the absence of a sense of belonging could lose the girl to drugs and a pointless life. Chantelle's return is nonchalant but coincides with growing conciliation between the women. At last, through ceremony, Neecy can make these individuals one, with a place at their centre for Chantelle. From the box come items of traditional adornment (bravely "borrowed" by the usually cautious Carol from a museum archive) with which to dress an accepting but slightly bemused Chantelle in the manner of her great, great grandmother. Once lost, she is now found, if symbolically, but with great hope.
Winyanboga Yurringa is a work of great feeling, fraught with tension, leavened with laughter and racked with gut-felt anger. Tessa Rose brings stately authority and determination to the role of Neecy. Pamela Young is a gently funny, unsettled Carol; Kylie Coolwell an unfussed, benign Margie who sees though her sister's anger; and Alexis Lane's Chantelle a wounded adolescent, played with just the right reserve. Matilda Brown's sensitive Jadah is initially scared off by Wanda but grows in strength. And Angeline Penrith's portrayal of Wanda, racist against her own people, played without exaggeration, is consistently unnerving. Her anger could undo this fragile community of women, but their coming together on country finally does its magic. Andrea James has drawn a variety of talents together for a perfect ensemble performance.
Designer Daniele Hromek's 'tree' sculptures make her set a work of beauty, given colour and depth by Karen Norris' superb lighting, Bindi Cole's haunting projections and an aural depth of field created by Phil Downing in which, instead of a conventional composition, an array of wonderful, highly articulated sounds evoking nature and the night have been scored to amplify the immersiveness of the setting and a sense of very special country. With wit and passion, Winyanboga Yurringa generously invites us into a world of Aboriginal women in search of heritage, belonging and spiritual unanimity, a rare and treasured offering.
Winyanboga Yurringa plays 17-20 August at the Playhouse Theatre, Geelong Performing Arts Centre.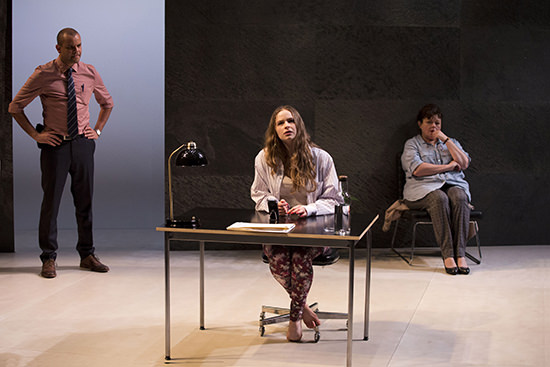 (L) Luke Carroll, Ashleigh Cummings, Genevieve Lemon in Sydney Theatre Company's The Hanging
The Hanging
At a time when crime fiction devotees are steadily fed with television series and novels of great depth and complexity, Angela Betzien's STC commission, The Hanging, proved to be an entirely frustrating procedural, short on logic, insight and suspense. Three 14-year-old students in an all-girls private school have gone missing. One of them returns, tight-lipped, to be interrogated by a young detective sergeant (Luke Carroll), at first out of his depth in dealing with a sulky, snarky adolescent (Ashleigh Cummings) and the girls' droll teacher (Genevieve Lemon) who had introduced the trio to Picnic at Hanging Rock and other novels in private sessions at her home, feeling that the school had become authoritarian (after another mysterious event) and that the girls needed a sense of freedom.
A long, slow stretch of getting nowhere is broken when the detective suddenly reveals a pile of evidence he had all along, girl and teacher turn on each other and revelation is in sight. Save for a few of the teacher's witticisms, the dialogue is dull underlining the absence of serious characterisation—the detective is nothing more than an earnest policeman and family man, the girl, a real pity, is allowed limited psychological complexity and the teacher, in love with one of the missing girls, borders on cliché.
The conceit of updating Joan Lindsay's 1967 novel Picnic at Hanging Rock, shorn of its supernatural dimension, is laboured, having to do work not done by the script. Projections on a wide screen atop a ground-level long stone wall periodically show the girls wandering through deep forest right up to the climactic reveal, overtly recalling imagery from Peter Weir's 1975 film. The found girl appears on top of the wall in the director and designer's awkward attempt to integrate live performance and film—with melodramatic consequences. Other reviewers of The Hanging were uniformly gripped and thrilled, but I couldn't engage with a play that is too casual with procedure to be suspenseful, seriously evasive about what would drive young girls to an extreme fate and relying on associations with the novel and film without suggesting anything more than an impressionistic updating.
–
Carriageworks & Moogahlin Performing Arts: Winyanboga Yurringa, writer, director Andrea James, assistant director Liza-Mare Syron, dramaturg Patricia Cornelius, performers Kylie Coolwell, Alexis Lane, Angeline Penrith, Tessa Rose, Pamela Young, Matilda Brown, set design Danièle Hromek, AV artist Bindi Cole, lighting Karen Norris, sound and AV design Phil Downing; Carriageworks, Sydney, 3-6 Aug
Sydney Theatre Company, The Hanging, writer Angela Betzien, director Sarah Goodes, performers Luke Carroll, Ashleigh Cummings, Genevieve Lemon, design Hannah Gadsby, video design David Bergman; Wharf 1 Theatre, 28 July-10 Sept
RealTime issue #134 Aug-Sept 2016
Goldstone
There's a lot of dust in Ivan Sen's Goldstone: literal dust in the desert terrain of the film's titular town, as well as the metaphorical variety, heard from characters who talk about "cleaning the dust away." This accretion brings to mind an image of historical detritus that cannot be brushed off, a cultural legacy that's foregrounded during the film's opening credits that feature a series of photographs from Australia's Gold Rush era. Over a sweeping instrumental score, shackled Indigenous men appear with shocking clarity, followed by images of the Chinese community at work, and white Australians at afternoon tea.
The music ceases and historical pictures are replaced by a shot of a car driving through a yellow landscape, heralding the return to the screen and the arrival in Goldstone of Detective Jay Swan (Aaron Pedersen), last seen in Sen's 2013 thriller Mystery Road. Notably the worse for wear, he's arrested by the makeshift town's fresh-faced policeman, Josh (Alex Russell), for drink-driving, before being grudgingly released to begin investigating the disappearance of a young Chinese woman. Here as in Mystery Road, Swan's inquiries start to expose something poisonous within the entire community. Goldstone might be small and relatively isolated, but the problems Swan must tackle, of exploitation and corruption stemming from postcolonialist greed and racism, are enormous and all too familiar in reality.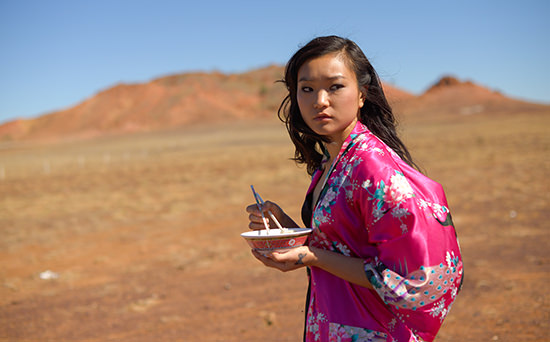 Goldstone
Sen is a versatile director who can move from the most meditative 'art' cinema (Beneath Clouds, 2002) through naturalism (Toomelah, 2011) to the skilled employment of suspense and action in his genre pieces featuring Jay Swan. But in all these films there's a common socio-political thread of characters caught between worlds: a questioning of what it means to belong and whether it's possible to escape your allotted place. In Goldstone, Sen takes Swan's outsider status, as flawed but principled Indigenous lawman, and pushes it into mythic territory, intensified by his most explicit exploration of spirituality yet, centred on local elder Jimmy, played by David Gulpilil.
Perhaps this mythologising—though not a flaw in itself—and the number of problems Goldstone seeks to encompass makes the film's approach to real victimisation seem at times superficial. For all the talk of dust, the film doesn't feel viscerally dirty enough. The horror of sex trafficking is skirted around, while characters like David Wenham's mine foreman and Jacki Weaver's mayor, who with a penchant for baking and corruption is a cruder version of her truly frightening matriarch in Animal Kingdom (David Michôt, 2010), are too broadly drawn to be deeply menacing. Sen doesn't utilise the intense close-ups of Mystery Road: that portrait-like scrutiny of faces behind which lurk potentially devastating secrets. The secrets in this mining town are fairly open ones. Swan and Josh know how the land lies; it's largely a question of whether they can shift a few monoliths.
While Goldstone's mythic quality might simplify some of its themes, it doesn't reduce the impact of Jay Swan, whom Pedersen renders as layered and believable as he is archetypal. Along with ABC TV series Cleverman (2016), the Jay Swan films mark the long-overdue arrival of Indigenous (super) heroes, as well as narratives that grapple with contemporary injustices via the myth genre. Cleverman has been approved for a second series; I'm hoping Jay Swan will surface in another troubled town a few years hence.
Goldstone
Goldstone, writer-director Ivan Sen, cinematography, editing Ivan Sen, score Ivan Sen, Damien Lane, production design Matthew Putland; distributor Transmission Films, 2016
RealTime issue #133 June-July 2016
© Katerina Sakkas; for permission to reproduce apply to realtime@realtimearts.net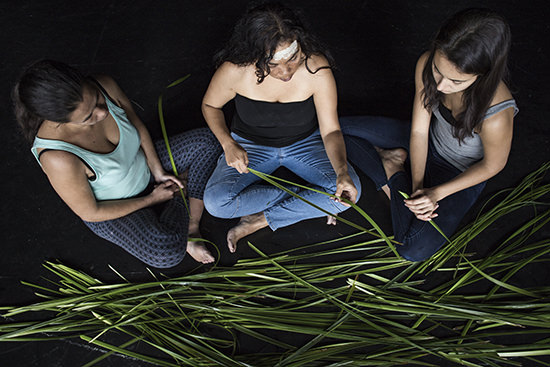 Winyanboga Yurringa
I meet Andrea James—playwright, director and Artistic Associate at Carriageworks—early evening at the end of rehearsal: the room is littered with props, the desk with scripts, design plans, empty cups and intriguing signs of traditional Aboriginal craft. It's only a few weeks til bump-in and I'm wondering how James, who looks calm enough, is feeling about what she immediately describes as "a really big beastly new work." Clearly, she's still at work on the final shaping of the play.
In Winyanboga Yurringa (Yorta Yorta for Women Under the Sun), six Aboriginal women gather at a campsite in Yorta Yorta country in regional Victoria, hoping to connect with the land. But the fun of being together and their bickering about identity, love and appearance get in the way of spiritual communion until an ancient cultural practice provides a way through.
How long has Winyanboga Yurringa been brewing?
It started with a commission from Belvoir for a large-scale stage adaptation of the four-part TV mini-series Women of the Sun (1981), co-written by Hyllus Maris and Sonia Borg. There were five writers in the team. Four were to adapt a story each, and my job was to write a new episode, asking 'who is our Woman of the Sun today and what are her major concerns?' So, I set about interviewing lots of women I knew. I was working at the Koori Heritage Trust at the time, doing community arts work. It was a really inspiring place actually because it's one of the very few community-controlled, fully accredited museums and they had an incredible collection. Also, I was visiting the 38 Aboriginal nations of Victoria coordinating weaving workshops and [encouraging] the revitalisation of culture. This was around 2012-13 when we started it.
The script was workshopped and pitched to the Major Festivals Initiative, but didn't make it, so I had this little play in my back pocket. I put it in the drawer and didn't really think about it. Then an opportunity came up to workshop it with Playwriting Australia. So I built it up from 20-30 minutes to a full-length work. It went to the National Play Festival in Perth in 2013 and, after that, I came back here and did another development.
Has it retained its relationship to Women of the Sun?
It's influenced by that work in that Women of the Sun was the initial spark.
The Belvoir project never came to fruition?
No, unfortunately it didn't. It was big and ambitious but it didn't make it.
But the impulse remained, to say something about Aboriginal women now?
Definitely. The first port of call was just to have conversations with lots of women in Melbourne and also up in my Yorta Yorta country.
Was the weaving initially a focus for the play?
No, that was separate, but kind of fed into it. I was just really interested in watching our mob engage with cultural objects.
In your own country?
Everywhere. The Koori Heritage Trust collection is fascinating. One of its founders was Jim Berg, an incredible man who was working in a department of the Australian Museum. He really struggled with Aboriginal artefacts being kept in an institution and how difficult it was for him to get a hold of them, even to exhibit them himself. Also, because he was working in the museum sector, people kept coming to him with important objects that they were finding on land, like stone-heads from axes and digging sticks. He was thinking that he didn't want to put them in a museum. Jim Berg was one of the driving forces behind the Koori Heritage Trust plan to put cultural objects into the trust of the community, rather than in non-Aboriginal institutions.
What they collect is really interesting: things we might think of as everyday objects—leatherwork stubby-holders and aunties' woven rugs made in Koori colours—are included. These things have meaning for the community. Other people might think, 'Oh yeah, it's just a stubby-holder and a rug,' but for us, we knew the people who who made them. So it's a really important collection.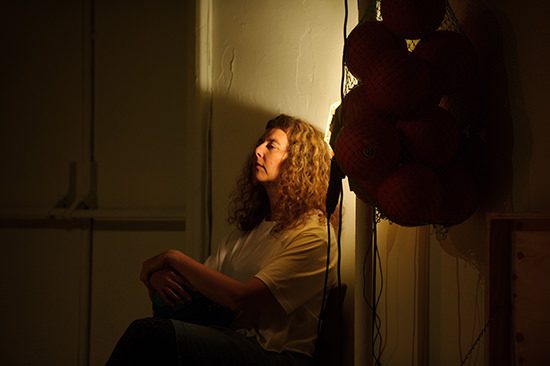 Andrea James
How did the weaving workshops relate to the Trust collection?
The women would come to the Trust and we'd go down into the Archives and show them the baskets that were made by the aunties who were no longer living. Oh, it will stick with me forever, the energy of that. But also as a theatre-maker, [I thought about] how interesting it would be to put those objects in a performance setting, and the weaving too. Here's an incredible practice that's been on this country for so, so long, that connects us to country. So, there's now a place within the play which is just about weaving and the dance that relates to it. And the actors actually do it. [James shows me a small weaving].
What is it made of?
I can show you. [She reaches behind to select a strand from a large bundle of long, inch-wide strips of grass.] We got this from La Perouse with permission from the mob there. Look at the colour of it! When you strip it, you can smell it but it also does something to your body. So, in performance this will be so beautiful.
How did you go about selecting the objects which will feature in the production?
It's hard to talk about it without giving it away. Part of me as a theatre-maker asks, "What if…?" So, what if all of the objects that are in this play are the ones that I saw as 'trapped' in a museum.
You've liberated them?
As part of my research, I sought out all of the objects at the Australian Museum that were from my country and they let me take photographs. I've put them in the play. So I've asked, what if the women in the play stole those artefacts and brought them to country to repatriate them? Identity and repatriation and evolving cultural practice are some of the really strong themes in the work. That's a case of taking a story and running with it.
It's a change from the dramatising of historical events which has been strong in Aboriginal playwriting.
I thought, well, if you're going to make a political statement well let's push it to its nth degree. There's often an assumption that we'll just rock on to country and know what to do. Actually, sometimes you don't know what to do. I was interested in that awkward place, that place of re-connection which can sometimes be difficult and painful.
It's great that we've got Pamela Young with us who's making a comeback for the project. She was in the new wave of black theatre in the 1970s. She performed with Justine Saunders and at Belvoir in the early days. What's fantastic is that she's now working in Parks NSW and is involved in repatriation of bones and objects. So, we're like, "Hello, come and be in our play!"
Things fall into place. What have you learned about the contemporary Aboriginal woman? Is that still central or has repatriation become more a focus?
To be honest, I haven't discovered anything that I didn't already know. If anything it's reaffirmed things. I was interested in just seeing six Aboriginal women on stage—something we haven't seen for a long time. A lot of women I interviewed talked about lateral violence and what it means in our communities.
What's lateral violence?
Where community members turn on each other. It's like internal violence, when we turn our struggle in on each other and where people get into positions of power. This affects both women and men, of course, but when I spoke to the women, there was a sense of a real struggle around that power and what people can sometimes do to try and cut you down for it.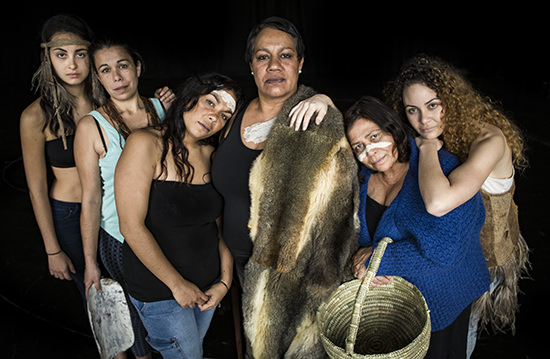 Winyanboga Yurringa
So this has become part of your scenario?
It has. The last episode of Women of the Sun was about the Stolen Generation and how you bring yourself back into community. I think the community struggles with what to do with people who want to return. So, I've picked up on that theme. I've also used [photographic, video and installation artist] Bindi Cole's story about people from the community questioning her Aboriginality and her work—that classic portrait of her family with black-painted faces—and how she was one of nine Aboriginal people who successfully sued Andrew Bolt for questioning their identities and breaching the Racial Discrimination Act. In the redrafting I didn't want to give Bolt any more air, that's done, but I was interested in what Bindi described, so her story comes into the play—the other women don't know who she is and she has to kind of prove herself.
What kind of theatrical structure have you developed for the play? Has it emerged from your investigations and speculations?
It definitely has, from all the interviews I was doing. When I finished it I thought, 'Oh I've written a naturalistic comedy. Where did that come from?' But that's just how the story wanted to be told. I'm in more of a magic realism sort of space, so it surprised me.
You've written a heist comedy?
Ha! It kind of is and there's a lot of banter. It's a comedy, which it sort of has to be. The biggest thing when you hang out with a group of women or you go out bush, it's the laughter. That just poured out, given that they're dealing with some really difficult issues like poverty and violence, difficult relationships with men. The massive thing that you just can't ignore, particularly up around my home town, is drugs. It's rife. You don't want to fuel stereotypes but, at the same time, it's such a force. How can we not think and talk about it? And in actual fact, women are so at the front line.
Managing it or involved in it themselves?
Both, and looking after the children who are the casualties. A lot of the removals of children that are taking place now are the result of drug and alcohol abuse. So it's pretty big.
I feel it as an aunty with a little niece who's just turned 13. In the play, there's a young girl who is at risk. The central character, Neecy, has brought everybody back on to country because they're straying off the path and need to regroup and re-empower themselves, particularly for the character Chantelle, who is kind of based on my sister and my niece. We want to watch for her and hold her and make sure she's going to be alright, because our teenagers are so vulnerable and they could go either way.
Tell me about the design that contains these complex issues and feelings.
I've got a beautiful designer, Danielle Hrome, who is studying at UTS. This will be her first big design for theatre. It's really abstract: a big round campfire and forms that hang in space that could be trees, they could be shell middens. In my country, river country, on the River Murray, middens are really important. They could be spirits, they could be female energy—Bindi Cole has photographed the actors and their images will be embedded in the design. The idea is that people have come to this place for hundreds and hundreds and hundreds of years. It's pretty simple really.
Phil Downing is doing the soundscape for us and the AV, with Bindi. Karen Norris will do the lighting. As with the design, we're trying to cut against the naturalism, which is why we wanted something more sculptural in the design.
It's a comfortable space for the audience too. We're inviting you onto our land. Just come and sit with us for an hour and a half and we'll share some stuff with you. Hopefully, through that you'll come to understand your own relationship with this land and the people in it. If I can get to that, I'll be very very pleased.
–
Carriageworks & Moogahlin Performing Arts: Winyanboga Yurringa, writer-director Andrea James; Carriageworks, Sydney, 3-6 August; Geelong Performing Arts Centre, 17-20 Aug
RealTime issue #133 June-July 2016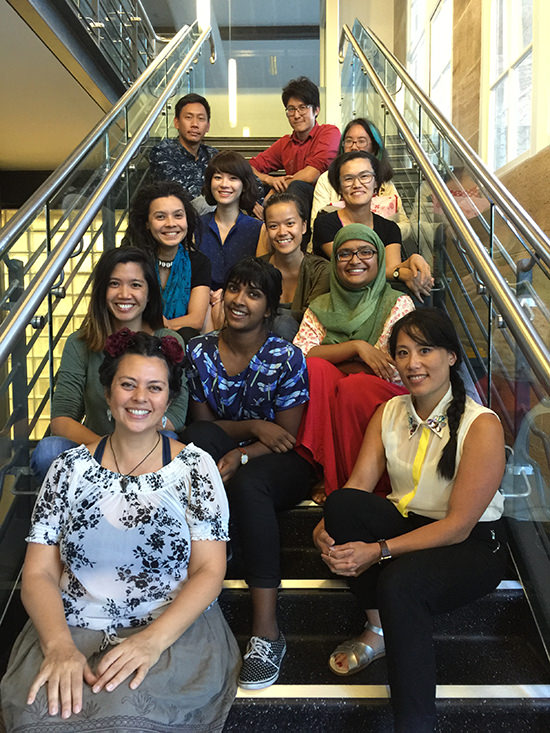 Participants in the Lotus Asian-Australian Playwriting Project, First Draft Intensive, 2016, Sydney
Look one way, and new Australian playwriting seems to be in a parlous state, underrepresented by the major performing arts companies and, through its closeness to the small to medium sector, at the coalface of swingeing cuts to the budget of the Australia Council. Look the other, and it's possible to detect distinct signs of life, especially in the flourishing of work by writers from Indigenous and culturally diverse backgrounds, and a new formal adventurousness responding to the advance of live art.
Both of these views were covered during my conversation with Tim Roseman, Artistic Director of Playwriting Australia, ahead of the 9th annual National Play Festival, a series of play readings, artist talks, workshops and industry forums showcasing works from PWA's various development programs. This year the festival is returning to Melbourne—"the source of so many of our great stories, and home to over one-third of all Australia's playwrights," according to Roseman—following its first time in Adelaide in 2015 ("Creativity, generosity and taking the pledge").
Alongside the main program of six plays, there will be two regional showcases—highlighting work by Asian-Australian and New Zealand-based playwrights respectively—two panel discussions featuring impressive line-ups of speakers that include John Romeril, Hannie Rayson, Joanna Murray-Smith, Tom Holloway, Van Badham, Jane Montgomery Griffiths and Angus Cerini, various workshops and masterclasses and a keynote address by Michael Gow titled "The Agony and the Agony: A Totally Impractical Guide to Playwriting."
Participants in Indigenous Playwrights Bundanon Retreat, 2015
In conjunction with the Media Entertainment & Arts Alliance's Equity Diversity Committee, the Adelaide event saw the launch of a Diversity Pledge, intended to be incorporated by writers in their play scripts to discourage producers from what Roseman calls "presumptive Anglo casting." I ask Roseman what his sense is of how the pledge has landed within the wider theatre community in the 12 months since its launch. "I would say," he replies, "that it has been strongly embraced by the writing community and that since its inclusion in all of our application processes, around 70% of play scripts we're seeing at PWA are engaging with it in some way." Of the works showcased in last year's festival, five, according to Roseman, "have had some kind of further life"—Phillip Kavanagh's Deluge, Elena Carapetis' Gorgon, Michele Lee's Rice and Lachlan Philpott's Lake Disappointment among them—but Roseman stresses the festival is not a marketplace but "a smorgasbord—I never want it to feel like if these plays aren't produced then they have failed."
I remind Roseman that in Adelaide a showcase of local emerging writers was a feature—and, indeed, for many, a highpoint—of the program but hasn't been retained this year, replaced by region-specific programs Aotearoa Now and Lotus. Roseman explains: "We always at the Play Festival have some kind of showcase of emerging artists. Last year in Adelaide it was local playwrights because we didn't think there were many opportunities for Adelaide-based writers to reach out and connect with the national playwriting scene. If you're in Melbourne, chances are you've already got that access. So we wanted to use the opportunity to, again, introduce the industry to artists that they may not be familiar with yet. For the last two years we've been running the Lotus Asian-Australian playwriting program in Queensland, Victoria and New South Wales. We've chosen four of that program's writers—Katrina Graham, Natesha Somasundaram, Ngoc Pham and Shari Indriani—to each exhibit a 15-minute section of first drafts of plays they have been working on at quite a high level of artistic development with leading playwrights from across the country."
Roseman sees both showcases as redressing significant holes in Australia's theatrical landscape—"We're far more conversant," he opines, "with new work from America and the UK, and even Canada frankly, than from New Zealand"—but it's the paucity of Asian-Australian playwriting that is of palpable concern. "Lotus," says Roseman, "evolved out of a tragic absence of new Asian-Australian plays on the stage. When we started the program, we looked at the tens of thousands of published Australian plays from the history of theatrical production in this country and could find less than five play texts that were published by Asian-Australian playwrights. So there's a massive problem that our stages don't reflect the culture of our population and this is our first step in putting together a cohort of talented, hungry playwrights who can address that."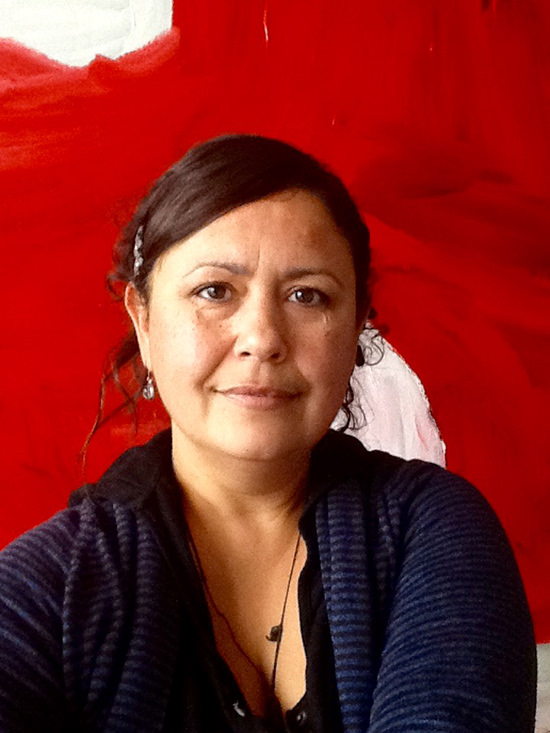 Melodie Reynolds-Diarra
As for the main program, featuring works by Melissa Reeves, Steve Rodgers, Emily Sheehan, Olivia Satchell and Chris Summers, it's Skylab by actor Melodie Reynolds-Diarra (a Wangkathaa woman from Western Australia) that I nominate, from what I'm told of it, when Roseman throws back to me my question as to which of the plays he is most excited about. The play uses the 1979 crash-landing of the US space laboratory Skylab off the southern coast of Western Australia as a jumping-off point for an absurdist yarn about, in Roseman's words, "how our Indigenous communities function outside of the main conversations that we tend to colour them with." What is it about Indigenous sci-fi at the moment, a seemingly unlikely genre reflected in, for example, ABC TV's Cleverman and Warwick Thornton's video work The Way of the Ngangkari in the Tarnanthi exhibition at the Art Gallery of South Australia in 2015?
I wonder aloud what next year's festival, the 10th, will bring. A special celebration? A retrospective of past achievements? Then Roseman tells me there isn't going to be one; the cuts to the Australia Council have seen to that. "We've lost around $150,000 a year from our Australia Council grants," he says. "So we're down exactly what it costs us to put on the Play Festival each year. What we've decided to do is change the Play Festival to a biennial event so it will return in 2018." This is further evidence—as though any were needed—of the Turnbull Government's shortsighted and irresponsible approach to arts funding but Roseman, despite conceding the "disabling" nature of the loss of funds, is characteristically chipper: "We'll be in a position where the same number of plays will be coming out of our programs—in fact, a couple more plays a year I think—but it does mean a refocus for us and it means working out how we sustain our long-term mission to change the shape of the Australian stage when there are fewer opportunities for work that isn't already connected to a producing framework." It's a question that will be on many minds when the Play Festival opens in Melbourne.
–
Playwriting Australia: The National Play Festival, Malthouse Theatre, Melbourne, 27-30 July
RealTime issue #133 June-July 2016
© Ben Brooker; for permission to reproduce apply to realtime@realtimearts.net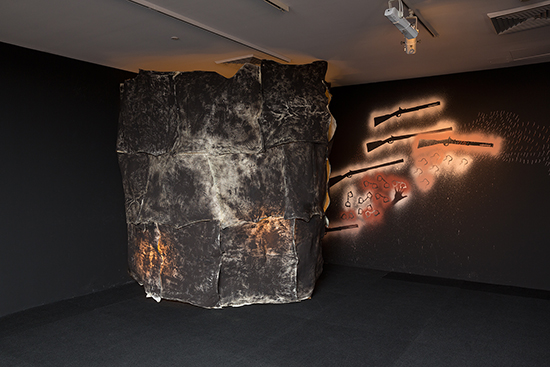 Dale Harding, Mardgin dhoolbala milgangoondhi – rifles hidden in the cliffs, 2016
Dharawal kiskisiwin (remembering Dharawal) is a digital animation of Google map images charting the journey from the Dharawal Land Council along the roads, past the brick homes, through fields and into thick eucalypt scrub. We arrive at a scene of cliffs on private land in Appin, not far from the outer Sydney suburb of Campbelltown. In this animation, the cliffs are marked with a yellow pin titled "Site of Appin Massacre." A parabolic sound cone above the animation wails an offering in Cree and English to the Dharawal for their loss. This pin is not just a mark made as part of the recent artwork by Canadian First Nations artist Cheryl L'Hirondelle—seeking to stand in solidarity—but in fact one of many such points that can be found on multiple Australian maps with a quick internet search: maps that identify over 30 such sites of frontier atrocities on the mainland that range from Appin in 1816 to Conniston in the Northern Territory in 1928.
"The upper scene depicts a massacre that took place early in the 20th century," explains a text about the work of Gija artist Queenie McKenzie, which she painted in 1996 to map one of many stories from the Kimberley. "It is part of Aboriginal oral history but is not reflected in Western written histories of the area." This statement is, in essence, the key curatorial premise of Campbelltown Arts Centre's With Secrecy and Despatch; a bold political response, it protests the national amnesia about colonisation and, in particular, the denial of massacres—stories of great loss that have been written out of our nation's history. This is an undeniably important topic deserving of attention. The only issue is that the exhibition presents this notion at such volume and from so many focal points that it could have in fact benefited from being three separate shows.
Visitors are welcomed into the gallery by two imposing black walls that block the standard sightlines through to the sunlit garden. The black vinyl title and introductory text on these walls is intentionally hard to read without making an effort and moving across the space. It is a clever device that gives the text the appearance of having been etched into the wall, as on a stone memorial, and implicates us in a responsibility to seek out the knowledge it offers. These words explain that using April 17 2016—the bicentenary of the Appin Massacre—as a catalyst (it could have been exhibition one), this show features 10 newly commissioned works by First Nations Canadians and Aboriginal Australian artists to "not only speak of the Appin Massacre," as curators Tess Allas and David Garneau explain, "but to brutalities that have occurred globally" (exhibition two). A three-year-long project in the making, With Secrecy and Despatch—titled after the words Governor Lachlan Macquarie used to describe the way in which the Dharawal people were to be forcibly removed from their land and killed if they resisted—also brings together 13 existing works by 11 Aboriginal artists that map massacres across the country, on loan from three major cultural institutions (exhibition three).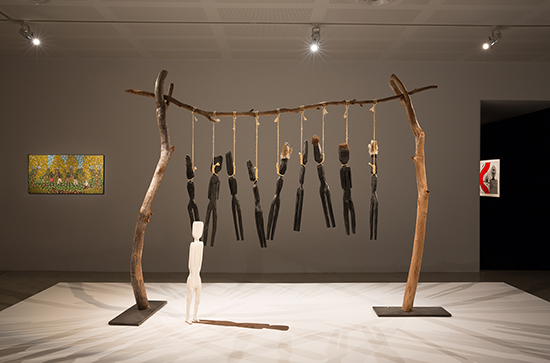 Fiona Foley, Annihilation of the Blacks, 1986, courtesy National Museum of Australia
Regardless of the show's scale, there is one very strong and pertinent leitmotif that, as you enter the large open-plan central gallery space, is made immediately and unapologetically apparent; it is just simply 'massacre.' The earliest work in the show, Fiona Foley's 1986 sculpture Annihilation of the Blacks, commands centre stage and sets the tone. A political work at its outset, Foley's sculpture—as Allas explained in her curatorial walk-through— is now also bound up in the Howard-era History Wars once its removal from public display at the Australian Museum had been requested.
The work comprises a branch suspended between two stripped-bare trees from which hang nine coarse ropes, of the type used to dry fish in the tropics. Only on this occasion, the ropes are nooses that suspend nine small, black, carved wooden bodies, while a single white faceless figure stands by below. In this display dramatic lighting scatters shadows of the bodies across the plinth below and well beyond, over the floor of the gallery, so that visitors cannot avoid their presence. Like McKenzie's, Foley's work was made in reference to a story passed down via oral history; relating the atrocities at Susan River in Queensland, as well as the actions of colonial soldiers in suspending the bodies of those killed from trees as a warning to any survivors. Each work in this show carries this intensity, this weight of words spoken and unspoken, stories that have been told—as this show reminds us—in contemporary Aboriginal art for over 30 years.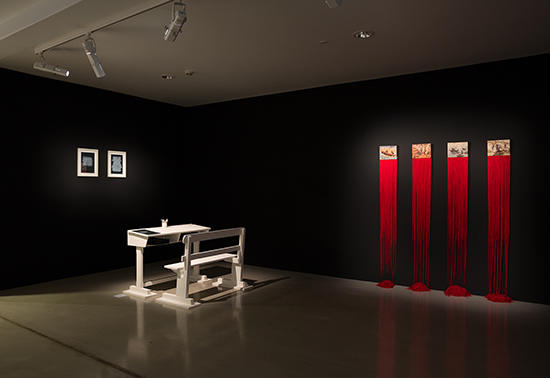 Tony Albert, Blood water, 2016, courtesy the artist and Sullivan+Strumpf, Sydney.
Colour is also used to dramatic effect in tying together the show's 30 diverse works. Allas explained that a distinct shade of red emerged independently in the commissioned works of Tony Albert, Vernon Ah Kee, Frances Belle Parker and Marianne Nicolson, as well as already being present in the works of Judy Watson, Freddie Timms and re-enforced in a second state of Laurel Nannup's woodblock print. It is of course a confronting and unmistakably 'bloody' shade that was also selected for the exhibition room brochure's paper. As well, the same dense matte black of the entrance walls that defines Albert's works punctuates the soft grey and white of the main open gallery space, as well as all four smaller rooms off to the sides. This darkness sucks the light out of any perception of depth in these rooms and there is a sense of claustrophobia, particularly in the space featuring works by Nannup, Ah Kee, and Dale Harding.
Harding's commissioned installation, Mardgin dhoolbala milgangoondhi—rifles hidden in the cliffs 2016, presents just that: a 'cliff-face' of rawhide marked with ochre outlines—"splatters," Allas calls them—of handprints, shackles and period guns. Indistinct in dim lighting, like a sepia-toned recollection, for Harding this work honours both the loss of and the acts of resistance by his ancestors, for whom the sandstone cliffs of their country in central Queensland became "keeping and hiding places." On the opposing wall, Ah Kee's 'portraits' of violence, Brutalities 2016, offer the singular refection in this show on the image of the perpetrator. The three images present faces dehumanised, almost dematerialized: eyes and mouths blackened depths with all surrounding form and skin seemingly blown apart.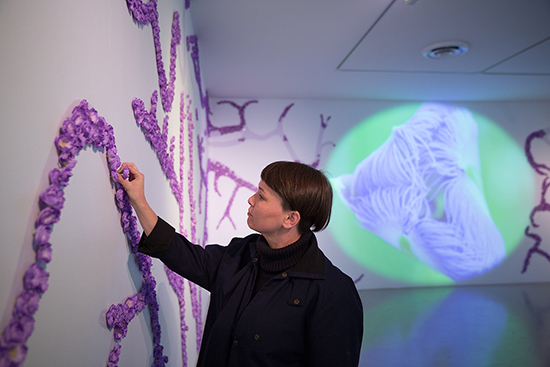 Genevieve Grieves, Remember, 2016.
In this room the air feels thick and sound is muffled by the carpeted floor; visitors speak in whispers. An awareness of periods of silence weighs heavily in this exhibition as it is punctuated every 15 minutes by the crackling melody of God Save the King and a gunshot, marking the start of Adrian Stimson's two-channel video AS ABOVE SO BELOW 2016, a drone footage homage to the landscapes that bore witness to the massacres in Canada's Cypress Hills and in Appin. Stimson's loop is accompanied by the haunting voice of a child repeating "remember," part of Genevieve Grieves' memorial installation of the same name. At other times, and across other spaces, it is also possible to glean Nardi Simpson and Amanda Brown's commissioned soundscape: the whip of a lyrebird and an eerie melody that echoes a child crying—the sound believed to have given away the Dharawal people's hiding place to colonial officers.
Tying the concept of this incredibly ambitious and timely project in with a local atrocity, the Appin Massacre, its bicentenary and with an international residency is the brilliance and complication in the messages the show leaves us with. What is unequivocal, however, is the overall greater historical and political purpose. In her commanding video work HUNTING GROUND (2016), Julie Gough instates snippets of accounts of violent encounters from over 170 texts about violent encounters found online over just the one mapped record that references massacres which took place across Tasmania. She writes in the accompanying text, "The evidence of what happened here is often marked with absence…absence of an acknowledgement of these 'difficult' histories…" Secrecy and Despatch not only acknowledges, it adds a much needed layer of visual, conceptual, personal and political context to those pins that map the true histories of colonial Australia.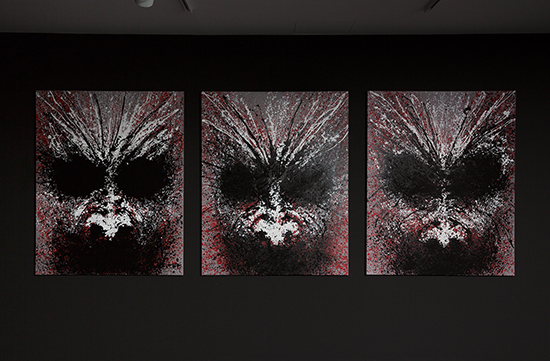 Vernon Ah Kee, Brutalities, 2016, courtesy the artist & Milani Gallery, Brisbane.
You'll find more images from the exhibition and an interview with the curators here.
–
Campbelltown Arts Centre: With Secrecy and Despatch, curators, Tess Allas (Australia), David Garneau (Canada), Campbelltown, 9 April–13 June 2016
RealTime issue #133 June-July 2016
© Miriam Kelly; for permission to reproduce apply to realtime@realtimearts.net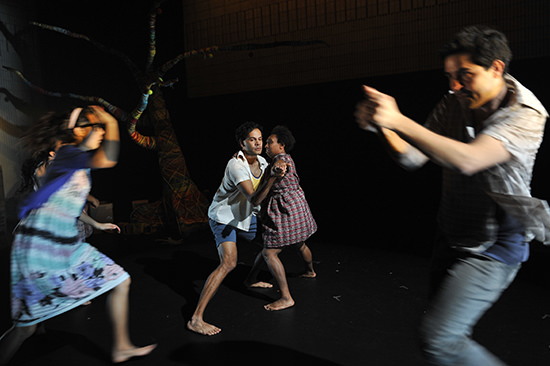 Stolen, National Theatre of Parramatta
As the performance draws to a close and I'm wondering what to do with a welling tear, a woman sitting behind me promptly reminds me where I am with, "Well, that was cheery!"
Commissioned by Ilbijerri Theatre in 1993, Jane Harrison's Stolen is now a classic, studied by many in school and extensively toured, though for me, this production is a first. Mounted by the newly minted National Theatre of Parramatta, directed by the ever inventive dancer/choreographer Vicki Van Hout, the production is clearly attracting an even wider audience.
Rather than a stark re-telling of painful history, Stolen is an often playful account of dark times initially seen through the eyes of five Aboriginal children who've experienced the dire effects of a government assimilationist policy of enforced removal from their families and institutionalisation.
Sandy (Kerri Simpson) is constantly on the move, searching for home. Ruby (Berthalia Selina Reuben) is forced to work as a maid, mistreatment leading her to the edge of madness. Ann (Matilda Brown) is adopted by a white family and forever conflicted. Removed from her parents, Shirley (Henrietta Baird) in turn has her own children removed. Jimmy (Matthew Cooper) suicides when he learns the mother who spent her life looking for him has died before they can be reunited.
Van Hout's production whirls into vivid life as each member of the agile ensemble embodies versions of themselves at different ages as well as other characters, animals and mythic figures. They're aided in these transformations by design elements created by Imogen Ross and Van Hout. Sheets of cardboard littering the stage are casually folded into objects: a reclining chair, a kennel, a gift package, a cut-out baby. Van Hout describes these objects in her program note as being used "like we would dancing feathers which when finished with are tucked back into the folds of our skirts, to be replaced by leaves or small branches acting as spears or the beaks of cranes, perhaps the motion of the west wind or of the fog rolling off the mountains." Recalling the wildly idiosyncratic work of the Tjanpi Desert Weavers, a large onstage tree, its branches snaking into the stage space, is yarn-bombed with strands of multi-coloured wool.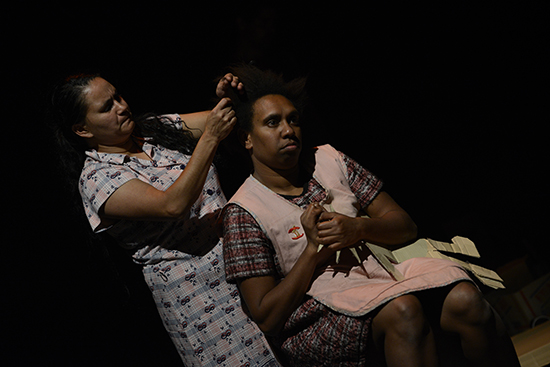 photo Amanda James
Stolen, National Theatre of Parramatta
The swirling shift between character and place is enhanced with tightly executed choreographed sequences. Speech is frequently accompanied by movement: Shirley distractedly snaps her fingers as she speaks; Ruby becomes a lifeless form pushed across the floor on the feet of the others as they spit out the instructions of her oppressors: "Cook for me, Ruby," "Clean for me, Ruby." As Sandy tells us how his mother was charged with child neglect by welfare authorities when they discovered an out of date can of peas in her cupboard, he performs a version of that 'magic three' shell game involving a cup and a disappearing pea and concludes by angrily kicking the table away. Jimmy, now incarcerated, is a fighter who turns violence on himself and has to be restrained, red gloves peeled from his fists and laid at the foot of the tree.
In these and other scenes in the play, memories cut like sharp stones tossed by a whirlwind. Despite the pace and humour of Van Hout's production, an overwhelming sense of sad inevitability pervades.
Phil Downing's score adds to the urgency of the telling. On the run again, Sandy's flight is accompanied by rapid percussion followed first by a sudden flurry, like the wings of a disturbed bird, and then the beat of a train. "Can't I stay here?" he pleads. Other sequences combine sounds (rooster crows) and words ("Willy, don't get caught!"). Visual elements in the form of projections are also effective. A domestic blind becomes the page on which Jimmy's mother writes the letters to her son that he never receives.
The indignities suffered by the children intensify as the performers regularly form a line to compare skin colour or fitness to be "chosen" for weekend release or adoption. The threat of "the Welfare" is ever present. Strangely, this is a mantra many white kids of the era will also recall. It's as if the evils of government policy were seeping through the entire population via its most vulnerable.
The children and their adult selves fight back. To calm Ruby, who has been molested and "promised not to tell," a dreaming story is re-enacted in the form of a fight with an invisible Mungee spirit that is devouring humans who are afraid of the dark. Bones are ground and thrown over the evil outcast, rendering it white and therefore able to be seen and defeated. Sandy reassures Ruby "It's not the dark you need to be afraid of."
Ann, ostensibly the most successfully assimilated among the children is also among the saddest. Her sense of identity destroyed, she can find no equilibrium with her Aboriginal family who live, not on the land but in a Housing Commission flat ("I just thought it would be different") and loses all sense of belonging ("Who do I think I am?").
From time to time, one of the performers sits cross-legged at a small typewriter resting on the roots of the tree. With the echoing of the slowly tapped keys comes a sense that someone, somewhere is getting this all down. Whether in the form of Human Rights reports such as "Bringing Them Home" or plays like Stolen, the truth will be told.
Stolen, National Theatre of Parramatta
National Theatre of Parramatta, Stolen, writer Jane Harrison, director Vicki Van Hout, performers Henrietta Baird, Matilda Brown, Mathew Cooper, Berthalia Selina Reuben, Kerri Simpson, design Imogen Ross, Vicki Van Hout, lighting, video design Toby K, composer, sound designer Phil Downing; Lennox Theatre, Parramatta Riverside, Sydney, 2-17 June
RealTime issue #133 June-July 2016
© Virginia Baxter; for permission to reproduce apply to realtime@realtimearts.net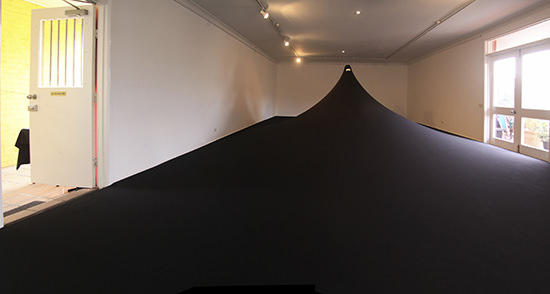 digital print courtesy the artist
Site Occupied, 2011, Cigdem Aydemir
Much contemporary art involves pointed social commentary. Current concerns with racism, domestic violence, the erosion of democracy, the failure to prevent conflict justified on the pretext of religious difference and the challenge of climate change, preoccupy many artists as well as activists to an unprecedented degree. Three compelling exhibitions explore the varying approaches taken by artists to address such issues.
Giving Voice, Art of Dissent
This touring exhibition was initiated in 2014 by Hobart's Salamanca Arts Centre to show how artists go beyond mainstream media to respond to significant political and social issues. Curator Yvonne Rees-Pagh has assembled a body of work created over several years in which artists address racism, asylum seekers, the environment and armed conflict.
The exhibition includes some significant works that demonstrate Rees-Pagh's theme. Richard Bell's incisive and ironic 2008 video Scratch an Aussie probes white Australia's psychological predisposition to racism by placing Indigenous people in the role of psychiatrists treating both themselves and privileged, white youth. Khaled Sabsabi's video Guerrilla (2007), made in response to the 2006 Israeli invasion of southern Lebanon, is a quasi-documentary in which three unidentified speakers discuss their different strategies for dealing with the conflict.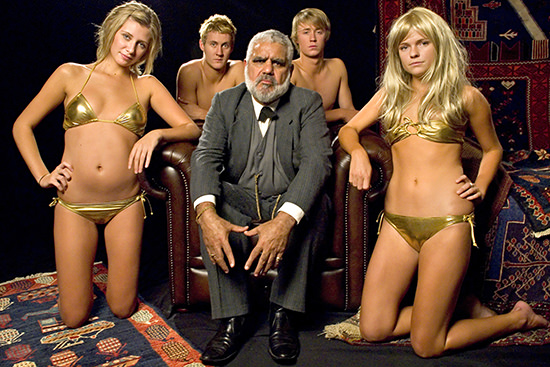 video still courtesy the artist and Flinders University Art Museum
Richard Bell, Scratch an Aussie
Cigdem Aydemir's video Bombshell (2013) shows a woman's black burqa swirling in the wind, recalling storm clouds and also ironically parodying Marilyn Monroe's billowing dress in the film The Seven Year Itch. In Aydemir's photograph Site Occupied (2011), a woman's black niqab is enlarged to envelop a gallery space like a shroud to prevent entry. Both of Aydemir's images reference restraints on women through control of their appearance.
Megan Keating's The Ministry of Pulp and Smoke (2014) addresses the repudiation of the Tasmanian Forestry Agreement and its consequences for the environment using video imagery constructed from paper cut-outs. In Pat Hoffie's drawings, Smoke and Mirrors (2012), storm clouds gather over sinking refugee boats.
James Barker's Lest I forget (2014) is a confronting photographic triptych in a hinged, head-high frame showing images of sculptures of the stacked corpses of people killed in conflicts. The framing suggests a memento of deceased relatives. Locust Jones' Everyday Atrocities (2008) is a drawing on a three-metre-long scroll resembling a giant stream-of-consciousness doodle. He redraws images of conflict shown in the news, thus distilling and aggregating key events to create an epic tale of unfolding, unending horror. Michael Reed's many-faceted installation includes a pair of carpet runners, entitled Right, Might, Profit & Carpet Bombing/ Runners for Corridors of Power (2009) that bear texts such as "guns will make us powerful." His work questions how anyone could work in armaments industries knowing the destruction they cause.
The artworks in this survey take a range of approaches from documentary video (Sabsabi) to expressionistic painting and drawing (Jones and Hoffie) to parody (Bell). Bell's video Scratch an Aussie is unique here in offering an alternative position and a glimpse of a way forward by inverting stereotypical roles and directly challenging racist thinking. Former political adviser Pete Hay's probing catalogue essay articulates the failure of democracy and suggests that recent social and technological developments require its renewal. He declares that "democracy will be refashioned from within the realms of dissent, if it is to be rescued at all."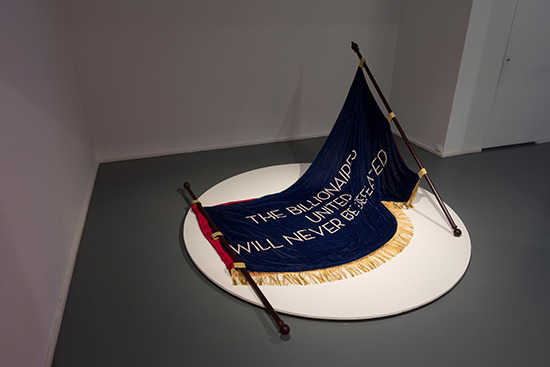 image courtesy Contemporary Art Society of SA
Night falls in the valley, Deborah Kelly
Planning for Tomorrow
Exhibited at the Contemporary Art Centre of SA, Planning for Tomorrow is also curated around the idea of the collapse of ideological and political systems that characterise recent decades. To explore this theme, curator Logan Macdonald has selected works by local and international artists and, in his persuasive introductory essay, discusses art theorist Boris Groys' view of aestheticisation as an agent of change. The exhibition title is ironic, the principal message being that there is no such effective planning.
Viewers first encounter a selection of Damiano Bertoli's posters of 2014-15 in which he has rendered texts by the 1960s Italian activist group Autonomia using the graphic design styles of Italy's Memphis Group to create a postmodern blend of ideas that seems to trivialise both Autonomia's calls to action and Memphis's colourful and sometimes outlandish designs, suggesting that both movements were ephemeral. Cleverly counterpointing Bertoli's posters is Deborah Kelly's ironic take on unionist and activist banners, Night Falls in the Valley (2014), a huge version printed with the words "The billionaires united will never be defeated."
Keg De Souza's If There's Something Strange in Your Neighbourhood… (2014), is a documentary video in which squatters, about to be evicted from a Yogyakarta district built over two cemeteries, talk about their experiences of ghosts and ghost removal—which becomes a metaphor for the squatters' impending displacement. De Souza's camera shows each interviewee reflected in a mirror rather than facing us directly—superstitions about mirror images imply that the speakers are already ghosts. The mirrors used in the video are separately displayed in the exhibition, inviting viewers too to look for ghosts.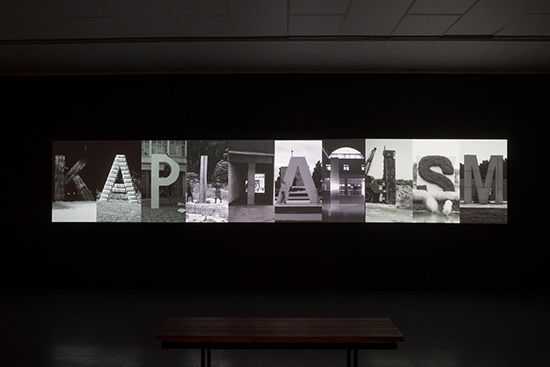 split-screen video still courtesy Contemporary Art Society of SA
Destroyed World, Santiago Sierra, Planning for Tomorrow
The central element in Planning for Tomorrow is Santiago Sierra's video Destroyed Word (2010), a split-screen image of 10 elements, each showing one letter of the word KAPITALISM in monumental physical form being systematically destroyed by labourers. The letter K, constructed from brush fencing, is incinerated; P is timber systematically sawn into pieces; and M concrete, demolished like a building. Here, Sierra employs 'proletarian' labour to symbolically destroy the ideology that oppresses labour.
Macdonald's exhibition demonstrates a variety of formal, conceptual and strategic approaches to activist art within an overall theme of the failure of government. Bertoli's reference to the Autonomia movement in 1970s Italy begs us to consider the effectiveness of more recent movements, such as Occupy. De Souza involves a community in her video production, potentially sensitising that community and positioning it as an opposition and making us aware of its cultural traditions which may soon be lost. By contrast, Sierra's artwork frequently involves paid labourers undertaking demeaning activity. Implicitly positioning himself as entrepreneur and overseer, he both enacts and critiques the capital-labour power structure.
The generation of an aesthetic response to human-induced crises is central to both Planning for Tomorrow and Giving Voice. In confronting us with the issues that preoccupy these artists, the curators provide insightful meta-narratives on the nature of activist, political art. They introduce us to artists who, to a greater or lesser degree, are themselves political activists. Art is now often seen as an alternative mouthpiece to the political left, filling a vacuum in post-socialist dialogue, and we're reminded that the right to express dissent is hard-won.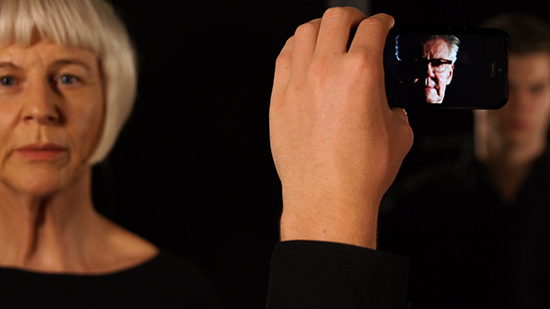 video still courtesy the artist and Milani Gallery, Brisbane
The Photographs Story, 2004-16, 3 channel video and sound installation, Peter Kennedy
Resistance: Peter Kennedy
At the Australian Experimental Art Foundation is a survey of Peter Kennedy's pioneering video work since 1971. In the 1970s, video was a new medium that defied traditional commodity art-forms and enabled exploration of wider subject matter and the inclusion of sound. Kennedy was not only a pioneer of video as a medium but of politically and socially engaged art, concerned with the way in which communications media structure our perception. This landmark exhibition includes Kennedy's video Introductions (1974-1976), a record of his initiation of interaction between four diverse social clubs—an embroiderers' guild, a bushwalking club, a hot rod club and a marching girls club. Bringing them together emphasised women's art in the burgeoning feminist era, raised environmental issues and challenged gender-based social barriers. In working outside the gallery to connect communities engaged in cultural activities, Kennedy prefigured work that would today be described as relational art.
Resistance: Peter Kennedy also includes the artist's On Sacred Ground (1983-84) concerning Aboriginal land rights and self-determination, and November Eleven (1979), a collaborative work analysing the dismissal of the Whitlam Government in 1975. Also included is a new work, The Photographs Story (2004-16), involving Kennedy, his wife and son as subjects in a moving response to media coverage of the apparent death of a small boy caught in crossfire in Palestine in 2000.
Exhibition curator Matthew Perkins notes in his catalogue essay that "Socially engaged practices have returned to the contemporary art agenda with great force in recent years, encouraging a critical reflection of avant-garde practices that emerged from the counter-culture period of the late 1960s." In his talk at the exhibition opening, Kennedy made clear that aesthetics and politics are closely intertwined, as his work over 45 years amply demonstrates. Peter Kennedy's ground-breaking approach to the forms, the subject matter and the role of art helped set the stage for the kinds of work we now see in exhibitions such as Giving Voice and Planning for Tomorrow.
Viewers looking at activist art simultaneously occupy two positions: as engaged citizens, potentially encouraged by the artwork to protest, and as a detached audience, appreciating the work as art. While placing activist art in a gallery has been seen to commodify and neutralise it, such art has the potential to provoke viewers into deeper thought and possible action, and to sow seeds in the wider community. The art in these exhibitions is a crucial component of the continuum between artistic apprehension and activity on one hand and collective, public action on the other.
–
Planning for Tomorrow, Contemporary Art Centre of SA, 9 April-15 May; Giving Voice: The Art of Dissent, Flinders University Art Museum, 23 April-26 June; Resistance: Peter Kennedy, Australian Experimental Art Foundation, Adelaide, 3 June-9 July
RealTime issue #133 June-July 2016
© Chris Reid; for permission to reproduce apply to realtime@realtimearts.net
Prison Songs
What would a documentary of emotion look like? How can a documentary film make us feel the complexity of a situation without simply reverting to the manipulations of melodrama? Can the form be about feeling without becoming something else? A trio of titles at this year's Human Rights Arts and Film Festival (HRAFF) provided some clues.
Tunes from the Berrimah Hilton: Prison Songs
Booze, songs and tears—they're not ingredients typically associated with the documentary form, but Prison Songs is not your typical documentary. Inspired by the "musicals" of British filmmaker Brian Hill, such as Drinking for England (1998) and Feltham Sings (2002) (see RT 63), Prison Songs features inmates of Darwin's Berrimah Jail telling their stories through song and dance numbers intercut with skilfully shaped interviews. Subtitles sprinkled throughout sketch facts that speak louder than any longwinded exposition: 98% of the inmates in Berrimah are Indigenous. At the time of filming, the facility built to house 115 prisoners was home to over 800. Director Kelrick Martin homes in on around half-a-dozen in his hour-long work.
There is anger here, as one would expect, particularly from one inmate imprisoned for inflicting punishment in what he claims was an enactment of tribal law. His song is all about "doing the white man's time," illustrating the meaninglessness of European-style criminal codes for some Indigenous people. More surprising is the humour and joy, especially in one number celebrating the pernicious pleasures of alcohol. The upbeat tune is a good example of the way Prison Songs deploys music to mainline the emotional experiences of these men and women for viewers—we feel the appeal of alcoholic oblivion even as we are confronted with its ugly social effects. The film also doesn't shy away from some less attractive aspects of Indigenous cultural politics, featuring two young men of mixed-race parentage who sing and speak frankly about their experiences of marginalisation by both white and black Australia.
Above all, Prison Songs is a study in forging cinematic empathy. Martin blends images, interviews, songs and telling statistics to take us inside the emotional world of a group of Indigenous people locked up in Australia's Top End. It's also a celebration of creativity in the bleakest of environments. Building bridges of emotion with real people we might never otherwise encounter is perhaps documentary's greatest—and rarely realised—potential as a creative form. Kelrick Martin admirably fulfils this potential.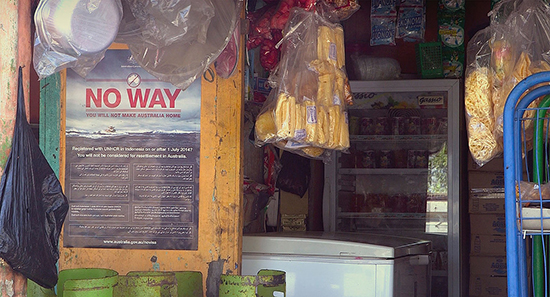 Chasing Asylum
Crushing complacency: Chasing Asylum
I'd like to describe Eva Orner's Chasing Asylum as incendiary, but more likely it will flare brightly before burning out, leaving a wisp of smoke and a discomforting smell we'll disperse with a wave of a hand. Let's face it, you can only explain the abuses a film like this documents by accepting that Australians are either gratuitously cruel or monumentally complacent. I tend to think it's the latter—the harder of the conditions to change.
Nonetheless, Chasing Asylum is valuable for a number of reasons. Firstly it documents how Australia has systematically forged a bureaucratised system for inflicting extreme cruelty on people seeking refuge who arrive by sea. This record means that none of us can claim "not to have known" when later generations look back on us with disgust.
Secondly, the film features extensive footage shot secretly inside the detention centres on Nauru and Manus Island, locations long cut off from journalists and documentarians by the Australian Government. Of course, many other sources have detailed the horrific conditions in these places, but there is value in making Australians feel what it is like to rot in the hellish surrounds that we have created.
Lastly, through the secretly shot footage, along with accounts of Australians who have worked in these camps and snatches of testimony from incarcerated refugees (also recorded in secret), Chasing Asylum conveys something of the mind-numbing boredom and relentless pressures detained refugees face. These include searing heat endured in the tents and metal huts in which they live, toilets so squalid a cut foot can—and has—led to fatal infections, sexual abuse of refugee children and extreme violence from local police and security forces. Watching Chasing Asylum is to feel the faceless, bureaucratic callousness of a system that offers no way out except a return to the nightmares these people have fled. Again, this information is not new, but a film can make us endure something of what all this means for the people involved much more effectively than a UN report.
Much of Chasing Asylum comprises interviews with young Australians recruited by groups such as the Salvation Army to 'help' the refugees. Their naivety is telling. Despite the many years during which Australian politicians have openly proclaimed the need to create conditions so appalling they will stop people seeking refuge here, all of the young Australians interviewed recall their profound shock when they first saw conditions inside the camps. Are middle class Australians so disconnected from hardship that we don't even realise what cruelty entails?
I'd like to think Chasing Asylum will function as a wake-up call, but everything it reveals has been on the public record for some time. All the evidence suggests we simply don't care.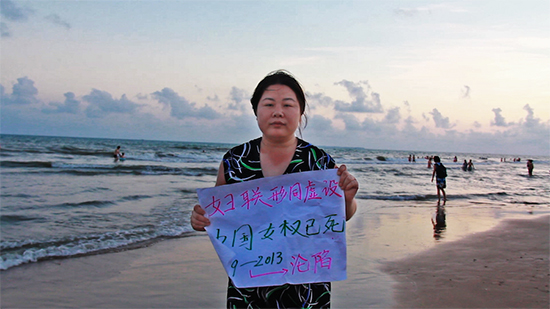 Hooligan Sparrow
Everyday fear: Hooligan Sparrow
Wang Nanfu's debut documentary powerfully conveys what it is like to live under a state that knows no restraint—a salutary lesson for the Australian public. Wang wrote in The Guardian earlier this year that she wants viewers to "understand more deeply the sense of fear that so many Chinese people feel every day." It's the kind of statement often dismissed as pandering to Western prejudices by apologists for China's ruling elite, but Wang is from a small Chinese village and has lived the depths of the dread she describes.
Hooligan Sparrow is ostensibly about the well-known Chinese activist Ye Haiyan—also known by her eponymous online nom de plume—but the emotion at the centre of this work is the creeping trepidation that overtakes the filmmaker as she documents Ye's activities. The attempts we see by the state to prevent any recording of the abuses it inflicts reveal its true face, brutal and terroristic. The fear is palpable from the opening frames as Wang speaks to her camera while awaiting a visit from the police towards the end of her shoot. As we watch her earlier experiences play out over the next 90 minutes, it becomes clear her trepidation is well founded.
Hooligan Sparrow is a highly polished work from this first-time director, continuing a budding tradition of Chinese documentary films that dramatise the stark violence and intimidation on which China's one-party state is founded. Depressingly, other works at HRAFF such as Chasing Asylum show that Australian authorities are quite prepared to inflict similar abuses on marginalised groups. We would be fools to think the same cruelties couldn't be applied to us with the flick of a bureaucratic switch.
–
2016 Human Rights Arts and Film Festival 2016.hraff.org.au, Australian Centre for the Moving Image, Melbourne, 5–19 May, national tour 24 May–8 June
RealTime issue #133 June-July 2016
© Dan Edwards; for permission to reproduce apply to realtime@realtimearts.net
photo Zan Wimberley
[MIS]CONCEIVE, Next Wave 2016
Emerging choreographer Thomas ES Kelly's first full-length show, [MIS]CONCEIVE repurposes recognisable elements of a well-established, but still expanding, vocabulary of contemporary Indigenous dance. Charging some gestures with greater energy (a thrust, a whip-quick spin, a starkly pointing arm), others are subdued, made circumspect or soft (heads are bowed, hands gently wipe over faces). Ultimately the work deploys humour and political optimism to counterpoint sequences of stormy movement.
Four shadowy figures (Kelly and three female dancers) step out from the curtains with solemn purpose and are quickly skimming, sinking and folding. They steadily accumulate the physical motifs that will structure their repetitions—an out-struck leg puts the sole of the foot on display, an arm cuts a clean arc then hinges to tap the back of the neck. Kelly is a large-framed, striking-looking man. The other three performers fluctuate between developing their own distinctive characters to foil his inevitable prominence, and acting as a collective. Sitting in the front row I can see one of them make a deliberate short exhalation as she falls or contracts—their dancing has a feel of easeful effort rather than strain.
A familiar gesture can expose an unnerving nub of truth. When the dancers each wave their 'pick-me!' arms in the air, writhing in their chests with wanting to give an answer, only to be overlooked (again, we understand), you have to ask how dysfunctional our policies and institutions are that such a plaintive representation of discrimination still has urgency. In [MIS]CONCEIVE, the classroom is a predominant site of contest where language and history must be brought to account for their garbling and their omissions. The dancers speak out to find each other and themselves: "me, you? same? different? same but different."
Interrupting the activity abruptly, Kelly strides to the front of the stage to give us a good-humoured history of the playground game known as 'Chinese Whispers' or, he tells us, 'Arab Telephone' or 'Russian Scandal.' In this section Kelly has capitalised on his easy charisma. When the audience is asked to play along, we all know how it's meant to end—with baffling and preferably hilarious gobbledygook—but it doesn't quite work this time, maybe we misunderstood the instructions?
That misinformation leads to mistaken beliefs continues as the work's central preoccupation when the dance resumes, which from here is at its most theatrically gestural. The dancers invoke a litany of caricatures and grotesques that veer from complaints ("they're lazy") to fears ("they steal") to mythical beasts (drop-bears and unicorns). The poses are cartoonish but the statement is clearly made—it doesn't take an especially sharp pin to puncture assumptions that are full of hot air. It's the more ambiguous shifts of character that intrigue—a dancer briefly transformed from hoodie-shrouded brute to sashaying doll. The hoodies worn by each of the dancers are employed throughout as tools of conjuring and concealment; they're folded and rolled up, pulled over heads, used to make frantic writing on the floor.
In the final section of [MIS]CONCEIVE a recorded voice ranges over the issues already represented in the dance, making the work's politics explicit. Again in the schoolroom, we're rightly asked to read "from the first page, not starting in the middle" so that all contributors to history are acknowledged. The work presents evidence that damage and confusion result from accepting the smooth, potentially fictionalised surface of cultures, from wrong assumptions about appearances. But are we really all the same underneath, as this voice tells us? Is the audience let off lightly by this optimism? The threads that connect our watching bodies in the present to our complicated shadows in the past are tugged, but only gently. We're left with a clear and measured, not furious, claim for identity.
–
Next Wave Festival: [MIS]CONCEIVE, choreographer Thomas ES Kelly, performers Thomas ES Kelly, Natalie Pelarek, Caleena Sansbury, Taree Sansbury, Northcote Town Hall, Melbourne, 17-22 May
Alison Finn works in criminal law in Melbourne, with particular interests in the law and the philosophy of human dignity, privacy, surveillance and 'big data.' She also writes creatively in various forms and continues a contemporary dance practice.
This review was written in the DanceWrite dance reviewing workshop. Read more reviews here.
DanceWrite was conducted by RealTime editors Keith Gallasch and Virginia Baxter with mentors Andrew Fuhrmann and Jana Perkovic. The workshop was an initiative of Hannah Matthews as part of her Australia Council-funded Sharing Space program and was presented in collaboration with Next Wave and RealTime.
RealTime issue #132 April-May 2016
© Alison Finn; for permission to reproduce apply to realtime@realtimearts.net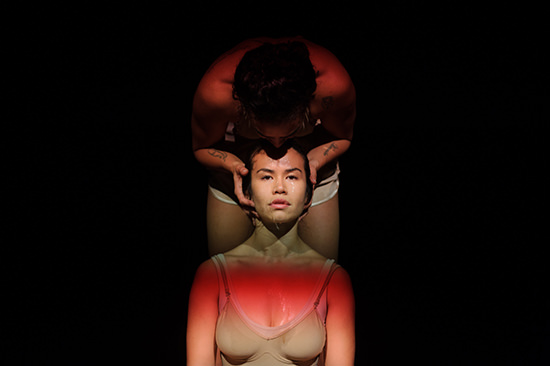 photo Sarah Walker
Passing, Next Wave 2016
The opening twangs of Beyoncé's "Formation" resound through the theatre at the close of Amrita Hepi and Jahra Wasasala's performance of Passing. This is no mixing desk accident. The recent release by this pop star—a self-possessed woman whose public persona embodies both sensuality and aggression—canvases the problems inherent in enduring Western constructs of cultural value and authenticity, and offers a loud call to arms to women of colour, to embrace and act on the power of their various heritages. Big claims for a catchy tune that features several lines of "I slay (hey);" but it felt like a simultaneously playful and knowing gesture from Hepi and Wasasala with which to send off the audience.
Hold up. How did we get to heady "Western constructs of cultural value and authenticity" so quickly? Let's backtrack a moment to reflect on the picture that Hepi and Wasasala painted for the audience over the course of an hour, before that Beyoncé moment. The two women begin the work with an homage to centuries of voyeurism in the representation of women in a quiet moment of private reverie, and certainly not returning the gaze.
Stationed in the far corners at the back of the stage and silhouetted, the commanding forms of Hepi and Wasasala—dressed minimally in low-backed leotards and shorts—enact a stylised sequence of hair-washing over large steel buckets. They are accompanied by Lavern Lee's soothing, watery sounds and a growing organic pattern projected on a screen behind (the only moment in which this screen-based element added aesthetic value to the performance on the night viewed, perhaps due to a technical error). This first image by Hepi and Wasasala firmly establishes us in the position of viewer.
The sensuality of this serene image quickly descends into violence. The women, bent over the buckets, push their heads below the water as though by an unseen force. They retreat, spluttering and gasping for air, only to return to the action seconds later. This sequence gains terrifying momentum as they force the buckets around the room, heads submerged. Are they drinking, drunk, possessed? The dramatic end to this anxiety-ridden passage occurs with their abrupt collision in the middle of the space. Here, they engage in a gentle, and rather witty exchange while hovering, with relative ease, in powerful squats. What ensues is a discovery of self and 'other,' of recognition of the self in the other, and of establishing difference. They pass between them gestures and sounds, a physical and verbal process of mimicry and repetition to find a common language.
A strong rhythm of exchange is established, but also of sensuality and violence: compelling sequences of aggression and affection. A moment in which Wasasala's palm is pressed firmly against Hepi's face, while Hepi grips Wasalsala's throat, dissolves into a tight embrace, before the two recoil. The contrasts and emotions suggested by such actions are particularly moving when witnessed within one body, as in an extended sequence where Wasasala is tossed around the stage, simultaneously self-propelled and resisting her own motion.
A costuming device (designer Honey Long) introduced towards the middle of the work heightens the push and pull between the performers. It is a silky (and not inconsequentially) Caucasian skin-toned shirt with long open arms, part-straitjacket, part-designer wear—both associated with control. The extended arms, first only worn by Hepi, are used to evoke a battleground between the two. Seated, or at times crawling and low, Wasasala attempts to consume the lengths of fabric, while Hepi writhes to loosen them, at the same time seeming to be almost attempting to train or tame the other. Eventually Hepi wrestles free and neatly winds the arms around her body in a swift movement of elegant constraint, before doing the same to Wasasala. The latter had uttered the words, "I am both the colonised and the coloniser" earlier on; is this what we are seeing here? Are they mastering the oppressor's language as a way of fighting back? This work boldly attempts to unpack the contemporary legacy of imperialist conceptions of the exotic.
The program guide tells us that Sydney-based Hepi is a woman of Bunjalung and Ngapuhi heritage (locating her ancestors in northern New South Wales and New Zealand), and New Zealand-born Wasasala is described as "having roots in many places around the world, but her Pacific heritage comes from the islands of Fiji" (Next Wave, artist biography). It's not usual for a critic to mention the cultural origins of performers at this point in a review, rather than foregrounding them at the start. Such reference is in itself both necessary and problematic. What is to be included? What is left out? What does it do to geographically and culturally locate an individual? What struggles does this set up around perception, stereotype, authenticity and understanding?
These questions are really at the core of Passing. Indeed, there is a bold verbal sequence in which racial percentages are thrown around as value statements about connections to culture, to authenticity and skin colour. Amrita Hepi calls it at a moment in the middle of the performance. Jerkily moving as if to cleanse herself, to rid herself of a misconception about appearances, she halts in a moment of clarity and self-possession to cry out against the rigidity of categorisation: "That certificate of authenticity, I burnt it."
–
Next Wave Festival: Passing, choreographer-performers Amrita Hepi, Jahra Wasasala, music producer Lavern Lee, costumes Honey Long, headpiece and flora design Jesse Carey, lighting Sophie Penkethman-Young; Northcote Town Hall, Melbourne, 12-18 May
Sydney-based Miriam Kelly is currently the curator and collection coordinator at Artbank, sub-editor of the visual arts and culture publication Sturgeon and Chair of the online magazine Runway Experimental Australian Art. Kelly has curated exhibitions independently, for Artbank and for the National Gallery of Australia in her former role as assistant curator of Australian paintings and sculpture and published on a range of contemporary and historical areas of Australian art.
This review was written in the DanceWrite dance reviewing workshop. Read more reviews here.
DanceWrite was conducted by RealTime editors Virginia Baxter and Keith Gallasch with mentors Andrew Fuhrmann and Jana Perkovic. The workshop was an initiative of Hannah Matthews as part of her Australia Council-funded Sharing Space program and was presented in collaboration with Next Wave and RealTime.
RealTime issue #132 April-May 2016
© Miriam Kelly; for permission to reproduce apply to realtime@realtimearts.net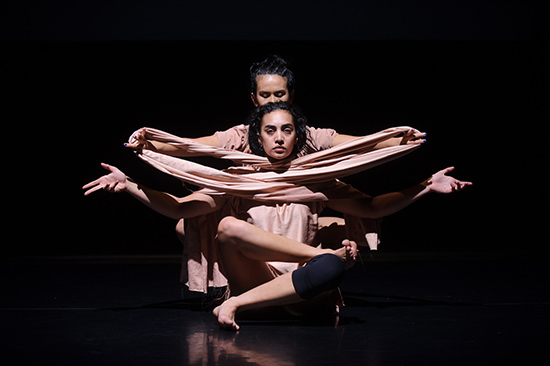 photo Sarah Walker
Passing, Next Wave 2016
Two Indigenous 'sisters' come together to bond over the simple ritual of bathing. Their presence is arrestingly physical; Amrita Hepi and Jahra Wasasala are defiantly strong, sensuous women, similar in appearance. Dipping into buckets of water, they wash and spit. Together, they vocally tease out the words and attitudes society throws at them, along with those they're adopting.
Before the performance, Hepi acknowledged the presence of her mother and her "mother's mother" in the audience tonight. The inter-generational significance of sisterhood in Passing couldn't be more apparent. Although ostensibly examining the racial stereotyping of Indigenous peoples of Australia and the South Pacific encounter—at one point the performers cite percentages of difference in skin colour—Passing is more a testament to Indigenous women of the past and their relationship to those of the present. Passing holds the much broader responsibility of bearing the legacy of continuous storytelling, of developing new languages to replace those lost. As Wasasala asks, "So, what happens when your first language is dead?"
Passing's new language is spoken, cried and danced. Aggressive floor work, writhing and wailing remind us that beyond the performers' physical grace lies a history of relentless struggle, assault and suffering. The two women inhabit distinct physicalities: Wasasala attacks the floor with her body, Hepi uses hers to articulate words with staccato precision, but the chemistry between them is never in doubt. They move within each others' space with intimacy and familiarity. The movement quality of Passing is highly tactile: skin against skin, full body against tarquette. Honey Long's tonal costumes—long swathes of fabric binding and defining the performers' bodies—further accentuate an awareness of skin and possession in the work.
Colonial eras are evoked in a short series of vignettes—a patronising early movie-reel sound recording asserts male, distinctly British propaganda, "All of me," sung by Billie Holiday, resonates with the power of absent solidarity—before Passing arrives at its crux.
Hepi binds Wasasala, then addresses her prisoner. The hip-hop influenced articulation of her monologue—the body pops, the crisp hand-flicking—implies a distinctly 21st century attitude towards her heritage. "We're all the same in the spirit," she utters, not as a platitude. She climbs onto Wasasala's prostrate body, forcing her further into the ground.
Elsewhere in the work, Wasasala's poem 'bloo/d/runk' is recited: "I savour the after-taste of an apathetic ancestor." With the mention of spirit and acknowledgment of previous generations it's a small leap to read Wasasala now as a captive ancestor. Ancestor or present-day sister, her response is forceful rather than complacent. The result is a confrontational physical conversation. The women are well-matched in physique and their struggle feels genuine. Hands at each others' throats, the balance of power shifts uncertainly before they finally arrive at a kindred understanding.
When their struggle subsides, the water in their buckets is combined into one source. Hepi crouches before Wasasala, and invites her to drink. Wailing, but more quietly than before, Wasasala repeatedly kisses Hepi's forehead, gently releasing water across her face. The water traces the contours of her open eyes and cheeks; tears shed and shared.
–
Next Wave Festival: Passing, choreographer-performers Amrita Hepi, Jahra Wasasala, music producer Lavern Lee, costumes Honey Long, headpiece and flora design Jesse Carey; lighting Sophie Penkethman-Young; Northcote Town Hall, Melbourne, 12-18 May
Maximilian plays with fashion, dance, choreography, photography, video, performance production and direction in no particular order or hierarchy. His formal training is in design. His recent work includes Bless the Beasts: Shibuya Summer (Melbourne Fringe 2015).
This review was written in the DanceWrite dance reviewing workshop. Read more reviews here.
DanceWrite was conducted by RealTime editors Keith Gallasch and Virginia Baxter with mentors Andrew Fuhrmann and Jana Perkovic. The workshop was an initiative of Hannah Matthews as part of her Australia Council-funded Sharing Space program and was presented in collaboration with Next Wave and RealTime.
RealTime issue #132 April-May 2016
© Maximilian ; for permission to reproduce apply to realtime@realtimearts.net
photo Zan Wimberley
Thomas ES Kelly, [MIS]CONCEIVE
Through the wilderness of birdsong and a thumping, urban score, a school bell rings. Class is in session and, in Thomas ES Kelly's MIS(CONCEIVE), the curriculum is one of unlearning.
Kelly is interested in constructing and then deconstructing, through sound, movement and speech the preconceptions of what it means to be an urban Aboriginal person in Australia. Early on he evokes a classroom, where each of the four dancers, in a uniform of grey tracksuits, hoodies tied neatly around their shoulders, take it in turns to raise their hand. They do so enthusiastically, desperately, as they wait to be called on. Though they have the answers, they're made to stand in silence.
They take to folding and unfolding their jumpers, rolling them up to suggest pens that they use to complete assignments unseen. In light of recent events involving racial profiling, this image is potent: a supposed costume of thuggery used as a means of expression, albeit not the one many assign to it. As the dancers repeat the folding phrases, stereotypes and assumptions are carefully unpacked and repacked.
This sequence escalates as one of the four dancers tries harder, works longer and faster at completing each gestural repetition. Eventually the other three dancers isolate her, donning their hoods and performing violent pivoting movement punctuated by moments of rigid pausing as she clutches her jumper and loiters with uncertainty some distance away. The lone dancer is faced with the decision to either embrace exception or expectation. It's a simple equation, one or the other, but the sequence ends before it's resolved.
There is a mathematical thread woven through this work, illustrated most clearly as the dancers alternately take centre stage and try in vain to articulate verbally the simultaneity of their difference and similarity. Eventually, Kelly will deliver a monologue warning against assumptions drawn in black and white. And yet, there are no grey areas in the physical execution of his choreography. Instead there is an exactness, a sense of the well-rehearsed that implies the dancers have given this lesson many times before.
In a sequence in which a voiceover conveys the results of a survey comparing the fictions people associate with indigenous experience to the characteristics they attribute to mythical creatures, the dancers strike poses—vampires, mermaids and unicorns are mixed in with all manner of assumptions about welfare and substance abuse. The sequence is funny, until later, the outlines of the same poses are perceptible in what otherwise appears to be a phrase of pure movement—dragon fire, nicotine suck—among a pastiche of rhythmic circular stomping that is equally familiar in its distinct Aboriginality. The precision of each recognisable posture is striking as without the set-up, the repeated motifs would likely go unnoticed by the audience, taken for granted as just movement in a medium that dictates it.
Thomas ES Kelly is privileging his audience by revealing to them the kind of preconceptions that might otherwise slip by unnoticed in the movement of the everyday. Yet he is also illustrating how these notions can shift, how given time they can become warped, or disappear entirely, for better or worse. He is at play with this concept, encouraging the audience to be implicated in the process as he instigates a game of Chinese Whispers where, though the original phrase is inevitably lost, the intention of the piece as a whole takes on new clarity.
This sense of play and imagined realities takes the audience back to the place or time where notions of race and class are first conceived. It's here, in the fictitious schoolyard, that the audience must partake in doing the math. Kelly declares in his closing monologue that "we are all the same," a claim that he seemingly has been trying to dismantle over the course of the previous 45 minutes. From nobody, to many bodies, different bodies, to one experience. Is it possible to arrive at one utopian whole? It's here that I wish to raise my hand, raise the question, as to whether I've drawn the right conclusions. Instead, I go back to the start and begin again.
–
Next Wave Festival: [MIS]CONCEIVE, choreographer Thomas ES Kelly, performers Thomas ES Kelly, Natalie Pelarek, Caleena Sansbury, Taree Sansbury, Northcote Town Hall, Melbourne, 17-22 May
Elyssia Bugg is a Melbourne-based writer, filmmaker and dance teacher. Her writing has appeared in Voiceworks, Lip Magazine and the RMIT Creative Writing Anthology. She is currently working on a short film about aliens and oblivion.
This review was written in the DanceWrite dance reviewing workshop. Read more reviews here.
DanceWrite was conducted by RealTime editors Keith Gallasch and Virginia Baxter with mentors Andrew Fuhrmann and Jana Perkovic. The workshop was an initiative of Hannah Matthews as part of her Australia Council-funded Sharing Space program and was presented in collaboration with Next Wave and RealTime.
RealTime issue #132 April-May 2016 pg.
© Elyssia Bugg; for permission to reproduce apply to realtime@realtimearts.net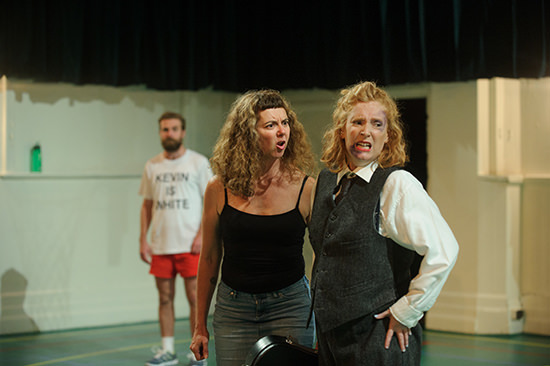 Andrea James, Elise Hearst, Kevin Kiernan-Molloy, Bright World
Bright World opens with a chilling recollection by co-playwright Elise Hearst. As a child on Jewish school camp, she was warned by her elders that the local townsfolk were suspicious and fearful of her kind, having been told stories of their wicked ways. Hearst wasn't the only kid left crying. In the end, it was all a bizarre lesson—see how easy it is to fall for a story? The truth was not in what was recounted, but in the telling. It's a lesson that underscores every aspect of the play.
The work began when Hearst learned of William Cooper, the legendary Aboriginal activist whose struggles to achieve racial equality in Australia were notable enough, but who also led the world's only private protest against the horrific treatment of Jews in Europe during and after Kristallnacht. This was at a time when Indigenous Australians were a long way from being recognised as citizens—as humans, in many cases—and outspoken protests were more likely to result in ration cuts than global change. Today Cooper is a hero in the Jewish community both in Australia and Israel, but in 1938 he was merely doing what he knew was right.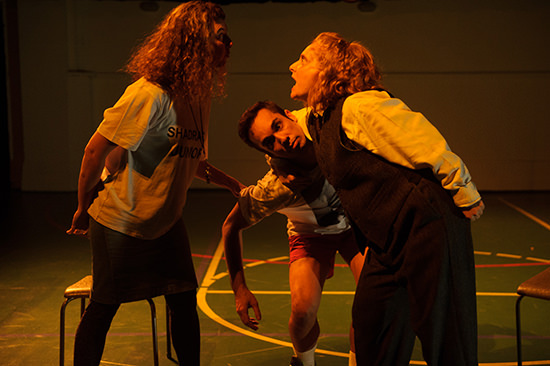 Andrea James, Elise Hearst, Guy Simon, Bright World
Hearst has co-written the play with fellow playwright Andrea James, herself a descendant of William Cooper, and the work's two historic threads trace the long life of Cooper alongside that of Hearst's grandparents, who would flee Austria during the period of Cooper's protest. Given the obvious potency of these two narratives, it's odd that the strictly historical sequences in the play are the least engaging, though not at all dull. They're relatively straightforward reconstructions, however, at least compared to the frame into which they're placed.
This is a work that deeply and effectively problematises the act of telling. Hearst and James perform as versions of themselves, describing the way their troubled working relationship unfurled throughout the creative process of writing, and admitting to their prejudices and presumptions regarding the other. "I think it's cool to be Aboriginal," Hearst confesses to James during an online exchange, while James is scornful of her "posh" collaborator. Cooper's story can be seen as the coming together of two oppressed communities, but James and Hearst don't paint their own union as a rosy one.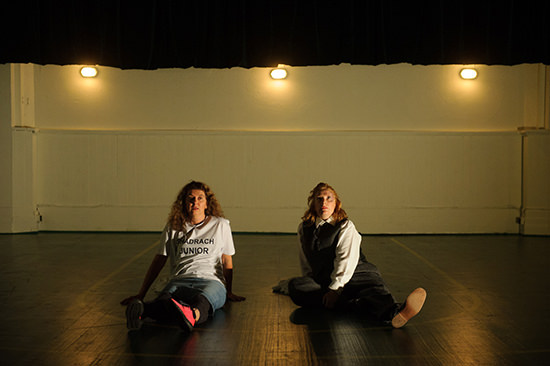 Andrea James, Elise Hearst, Bright World
Bright World is richly invested in intersectionality and the difficulties it presents. The intersection of Aboriginal and Jewish cultures is the most obvious case in point, and there are musings both charming and melancholic on the ghettoisation of writers—is James always and necessarily an Aboriginal writer? If Hearst creates Jewish writing, why doesn't she produce red-headed writing?
These questions are embedded in the structure of the work, too. It's a shocking moment when an Anglo-Australian actor slips into the role of Cooper's teacher, a Tamil from Mauritius, complete with his attempt at an accurate accent. James eventually lambasts Hearst for thinking it's okay to cast a white actor in the role, to which the latter objects that Indigenous actors are playing Jewish figures in other historical scenes. Actors are playing across gender, too, and the struggle to nut out the thorny issues of access, opportunity and authenticity ultimately culminates in a fully fledged fight over who can claim to be most oppressed, a battle that turns physical at one point.
None of these issues can be compromised, but the playwrights realise they're working with limited resources to bear witness to a story too few know. If they don't tell it themselves—problems and all—who will?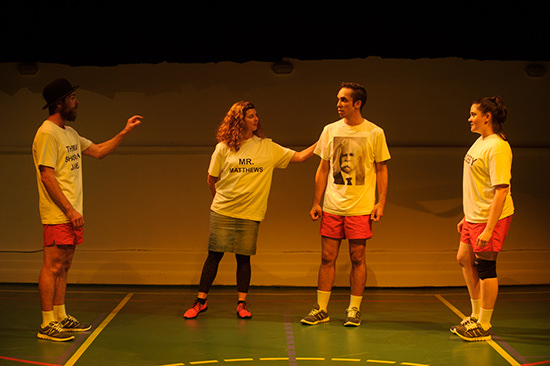 Kevin Kiernan-Molloy, Andrea James, Guy Simon, Shari Sebbens, Bright World
Paige Rattray's direction appropriately emphasises the constructedness of the enterprise, setting the whole thing within a school gym and largely eschewing period costume for basketball shorts and t-shirts with slogans or emoji nodding to the character being played ("WHITE ACTOR" elicits big laughs by the time it appears). The playfulness of the mise-en-scène plays counterpoint to the seriousness of the themes explored, though that playfulness runs throughout the meta-theatrical written frame too.
Against all this the historical moments can seem dialogue-heavy and overly expository. James and Hearst do an excellent job illustrating the knotty challenges of telling these stories in Australia in 2016, but Bright World doesn't seem to resolve those problems internally. Perhaps it's a necessary contradiction. To leave the theatre fully satisfied would be to fall into the lie that the work has finished. When William Cooper finally makes his appearance in Bright World's meta-narrative frame, James and Hearst tell him that there's still a lot of work to be done. He doesn't skip a beat: "Get on with it then!"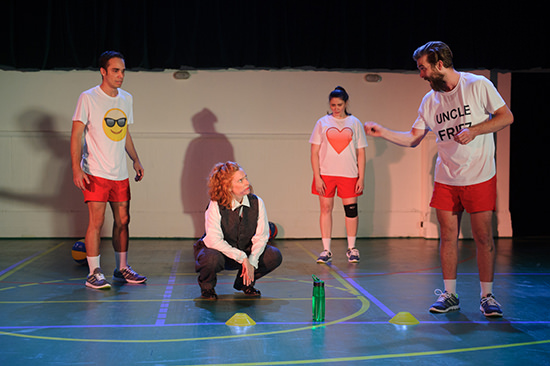 Guy Simon, Elise Hearst, Shari Sebbens, Kevin Kiernan-Molloy, Bright World
Bright World, writers Andrea James, Elise Hearst, director Paige Rattray, performers Elise Hearst, Andrea James, Kevin Kiernan-Molloy, Shari Sebbens, Guy Simon, dramaturgy, lighting Emma Valente, design Romanie Harper, sound design, music Tom Hogan, choreography Kurt Phelan, presenter ARTHUR, producer Belinda Kelly; Theatre Works, Melbourne, 13-30 April
RealTime issue #132 April-May 2016
© John Bailey; for permission to reproduce apply to realtime@realtimearts.net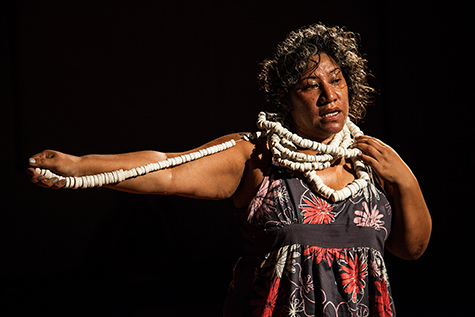 photo Katy Green Loughrey
Latai Taumoepeau, Disaffected
While discourse about climate change increases daily in the media, we remain largely ignorant of what is happening on our doorstep in the Pacific. Latai Taumoepeau is one artist combatting this, making work for years now that focuses on the effects of this calamity in her ancestral homeland Tonga and its neighbours (read a review of Taumoepeau's Repatriate I and II).
Disaffected, drawn from a concept by the work's creative producer Katy Green Loughrey, is a collaboration with performers Valerie Berry and Ryuichi Fujimura and director Kym Vercoe, developed in residency at Blacktown Arts Centre over a four-year period. The large Pacific community in Sydney's west was a contributing force, most notably in Sean Bacon's accompanying video Affected, which played in the adjacent room. Affected cut interviews with residents about their threatened homelands with imagery of the three performers dancing chest deep in the ocean. Loss of country is a familiar story in an immigrant nation, yet climate causality is new.
With its immersive darkness and Tom Hogan's audio building with gradual menace, the beginning of the performance promised a dynamic experience. Moving through story, image and movement, Disaffected placed the individual firmly in context and brought emotional resonance to the issue. In a trio combining skill and personality, Berry's account of the 2009 dust storm in Sydney was one of the most deeply affecting scenes, especially for this writer who experienced the event as images only when living overseas.
Fujimura spoke of the single pine that survived from a forest of 70,000 after the 2006 tsunami in his native Japan. The pine became a sort of cenotaph, invested with so much symbolism that when it began to die, a process of preservation was embarked upon that was so costly and arduous it elicited much criticism. The pathos of the 'Miracle Pine Tree' was emblematised in a blue sculptural prop, garlanded with fairy lights, carried with reverence from the edge to centre stage.
The effect of natural catastrophes on cultural materiality came to the fore more than ever with Taumoepeau's monologue about the fabrication of long shell garlands—Beroana, or 'shell money', displayed in certain ceremonies. Taumoepeau used a giant ceramic replica gifted to her by artist Taloi Havini, of Bougainville heritage. This ancient blend of resource, ritual and 'art object' is one of a myriad that die with the environment. Taumoepeau's great gestural gifts carried this monologue as eloquently as her words.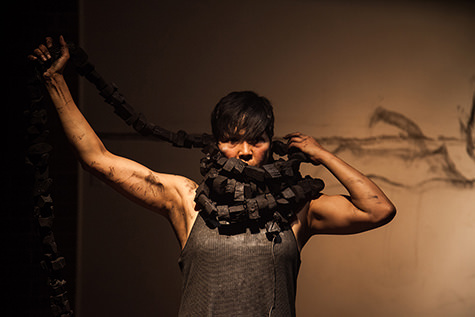 photo Katy Green Loughrey
Valerie Berry, Disaffected
The power of these individual stories was not matched by the recorded voiceover, partly since it provided more impersonal information, also because the production as a whole was so busy, effects overlapping one another to the point at times of swamping them. Storms were naturally frequent, Amber Silk's lighting in turns flickering, glaucous, glowing hot and, at its most subtle, conveying empty devastation.
Props such as corrugated iron and blue tarp were used to varying success. The iron, such a familiar workaday material of colonised Oceania as to be totemic, crescendoed to violent tempest in the hands of Fujimura. The blue tarps, signifying waves, were less convincing.
The energy and commitment of the performers was relentless, as they shouted, wailed, ran and rolled across the floor. We sat around the perimeter of the room on mattresses and cushions, the setting reminiscent of a disaster shelter, our comfort compared to their duress making for slightly uneasy viewing.
I did sometimes long for more space and reflection. The Butoh and Bodyweather training of the performers could have been drawn upon more. Viewed in terms of Taumoepeau's single body of work on these themes, I felt the impact of Disaffected not as strong both in aesthetic and political terms. Yet that is not the main point. Disaffected is a refined and captivating piece of theatre: it should have seasons elsewhere.
It is striking how much good art, from visual to performing, at reasonable prices, is going on out west—Campbelltown, Penrith, Bankstown, Casula. Once upon a time, Disaffected would have received a season in the inner city at Performance Space. This seems unlikely now. So forget Sydney Theatre Company and its $80 pageants. Check the bills of our outer suburban arts centres, consider the conviviality of a train trip from Redfern: the balance of a reasonable ticket price is sure to get you a great meal out there as well.
–
Disaffected, concept Katy Green Loughrey, director Kym Vercoe, performers, devisors Valerie Berry, Ryuichi Fujimura, Latai Taumoepeau, composer Tom Hogan, dramaturg, designer Carlos Gomes, movement consultant Victoria Hunt, lighting designer Amber Silk, creative producer Katy Green Loughrey; Blacktown Arts Centre, 17-20 March
RealTime issue #132 April-May 2016, web
© Fiona McGregor; for permission to reproduce apply to realtime@realtimearts.net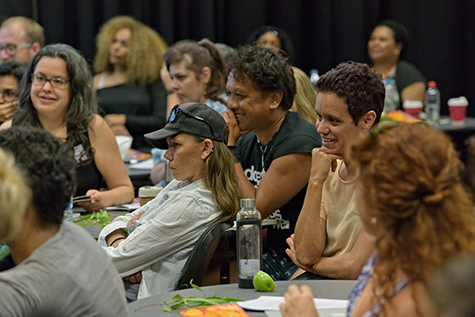 photo Mick Roberts
Participants, Dana Waranara
We attend so many industry events these days—conferences, seminars, showcases and even summits—but I've never been invited to a 'convergence' before, so I wasn't really sure what to expect from Dana Waranara. Now, weeks after the event, I can say that it has had a significant impact on me. It's not yet totally clear to me how that impact will manifest itself in my work, but I'll try and explain why I think this gathering will end up having a deep and lasting significance. For now, the best word I can come up with for the impact is to say that I have, in the best possible way, been disturbed by it. To quote the movie of the moment, "I feel a disturbance in the force". More on that later.
As the Dana Waranara program unfolded I started to feel quite privileged to have been invited into that space (as a presenter, non-artist and whitefella). This was driven home in a session honouring the pioneers of black dance in Australia. To hear from artists such as Carole Johnson, Roslyn Watson, Michael Leslie and Monica Stevens about the beginnings of this movement in the 1970s, was an historic and humbling highlight of day one. I had some knowledge of this history, but much of it was new to me. I don't think the significant, ground-breaking contribution of these artists is understood as widely in our industry as it should be, so sitting there hearing their extraordinary stories felt a little like the sharing of a secret history, that one day will be recognised by more and more people.
Although this gathering was not a showcase or performing arts market type event, for me as a presenter it was a great opportunity to gain an overview of the artists, choreographers and companies working in this field, giving me a greater context, and certainly inspiring me. To be surrounded by this extraordinary group of artists was quite humbling. Some are well known and recognised in our industry, others are early in their careers, filled with the infectious energy, enthusiasm and invincibility of youth. But I have to say that I was most inspired by some of the brilliant, more mature artists who've continued to nurture their practice over many years, creating beautiful, meaningful work away from the glare of larger festivals or venues (which in the industry we sometimes mistake for success). To hear from them about their work was quite special. That an artist such as Gary Lang is producing work of the calibre of Mokuy in the Northern Territory, that (to my knowledge) has not been seen elsewhere in the country, is exciting but highlights the need for us to find ways for such work to be seen more widely.
In this mix of inspiring artists were also a few handpicked international voices, most significantly First Nations artists from the US, Canada and NZ. I was particularly struck by the wisdom and maturity of Maori choreographer Jack Gray. The gentleness and warmth with which he shared his significant experience as an artist highlighted for me how the Australian black dance movement, unique though it is, is strengthened by its international links. This is not only true of the important link with other First Nations artists and communities, but also of the very significant contribution evidently made to the movement by African American artists such as Carole Johnson who was in attendance, but also others who were mentioned, like Ronnie Arnold and Aku Kadogo.
All of this sounds quite inspiring and energising, and it was (as well as being pretty intense, overwhelming and exhausting!). So, why do I say that I have been disturbed by it? Because my experience at Dana Waranara has further strengthened in me a belief that our current models of presenting are not serving us well. They do not easily allow for the type of truly impactful community and artist encounters that we need to be facilitating or inviting into our venues. Outmoded conventions, physical infrastructure and business models are barriers to venues being all that we could be for our communities. This of course, not only relates to the challenges of presenting contemporary Indigenous dance, but represents a wider challenge for presenters.
I'm writing this in New York, having just attended two other industry events here which have served to reinforce this welcome disturbance in my thinking. I don't yet know what new models we might reach for, but I think I know some of the questions that I (we?) might need to address to start the process, and Dana Waranara has been a big part of firing me up to try and find some ways forward. For me, in my job, some of these questions would include:
What mechanisms might allow us to give up "expert curation" and allow our community greater power in programming our venues? Could we successfully hand over the programming reins to a wider, more diverse and representative group in our community? How?
What different financial models would allow us to transcend the transactional nature of the relationship between artist and audience? Can we really expect to facilitate meaningful shared experiences between artists and audiences while we use a model that reduces the art to a product that presenters buy from producers and then re-sell to audiences? What might new financial models look like? Collective community fundraising/investing? Giving free access to events and asking the audience to contribute something afterwards?
How could we remove or replace the conventions of theatregoing to allow a more inclusive experience? What could we do to break down the barriers between audience and artist, and between audience members, and create the conditions for more authentic, shared human experiences?
There are lots more questions like these. Dana Waranara certainly didn't provide any easy answers, but it did highlight the incredible work that Indigenous artists are doing around the country, and the need for us to find new ways to support, promote and connect that work with our audiences. It has inspired me to try and do this. BlakDance and Performing Lines should be thanked for initiating this important and historical convergence.
–
BlakDance & Performing Lines Dana Waranara, An Indigenous-led convergence bringing together choreographers & presenters, Judith Wright Centre of Contemporary Arts, Brisbane, 8-10 Dec 2015, www.blakdance.org.au
See also responses to Dana Waranara from Vicki Van Hout, Angharad Wynne-Jones, Liza-Mare Syron and Andrea James commissioned by BlakDance.
RealTime issue #131 Feb-March 2016
© Simon Hinton; for permission to reproduce apply to realtime@realtimearts.net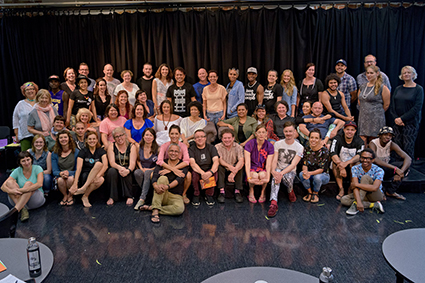 photo Mick Roberts
December 10 group shot, Dana Waranara
I was privileged to attend the Dana Waranara Convergence. This timely and vital gathering aimed to bring together Indigenous choreographers/dancers and invited presenters and producers from around Australia (with several representatives from around the globe); to exchange conversations and ideas that will support an active, robust and diverse Indigenous dance sector.
Along with a series of hotbed discussion panels, the highlight of the convergence was the pecha kucha pitches and quick dance presentations that gave a national snapshot of the cultural influences and connections to country that drive exciting myriad Indigenous dance ideas that have or will come to fruition.
What I learnt from this moving and humbling experience is that overwhelmingly Indigenous dance is an extension of our ongoing cultural practice. It is deeply personal and utterly entwined with connection to people and country. Trying to remove an Indigenous choreographer from their dance creation is impossible. It can't be done. Indigenous choreographers create dance, not to make themselves look good or smart or marketable. Our very survival is dependent on dance. It is through dance that our stories and culture are transmitted, like a yarn, through space, on the ground and in the air. It vibrates forever.
The passion and will to dance and move is irresistible and, despite the dearth of spaces to learn and present our craft in this country, Indigenous people are integrally driven to dance and create that which has been danced and created for years.
Many Indigenous dance works fail to find the big stages, the big venues, the big festivals, but the passion and drive to create is strong. The will to dance finds the rooms, stages and stomping grounds where we can light the fire and share.
What can presenters and producers do to provide a pathway for this passionate and driven cultural and creative transmission? How can the regional art centres (many of whom once banned Aboriginal people from their venues) create a safe place for Indigenous dance and performance?
How can Indigenous choreographers compete with the national and international big shots? What are the sensitivities around marketing Indigenous dance works that have such overwhelming responsibilities to people and place? How do you balance the needs of the audience with our cultural responsibilities?
Despite these deep and seemingly divisive questions, what was most refreshing about Dana Waranara was that presenters and choreographers truly mucked in with one another. We sat as one. We sought to understand each other deeply. We listened. This wasn't a market. We came to a deeper understanding of each other's responsibilities—the power of space and the privilege that comes with that; and the power and responsibility of cultural transmission and how this intersects with "art."
I saw a dancer struggle with the beautiful complexity of dancing his kinship system. I watched a woman carry the weight of a branch and generations of her culture on her shoulders. I saw tragic loss and bountiful hope. I saw mothers and fathers dance for their children. I saw a man literally dance in his dangerous and proud blood. I saw every dancer's country—time and time again.
Some Indigenous dance works are ready to go, looking for a stage or coming to a stage near you, others are germinating and will require careful resourcing and investment.
Hopefully conversations and connections were made at Dana Waranara that will continue to water the deeply personal ideas that were delicately and passionately shared. Whatever happens, I know deep in my heart, that Indigenous dancers will always dance—either on the nation's stages or without. They must. They will.
–
BlakDance & Performing Lines Dana Waranara, An Indigenous-led convergence bringing together choreographers & presenters, Judith Wright Centre of Contemporary Arts, Brisbane, 8-10 Dec 2015, www.blakdance.org.au
See also responses to Dana Waranara from Vicki Van Hout, Angharad Wynne-Jones and Liza-Mare Syron commissioned by BlakDance.
photo Mick Roberts
Emily Johnson speaking at Dana Waranara
It's just over a month since the Dana Waranara Indigenous-led dance conference. I'm sitting in a hotel room on 7th Avenue in New York, and there's a faint smell of smoked salmon permeating my room. It's an intense minus three outside and BOM says it's 40 plus in Melbourne.
I'm lucky/privileged to be in New York, seeing shows at three experimental arts festivals that happen at this time each year, and attending a couple of conferences. All are rich and wonderful experiences, offering a chance to catch up with colleagues and dear friends from across the globe and exchange confidences, passions and map out the challenges ahead.
On my first day here Catherine Jones (Arts House General Manager) and I share a large American brunch with contemporary artist Emily Johnson, originally from Alaska, of Yup'ik descent, now a New Yorker, and Meredith Boggia, her producer. We continue the conversation that began at Dana Waranara, to bring her work, Shore, to Melbourne to be part of newly appointed artistic director Jacob Boehme's Melbourne Indigenous Arts Festival in May 2017 and to develop a second work for 2019. Jacob, also part of Dana Waranara, and I had an excitable exchange the day before I left for New York where we quickly established our joint keen interest in bringing Emily to Australia to make work and a shared sense of how her work could generate a whole set of connections and methodologies in the Melbourne context that could be incredibly valuable for blakfellas and gubbas alike.
Both projects are complex, deeply embedded in different communities—in Emily's culture, in her expanded choreographic practice and in her deep desire to connect with the Indigenous artists and communities in Australia. It'll take a lot to make it a reality. Around the table, over eggs-over-easy and a side of delicious brussells sprouts with peanut sauce (who'd have thought that could work?), we all make long term commitments of time and resources… it's clear this will happen and we will all do whatever it takes. It's an easy conversation that moves from logistics to methodology, to the delights of naming artists, communities and elders we know and imagine will connect deeply with this project, and the things we think we need to be wary of.
Where does this kind of clarity and trust come from? In my experience it usually takes years to get this point with an artist or a friend, but for me Dana Waranara opened a door into a way of thinking about how I, as a presenter/producer could move into a place of real experimental collaboration with Indigenous artists in Australia and around the globe, by shifting my presenting methodologies and moving towards and co-creating a place of possibility that doesn't look like anything I already know or have seen, rather than waiting for it to appear fully formed out of the blue, out of some misguided (lazy?) sense that it was not my place to partner.
Over the four days of Dana Waranara I learnt more about Indigenous arts practices, ancient and new, contemporary politics, the deep resilience, courage, brilliance, humour and tragedy that was shared by all the artists, who proudly, angrily, tenderly and generously shared stories of their histories, their land, their people. I learnt that many of these artists who were making such diverse, rigorous, deeply researched work, were making it in personal and family circumstances that were so challenging that I was left breathless and in awe of their commitment to their practice as artists and to their culture.
Emily Johnson was one of three international artists, all of whom were welcomed and embraced by the Aboriginal and Torres Strait Island artists and presenters. Together we were strengthened in finding shared experiences of and responses to the colonisation of land, to the trauma of continued and continual discrimination, and the strategies for fighting back, for being proud, for feeling love. It was this connection that seemed particularly powerful to me: seeing ourselves and our situation from another, but similar perspective is an incredibly valuable insight, a place of comparison that is energising politically, emotionally and spiritually.
And connecting. So when I fly 20 hours in a metal tube across the planet, I am filled with deep gratitude that, when I land, I am gifted some smoked salmon—prepared by Emily and her family—caught in the rivers, smoked in the fires of Alaska. A precious morsel, that holds nutrition in every way.
So that's some of what Dana Waranara gave to me… a gift made possible by a great leader in the making, Merindah Donnelly, who forged a hugely critical cultural space for those few days, which having been a part of will never leave me… and I believe has irrevocably changed us all.
–
BlakDance & Performing Lines Dana Waranara, An Indigenous-led convergence bringing together choreographers & presenters, Judith Wright Centre of Contemporary Arts, Brisbane, 8-10 Dec 2015, www.blakdance.org.au
See also responses to Dana Waranara from Vicki Van Hout, Liza-Mare Syron and Andrea James commissioned by BlakDance.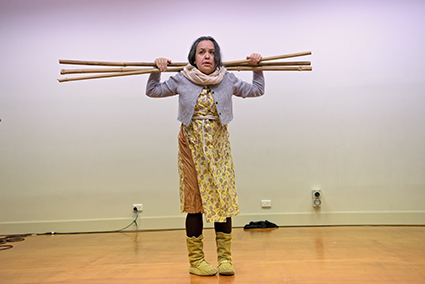 photo Mick Roberts
Canadian artist Michelle Olsen performing at Dana Waranara
In early December 2015 I travelled from Sydney to the Judith Wright Centre in Fortitude Valley in Brisbane to attend a gathering, the likes of which had not been seen since 2005. I was on my way to the Dana Waranara convergence of Aboriginal and Torres Strait Islander dance, a national summit organised by BlackDance in partnership with Performing Lines Australia.
Previous such meetings, like the National Indigenous Dance Forum in 2005, the dance forums at the Cairns Indigenous Arts Festival and Darung Muru, the NSW Aboriginal Dance Forum in 2011, sought to bring together a largely independent dance sector to share knowledge of practice, build connections and identify strengths, challenges and opportunities across the first peoples dance sector. Dana Waranara achieved all of this, but also served another very special purpose by gathering a cohort of national and international presenters and dance practitioners from New Zealand, Canada and North America to discuss the challenges and opportunities for touring Indigenous dance in Australia and overseas. As I work primarily in theatre, my interest in attending Dana Waranara was to listen to and record these conversations, to understand more about touring Indigenous work and to develop a greater appreciation of the role of dance as cultural practice.
BlakDance is Australia's peak body for Indigenous dance. Located in Brisbane, the organisation is governed by an Indigenous Board and managed by Executive Producer Merindah Donnelly and General Manager Jane Fuller. Neither works for BlakDance full time, nor do they live in Brisbane permanently. This is an agency with no stable base and run from company laptops. Jane works part-time from her home on the NSW Far North Coast and Merindah produces from anywhere in Australia or the world at any time. Both manage BlakDance very well in this way, although I am sure it has its challenges. To my knowledge BlakDance is the only Indigenous peak arts body of its kind in Australia.
Providing compelling arguments to fully fund such companies in Australia's current arts funding environment has become increasingly difficult as many non-indigenous companies can and do support Indigenous work. Although it may also be the case that non-indigenous agencies also struggle financially there does seem to be less funding provided to the Indigenous performing arts sector overall. Co-producing has become an economic necessity for many organisations and for Dana Waranara BlakDance partnered with Performing Lines, Australia's leading performing arts producer and touring agency. Performing Lines currently manages BlakLines, a national performing arts touring initiative that develops opportunities for presenters and audiences to connect with contemporary Aboriginal and Torres Strait Islander performing artists in dance and theatre. This is a particularly well-suited partnership for both organisations with their similar aims to further opportunities for the Indigenous performing arts sectors.
The first morning of the Dana Waranara convergence was all about connections—not just industry associations but family links discussed over coffee in the Judith Wright Centre foyer and outside on the Brunswick Street footpath. After the morning link-ups the fourth level meeting room beckoned, a reconfigured rehearsal space with tables and chairs set facing a small raised stage in cabaret style. Two lounges sat on the rostrum in anticipation of the many informal panels that became a key feature of the four-day event. Aunty Maroochy Barambah performed the welcome to country. With ochre on her face and wearing a possum skin cloak she glided through the room speaking in her Turrbul tongue. After officiating Aunty then voiced her concerns to the gathering that the Turrbul people were on the verge of extinction. This, she explained, was the perception of many settlers to the Brisbane area. Standing proud she commented on the resilience and indomitable spirit of her clan in the face of such opinion. Looking around the room Aunty then honoured the conference Elders, acknowledging the founders of modern Indigenous dance in Australia, like Carol Johnson who sat quietly at the back of the room, Michael Leslie the founding member of NAISDA Dance College, Francis Rings from Bangarra Dance Theatre and BlakDance founder Marilyn Miller.
In the room was a Who's Who of Indigenous dance in Australia. I identified many of the NSW dancers that I have worked with, watched and supported over the years in my previous role as Senior Aboriginal Cultural Development Officer at Arts NSW. These included Vicky Van Hout, Eric Avery, Jo Clancy and the Johnson sisters, Rayma and Kerry. There were also innumerable dancers in attendance whom I had heard about but never met, such as Gary Lang from the Northern Territory and Jacob Boehme from Melbourne. In addition were the invited international guests: dance performers Emily Johnson from Alaska, Jack Gray from New Zealand and Michelle Olson from Canada. All the dancers represented the resilience of an independent Indigenous dance sector which is largely misunderstood and underrepresented nationally and internationally.
After introductions the international dancers and the Australian delegates— Collette Brennan from the Australia Council; Monica Stevens, Chair of BlakDance; Lydia Miller, Executive Director Aboriginal and Torres Strait Islander Board; and Karilyn Brown from Performing Lines—met to discuss the issues and challenges of touring work in their local contexts. Led by Collette, the forum focused on the possibility of identifying "stepping stones" for meaningful artistic and cultural exchange between Australia, New Zealand, Canada and America. Informed by the recent release of the Australia Council for the Arts International Arts Activity Report (August 2015) and the Building Audiences: Aboriginal and Torres Strait Islander Arts report (August 2015) the conversation began.
Also in the room was Judy Harquail from Canada Presents and New York independent producer Meredith Boggia who both spoke at length about the limitations of presenting Indigenous work in their respective countries, especially in regard to presenter education and audience understanding of what constitutes Indigenous performance. Judy spoke to her work in Canada—the development of an open, independent producers network for touring Indigenous work. On how to educate presenters and audiences she noted that when it came to marketing indigenous dance the best methodology for articulating works to non-indigenous presenters was to ask the practitioners about their practice. She added that when describing a work, she recommended "a focus on the experience of a work and not the purpose." The practitioners on the other hand mostly spoke to their individual practices, all voicing similar approaches. These included being led by a connection to place, having an authoritative process and establishing how to share work with different audiences.
Dancer Emily Johnson spoke about her body-based dance/installation/theatre practice which is often influenced by her Yup'ik heritage. Her most recent work, Shore, is a multi-day performance installation in four parts examining the place of dance in the world and how dance can connect people in the present. Shore invokes 'a sense of ground' through listening, experiencing and eating, engaging with community through curated readings, a performance that moves from outdoors onto a stage and into a feast. Emily's practice extends the notion of dance as individual practice to one that examines the idea of a collective body in shared time and place. She spoke about her practice as maintaining a sense of responsibility. When producing a work, her cultural and or artistic process was not always evident to an audience, even though she was in constant conversation about her indigeneity. Similarly Jack Grey, who hails from the Ngati Porou, Ngapuhi, Te Rwawa and Ngati Kahungunu tribes of Aotearoa, articulated his practice as embracing a sense of responsibility and guardianship. He spoke about his performance, Mitimiti, as a reflection on an embodied way of knowing that comes from a sense of place and of the authenticity and sense of responsibility with which to be present. Michelle Olson described her practice as drawing from a sense of responsibility inherent in the practice of embodying place and histories.
Although there seemed to be some differences between how practitioners described and positioned their work and how presenters grappled with mediating those practices to audiences, there was some tangible ground for moving forward. All of the delegates at the regional, national and international focus meeting agreed on the need for more research on best practice for touring Indigenous work, to investigate an Indigenous-led model for touring and to build a body of writing around Indigenous dance and performance with a focus on developing a language around protocols for touring. Further, that a network of international opportunities for artists was a good place to start to get practitioners and their work noticed. Key to this discussion was developing international professional development opportunities such as residencies and presentations for Indigenous dance practitioners.
The Dana Waranara four-day convergence presented many possibilities for the future of touring Indigenous dance locally, nationally and internationally. Building relationships between practitioners, presenters, producers and audiences is key to making these possibilities tangible. Developing opportunities for cultural and artistic exchange between participating countries facilitates knowledge of markets for First Peoples' performing arts, as well as assisting in building platforms for local makers to experience international marketplaces and for practitioners, producers and presenters to share information, practice, protocols, resources and skills. This is a future worth working towards, but it is a prospect that will necessitate a commitment from all parties. Myself, I look forward to it.
–
BlakDance & Performing Lines Dana Waranara, An Indigenous-led convergence bringing together choreographers & presenters, Judith Wright Centre of Contemporary Arts, Brisbane, 8-10 Dec 2015, www.blakdance.org.au
See also responses to Dana Waranara from Vicki Van Hout, Angharad Wynne-Jones, Liza-Mare Syron and Andrea James commissioned by BlakDance.
photo Mick Roberts
Excelsior, L-R Benjamin Creek, Benjamin Maza, Joshua Thaiday, Leonard Hunter Donahue
Dana Waranara: "Come over here! Bring your [dancing] feet" (Dharug language, Richard Green)
I have been listening to recordings of the Dana Waranara Convergence, held late last year at Brisbane's Judith Wright Centre. I am very fortunate to be afforded the luxury of adequate time and distance to revisit this crucial event with fresh ears because I was not an outsider able to assess the experience from an objective perspective. Instead I was participating with all the passion and personal investment that makes one prone to bias. Initially my personal professional ambition and an impatience for a more substantial presence for Indigenous dance on the Western mainstage as a whole, caused me to momentarily lose sight of the rare opportunity this event afforded us.
With the advantage of hindsight I was able to reflect on fundamental differences between the National Dance Forum (NDF) held in Melbourne earlier in the year and Dana Waranara. The NDF proved to be a very academic appraisal of the state of dance, with a primary focus on where and how works are seeded and developed and the means by which we engage with them and the methodology for critical discourse. The BlakDance summit and subsequent Dana Waranara Convergence, however, examined dance as the pursuit of a way of being in the world, and arts practices as an intrinsic extension of a life practice.
Like most of the invited artists, from all points of the continent, I got up at the crack of dawn to catch the almost 'red eye' to Brisbane. I greeted and was greeted in turn by my extended dance family, some of us actual countrymen, but most of us sharing a familiarity reserved for blood kin because we are each (and in some cases self-appointed) cultural custodians. We act as each other's sounding boards and gatekeepers, policing protocols, working out how to work 'right way,' in accordance with the knowledge passed down by those who came before us and to ensure that same knowledge is available for those who follow.
It's day two and Uncle Des Sandy takes the floor. He is a local man, a Goori. After acknowledging the land in which we are meeting, he proceeds to name the clans of the neighbouring countries and those of the outlying terrains. He continues, methodically spiralling outwards, calling language groups with the precision of Fibonacci. From there he invites each and every one of us to share our ancestral origins, to establish our geographical place in relation to our transplanted selves and to each other. This is important.
Monica Stevens, Chair of BlakDance, delivers her second opening address in two days. She differentiates the forthcoming Dana Waranara proceedings from those of the previous day. The BlakDance Summit's purpose was to identify opportunities for growth and the current challenges hindering the prosperity of the Indigenous dance sector, with which to make a compelling case for a Blakdance forum in 2016. The main objective of Dana Waranarana was to initiate network relationships between presenters, producers and artists by providing a space to unpack what it means to be an Indigenous dance artist in a national and international context and to find ways in which partnerships might be forged.
Monica's oratory was impassioned and articulate; she talked business while never losing connection with her heritage, peppering her speech with personal anecdotes and accompanying photos referencing her homelands, thus integrating her cutural knowledge. She was both awe-inspiring and self-effacing with a ready wit and sense of humour that was to inform the event. Monica's candour demonstrated how she meant for us move forward when time is of the essence, both urgent and immediate and yet simultaneously timeless; time honoured, timely.
Executive Producer Merindah Donnelly gave a chronological account of BlakDance to date, tracing its history from the initial Creating Pathways forum held in Canberra 10 years prior, before it morphed into the Treading the Pathways initiative, aimed at targeting specific mid-career artists in order to expand the Indigenous choreographic landscape. Then it was re-branded as an advocacy body, BlakDance, under the leadership of Marilyn Miller, and then finally arrived at the present. Merindah then invited Gundangarra dancer/choreographer Ian Colless to supply an historical overview of Indigenous dance.
Ian outlined a contemporary dance history and its key players, some of whom were in the room. This resulted in a gentle prompting by the pioneers when details grew fuzzy or were erroneous. As many alumni of NAISDA (the institution which grew out of the initial Redfern Black Theatre workshops) were present, we were already privy to much of the information Ian had compiled, but Carole Johnson, founder of NAISDA Dance College and Bangarra Dance Theatre, added rare insight into her motivation for initially working in the Aboriginal community. Carole originally had no intention of remaining in Australia after her tour as performer with outspoken Colombian-American Human Rights protester and choreographer Eleo Pomare. But she was alerted to the injustices experienced by Aboriginal people through the televised footage of the 1972 Aboriginal Tent Embassy, where she would later perform. She decided to stay on after learning that Aboriginal people weren't legally considered a people. For Carole this was reminiscent of the counting of slaves as three-fifths of a person for tax purposes between the northern and southern states of America in an early version of its constitution.
Carole recalled the initial urgency of Aboriginal people in communicating to her their appalling living conditions and then the satisfaction she felt when, after the change in government, those same Aboriginal communities began to describe with pride the benefits of the newly formed medical centres and other social services. She spoke more specifically about the impact of her contribution to dance, recalling a conversation with Steve Mann where he stated, "We knew we had dance covered because we had the Torres Strait Islander tradition and Aboriginal dance [is] coming back and now the urban people [have] a way of dancing that [is] meaningful as well."
The most difficult task at hand at Dana Waranara seemed to be the negotiation between community practice/cultural ideals and the commercial/ professional performing arts arena. Surely—with such an expansive representation of the sector in attendance, including representatives from the peak funding body (the Australia Council for the Arts), local, interstate and international presenters from festivals and venues, training and research institutes, along with national and international producers and performance makers—strong headway could be made toward creating strategies for higher visibility and a unanimous desire for a prolific presence of Australian Indigenous 'product.'
But that's just it. Australian Indigenous dance is not merely a product; it cannot and should not be reduced solely to a commodity. Indigenous dance is primarily a demonstrative communication of relationships with ancestors, with the environment and with community.
Newly appointed Sydney Festival Director Wesley Enoch led a panel addressing "rigour." The panel comprised Francis Rings, current choreographer-in-residence at Bangarra Dance Theatre, Alaskan Yu'pik and First Nations performance maker Emily Johnson and myself, a NSW independent. Wesley asserted that if we choose to present in the black box theatre, we are in direct competition with the mainstream Western art and must be aware of established conventions. Emily identified her rigorous approach as an assertion of her cultural agenda within and exceeding the boundaries defined by the Western format. By partnering with her current producer—New York-based Meredith Boggia (also in attendance)—she creates her own performance experiences, including feasting rituals and community landcare initiatives.
As a provocation, I vehemently maintained that I don't consider my audience at all. This, of course, is not true. In hindsight, what I meant was that in creating work I have a cultural imperative and all other considerations are secondary. I negotiate my performative/artistic delivery based on my prospective audience. This is no easy task. The Dana Waranara Convergence provided an opportunity for presenters and producers to gain insight into this complex performative plurality whereby an art product is also evidence of fundamental anthropological function. Maori artist Jack Gray proposed presenting venues see themselves as hosts, thereby engaging with their 'talent' in a way that encompasses more than the economic, encouraging reciprocity in lieu of standard power dynamics.
Dana Waranara was an event punching above its weight on so many levels. It practically aimed to tackle life, the universe and everything in between….and very nearly pulled it off. There was so much said that the word count for this article couldn't possibly accommodate. Dana Waranara needs to be a recurring event.

photo Mick Roberts
Jacob Boheme, Penny Miles, Michelle Olsen, Merindah Donnelly, Dana Waranara
–
BlakDance & Performing Lines Dana Waranara, An Indigenous-led convergence bringing together choreographers & presenters, Judith Wright Centre of Contemporary Arts, Brisbane, 8-10 Dec 2015, www.blakdance.org.au
See also responses to Dana Waranara from Angharad Wynne-Jones, Liza-Mare Syron and Andrea James commissioned by BlakDance.
In a short burst we witnessed unfathomable horror. And yet we have been denied witnessing others' horror for years. There is compassion for some and not for others. In a brief instant all the gains of dynamic multiculturalism have been decimated. We are witnessing the lie of justice for all and the surge of globally manufactured racism with the invocation of crusader vengeance and the politicisation of difference.
Synergy no longer surprises me although populist ignorance, and talkback's propensity for connecting the asylum seekers and terrorists, is astounding. Recent actions have made it acceptable to demonise difference. There has been deplorable lack of leadership in the face of cowardly racist attacks. Perverse government policies are sanctioning these actions while contradicting the basic principles of mainstream multicultural society and the ethics of hospitality. Communities are increasingly fragmenting and segregating and the possibilities for reconciliation seem further away than ever. Critical multiculturalism has become a burning issue—the pervading spectre of our time. As John Rajchman asked, "how can we be 'at home' in a world where our identity is not given, our being-together in question, our destiny contingent or uncertain?" Responding to this challenge of dealing with cultural and racial difference in the face of the escalating politics of prejudice will be our greatest test of maintaining a just, hospitable and creative society.
At a time that now seems so much lighter, the July Globalisation + Art + Cultural Difference Conference addressed the renegotiation of multicultural discourses for the arts. Providing a multidisciplinary platform of theory, activism, policy, art and ethics, this was a vital colloquium that investigated the current debates in an international context seeking to come up with global solutions. It combined industrial-strength talk with a serious commitment to providing new models of cross-cultural collaboration in workshopping solutions for future action and understanding. This was the first conference I had been to where there was a healthy, non-hierarchical mix of artists, theorists, activists and policy makers.
Convened by Nikos Papastergiadis, Nicholas Tsoutas and sponsored by the Arts in a Multicultural Australia Policy of the Australia Council, the conference attracted a full-house from around Australia to hear 16 excellent papers and celebrate the launch of Jennifer Rutherford's terrific book, The Gauche Intruder (Melbourne University Press, 2001), that traces the pressures on Australian morality. There was a large contingent of international guests and inspirational Australian speakers: a wonderfully productive cacophony of accents, positions, backgrounds and colours that denied the need to pin down identity.
Papastergiadis set the tone for the weekend by declaring his boredom with cultural identity and theory. In privileging slapstick theory and a dis-ease with identities he called for a proactive engagement with multiculturalism in private relationships and outside official discourses. A number of speakers reminisced about their search for a way to feel at home when confronted by the ambivalence of the hyphenated-experience that inspired both shame and later empowerment in the possibility of escape from the dominant culture. Ien Ang called this routine, so integral to everyday life, "living in translation." This is a constant process of negotiation between cultures and communication that denies a notion of ethnic homogeneity since the transformations are never uniform, but are oppositional and always localised. Although I used to think that the evolution into hybridity was a positive thing, Ang among others offered a critique of its redemptive powers, noting that hybridity is based on the destruction of optimistic reclamations of difference since they are always bound by power relations.
This floating existence with its de-centred whiteness and identity-in-process shaped for many a general comfort with being outside obvious belonging. Chinese-Australian artist Lindy Lee explained that despite being told from an early age who she was by how she was viewed, she found it liberating not feeling or being all that Chinese but coming to discover it later. By reinventing things through the 'bad copy' her work is a continuing assessment of issues of authenticity. She explained that she was looking at that which is not reproducible while questioning the self as an interweaving of myriad experiences. This is a search for living through a constant dismantling and recreation of new configurations. For artists and theorists, becoming-other of themselves and of the social milieu that they inhabit is essential for sketching alternative modes of belonging and possibilities for multiple translations.
Rasheed Arena, a theorist and artist, spoke about the parallels between modernism and multiculturalism and repercussions on art and social agency. He argued for the positive advancement of society through artists thinking collectively not individually, emphasising the critical role of cultural difference in community-based regeneration projects. Gerardo Mosquera, a curator from Cuba working through Caribbean poetry, spoke of the globetrotting installation artist as an allegory of globalisation—more global for some than for others. Jean Fisher, a writer on contemporary art from England, presented an engaging paper and slide show on the metaphysics of shit and the ethics and agency of the trickster. She argued that globalisation is empowering and that artists should make use of its effects—its excesses and waste in deploying an ethical responsibility. Ghassan Hage discussed transcultural migration and the Lebanese diaspora with a special focus on Venezuela. He identified hope as the greatest inspiration for immigration—the bargaining on increased possibilities of difference, greater security and opportunity away from home.
Marcia Langton and Hetti Perkins spoke in very different ways about Aboriginal art, ownership, innovation, authenticity and discursive marketing restrictions. They challenged a variety of preconceptions about Aboriginal art and its institutionalisation in the Western context that all too often just doesn't get it, missing the playful and the sexy, living, social processes. Langton addressed the issue of authenticity and the suspicion of innovation in Aboriginal art and culture that, in the service of Western value and values, exploits the marketable yet unreconstructed trope of Stone Age primitivism. She argued that this construction of culture as a highly nostalgic post-imperial souvenired commodity denies Aboriginal responses to innovation, globalisation and most importantly secret-humour business. This reproduces the accusations of nostalgic traditionalism often levelled at multicultural art that denies the possibility of innovation through amalgamation. She argued for the dynamism and multiplicity of Aboriginal art that has an importance outside of the postcolonial white world that only gets the spiritual bongo-bongo and commercial value. Telling a story about the Rover Thomas paintings at the police station at Argyle Diamond mine and their community functions, she emphasised that the real audiences of Aboriginal art see the jokes and the dirty bits in an open-ended engagement. The 'dirty bits' are often edited out, but reappear in invented translations or place names. It was heartening to learn that the Australian sacred is covered in faeces, urine and sperm.
Similarly, new technologies have unleashed possibilities for new forms of communities and connections for cultural activism. Ricardo Dominguez, concealed in a black balaclava, presented a stunning autobiographical performance of his coming to digital consciousness through his involvement in the Zapatista networked activism. It was exciting to observe the history of hacktervism and its re-emerging connections with the new activists who have reclaimed the streets as sites of resistance. His comments on the ethics of international digital zapatismo tied in with the questioning of the limits of performance art in Coco Fusco's reading of her as yet unperformed play, The Incredible Disappearing Woman, about the 'disappearance' of assembly line workers on the US-Mexican border. The play was not so much about the excesses of a performance artist recording having sex with the corpse of an unknown woman in a Mexican bordertown (and then attending a retrospective of his 'censored' work many years later) but, as Fusco explained, an imaginative investigation into the inequitable modes of cultural exchange and their institutionalisation. The decision to use the body of a Mexican woman to carry out a necrophilic sex act as performance, the actual transactions that enabled the artist to acquire the corpse in Mexico, and the ability to 'make her disappear' when she was no longer needed, demonstrated the economic and cultural intricacies of US-Mexican relations. The excellent reading was a potent allegory of the spectacle of inequality and the skewed ethical discourses that emerge in art practice. It emphasised the micro struggles by the gallery attendants to intervene in these processes, challenging us to consider how we as artists intervene with language, relations, practice and policy to achieve greater social and cultural equity.
Multiculturalism was seen as contentious with continuously shifting definitions and without a major all-encompassing theory. Although identified as no longer a minority issue, it appears to be meeting increasing resistance from populist voices claiming that it is an assault on Anglo-Australian culture. Fazal Rizvi argued for working pragmatically within prevailing state ideology and language while keeping the notion of multiculturalism unstable to provide active and radical possibilities.
Strategies for destabilising multiculturalism created 2 opinions for defining the way forward. Some argued for mainstreaming multiculturalism and taking it out of the ghetto while others saw benefits in maintaining its ghettoisation as a pragmatic form for artists working with cultural difference to obtain institutional support. Fusco stressed that theory can and should move beyond segregation of multicultural arts whilst funding arrangements continue to foster and support this area. The realities of Australian society and arts practice were identified as no longer fitting the prevailing policy and funding models. The policy of managerial multiculturalism with its benevolent 'access and equity' logic that tolerates but manages difference was dismissed. There was a lack of accord on how to ensure that multicultural and Indigenous cultures—the source of Australia's greatest vibrancy and creativity, far more so than the nostalgic, antiquated 'white high arts'—receive appropriate support. Yet this inspired a productive range of strategies for engaging with cultural difference and resisting dominance that included a focus on individual artists and issues, greater community engagement, reforming education and the unrealistic financial support of the western canon, battling cultural ignorance and de-categorising cultural difference to make it our central concern. The practical outcomes of this conference will define and influence the conceptualisation of future policy since artists working with cultural difference will continue to struggle with issues ranging between social equality and outlandish creative projects in the hope of negotiating new forms of an ethical, dynamic, multicultural Australia.
The conference was the best talkfest I have been to in terms of the quality and range of the papers, the high level of engagement from the audience and the inspiration for future engagements.
–
Globalisation + Art + Cultural Difference: on the edge of change Conference, Artspace, Sydney, July 27-29.
Papers from the conference will be published later this year by Artspace.
RealTime issue #45 Oct-Nov 2001 pg. 8
© Grisha Dolgopolov; for permission to reproduce apply to realtime@realtimearts.net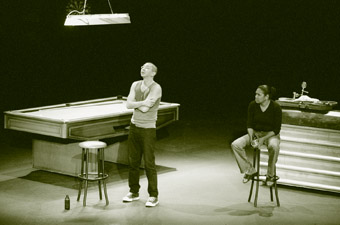 photo Jon Green
Hung Le, Ningali Lawford, Black & Tran
Deckchair Theatre's recent touring production Black & Tran transports us, theatrically speaking, to a pub in Carlton (Melbourne) while transforming the performance space into a cabaret venue with its own bar—an invitation to settle down, relax and get into the swing of things. It worked for me and I hate pubs, particularly the ones evoked in this production. It's the old fashioned kind that comes with a telly for watching sport, a pool table and a dartboard—the true blue, Aussie bloke kind of pub. I don't drink beer, hate watching sport on TV, can't play pool or darts and loathe the aggro and punch-ups that I associate with the beer guzzling, poofter bashing, sexist and racist stupidities of the dinki-di Aussie. Well that's the way it was when I was growing up.
In general, I don't like stand-up comedy either and for many of the reasons cited above, so I should have hated this combination of pub culture and stand-up, but I didn't. I can't tell you whether or not pubs have changed but in Black & Tran, you get the impression that these old fashioned bars are now a positive haven—given the tidal wave of gentrification that has swept over most cities—for those who don't want to participate in the white majority middle class culture of wine bars and brasseries. In this pub, instead of a big white bloke with a red-neck and a gut wearing a singlet and stubbies with his crack hanging out, there—glued to the cricket on telly—is a lanky, bespectacled Vietnamese man. When his nemesis arrives, far from a head-kicking skinhead, she's a cheerful Aboriginal woman who swings into the bar with a friendly, "Hey Tokyo, ya wanna game a' stick?"
While Ningali Lawford takes some convincing that Hung Le, whose Australian accent is so broad you could thwack it with a cricket bat, is in fact Vietnamese-Australian and not Japanese, Hung Le himself has a bit to do in coming to terms with an Aboriginal Australian. As they trade tall tales and true and tell lots of totally tragic jokes about eating dogs and snakes in sometimes hysterically visceral detail, the audience cacks itself in recognition of all those racial slurs and cliches. Perhaps surprisingly, this first generation migrant and original Australian have a lot in common. Neither of them spoke English until their late primary years. Neither of them is seen to be a 'real' Australian and, of course, they share a loathing of Pauline Hanson and those of her ilk. Hanson—referred to throughout as the "Oxley-moron"—is the target of merciless satire.
Despite the trading of racial stereotypes and cultural misconceptions, this is an amiable piss-take rather than a savage satire. And unlike a lot of stand-up, its message is inclusive rather than exclusive, its thrust mildly educational and its concerns humanitarian. In this infectious and light-hearted production there are serious issues raised but, in the end, this show suggests that one solution to the problems of injustice, prejudice and intolerance, at least at street level, is to be found in humour and a willingness to engage with the regulars at your local pub.
So maybe it's time for me to throw off my ingrained prejudices and head on down to the local for a game of stick. My pool playing would surely test the limits of anyone's tolerance!
–
Black & Tran, director Jean Pierre Mignon, created by & starring Ningali Lawford, Hung Le, Deckchair Theatre, Victoria Hall, Fremantle, May 15-23, Perth Institute of Contemporary Arts, May 24-26
RealTime issue #44 Aug-Sept 2001 pg. 30
© Sarah Miller; for permission to reproduce apply to realtime@realtimearts.net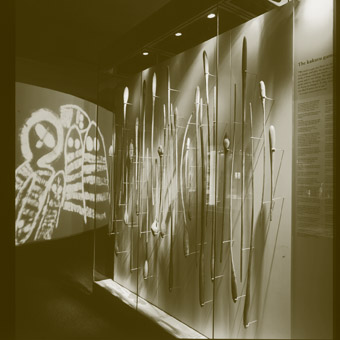 photo SA Museum
Play module – The Kukuru game. A survey of playsticks from across Australia
…objects are not dumb but inexhaustible, capable of an infinite range of readings and re-readings.
K Moore, Museums and Popular Culture, Leicester Uni Press, London & New York 1997
Usually I don't like visiting museums. I never know quite what to look at, I never seem to 'see' very much, and I'm acutely (and depressingly) aware that I've missed 'seeing' more than I've seen, and to top it off I become weary almost instantly. I have the same experience in department stores. All in all I feel defeated by museums (and department stores).
However, I finally (and with hesitation) visited the Australian Aboriginal Cultures Gallery at the South Australian Museum which opened in early March 2000, along with an overall museum refurbishment. I'd anticipated being, once more, overcome by my own inability-to-absorb. It didn't happen, I enjoyed being there. I felt like staying, wandering around, reading, listening, looking; I felt calm, instead of choked, and puzzled, curious…happy even. It was a strange response (for me). (I spent as much time watching the children as watching the displays—I'll return to this.)
A couple of weeks after this initial visit a friend from Cardiff went to see the gallery. He was impressed; he said he didn't feel "beaten over the head" by the politics of Aboriginal issues. He said he'd gained some understanding of a complex and elegant culture, and that even though the gallery was of a traditional museum design (in many respects), it had somehow subverted the common, and over-arching, intention of the museum—a heavy didacticism, a sort of grim inertness.
There are around 3000 objects on display, which is 10 per cent of the museum's Aboriginal collection, as well as many archival photographs. At several locations, and in relation to particular Australian regions, there are video-screens with head-and-shoulder footage of Aboriginal people telling stories. They speak directly to 'you.' These screens are placed in such a way as to be discrete and at the same time clear and compelling. One simply comes across them. The voices do not interfere sound-wise with each other. The stories told are everyday, personal, and insightful (about relatives, cooking, singing, hunting, art, pain).
There is no directed way to view the gallery. One can follow the walls, or move through the curved passages, coming to 'themes' by chance (like 'food and water' or 'aesthetics'), as well as 'regions' (like 'South East', 'MacDonnell Ranges', 'Western Cape York') and 'technologies' (like 'spears', 'drugs', 'watercraft', 'string'). It's tempting to move back and forward, criss-cross, or linger; things and ideas link up gradually; correspondences, relationships, and surprises slowly seep in. And by the time one sits down in front of the double screen in the second floor theatrette, where a series of anthropological films have been recut into shorts, and are shown with contemporary footage, and with relevant objects—illuminated in a sequenced way—in 2 cases (one between the screens)—one/I/you is a (potentially) slightly different person. Not because one has been given a lesson, or been overwhelmed by masses of artefacts and difficult (sad) matters, but because one has been touched quietly/softly and decisively by the beauty, innovation, richness and subtlety of objects, materials, rituals, and knowledges. The displays manage to give information both matter-of-factly and expressively, not tying down, or stitching, the exhibits into single or determined narratives.
Sometimes I wished for slightly brighter lighting, just to see in more detail what was there, to see the contours of small containers, or the exact marks on a fire-stick, or the colour of seed pods, and sometimes I wanted a little more text about particular exhibits—pieces of jewellery for instance. I was told by David Kerr, Head of Public Programs at the Museum, that there will be slight changes to the lighting over time, and more wall texts and labelling will be added.
As well as the individual video-screens and the theatrette, there are a number of larger monitors which run programs of archival film and video "providing contextual imagery for the objects on display. Significantly this is not explicitly the Museum voice of authority, but an independent witness, with the visitor making the connections between the film and the display" (David Kerr, Artlink, Vol. 20, No 3). And on both floors there is bench-seating along which are positioned touch-screen monitors on articulated arms. These contain multi-media data-bases of story-lines; they are simple to use, and the stories are well-organised and accessible. When I was there many family groups were gathered around, and discussion was animated, with children making associations between displays and stories.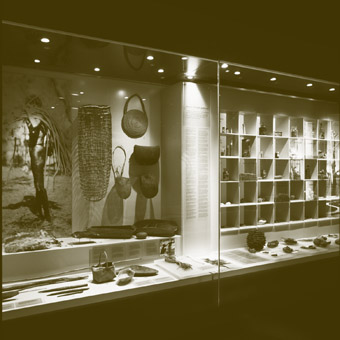 photo SA Museum
Food Gathering module – gathering tools and food survey
The gallery also has an Indigenous Information Centre on the second floor, where Indigenous museum staff deal with inquiries about the collection, using CD-ROMs, databases, books and videos as well as providing Indigenous people with details from the museum's genealogical archive. The Centre shows Aboriginal artists' work—presently there are paintings by Ian Abdulla. Downstairs there's a small dedicated exhibition space which can be used as an art gallery or for the temporary display of more pieces from the collection.
On entering the gallery one comes face-to-face with a layered display of black and white archival portraits, among which are two video screens with the animated faces of Aboriginal people. They look out at us, alive, nervous, waiting, and warm (we meet these people later as they talk to us from the video-screens inside). We are reminded from the start that we are in the presence of people, of a culture made, and being made, by people. A soundscape of voices, birds (and I'm not sure what else) plays above and around. It is unintrusive, and comes and goes in one's consciousness. Upstairs there's another soundscape, and at one point the laughter of children drew me to a display case where a silent video-screen shows children playing, as well as a number of toys.
So far I have several favourite displays: the string bags and nets, the shell jewellery, the medicines, the masks made from kerosene tins, and the exquisite carved glass spear heads (and the football segment in the theatrette).
Over the last decade there's been an enormous amount of research and writing about 'the museum' and 'museum-display'; about what 'the museum' was, is, and can be, and about its cultural-display role (and consequently, amongst other issues, about history, community, interpretation, ownership). This is due, in some measure, to recent theoretical and philosophical thinking regarding interdisciplinary and non-linear practices of meaning, working, creating and teaching. Especially important in displaying a culture (or in the display of history, science, art, and so on) is the seemingly ordinary concept of sense. How is sense made? What sense do we make, and why? How do we keep sense open, available?
The museum, the exhibition, is about seeing, reading, listening. The type of order the museum creates/imposes, the way in which its curators, researchers, archivists see, read, and listen, affects the memory of individuals, and of cultures themselves—the cultures which it displays and the cultures which come to visit, to view. The museum is a type of memory and dream; a space for memorising and dreaming. The care of memory and dream is the care of remembering, forgetting, and imagining, and it's the care too of detail, possibility, and infinity. There are countless ways to make sense of every single thing; every single being brings themselves to bear upon the seen, heard, read event. The interaction, the potential for conversation, inner and outer, is where the moments of becoming 'a slightly different person' could be. "In dream space, many things might tumble through our minds: bits of songs, half-written shopping lists, things left unsaid. The shape or shadow of something, its texture or colour, the operation of space and the people moving through it can be triggers to an endless range of personal associations. Therefore, in accepting…[the] idea of the dream space, we have to accept more fully the imagination, emotions, senses and memories as vital components of the experience of museums." (G Kavanagh, Dream Spaces, Memory and the Museum, Leicester Uni Press, London & New York, 2000)
Which brings me back to children. I watched the way children in the Australian Aboriginal Cultures Gallery went about making sense. It was haphazard, unruly, restless. They stopped, wondered, pointed, or moved on, swiftly, careless; they saw one thing and returned to another. They used the touch-screens like video games, a bit brutal, expecting the equipment to work fast. They read here and there, not from start to finish. The gallery tolerated all of this. It seemed to give them a chance to play, or at least to remain in the mode of play. I thought, as a result, that in time, this gallery will make a big 'difference.'
–
The Australian Aboriginal Cultures Gallery Project Team were: Philip Clarke (principal curator), Philip Jones (preliminary brief), David Kerr (content coordinator), Franchesca Cubillo, Chris Nobbs, Root Projects Australia (project management), Freeman Ryan Design in association with X Squared Design (exhibition design), CDP Media (multimedia consultant), Clinic Design (Speaking Land interactive), Bollman and Bietz (Contemporary Voice films).
RealTime issue #41 Feb-March 2001 pg. 6
© Linda Marie Walker; for permission to reproduce apply to realtime@realtimearts.net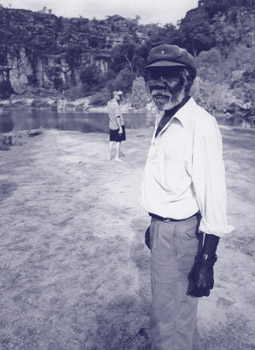 Thompson Yulidjirri
The humidity is high, the temperature is way above Sydney's mild Summer average and the air is utterly still in Tamarama (next door to Bondi Beach) where Marrugeku and Stalker director Rachael Swain and her husband, company technical director Joey Ruigrok Van Der Werven, live…from time to time. But, despite having just completed a week of hot stilt-walking practice at Stalker's less-than air-conditioned Marrickville studio and having to coordinate an incredibly large and complex group of performers and staff (25 people from Broome, Perth, Oenpelli, the outstation Markalikbarn, Goulburn Island, Melbourne and Sydney), there's a cool air of quiet confidence in the old shopfront house before the company fly out to Perth—for an all too short onsite rehearsal in the Quarry Ampitheatre. Joey breezes out to pick up a new back-up VCR for the show and Eddie Nailibidj, a key performer in Crying Baby sits in on the interview with Rachael, nodding agreement, answering the odd query, relaxed deep into his armchair but nevertheless exuding a restless energy that says dancer—traditional, break and stilt dancer.
After a rapturously received preview of Crying Baby at the 2000 Darwin Festival (see RT#40 p10), the Marrugeku Company, an ongoing collaboration between Sydney-based Stalker Theatre Company, urban Indigenous dancers and musicians from WA and the Oenpelli community in Arnhem Land in the Northern Territory, premiere their second work at the 2001 Perth Festival. Like their first work, Mimi, Crying Baby is destined to become an arts festival favorite. As we go to press there is hardly a ticket left for the Perth show and there are more offers from major festivals than the company can contemplate.
The rehearsal in Perth will allow the whole company to rework the show, accommodate various cuts and changes, make technical adjustments and add some cultural nuancing for urban audiences now that the show has left its Oenpelli home. Rachael calls the Darwin showing an avant-premiere and this phase the 5th stage of the show's long gestation.
Stage 1 was the end of 1998. We had the whole company up there for a month. We went up with the question, is there a new show to make? We really wanted to approach it very openly to see if Mimi was just a one-off. But very quickly we moved into a whole lot of new territory together.
It took the work on Mimi for us to understand one another enough to be able to explore more complex issues. There's always been a fascination with each other's vocabularies. That's been a backbone of the work. The community-based artists love the physical theatre work of Stalker. And we really enjoy their amazing mastery in traditional dance and music. The urban Indigenous artists in the company have vocabularies from a number of places. For example Dalisa Pigram from Broome has been trained in the traditional dance forms of her people. She also did a lot gymnastics from when she was quite young, so she's learned the aerial work in the show very quickly. She also went to the Aboriginal Music Theatre Training School in Perth that Michael Leslie set up. I met her just after that and we taught her the stilts.
Mapping stories
In Kunwinjku culture, the Djang (the closest you can get to the meaning is what whitefellas call Dreaming) exists in the land and as stories that have moved across the land. But there are also Djang stories we would think of as historical and built out of post-contact history. And because Stalker works either with large scale outdoor touring works or more site specific works, this whole idea of a story in a landscape is something that is part of the process of our company. That's a shared understanding or the ground that we stand on together, that we build from.
The text for the new work was in fact a map which took in the Djang of the area, including the history of the first white man in the area, a man called Mr Watson. Thompson Yulidjirri, who's the elder for this work, the storyman, tells his own history in the area. And Marrugeku, over the 6 years we'd worked together, we have our history there.
It took us days to make this big map with all these stories on it and that became our text for the show. We used it spatially but also as a group of narratives as well as an understanding of how the Djang stories, the contemporary stories and the historical stories could weave together into a narrative. It started on a piece of A4 paper and then we got another one and another one and then we got a big piece of cardboard and then we stopped; then we got 3 pieces of cardboard and started again-it went on and on. In the show, as Thompson is narrating he draws out the map and in the film [projected in the performance] Aboriginal filmmaker Warwick Thornton has made a montage of the telling.
One day, in the process of doing the mapping, there was this little circle on the map and I said to Thompson, what's that one there and he said oh, that's Mr Watson. And I said, who's this fella Mr Watson? And he told me the whole story of his father's people along with other tribes being taken from their land and the setting up of a mission on Goulburn Island. Reverend James Watson was the first white man to come through this area. We then went and researched Watson in the National Archive and managed to find a copy of his diary.
With the company there for a month, we listened to lots of stories and went to quite a few places. At the end, I said to Thompson, last time we looked at the Mimi story; if we had a Djang story now, what would it be? And he got that furrow in his forehead and he said: the Orphan story.
The Orphan or Crying Boy Dreaming is from a place called Gapari, the country where Thompson's father lived. It's a story Thompson's custodian of. It's a place he goes and visits. We've been there with him a number of times. It's a story of neglect. This little boy was neglected by two tribes and a form of the Rainbow Serpent became angry at the tribes for not looking after the boy and she turned them all into rock. That's the short version. Because Thompson grew up on Goulburn Island and Eddie grew up there too, the Crying Baby Dreaming already had quite a strong resonance. One of the crafty things that Mr Watson did was to take these different tribes from a place thick with stories to a place where there was no Djang. There was no dreaming on Goulburn. The people said it was very arid and a stupid place to go and live. Not so much tucker.
When we started this project, Thompson said to us, we've gotta look at the whitefella story this time. We can't just look at that blackfella story. The other side of that was, I said to him, well let's also look at the contemporary story from your country. You can't just sit back on your heels as traditional men and talk about your Djang. What's going on there now? And that, of course, is incredibly difficult for me as a director and for him as an old man. It's something he cares about enormously but also a very hard thing to tackle because there's so little hope there. And it's so complex. There's so much violence, so much culture being lost every day. Old people are dying and losing stories. So many of the kids have big petrol sniffing problems. A large percentage of the parents are alcoholics. Kids are growing up in chaos. For Thompson, as an old man, a big part of his life is teaching stories to the young people. What he's finding now is that the young people don't want to listen.
So these were our starting points. The Orphan story, the question about white Australia and contemporary life in the community. Thompson talks about this story in relation to the Stolen Generations but also in relation to white Australia. The film also carries quite a lot of the narrative. I made a film about a lost white girl in the bush. Often when there's a Watson scene, there's this lost girl who's telling a white version of the orphan story. In Australia there's this thing about Aboriginal children being taken from the bush but also a paranoia about white children lost in the bush.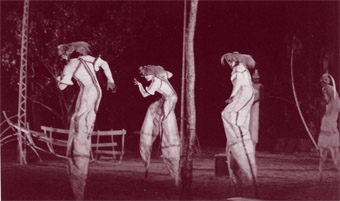 The return of the Mimis in Crying Baby
Representing the whitefella
It was interesting reading Watson's diaries. He comes across as very gung-ho. He was a madman really. He tried to ride a bicycle from Darwin to Kunbarrllajnja (Oenpelli). He had so little water left that he started drinking the oil from his bicycle chain. I've juxtaposed this quite maniacal character with this disoriented figure suffering a kind of blindness. In the beginning there's a whole lot that he doesn't see that happens around him.
When it came to the part of the show where Watson meets the Aboriginal people and asks them to go to Goulburn Island with him, I handed that over to the guys from Oenpelli who were dancing in the show, to see how they wanted to play that scene. Harry Thomson had a lot of ideas about how it should be. And what was really interesting for me is that they made it very funny. Everybody in the community knows the story of that first missionary taking the people away from their country and how it was the beginning of a lot of change-it's a very heavy thing. But they play it very slapstick. It's going to be interesting to see how that translates from playing it in front of a community audience to playing it to an urban, festival audience. It's quite strange and of course, Katia Molino is very good at it and it's a bit Buster Keaton sometimes.
In the beginning the Dreaming, historical and contemporary elements are separate but towards the end of the show they start to break into each other. At the end there's a scene where Watson has a fight with a devil-devil figure—Katia and Trevor Jamieson, one of the dancers from Western Australia, have a great aerial dance on bungy with pulleys. It's a moment where Watson's starting to see the spirit figures and also fearing that maybe he hasn't really been doing the right thing—moving into a phase of doubt. In his diaries he actually appears to have stayed in his myopic, aggressive mode. But when I imagine him up there in Arnhem Land licking the oil from his bicycle chain and completely surrounded by such a foreign culture, what he's written in this diary has to be a falsehood. Where's the doubt?
Remembering the words
The music is a mixture of live and recorded. There's the Marrugeku band that was in Mimi with the same lineup: Lorrae Coffin from Broome who plays bass and the composer Matthew Fargher who plays violin and keyboard. Bruce Nabegeyo is the main songman. For this show he's singing quite a lot of songs in kunbarllang which is his mother's language. He's remembered these kunbarllang songs. It took him a while.
For the dancing, Eddie speaks a number of languages but some of the other guys didn't know these songs so well so it took a while to remember how to dance to them. The dances come from Croaker Island. Eddie moved around a lot as a young man. He's quite special because he's been trained in a number of the dance forms. He has an incredible vocabulary to draw from. Sometimes he's teaching the old men. When he started on the stilts, he was trying to learn what we do. Then one day he said, okay that's it, I'm gonna do it my way. Suddenly his stilt walking got better. He could do a lot more, moving from the basis of his own traditional dance vocabulary rather than trying to copy our copying of them. Eddie does a scene in which he breakdances. It's great to see him playing a role other than dancing painted up in his narga.
Reading the audience
When we did the pre-premiere it was programmed as part of the Darwin Festival. We had 2 shows just for the community and then 3 more when the Darwin community could come in. In fact, I think most people from the community came every night. They knew the show off by heart. It was important for us to have that Darwin audience but I do think a Darwin audience is educated to a slightly different way of reading things than, say, a Sydney or Perth audience. Some things I'm changing. I don't believe in the Peter Brook universal theatrical language idea and because we make works spanning remote community audiences, urban Australian audiences and international audiences, we rework the shows for each place. Also I'll learn from seeing it in Perth. It's a groundbreaking time. I've had to make guesses about how things might be read. For example, in the physical vocabulary there are moves that can be read by a Kunwinjku audience, simple things, like a hand signal that means Rainbow Serpent. We need to think of a different way to communicate that.
We're asking the audience to listen in a different way. And we're looking at narrative in a different way. One of the things I've learned from Kunwinjku stories is that they have a simple structure but layers of meaning. And as we weave the Watson story and the contemporary story, I hope that the audience will accept our invitation to listen and think in a different way about what reality is. About what they see, about what's going on, about how much impact the history of this country has had on the present, how much impact the spirit stories have on the here and now.
A lot of grounding for the collaboration is that our physical vocabulary for the stilts and the aerial work has always moved in between the realms of the spirit and the human. Stalker has done that since early works like Angels Ex Machina. It's something we've been obsessed with as a company and I think it supports this idea of a connection between Dreaming, history, and the contemporary.
One of the areas that's been most challenging with this work has been to look at the contemporary scene. So the prologue is set in Oenpelli with everyone in the company sitting round campfires. We've tried to really blur the difference between the audience and the performers. Everyone is sitting around together and there's no starting-of-the show moment. It's just a very slow fade into the performance. We're limiting the audience number to 800 which for Stalker is quite small. We've played other shows for up to 1200. In the community we were playing to 500. Our Darwin limit was 300. Crying Baby is more intimate than Mimi and more complex.
Cultural negotiation
We go through more and more together, we grow closer and we trust each other more, especially people like Thompson who essentially writes the shows with me. He's got to the stage now where he's often standing on the outside almost directing. He's standing out there shouting at these boys in Language if they get it wrong. I love that. I think the territory that we can go into together, there's so much more understanding and we can go deeper, and that's more satisfying.
But I think the issues that the company deals with and what the people in the company are living through certainly don't get any easier. The "humbug" as they call it up there doesn't get easier. The issues facing the urban Indigenous as well as the remote community-based members are really tough. There are mandatory sentences being handed out to members of the company. The alcoholism, families in Perth and Broome that are struggling with the number of kids being looked after, people having no money and trying to get food, the health issues…they certainly don't get any easier.
When we were in the community there was a lot of trouble going on. Someone got murdered and there was a lot of payback. It was very heavy. And we were making scenes that looked at or referred to trouble and characters not so strong in their traditional culture. But the scenes I'm happiest with are the contemporary scenes even though we had been really worried about making that kind of work and showing it to the community. The issues are lived out on a daily basis. And so, in that way, I feel like the company is an example of trying to live through reconciliation.
Cultural liaison with the traditional owners in all the countries we go to is a really big part of what we do. There's a lot of advance work that goes into it to contextualise the work in terms of site and the local culture. There's always a welcome by traditional owners of whatever country we're in. With Mimi, and we're hoping with Crying Baby, someone from that country tells the stories in their language. In Manila, we told stories in Tagalog. In New Caledonia they were in French and Kanak. The Noongar mob in Perth are doing a welcome for us and hosting a barbecue when we get there. So those relationships need to be set up properly. When you're bringing a Djang story, you're bringing a living entity to a place and so there's a certain amount of negotiation around that. When we took Mimi to Perth, it was the first time we'd performed the show and we didn't set up those relationships and there were a lot of people who had bad dreams about Mimis at that time and it caused a bad feeling about the production in that place.
Stalker
We've just started a new work called Incognita. We're working with writer Paul Carter and Koen Augustijnen from Les Ballet C de la B. He and I are co-directing, co-choreographing. After making Crying Baby, I had this absolute need to look at a whitefella story for this country. So the piece looks at what it means to live in a country with a buried past. It's a kind of remote white outback Australian setting. One of the starting points was what it means to recreate life on the site of a massacre, a place where there's been extreme violence in the past, what kind of characters would evolve out of that. It's pretty heavy. The process of making Crying Baby has been heavy. And it seems that having worked with Marrugeku really propels us into another way of looking at content.
*************
First thing I can say, I think its gamak [very good] that new story and old story go together. I will start with Crying Baby, this place, somewhere behind Coopers Creek. The story starts at Croaker Island, finishes up at Gapari. That little boy, he was crying, all the time crying, all the time crying for food. If you let that little boy crying all the time, little boy will make rainbow come, will kill you all. Like this mob, white man came and take children away, might be I can't see them when they grow, they go away from mother and father, no one looking after them. I draw that story in that book. White man collect all them children. Take away, never come back. We have to look after them kid, or then that rainbow angry, coming to kill all.
–
Thompson Yulidjirri, storyman, visual artist
The Marrugeku Company, Crying Baby, Perth Festival, Quarry Amphitheatre, February 1 – 4
RealTime issue #41 Feb-March 2001 pg. 8-9
© RealTime; for permission to reproduce apply to realtime@realtimearts.net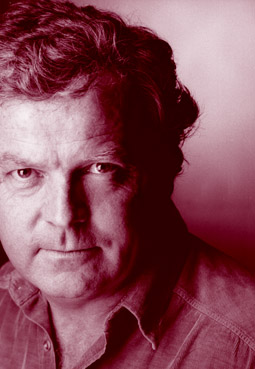 photo Frances Andrijich
Andrew Ross
At the beginning of his 10th year as Artistic Director of Black Swan Theatre, Andrew Ross talks about the development of a different kind of theatrical aesthetic.
When Black Swan was set up, the central objective was to have a theatre company that engaged with the mainstream of cultural, political and social life of Western Australia, rather than just the theatre 'industry' of Australia. We were interested in giving a theatrical expression to WA's cultural life, rather than the imitation of repertoire of other companies elsewhere.
It's my sense that there was a deal of cultural resistance to the company at the outset. Do you think that has changed?
I think the resistance was political. A lot of that controversy over the Black Swan's program was motivated by industrial issues concerning employment. Also, in the early 90s the view of what could constitute mainstream theatre was for the most part borrowed from elsewhere. For a time the 2 models co-existed, but it was inevitable that both could not survive.
So the concept of a state or flagship company has changed over the years?
I think the notion of the flagship company now has a lot more to do with what WA contributes to the rest of Australia, than the way its repertoire correlates with other flagship companies—this is a by-product of globalisation—the necessity to produce distinctive, regional works. Each company has to chip out their own aesthetic and cultural position within that framework.
When we set the company up 10 years ago we wanted to emphasise certain things that were important to us. The first was the development of WA plays: we've done a large number over the years and currently have 5 projects in various stages of development. Trevor Jameison and Scott Rankin (Box The Pony) are working on a play that deals in part with Trevor's family's (Pitjantjatjara) dispossession by the Maralinga nuclear tests, with the working title of Dust Will Fly, while Ningali Lawford and Ali Torres are developing a show reflecting on the lives of their mothers on Kimberly properties during the 60s and 70s. Black Swan has been commissioned by the Centenary of Federation Council to create a work on Sir John Forrest and his role in Federation. This is being researched and written by Phil Thomson and a production is aimed to be on stage around September or October 2001. Over the years we've shown a close interest in interpreting the literature of Randolph Stow and to follow up on our success with Midnite, Tourmaline, and The Merry Go Round In The Sea, we have begun work on the stage adaptation of To The Islands.
We have also felt it important to define that regional identity within the context of the Indian Ocean region. This aspect was slow to develop at first but has gained momentum in the last few years with touring productions from South Africa and, latterly, Indonesia with The Year Of Living Dangerously, where a group of artists from Surabaya in East Java participated in the 1999 Festival of Perth production.
How did that come about?
We are working closely with the Taman Budaya (arts centre) in Surabaya, helping to develop international funding support for the formation of a new annual arts festival called Festival Cak Durasim. Actually, Surabaya shares some characteristics with Perth: relative isolation, a distinctive regional culture and propensity to view Jakarta in much the same light as we regard Sydney!
WA has a sister state relationship with the province of East Java which takes the cultural component of this relationship very seriously, beginning with the gift to the people of WA of an entire Gamelan orchestra. Over the years there have been a number of cultural exchanges and tours—Chrissie Parrott Dance Collective's Satu Langit (One Sky) among others—but what I'm interested in building up is the long-term intimate relationship between the two artistic communities.
There were a couple of other developments in the region last year: a group of musicians toured Malaysia, holding workshops and performances that explored the acculturation of many traditional Malay songs into the music traditions of northern WA. This influence arose during the early days of the Broome pearling industry. Black Swan's general manager Duncan Ord visited Shanghai and Singapore, while you visited Kuala Lumpur to further develop the possibility of touring and exchanges in the region. Regionalism has also influenced Black Swan's interpretation of the 'classic' repertoire...
We have explored the classic repertoire within a regional context through earlier productions, such as Twelfth Night and Waiting For Godot. We haven't moved on this area as much as we'd like to lately, though a cross-cultural, Indian Ocean region production of The Tempest is scheduled for 2002/3.
We have been involved in producing and touring foreign and Australian contemporary plays such as Closer, Art, Trainspotting, Popcorn, Dead Heart, Away and Cosi.
Finally, and very importantly, we have had the opportunity to help develop the talents of Indigenous performers and creators such as Jimmy Chi, Jack Davis, Sally Morgan and Trevor Jameison.
I believe we've remained true to our original artistic principles. Sometimes we've had to change the way we've gone about things while waiting for the resources to become available but we haven't seen the necessity to reinvent ourselves in the process.
–
Dickon Oxenburgh has worked with Andrew Ross on several Black Swan productions, most notably adapting Randolph Stow's The Merry Go Round In The Sea and Christopher J Koch's The Year of Living Dangerously.
RealTime issue #41 Feb-March 2001 pg. 12
© Dickon Oxenburgh; for permission to reproduce apply to realtime@realtimearts.net