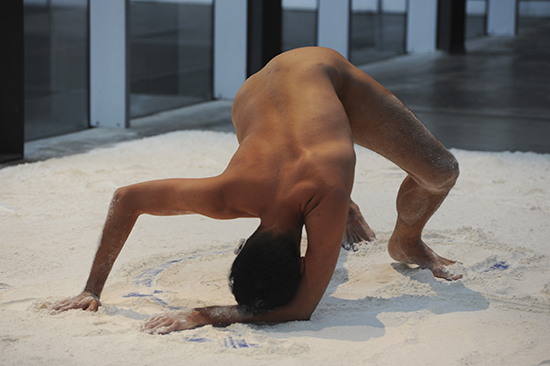 River Lin, River Walk, Liveworks 2016
Over two art-intensive weeks, Performance Space's Liveworks in 2016 provided the excitement of discovery we yearn to have all-year round in Sydney, even knowing that these days such a program would likely be economically impossible. With this Liveworks, Artistic Director Jeff Khan and his team have taken the festival up a notch; it felt more integrated and, welcomely, more challenging, with works that took us into Asia, got very personal, conjured some very strange but telling visions and took us to meet Performance Space's Redfern neighbours. It's the personal dimension of Liveworks, thematically and communally, that powers it. All strength to intimate, focused festivals!
From the serene performance by River Lin in the Carriageworks' foyer on a bed of sand for his River Walk, amid the festival's opening night hubbub, to the quietly strenuous solo and group performances from Liesel Zink's The Stance, also in the foyer, to Jon Rose's free concerts, a corridor-installed Softmachine video archive and the works performed in Carriagework's theatre spaces, this often crowded Liveworks exuded a sense of adventure, its varied moods reflected in the shifting colours of Ross Manning's inverted 'conveyer-belt' foyer installation, Melody Lines.
Ross Manning, Melody Lines, 2016, Carriageworks, Sydney
Into Asia
This year Liveworks took us further into the world of Asian performance with the programming of Taiwanese performance artist River Lin and Choy Ka Fai's masterful Softmachine with its brave performances by Rianto, from Indonesia, and China's ZiaoKe x ZiHan alongside Ka Fai's video interviews with 88 choreographers from across Asia. We're hoping this invaluable video archive will be made widely available, to open us up to the range and depth of thinking in cultures so near us, yet still so far. Liveworks, alongside Adelaide's annual OzAsia Festival and Melbourne's forthcoming triennial Asia TOPA, diminishes that distance with continuing commitment and strategies around dialogue, exchange and collaboration. (We'll tell you about a fascinating Liveworks-Critical Path forum about the Asia-Australia relationship in a coming E-dition.)
Getting personal
XiaoKe and ZiHan's performance was the festival's most memorable work, transcending its performance documentary format with quiet intensity as political repression invaded the lives of the artists and the options for resistance became fatally narrow. The Softmachine performances revealed the complex intricacies of lives in which art-making is variously shaped by tradition, politics and notions of gender. Mish Grigor structured her performance The Talk—about her sexuality and the way families talk about sex, or not—such that its constant humour and the fun of audience participation gradually gave way to deeper reflection.
The Stiff Gins' The Spirit of Things: The Sound of Objects was another personal quest, this one built around the singers' encounter with Aboriginal cultural artefacts locked in museum archives. They sing these back into life with great passion in a powerful work that needs further shaping but which, with its sometimes very strange tales of loss, murder and ghosts, takes us into unfamiliar cultural landscapes.
River Lin provided a very different approach to the personal in his one-on-one work, Cleansing Service, generating for Nikki Heywood some curious synchronicities and queries about the nature of ritual. At its induction gathering, Ecosexual Bathhouse appeared to promise personal engagement but languorously offered little beyond various kinds of voyeurism and underdeveloped metaphors for the relationship between sex and ecology; although the enveloping Moth Man, breathing softly on one's neck, hinted at the work's performative potential.
There was something immensely personal about Jon Rose's splendid The Museum Goes Live. His idiosyncratic collection of violins with its astonishing range of associated paraphenalia is a work of art in itself, deeply informative and endlessly witty. Packed out free concerts included Tess de Quincey's remarkable performance as a corpse erupting from a coffin, evoking Butoh ghost dances, even perhaps celebrating Halloween with Rose and collaborators' fierce playing.
Strange visions
Alongside Stiff Gins' The Spirit of Things and Tess de Quincey's corpse-dance, Kristina Chan's disturbing A Faint Existence and Nicola Gunn and Jo Lloyd's remarkable Mermermer conjured alien worlds, rooted in our own. Tina Havelock Stevens' Thunderhead transformed humble video of a massive Texan cell-storm into a transcendent visual and musical experience, if like Chan's creation, reminding us of the power of Nature disturbed by CO2 emissions beyond our comprehension.
Chan's vision, framed by Clare Britton's striking design, appeared unremittingly dark, a warning without the offer of consolation about the effects of Climate Change, but expressed with fraught precision and buffeted vigour. In Mermermer, the performers—surreally outfitted by Shio Otani—move and chatter compulsively, their entwined exercising increasingly perilous until a little dance brings apparent solace (or does it?) in this funny, sardonic account of obsessive contemporary life. Mermermer, alongside Xiaoake x ZiHan was one of the festival's best.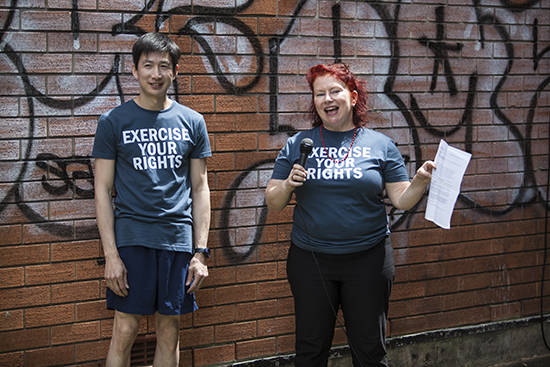 Timothy Lum, Deborah Kelly, Exercise Your Rights, We The People
Visiting the Neighbours
Liveworks' We The People, curated by Tulleah Pearce, took us on a pleasant Sunday afternoon walk around Redfern, dropping into Esperanto House, The Association for Good Government and Yaama Dhiyann, buildings we knew well by sight, but nothing of their insides or the people we would likely encounter there.
Upstairs in The Association for Good Government, beneath a portrait of the man who inspired its founding in 1901, Henry George (1839-1897), an American who visited Sydney in 1890, we browsed a table-full of documents about the organisation's social justice goals, mysterious economic flow charts and sketches of the people from all walks of life who live in or come to Redfern and regularly meet in the building. We were invited to attend meetings, took in a video with graphics and speakers addressing stark inequalities and headed downstairs to a street-side yard where we participated in the group exercise described by Lauren Carroll Harris in her report on We The People and admired a banner by Leigh Rigozzi and Deborah Kelly featuring the finished portraits in colour of association members.
Next stop, Esperanto House. On the ground floor was a video by Benjamin Forster in which short sentences in English and Esperanto, spoken by the artist, alternated so that we'd see the English and hear the Esperanto and vice versa, such that gradually the novice could begin to make connections—about the vocabularies and syntaxes the makers of Esperanto drew on. The sentences came from Esperanto stories and the artist's observations about language more broadly, for example the 'tense-less' language of an Amazonian tribe reported by Daniel Everett in Don't Sleep, There are Snakes (2008). It's a very spare video work, but for for those with an interest in language, a clever introduction to Esperanto from an artist who spent four months learning it while visiting the building. Upstairs, in the extensive library and archive, a Russian immigrant and member of the organisation conversed with visitors about its activities, the remarkable spread of the language and how it was made.
At Anna McMahon's installation, When we talk about food, we talk about it with our heart (see Lauren Carroll Harris' report), at Yaama Dhiyaan, a hospitality training centre, we enjoyed lemon myrtle shortbreads, damper and chocolate lavender truffles and a long conversation with Beryl van Oploo about both her connection with food and land and her career in catering and teaching.
Having conducted workshops for locals at the Top Work-shop (a resource centre for alternative art-making, unfortunately not on the agenda for a visit), dancer-choreographer Emma Saunders and performance artist David Capra demonstrated DIY performance-making on a small patch of open ground alongside a busy Cleveland Street. The pair, swathed in plastic wrap, cajoled audience members into a wildly funny, somewhat indeterminate improvisation as drivers honked horns and bemused pedestrians lingered. We The People might not have taken us deep into the local community or revealed the ravages of gentrification Lauren Carroll writes of, but we savoured its character, more diverse than previously imagined, and enjoyed its generosity.
We're looking forward to another great Liveworks in 2017, in the meantime living off memories of 2016, of incredibly diverse works that shared a common adventurousness and an exploratory sense of self and culture.
Emma Saunders and David Capra, We The People, Liveworks 2016
Performance Space, Liveworks Festival of Experimental Art; Carriageworks, Sydney, 27 Oct-6 Nov
RealTime issue #135 Oct-Nov 2016
© Keith Gallasch & Virginia Baxter; for permission to reproduce apply to realtime@realtimearts.net