AAAAAAAAH! (Steve Oram as Smith)
I ask Jack Sargeant, Program Director of REVELATION Perth International Film Festival (REV), how the 2016 event is shaping up. "Well, we have a spine now," he replies drily. "I might be wrong but I don't think any other film festival has a spine on their program. That's a thick program. The festival has grown a lot. We have some 200 screening sessions."
Sargeant describes his work on REV as "seeing a few films for half a year and in the second half working like a maniac watching films for 15 hours a day. As well as feature films, shorts and documentaries there's an academic conference, industry panels and workshops. It's a huge program. It just grows and grows each year. So the workload gets crazier and crazier. The way it works is that I search out films, we have the call for entries and then Festival Director Richard Sowada and I just watch everything."
I assume Sargeant and Sowada watch a lot of DVDs, but I'm corrected. "I think it's the end of the DVD. Almost everything we watch now is on Vimeo or some other platform. I don't think anyone sends out DVDs any more. 90% of what I watch is online. Most of what we now screen in the festival is sent as DCPs (Digital Cinema Packages)—a lot cheaper than 35mm prints. So the whole exhibition system has changed.
"A lot of what I do for REV is chasing people, chasing films, following an interest, an emerging stylistic trend or whatever, and also, of course, [watching] hundreds of films that come from our call for entries—I watch all those online."
I ask if the call for entries comes with criteria issued to applicants. "No criteria. As soon as you start putting criteria on things, you miss out on other things. You just have to be open to whatever is happening in the industry, whatever is happening artistically, in communities, with audiences. From all that, Richard and I will start noticing trends or ideas that are emerging and we'll debate them. Sometimes we're asked why we've rejected a film. It's not because the film is bad; it's because we have three other films that explore the same area."
I assume that Sargeant has a big screen at home on which he sees many of the films he selects from. "No. That's the thing. You love film but you're not allowed to watch it properly. You have to watch and choose from a small screen. Then you don't get to see how really beautiful a film is until the festival itself, same as everyone else." But there are also films that Sargeant sees on big screens at other festivals.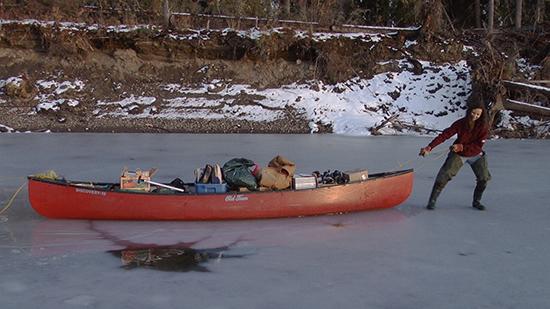 All The Time In The World
All the Time in the World
One of these films is All the Time in the World (dir Suzanne Crocker, Canada, 2014, 89 mins), which, he explains, "is about a Canadian family who leave what's already a rural community to go into the deep bush to live for winter where it's -40 or so, the river's frozen, there's deep snow. It's an amazing essay film, kind of intense and beautifully filmed. The family—and the kids are quite young—are just talking about their life. It's an exploration of what it means to not be in the rat-race at all. I saw it at the Sydney Underground Festival October last year and thought, that's great, we've got to screen it.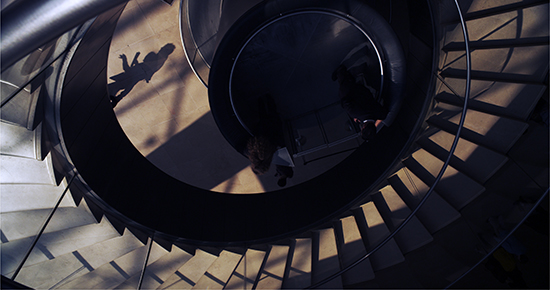 Invention
Palpable trends: slow, big and immersive
I wonder if there any palpable trends Sargeant has noticed, although acknowledging they might emerge over several festivals rather than in one year. He's wary about declaring trends because there are so many people making films that trends can be identified in any number of ways. "However," he adds, "one thing we have noticed—and this has been going on for a while now—I guess you could call it 'slow cinema.' You know, long, long takes, not a lot of action—maybe even no action. It's about watching and listening. We have a film called Dead Slow Ahead (12 months of life inside a vast grain tanker; Mauro Herce, Spain, 2016, 74 mins), which is like that; another, Human (astonishing visual perspectives on relativities of scale; Yann Arthus-Bertrand, France, 2015, 190 minutes), has long, contemplative shots. There's Invention (Mark Lewis, Canada, 2014, 87 mins), which is 'just' footage of architecture. You're on an escalator watching someone walking along or whatever. It's almost like one of those classic 'city films' from the 1920s and 30s, but instead of hustle and bustle, it's all long, long takes. I suppose it has to be a reaction to all those Hollywood films that have edits every three seconds.
"The main trend we've noticed is an… almost immersive quality. It's slow, it's big. It's spectacular without [being] spectacle. It's not about explosions—although it can be. It's not about fast editing." Above all it reveals for Sargeant that "filmmakers are still making film for the big screen. There's still an interest in the cinematic even though we're getting ever more used to watching in smaller and smaller formats. Maybe this 'slow film' [trend] is almost a response to that. You need to watch these films on a big screen, you need to hear them properly."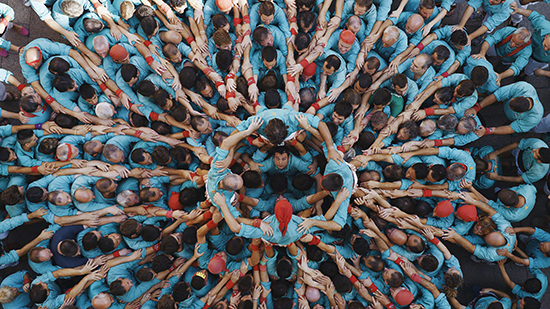 Human
It's a short leap from a possibly significant trend to Sargeant's passion for cinema on the big screen and the shared cinema experience: "I think cinema is such an important medium. However often people say that TV will replace film or computer games or VR will replace film, I don't think any of that's true. I think there's something about sitting in a cinema with a group of people and experiencing something collectively that's so important. It's kind of intrinsic to the process of cinema that it's a communal experience. I suspect people might be forgetting that. Lots of writers on film say things like, 'This is so spectacular, so exciting…' But it's only spectacular and exciting when you watch it in a cinema. If you're watching The X Men in a cinema with 200 people and they're all getting wrapped up in the plot and cheering, that's great. Watching it at home by yourself, there's not really any fun.
"I would like to think that the films we have in the REV program will really work on the big screen with a crowd and that people come out talking about film. We screened The Tribe last year and people are still talking to me about it. To me that's such an important thing—that film has that power to affect you forever. The year before we had Under the Skin and again, people are still talking about it. We need culture that stays with you, the ideas stay with you."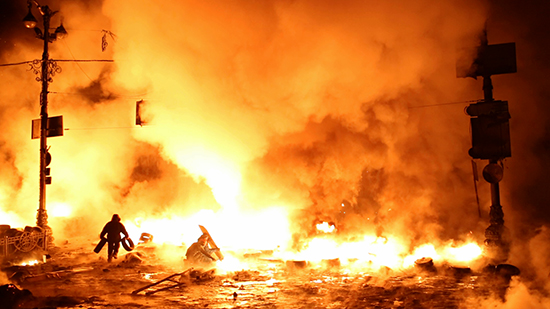 All Things Ablaze
Creative documentary: All Things Ablaze
Sargeant thinks All Things Ablaze will have such staying power: "It's a fly-on-the-wall documentary about the Ukraine with three or four camera crews among pro-democracy protestors. It's the middle of winter. There are speeches which get more and more heated. There's no didactic voiceover, no cutaways to talking heads, the cameras aren't telling you anything—it's just footage. It's incredible to watch because we [as a rule in Australia] don't end up in these kinds of conflicts. The film is visually very powerful and sounds great. Even though you don't understand the language, you certainly understand the urgency. It's a beautiful film."
Sargeant stresses the creative calibre of the festival's documentaries. They include Notfilm, the documentary by Ross Lipman (UK, US, 2015, 130 mins) about the making of the Samuel Beckett-scripted Film (featuring Buster Keaton; director Alan Schneider, UK, US, 1965, 20 mins) which will show on the same program. He also singles out an animated documentary, NUTS! (Penny Lane, USA, 2016, 79 mins), about Dr John Romulus who "somehow invented everything from junkmail to the infomercial" (program). "Coincidentally," says Sargeant, "It's a really strong year for documentaries about the arts." There are films about Tony Conrad, Robert Mapplethorpe and Robert Frank, as well as Laurie Anderson's documentary about her dog Lolabelle, Heart of a Dog (USA, 2015, 75 mins).
"We also have wilder documentaries, like The Other Side, set in poverty-stricken, rural Louisiana. It's not really about poverty. It's about giving people space who are not normally seen on TV or heard on radio, certainly not seen in cinema. It's an incredible film—and kind of terrifying as well. The Land of the Enlightened (Pieter Jan De Pui, Belgium, Ireland, Netherlands, Germany, Afghanistan, 2016, 87 mins), about kids in Afghanistan, is also beautifully shot (in 16mm) and tells its story about the country slowly. [Because it stages re-enactments] there's some debate about whether it's documentary or a hybrid. Sydney Film Festival programmed it as documentary but they also draw attention to its hybridity."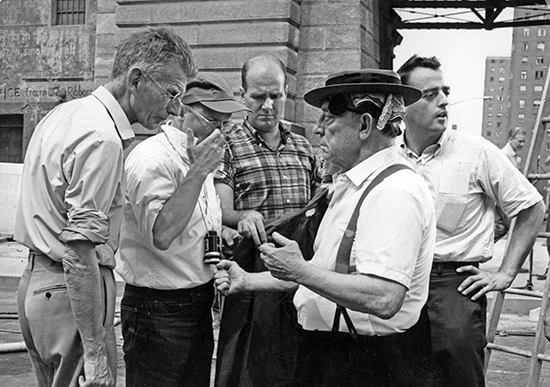 Notfilm
Feature films
We move on to the feature film program where some names will be familiar to REV audiences, says Sargeant. "We have works by younger filmmakers we've been following for a while, like Zach Clark (Little Sister, USA, 91 mins, in which a young nun returns home when her soldier brother returns from Iraq). We've screened three of his films at REV including White Reindeer (2013). This year, we've also got Ben Wheatley's High-Rise (2015), his sixth feature film. We've previously screened his A Field in England (2013), Kill List (2011) and others. These are filmmakers who've emerged in the past 10 years and whom we've been following—not intentionally; it's just that they're producing consistently interesting work that draws you to it. Anna Billo who made The Love Witch is another filmmaker whose work we've screened previously. The Love Witch was shown recently at the Stranger with My Face festival in Tasmania. It's another beautiful film.
"Der bunker (Nikias Chryssos, Germany, 2015, 85 mins) is a crazy film about a teacher who goes to study in a rural outpost and stays in a house which is a bunker and is asked to teach the owner's child. It's halfway between John Waters and David Lynch, so strange and very, very funny. If you like a good neo-noir crime thriller, Saburra (set in Rome's waterfront suburbs; Stefano Sollima, Italy, France, 2015, 130 mins) is fantastic."
Rating high in Sargeant's opinion is "The Whispering Star (Sion Sono, Japan, 2015, 101 mins), a film about a woman whom we discover is a robot who delivers packages in outer space, spending years and years travelling between planets. It's like a meditation on existence, with the planets she lands on all shot around Fukushima. These weird deserted landscapes are, of course, contemporary Japan. Cinematically it's stunning. When SF film is really good, its contemplative aspect is really foregrounded. I think we saw that in Under the Skin." Another film that plays with our sense of reality is Aaaaaaaah! (Steve Oram, UK, 2015, 79 mins), "which is like a kitchen sink drama but everyone in it is acting like a monkey. It's quite fantastic and very funny as well. You could argue that films like this and High-Rise and All Things Ablaze are about the breakdown of society." But what is REV without something from the outer limits? "ASMA HorroX (Pat Tremblay, Canada, 2016, 101 mins) is a wild, beautiful and psychedelic SF horror film."
The Jim Henson Legacy
A major component of the 2016 festival program is a Jim Henson retrospective featuring two feature films, The Labyrinth (1986) and The Dark Crystal (1982), feature-length accounts of Henson's commercials, experimental films, performance films, the Sesame Street story, plus Tales from Muppet Land and A Muppet Musical Moments and documentaries about the filmmaker at work. Sargeant says, "It's a total education with some of it to be shown for free as Mini-Rev at the State Library. So it'll be a real community event and get more children involved in cinema."
Shorts and long-term values
Shorts feature in the Get Your Shorts On (WA emerging filmmakers), Experimental Showcase and ICS (Indigenous Community Stories) programs alongside another 40 or so short films. Of the latter, Sargeant admires in particular Upside Down Feeling by Eddie White (Australia, 2015, 10 mins) about a young boy preoccupied with death and disease "via the vivid images he sees in movies" and Clare by Tony Lawrence (Australia, 2015, 18 mins) in which a girl "finds herself in a strange place where she is confronted by desire" (program note).
One of the festival's key pleasures for Sargeant is its Super 8 Masterclass and the showing of its outcomes on the final night of the festival. Central to it is hands-on filmmaking: "We're keeping Super 8 alive. There's something about the tactility of Super 8—and about working with actual film in general. It's a magical aspect of cinema, being able to feel film. [The participants] might not necessarily be 'Super 8' people but they've done something in Super 8 and have learned something."
REV in 2016 features 143 films, 14 world premieres and 42 Australian premieres. Sargeant muses, "Once I start talking about it, I think, 'This is just insane. How did we do this?'" What pleases him above all, with his love of the big screen is a new generation of 18 year-olds who are coming to the festival and are excited by cinema in an era which challenges the form's durability. Jack Sargeant is a believer: "People do actually like cinema and they need cinema and it matters to them."
From the Editors: Don't miss Laurie Anderson's Heart of a Dog, a funny, moving and philosophical coming to terms with loss—of a dog, a mother and a lover—and made with the experimental verve we expect of a great artist, not least in the work's implicit homage to the home movie and 20th century experimental filmmaking.
–
REVELATION Perth International Film Festival, 7-17 July
RealTime issue #133 June-July 2016
© Keith Gallasch; for permission to reproduce apply to realtime@realtimearts.net