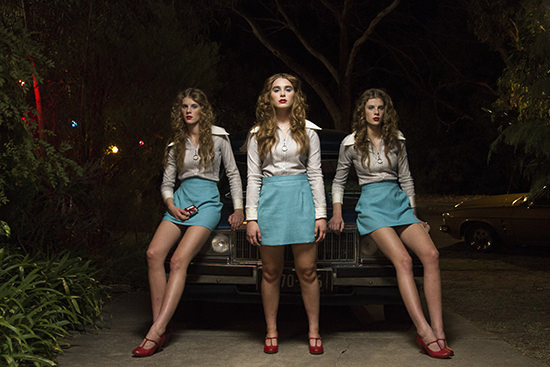 Girl Asleep
For cineastes, for horror devotees in search of weird new thrills and provocative perspectives, for viewers tired of the all-too-often disappointing characterisation of women in genre cinema, Tasmania's Stranger With My Face International Film Festival is a significant event on the Australian calendar. Started in 2012 by Hobart-based filmmakers Briony Kidd and Rebecca Thomson, the festival showcases and provides professional opportunities for women who make horror and dark genre films—an especially under-represented group in a broader industry guilty of woeful gender disparity.
The Directors Guild of America found in its 2015 Feature Film Diversity Report that just 6.4% of directors of features released in 2013 and 2014 were female; and closer to home, in December 2015 Screen Australia announced Gender Matters: a three-year, $5 million plan to address gender imbalance in the Australian screen industry.
Over a packed four days at Hobart's Salamanca Arts Centre, the 2016 festival (this year directed and programmed by Kidd) opened with a session of Australian and international shorts before continuing with a program consisting of eight feature films, industry events and the festival's regular Mary Shelley Symposium. Kidd had secured some notable Australian premieres among the features, including Lucile Hadzihalilovic's Evolution (2015, France), Anna Biller's The Love Witch (2016, US), Ginanti Rona Tembang Asri's Indonesian slasher Midnight Show (2016) and Bernard Rose's visceral adaptation of Frankenstein (2015, US), which screened at the Museum of Old and New Art's Cinemona. With the exception of the latter, it's unlikely Australian audiences will get the chance to see theatrical screenings of any of these films outside the festival circuit.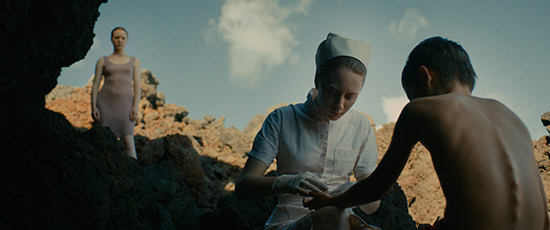 Evolution
Talking horror
Part of the fascination of a carefully curated festival like this one is seeing what common threads or 'conversations' emerge across the program. While the previous festival in 2014 offered several harrowing perspectives on female victimhood, 2016 reversed that ratio by giving us female perpetrators in The Love Witch, Evolution, Abigail Blackmore's darkly comedic short Vintage Blood (2015, UK), Australian revenge fairytale short Can You See Them? (Polly and Mike Staniford, 2014) and Izzy Lee's sexed-up Lovecraftian short Innsmouth (2015, US). In her symposium talk, Shock and Awe, Emma Valente, co-artistic director of feminist theatre company The Rabble, spoke about the taboo topic of female-perpetrated violence. The one powerful exploration of victimhood came, interestingly enough, from the festival's sole male-directed feature, Frankenstein, with Australia's Xavier Samuel delivering a searing performance as the monster/victim.
An overarching topic emerged in director Q&As, in a panel discussion on "Horror Now" and in Kidd's explanation for the 2016 festival name change from SWMF "Women's Horror Film Festival" to "International Film Festival." This concerned the blurring of genre boundaries and the difficulty of confining 'horror' to a rigid definition. The most interesting horror cinema is difficult to categorise, slipping between gore and arthouse, realism and the uncanny, folklore and sci-fi—thus presenting a challenge to those who prefer to put stories into neat boxes: funding bodies, 'traditional' horror audiences, the US film industry.
This ambiguity was certainly applicable to Frankenstein, which, while containing explicit enough violence to make it unequivocally horrific was also profoundly dramatic and moving, with strong artistic production values. Rose spoke in a post-screening Skype Q&A about "arthouse horror" not being a genre that's generally acknowledged. The cheap horror film, he said, has jump scares; so-called 'art horror' leaves the audience deeply disturbed.
Powerful women & imaginary worlds: Evolution, The Love Witch, Girl Asleep
Ambiguity permeates Lucile Hadzihalilovic's extraordinary feature Evolution, centred on an isolated community of 10-year-old boys who live with their mothers in austere proximity to the seaside. Striking oceanic iconography is used to build an enigmatic narrative that offers an unsettling perspective on puberty, parasitism, birth and surrogacy—with radically reimagined sex roles. Characterised by a sparseness and fluidity, the film's strange combination of matriarchal ritual and watery science fiction brought to mind Gauguin's paintings of Breton women, HP Lovecraft and Pina Bausch's Rite of Spring.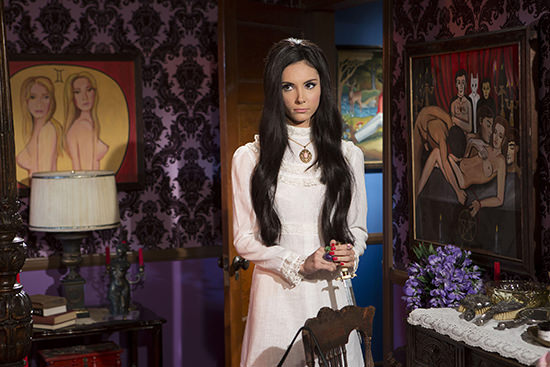 The Love Witch
The Love Witch, written and directed by Anna Biller, also depicts exploitative female power, but rather than inverting sex roles in the manner of Evolution, simply turns up the dial on existing gender stereotypes in a gleeful parody of 60s sexploitation cinema. With the aid of magic potions, spells and her own considerable charms, "Love Witch" Elaine reduces her conquests to quivering wrecks and worse, all the while espousing flowery Mills & Boon-ish sentiments. With her elaborately camp set design and hand-made costumes, the multi-talented Biller serves up a visual feast in which Elaine is the centrepiece. In a role that would have been merely decorative in lesser hands, Samantha Robinson imbues Elaine with a poise and conviction that's subtly disturbing amid the wackiness; the film might be a parody but she's compellingly delusional. (Biller writes eloquently about Robinson's performance on her blog).
With a constant emphasis on appearances, artifice, the femme fatale trope and superficial romantic fantasy, Biller's extravagant recreation of celluloid retro-sexism evokes a toxic femininity that's as disturbing as it is hilarious.
Like The Love Witch, Girl Asleep (2015, Australia) is an arresting period piece, its meticulously stylised sets a glorious tribute to the browns and oranges of 70s interior design. In a Skype Q&A after the film, director Rosemary Myers described the era as a pertinent time in which to situate a girl's story: a time when feminism was ascendant yet women were still perceived as presiding over the home.
Adapted by Myers and actor and screenwriter Matthew Whittet from their production for Adelaide's Windmill Theatre, Girl Asleep is a fairy tale of adolescent empowerment every bit as charming as its predecessors, Alice in Wonderland and The Wizard of Oz. A heightened imaginary world is realised through a range of theatrical techniques, from fantastical puppet-like figures to stylised landscapes. As the heroine ventures into the night woods behind her suburban Australian house there are echoes of Tracey Moffatt's Bedevil (1993) and Ann Turner's Celia (1989), which opened the 2014 SWMF—though the latter is ultimately more waking nightmare than empowering dream. Cinematographer Andrew Commis (The Daughter, The Rocket) is adept here as in his previous films at creating an otherworldly atmosphere.
The merging of the cinematic and theatrical evident in Girl Asleep was another of SWMF's mini-themes, arising in the Symposium talk by Emma Valente as well as in Tasmanian playwright Alison Mann's discussion of the influence of cinematic body horror on her works She's Not Performing and The Surgeon's Hands.
Crushed
Thrillers: The Invitation, Crushed, Midnight Show
Stepping away from the supernatural into the realm of human wickedness were three suspense-driven features.
The Invitation (Karyn Kusama, 2015, US) is an intensely disquieting ensemble piece whose action takes place at a dinner party in the Hollywood Hills. It builds tension through a masterfully handled, gradually escalating disruption of social mores—a slap, a personal anecdote that turns unexpectedly sinister, the hosts' jarring claims of spiritual enlightenment—while at the same time casting doubt on the protagonist's suspicion that something is awry. From the opening scene, strategic use of discordant strings, slight slowing of movement and blurred backgrounds create a sense of things being off-kilter.
Midnight Show, the debut feature from young Indonesian director Ginanti Rona Tembang Asri, situates its slasher narrative in a struggling Indonesian cinema in 1998, the year of the country's financial crisis. This, a more gruesome version than that passed by the censors in Indonesia, skilfully uses the cinema's empty corridors and darkened auditorium as the setting for a bloody cat and mouse game; as you'd expect from any self-respecting post-Scream slasher, the plot is self-reflexively entwined with the concept of horror as a form.
SWMF closed with another strong debut, Megan Riakos' Crushed (2015, Australia), a finely paced family intrigue set in Mudgee vineyards that makes intelligent and very atmospheric use of its location, which is not just scenic backdrop but integral to the plot.
Community & The Attic Lab
Riakos and Asri were participants, along with US filmmaker Shoshana Rosenbaum (whose impressive short The Goblin Baby was part of this year's program), Rebecca Thomson (TAS), Donna McRae (VIC), Isabel Peppard (VIC), Carrie McLean (TAS), Katrina Irawati Graham (QLD) and Natalie James (VIC) in a new SWMF initiative, The Attic Lab, "an intensive mentoring program for women genre filmmakers" (press release) involving the development of pitches that were presented to invited members of the film industry and festival-goers.
The Attic Lab is representative of one of SWMF's best aspects: the festival's public spiritedness and supportive community atmosphere, evident not only in this opportunity afforded to women for the development of new projects, but also in the hard work of the festival team and the generosity of its volunteers. Stranger With My Face seems set to continue to expand into the future: may the closely-knit community it has created flourish alongside it.
Stranger With My Face International Film Festival 2016, Salamanca Arts Centre, Hobart, 14-17 April
RealTime issue #132 April-May 2016
© Katerina Sakkas; for permission to reproduce apply to realtime@realtimearts.net