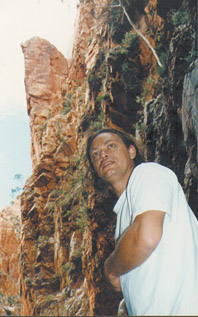 Michael Riley
MICHAEL RILEY IS PRIMARILY KNOWN AS A PHOTOGRAPHER, SO IT'S NO SURPRISE THAT HIS BEST KNOWN FILM, EMPIRE (1997), IS ALSO THE ONE MOST OBVIOUSLY ALIGNED WITH THE STYLE OF HIS LATE STILL PHOTOGRAPHY. YET IT IS THE LESSER KNOWN HALF-HOUR DOCUMENTARIES RILEY MADE FOR SBS AND THE ABC THAT HAVE HAD THE MOST SIGNIFICANT IMPACT ON THE DEVELOPMENT OF AUSTRALIAN INDIGENOUS FILM.
The Australian National Gallery retrospective, Michael Riley: sights unseen, provides a rare opportunity to consider Riley's screen work alongside his stills and brings to light some surprising correlations. Both his films and photographs employ a broad spectrum of styles, but the exhibition reveals no clear cut division between his work in the two mediums. Rather, it creates the impression of two distinct strains that cut right across Riley's entire artistic output. On the one hand his portraiture and documentaries rely primarily on the camera's relationship to the physical reality before the lens—the look in a subject's eyes, the way they hold themselves, and the stories they relate to the camera. On the other hand, Riley's more overtly abstract work relies heavily on the relationship between deliberately ambiguous images, the symbolic resonances of collected objects and the formations of the natural world.
Empire (1997) epitomises the latter strand of Riley's oeuvre. Originally commissioned for the Festival of the Dreaming program in the lead up to the 2000 Sydney Olympics, the film went on to appear in exhibitions and arts festivals around the world. Opening with a giant eye superimposed on a cloud-specked sky, Empire unfolds as a series of images depicting the Australian landscape as a parched country devoid of human presence. Animal skeletons lie stripped and scattered on the ground; an echidna's corpse is beset by swarming ants; a windmill spins forlornly beside two water tanks, incongruous in a land without moisture. Towards the end of the film remnants of a decaying colonial dream appear: a weather-beaten Union Jack flutters across a blue sky, a mirrored crucifix reflects passing cloud, and a burning cross evokes the dark side of the colonial project. Finally, the camera rests on a tacky 'noble savage' figurine of an Aboriginal man. A disembodied voice from a newsreel or ancient radio broadcast crackles in a polite British accent that belies the culturally genocidal implications of the words: "Keeping untouched natives away from white settlements where they would perish like moths in a light, replacing…their ancient beliefs…with a higher faith—the Christian faith. Training them in a benevolent segregation…gradually to make them fit into an Australian community."
Like the concomitant photographic series, Flyblown, Empire explores the impact of European invasion on the Australian continent and its people, but unlike the photographic series, the film also illustrates the way in which Riley's more symbolist tendencies could become heavy-handed when rendered on screen. A series of photographs can be viewed, digested and returned to in any order, creating between them a site of floating exchange crucially informed by the viewer. In Empire the images are inevitably fixed; their interpretive potential can feel foreclosed. However, it is the film's overbearing and self-consciously ethereal music that does most to make Empire's air of mystery feel laboured, reinforcing the sense that for all the images' indeterminate nature, our reading is being firmly guided.
For me, Riley was more effective as a filmmaker when exploring his documentary bent in films like Blacktracker (1996), Tent Boxers (1998) and Quest for Country (1993). These typify the rehabilitative historical impulse underlying much of Riley's documentary work. In different ways, they all seek to unearth the buried threads of Indigenous experience woven into Australia's social, cultural and political history.
Blacktracker was made for ABC TV and examines the life of Riley's grandfather, who served in the NSW police force from 1911 to 1950. Rising to the rank of sergeant, Alec Riley became one of the best known trackers in the country. He was instrumental in solving at least seven murders and located many people lost in the bush during his time on the force. Despite relying a little too heavily on re-enactments to make up for an absence of relevant historical footage, Blacktracker succeeds admirably in bringing Alec Riley's story to life and portraying a warm and sensitive man who "achieved in a time of extreme adversity." It is a positive story, but one tempered by the times in which Alec Riley lived. According to his descendants, for example, he was never awarded a police pension, despite making contributions to the pension fund throughout his working life.
The prejudices Tracker Riley encountered also adversely affected others, a point tragically illustrated by the case of a two-and-a-half-year-old boy named Desmond Clarke who went missing in the Pilliga scrub in the early 1930s. Riley was summoned to assist in tracking the boy down but his grandfather "didn't want any blacks on his property." Consequently the search party was unable to find the missing child. A year later the boy's grandfather passed away and Riley returned to the area; within 12 hours he had located Desmond's remains in a chalk pit 500 metres from the family homestead. This story later provided the inspiration for Rachel Perkins' film One Night the Moon (2000).
Two years after Blacktracker, Michael Riley made Tent Boxers for the ABC, another film looking at Indigenous men working in a time of institutionalised racism. The boxers of the film's title were amateur fighters who until the early 1970s toured with country fairs, slugging it out with any locals willing to take them on. Inevitably many of the boxers were Indigenous youths looking to make some money and escape highly segregated country towns. They were expected to participate in up to fifteen fights a day in large circus tents strewn with sawdust and jam-packed with onlookers. In return they received some money and the rare opportunity to travel Australia. As one pair of fighters fondly recall, there was also the attraction of ardent female fans. Riley interviews a range of former boxers, intercutting their recollections with archival footage of the fairs and the fights, creating a vivid portrait of a distinct social and historical milieu shot through with humorous tales and memorable characters. The film exemplifies documentary's ability to bring to light prosaic, small scale stories bypassed in 'big picture' social histories, revealing much about the everyday minutiae of a particular period.
Both Tent Boxers and Blacktracker remain within well established television documentary forms, but the earlier Quest for Country (1993) provides a rare example of Riley pursuing a degree of formal experimentation in one of his documentaries. Quest for Country is structured around Riley's journey to the areas his father and mother are from around Dubbo and Moree. Like Empire, the film explicitly explores an Indigenous way of viewing the land and the stories the land holds. It begins with Riley driving through and observing the streets of Sydney before he passes out of the city, over the Blue Mountains and across the western plains. His gaze is intercut with a jarring visual and aural montage of sirens, screams and photographs of smug colonial settlers staring resolutely from fading 19th century photographs. Paintings of massacres cut across apparently empty tracts of western NSW, short-circuiting whitewashed accounts of our colonial past. Interspersed with his historical ruminations, Riley presciently describes a country facing ecological disaster, explicitly linking environmental ruination with European denial of Indigenous knowledge. Throughout we constantly return to Riley's gaze reflected in his car's rear-vision mirror. It's a gaze that looks both forward and back in time, anchoring the film's perspective while also turning Riley's stare back on the viewer. Through this subtly reflexive device, the filmmaker quietly but forcefully asserts his presence, and the presence of the stories he tells, in the country through which he passes.
The late Charles Perkins famously commented, "We know we cannot live in the past, but the past lives with us", and it is Michael Riley's pioneering exploration of this theme in documentaries like Quest for Country that is his most lasting influence on the current generation of Australian Indigenous filmmakers. Ivan Sen's work in particular displays a strong thematic kinship with Riley's films. It is through the work of artists like Riley and the filmmakers he has inspired that non-Indigenous Australians might begin to understand something of our country's deeply repressed Indigenous history and what this history means for our contemporary situation. Until these stories are heard and acknowledged, and their implications understood, we'll forever be like two-year-old Desmond Clarke stumbling around, lost in the Pilliga scrub, unable to make sense of the land in which we live.
–
Michael Riley: sights unseen, curated by Brenda L Croft, National Gallery of Australia, Canberra, July 14-Oct 16; Monash Gallery of Art, Vic, Nov 16 2006-Feb 25 2007; Dubbo Regional Gallery May 12-July 8 2007; Moree Plains Gallery, May 19-July15 2007; Museum of Brisbane, July 27-Nov 19 2007; Art Gallery of NSW, 22 Feb 22-April 27 2008
RealTime issue #77 Feb-March 2007 pg. 15
© Dan Edwards; for permission to reproduce apply to realtime@realtimearts.net