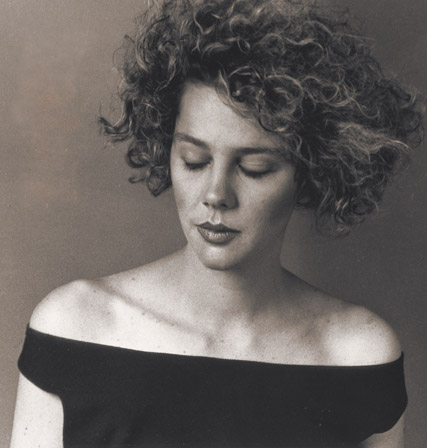 courtesy of Mr Pat Corrigan
Michael Riley, Hetti, 1990
IT'S DIFFICULT TO CONVEY THE EXPANSIVE FEELING WHEN CONFRONTED BY MICHAEL RILEY'S CLOUD (2000) SERIES. THERE'S A SENSE OF SUDDENLY BEING SHIFTED TO ANOTHER PLANE—A WORLD OF DELICATE, EPHEMERAL VISIONS AND STARTLING TAXIDERMIC ARREST.
The background of each image is the deep blue Australian sky, flecked with patches of white cloud. A different object or creature appears in every picture, suspended mid-air and sharply delineated from the soft blues and whites of the background. A locust is seen in extreme close-up, as if mounted in a scientific display case. A cow grazes in the sky. An open bible floats earthward, face down. Most iconic of all, a feather blown up to enormous size is captured with such fidelity that every strand appears rendered in loving detail. The Cloud series stands as Riley's final photographic statement, created shortly before he passed away in 2004, claimed like so many Indigenous Australians by disease brought on by the effects of childhood poverty. But the National Gallery of Australia retrospective, Michael Riley: sights unseen (touring the eastern states into 2008), provides audiences with a chance to place Riley's best-known work in the context of his broader photographic and filmic career.
In rough chronological order, the exhibition begins in Sydney in the early 1980s, not long after Riley moved to the city from Dubbo. Having revived his teenage interest in photography and studying under Bruce Hart at the Tin Sheds Gallery, Riley began photographing Indigenous rallies and events in Sydney and Melbourne. These first pictures are somewhat rudimentary, but provide a fascinating glimpse into the energy and anger fuelling Aboriginal activism at the time. As well as passion, there is a sense of optimism and empowerment, generated by the mobilisation of people and ideas. From a contemporary perspective Riley's images speak of a history that has been systematically concealed by the whitewash of the Howard era.
The shift between the photojournalistic style of these early colour works and Riley's studio-based portraits of the mid-1980s is startling. The marches and everyday activities are replaced by highly stylised fashion-influenced images of Koori women in luminous high-contrast black and white. These represent an obvious but important intervention in the politics of representation, reworking images of beauty and 'cool' in the mass media to celebrate the spirit, sassiness and diversity of Indigenous women.
It's not just the Indigenous subjects—all members of Riley's social circle—that mark these early portraits as a break with the conventions of fashion photography. Photographs like Kristina (no glasses) (1984) see Riley's friends coolly returning the camera's stare, meeting the eye of the viewer with a steadfastness that is the opposite of fashion photography's objectifying gaze. Even when these women don't look directly out from the image, as in Tracey (head down) (1986), there is a feeling of mutual complicity and trust, a strong impression that the subjects are participating in their own representation rather than being rendered as fetishised objects of display. It is perhaps indicative of how little has changed that these photographs still seem a radical intervention in the order of images today.
As Riley pursued his interest in portraiture throughout the 1990s, the high contrast black and white of the mid-1980s was replaced by more graduated tones and simple backdrops. His skill became more subtle and less stylised, but the shared exchange between camera and subject was only enhanced by the apparent simplicity and casual air of series such as A common place: Portraits of Moree Murries (1991) or Yarns from the Talbragar Reserve (1998). The Moree series depicts Indigenous people from Riley's mother's country, while Riley himself spent his early years at Talbragar Reserve outside Dubbo. Just as his first studio-based portraits evoke and rupture the objectifying gaze of fashion photography, these images of Indigenous people are an understated riposte to the tradition of Western ethnographic studies. Riley's documentary films Quest for Country (1993), Blacktracker (1996) and Tent Boxers (1998) can be read as companion pieces to these series, giving voice to some of the tales etched into their subjects' faces.
Riley's 1990 series Portraits by a Window is for me the most moving of his work in this genre. Comprising friends and their families lit by diffuse light from windows in the Boomalli Aboriginal Artists Co-operative building in Chippendale, Sydney, the series forms a fascinating record of prominent Sydney Indigenous figures of the time, including Tracey Moffatt, Djon Mundine, Brenda Croft and the Perkins family. A photograph of Charles Perkins, posing with his son Adam, is rendered poignant by his death a decade later from renal failure—the same disease that was to claim Riley. Perkins' daughter Hetti is captured in one of Riley's most tender frames, casting her eyes downward in an image of grace that feels both fleeting and timeless. My favourite is of the young dancers Tracey Gray and Alice Haines. All the elements of Riley's portraiture seem to coalesce in this image: the steady gaze into the lens, the pose that is both casual and highly composed, and a beauty that emanates from the women rather than being constructed by the camera.
In the late 1990s, Riley's colour photography took on a more abstract tone, as he began to photograph landscapes, skies and bodies of water. As in his portraits, these images of the physical world never present a distanced, objective view. Works like Spirit clouds (1997) picture Australia's environment as a living, breathing space of constantly changing patterns, spirits and emotions—a natural world infused with an Indigenous Australian perspective. Djon Mundine writes in the Sights Unseen catalogue that Riley's work "is not a surface recording but an allusion to the spiritual within the land and his attachment to it." Again, there is a clear link here with Riley's films, which in different ways explore the Indigenous histories and perspectives inscribed into the Australian landscape and its scarring by European presence.
The Flyblown series (1998) embodies Riley's "spiritual vision of landscape from within" (to quote Mundine again) and illustrates several key motifs running throughout his later work. The painterly sky-scape Untitled [blue sky with cloud] continues Riley's interest in the ephemeral formations of the Australian environment. The grim still life Untitled (galah) depicts a bird's corpse spreadeagled on a patch of baked mud, testament to a harsh environment made harsher by mismanagement and abuse. And Untitled (bible) shows a crucifix-embossed book lying face down in water, part of Riley's ongoing reflection on the ambivalent relationship between Indigenous Australians and the Christian church. Especially when viewed alongside Riley's film Empire (which was shot at the same time and shares several common images), Flyblown constitutes a sensitive but unsettling portrait of the Australian environment and the alien presence of Europeans within it.
Riley's final series, Cloud, combines his exploration of transient cloud formations with the astonishing presence of decontextualised objects rendered with such exactitude they seem totally unreal. There's a sense of hope and liberated possibility in this series, and its placement at the end of the retrospective marks it as the culmination of Riley's achievements. But there's also an air of sadness around these images, borne of the knowledge that Riley himself is no longer here to explore the imaginative vistas opened by his final work. Riley was only 44 when he died—instead of an ending, Cloud should have marked the beginning of a mature vision.
Part two of this article in RT77 will focus on Michael Riley's films.
–
Michael Riley: sights unseen, curated by Brenda L Croft, National Gallery of Australia, Canberra, July 14-Oct 16; Monash Gallery of Art, Vic, Nov 16 2006-Feb 25 2007; Dubbo Regional Gallery May 12-July 8 2007; Moree Plains Gallery, May 19-July15 2007; Museum of Brisbane, July 27-Nov 19 2007; Art Gallery of NSW, 22 Feb 22-April 27 2008
RealTime issue #76 Dec-Jan 2006 pg. 20
© Dan Edwards; for permission to reproduce apply to realtime@realtimearts.net