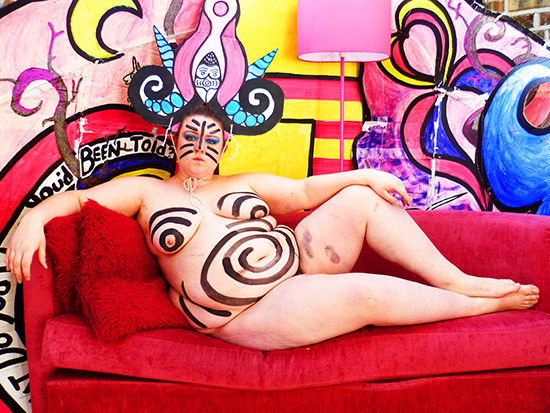 Kaileigh O'Keefe, Gash Land
How can a festival strengthen a community? How can an environment be created that reflects the way we would like society to be? These questions were posed by organisers of the BUZZCUT festival, artists Rosana Cade and Nick Anderson, as they launched their fifth annual program of performance and live art in Glasgow.
Held in a stately century-old community centre in Govan, a little out of the city's centre, BUZZCUT managed to side-step a lot of the debates that come with mentioning community, particularly those looking at 'artistic engagement' with specified groups. Instead it focused inwardly on an artistic community, ensuring all was accessible and comfortable for those involved over the four days. There were no signs of a defeated clan licking wounds as one might expect in a city that last year lost one of its most important performance venues with the much lamented closing of the The Arches. A robust and congenial arts scene featured many local artists and attendees, as well as delegates from throughout the UK and abroad. A pay-what-you-can system of support further recognised economic barriers to participation.
Aby Watson, This is not a euphemism
Mish Grigor; Aby Watson
Many of the shows dealt overtly with sexuality and gender identity. Australian Mish Grigor's The Talk foregrounds the artist's heterosexual exploits while telling an achingly personal story of a family member's coming to terms with HIV. Grigor's reliance on the audience as actors is tricky but skilfully handled, paying off with a huge sense of camaraderie. There is synchronicity between The Talk and Aby Watson's This is Not a Euphemism. Where Grigor plays a soundtrack of herself allegedly having sex, Glaswegian Watson employs four retro TV monitors to screen her 'sex tape.' With Watson in an ill-fitting flesh-coloured leotard, the frankness of the screening is cushioned by awkward live dance sequences and apparent attempts to seduce an audience member. She insists he be a man who is assigned the name "Dicky" via Watson's sign-language interpreter. The naturalness of the artist's performance is also grounded in her being a "proudly dyspraxic" dance practitioner. (Dyspraxia, also known as Developmental Co-ordination Disorder, DCD, is a condition affecting physical co-ordination. Eds).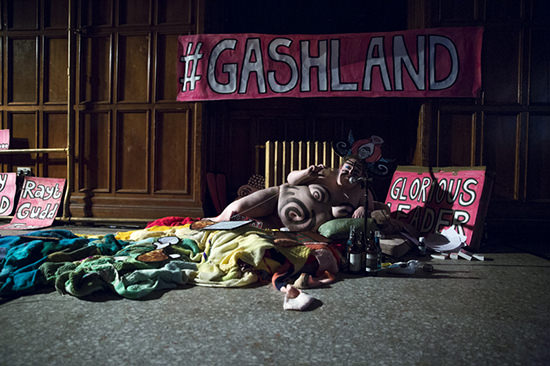 Kaileigh O'Keefe, Gash Land
Kayleigh O'Keefe
Another work putting sex 'in your face' is Gash Land, an ongoing project by Londoner Kayleigh O'Keefe in the form of a durational interactive performance. You feel as if you've arrived at a debauched party in full swing —Jabba the Hutt's alien nightclub comes to mind. "Glorious Leader" O'Keefe reclines while yelling commands and accepting offerings for her graces. Participants fill in Gash Land citizenship application forms, to be reviewed by the leader. The main qualification for acceptance is that you appear to be having a "Rayt Gud Time." With the limited attention span of much social media, karaoke segments with invented lyrics, a telephone hotline to the leader, virtual fisting (cardboard fist emojis on a pole and string for waving at the Leader's bottom) and dancing were 'scrolled' through, all framed within a cardboard cut-out, pink acrylic aesthetic. Later, I enter the internet domain of Gash Land and discover I can make offerings to the Leader by paying for the paint and other equipment she's deployed—an ingenious support method.
For me, O'Keefe's use of Yorkshire dialect softens any obscenities she utters, as if they are part of another culture; that might be the point. Gash Land is an imaginary place where you can feel safe in your sexuality and was made in response to O'Keefe feeling "slut-shamed" at a sexual health clinic, as she mentions in this interview. Using online platforms aesthetically integrated with interactive live performance can be effective in building an alternative community.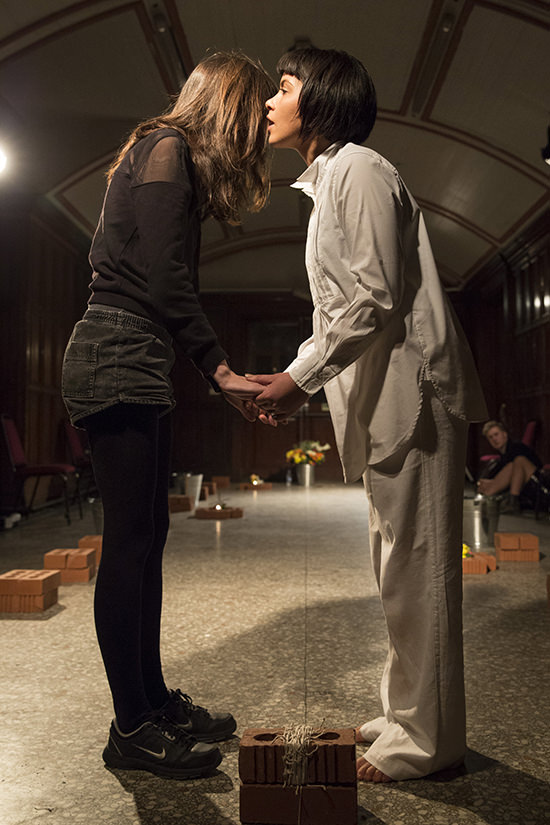 Ria Hartley, Descansos
Ria Hartley
As sure as there is sex there is death, although the latter is arguably more taboo to speak of in the modern West. In Descansos, Ria Hartley, from Bristol, offers a performance of mourning involving one participant at a time building a memorial that forms part of an installation growing over four hours. In each cycle a spectator is invited by Hartley's imploring eyes and an outreached hand to join the ritual. I walk hand in hand with her along a timeline drawn on the stone floor charting recent years in the lives of participants. I try not to step on the black marker scrawlings, sensing their sentiments, and brush past boxy grave-like structures on either side.
Now facing me, Hartley leans in and whispers an instruction, "Write down a death, a moment of rupture, perhaps a path not taken or a loss you are still feeling." Afterwards, Hartley sets a square of bricks alongside my writing. I am prompted to throw down dirt, make a bed with soil, select and lay flowers, light a candle and place a cross, thus personalising these familiar symbols. The cross is not explicitly Christian, the arms being of equal length, and the stick and twine construction suggest it could be pagan, or Voodoo, which is significant given that Hartley often deals with postcolonial themes. Descansos is a gesture for those unable to mourn in traditional ways. The time and care given by the artist in considering death was reciprocated by her audiences, all of whom I witnessed sincerely taking up her offer.
Louise Doyle, Dark Side of the Boob
Louise Doyle
Rock'n'roll came in the form of Dark Side of the Boob, one of the more technically ambitious shows. Conceived and directed by Glasgow-based Louise Doyle, its surreal papier-mâché odyssey enlists half a dozen student puppeteers from the Royal Conservatoire of Scotland's Contemporary Performance Practice BA to attentively bring alive a massive puppet woman, constructed from the groin up with spinning breasts, seaweed hair and red eyes that light up. A professional erotic dancer develops a little agency within the wisp of a story while another pole-dances for over an hour with athletic, slightly bored eroticism. She becomes an anchor or a kind of metronome for the weirdness that unfolds.
We are crammed on the floor around and between 'tracks' on which the action, including a deathly chuffing train with puppet skeleton driver and plumes of smoke, is paraded. There's a fantastic live band, albeit under-utilised in favour of a cheesy pop soundtrack, and sperm-headed dancers who burst aggressively onto the scene and later offer some delightfully nuanced, imagistic choreography. It's evident that Doyle's DIY puppet works will develop and grow more coherent; as with many of the works in the festival, BUZZCUT has provided the platform to road-test new performance.
Tilley and Del, Puffing and Wooling
Tilley Milburn
On the penultimate day of the festival, I find myself in a workshop-style piece, a how-to, in Tilley and Del's self-styled relaxation technique, Puffing and Wooling. Entering a blanket-covered, lamp-lit and stuffed-toy populated room, I am apprehensive. But after airing some of our grievances about what stops us from relaxing, we hear a little from Londoner Tilley Milburn and stuffed-pig Del about why they advocate for doona days and de-stigmatisation of mental illness. I'm swept up, building a fort with sheets and soft things and curling up within it. Strangely, the group becomes somewhat self-directed, sharing their feelings about relaxation, with one charming man even attempting to hypnotise people into falling asleep. With a new age soundtrack overlayed with recordings of Tilley's guinea pig's little grunts, everything feels finally okay. Within contemporary performance, the workshop approach seems to be a trend. However, given Milburn's transformative aims and her previous work involving people with disabilities in creative processes, the model makes absolute sense.
Lucy McCormick
Back in the main hall, things are abuzz. There is proper coffee, a kiddies' crèche, hearty café fare for breakfast, lunch and dinner and BUZZCUT's symposium organiser, Phoebe Patey-Ferguson, stalwartly holding a drop-in discussion table for hours every day, creating an environment that feels open, accessible and welcoming. Later that night, London-based Lucy McCormick, with two male dancers, performs a raucous 're-enactment' of the "Easter bits" of the Bible with herself as Jesus in Easter Performance. It has the power-ballads, popping and locking and feminist performance art one expects from this performer from GETINTHEBACKOFTHEVAN.
Afterwards I got a text after from a friend who had come along that said, "What a show. The woman got fingered on stage. Damn." He was referring to McCormick's version of the moment when Thomas places his finger inside Jesus' wound. I admit, I looked nervously around the room to see if families were present. Still, you can't fault McCormick on her ability to entertain and provoke.
BUZZCUT was outrageous, its boundless openness extending the exploration of sexuality in performance and allowing artists to take risks. Perhaps it was frustrating for those expecting more polished works, but there was a sense of enjoyment felt by a community built through feedback and mutual support.
–
BUZZCUT, Directors Rosana Cade, Nick Anderson, The Pearce Institute, Glasgow, Scotland, 6-10 April
RealTime issue #132 April-May 2016