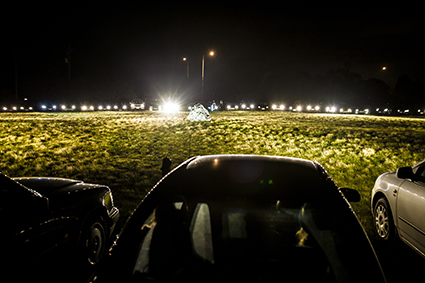 photo Bryony Jackson
MASS
From the squeaky clean to the neglected and the vertical to the convivial, Field Theory's Site is Set encompassed locations as diverse as a skyscraper stairwell, a suburban dance competition, a Brunswick lounge room and Melbourne's Calder Park Raceway. At the latter two sites, works by Mish Grigor and Zoe Scoglio, respectively, provided very different experiences (big/small, chilly/cosy) and teased out more subtle relationships between the monumental and the intimate.
Zoe Scoglio, MASS
The program notes for MASS list Order of Service: from Gathering and Entry Procession through The Hearing (a sermon?) to Ascent and Descent (literally, of Calder Park Raceway's banked earthen wall), Sacrament and finally, Dismissal and Exit Procession. Held at 5pm on a full-moon Sunday, MASS is a 'mass' in the ritual sense, but also in scale, with 60 carloads of us, a large mass of people.
Like a congregation directed to stand, sit, or kneel we follow instructions, narrowcast through our car radios or given non-verbally by marshals with glowing batons. We assemble, we wait. A slowly pulsing soundtrack both soothes and builds tension. Eventually we proceed along a rough road to a desolate backblock, bounded by highway, fences and the Raceway embankment. It takes us a full half hour to park our cars in a perfect circle, guided carefully, one-by-one, into place. Time slows.
We leave our vehicles and are given headphones; the soundscape builds and ripens, including diegetic as well as musical elements. Is the jet engine recorded or can I hear that plane descending towards Tullamarine? We walk up the human-made escarpment and view weed-infested plastic seating banks on one side; city skyline, crumbling earth and power pylons on the other. The sun sets and the moon rises, hidden behind clouds.
We've been indoctrinated by a monologue about our anthropogenic impact: we are "earth-shapers, earth-eaters." We contemplate the impact of our "metal shells, fleshy inside, shiny outside, fossil-fuelled." A 'mass,' as a form, doesn't raise questions. Rituals and ceremonies spell things out—in a sense, MASS is a 'spell.' Several cars, like metallic angler fish, 'swim' what we know is an ancient sea-bed below, their headlights like lures searching the dusk. One breaks out of formation, its movement regressing into a lawless, solitary burnout frenzy. Later we circle this car together, walking faster and faster, like pilgrims at Mecca. Swinging censers exhale clouds not of frankincense, but the scent of burning rubber. As MASS ends, we're reminded of our collective intimacy: we are connected, geological objects whose mutual gravitational pull will now begin to weaken.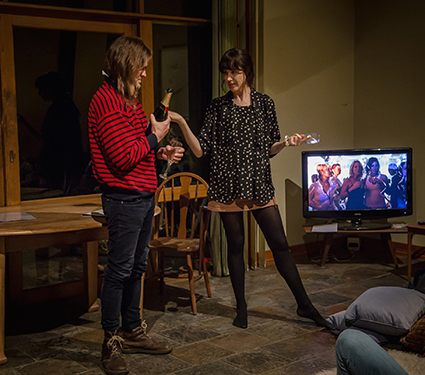 photo Bryony Jackson
The Talk
Mish Grigor, The Talk
In the Brunswick lounge room where The Talk happens, the earth could self-destruct but we wouldn't notice—the family would doubtless remain intact to the cataclysmic end. The Talk asks: what happens when we discuss sex with the family we grew up in? Running a gamut of topics—parents' and siblings' sex lives, a brother's coming out, a devastating disclosure—Grigor evokes emotions and reactions from hilarity to awkwardness, skirting the borders of taboo. We are not passive observers: plying us with warm champagne, Grigor 'casts' around half the audience as her immediate family, then co-opts them to read out scenes with her. The un-actorly delivery—right down to fake laughter and uncomfortable pauses—adds amusement and pathos in equal measure.
Grigor doesn't hold back on explicit detail. And she tells us it's all true: that The Talk is based on real conversations with her family, that they've all signed off on the script and that she faked the script in order to get them to sign off. Do we believe her? The question of 'ethics' drifts around The Talk like the black-and-white cat that occasionally wanders in, ignoring laughs and angst alike.
For there is angst. The Talk is troubling in multiple, subtle ways. We see how family members exist both in solidarity and irrevocable separation—perhaps in endless competition. We watch Grigor hijack her brother's revelations, drawing attention to her own sexual misadventures—ostensibly to deflect intrusive focus on his sexuality, and upping the ante with graphic, gratuitous descriptions of her own.
There are some monumental performance moments in The Talk—moments where Grigor does much more than press buttons and mess with our heads (which she does so well): channelling a protective instinct and distress for her brother and drawing us into her persona's disbelief, confusion, hysteria and anger. But are we exploring empathy or sibling rivalry? Is The Talk about differentiating ourselves from our families, our love for them, both or neither?
The wide and the close cross paths in these works. I felt acquaintance, confidentiality, within the ritual of MASS; and in The Talk, the inevitable distance between our private worlds and our families. Both works took significant risks—with emotions, with logistics and with emotional logistics—and with each I sensed there is space yet for the work to grow. Hopefully MASS and The Talk will both enjoy opportunities for refinement and consolidation through further development and presentation following this season.
As part of its Site is Set season, MASS and The Talk were produced by Melbourne-based Field Theory, "a collective of artists committed to making and supporting art projects that cross disciplines, shift contexts and seek new strategies for intervening in the public sphere" (fieldtheory.com.au). Curated by Jason Maling, Lara Thoms, Martyn Coutts and Jackson Castiglione, the program also included works by Matt Prest and Castiglione.
–
Field Theory, Site is Set: Zoe Scoglio, MASS, artist, director Zoe Scoglio, sound Marco Cher-Gibard, lighting Katie Sfetkidis, dramaturgy Jason Maling, Martyn Coutts; Calder Park Raceway, 30 Aug; The Talk, devisor, performer Mish Grigor; a lounge room in Brunswick, Melbourne, 9–12 Sept
RealTime issue #129 Oct-Nov 2015 pg. 12
© Urszula Dawkins; for permission to reproduce apply to realtime@realtimearts.net