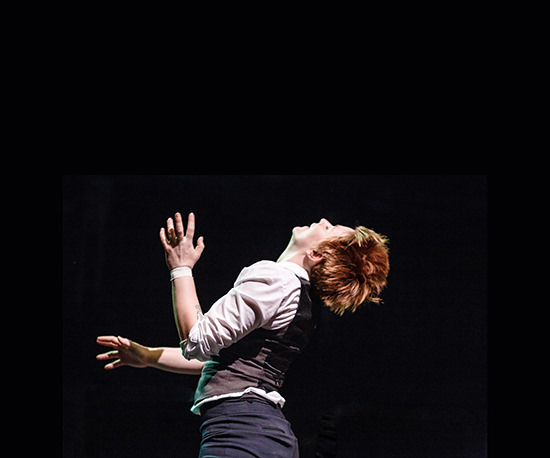 Emma Serjeant, promotional image, Grace
Walking into a solo artist's rehearsal room is an intimate act and I was lucky enough to be welcomed by Brisbane circus icon Emma Serjeant, as she prepares for her upcoming show Grace, at the Judith Wright Centre.
Serjeant has had a long career in Australian circus, including a stint as an ensemble member with Circa and in 2011 as a founding member of international circus smash Casus, whose debut work Knee Deep is still touring and whose follow-up work, Finding the Silence, was reviewed in RealTime124.
Serjeant's latest venture is ESP: Emma Serjeant Performance. The company is a platform for her solo work and an opportunity to challenge the boundaries of circus by exploring inter-disciplinary collaboration, including circus in conjunction with forms ranging from dance and hip-hop to clowning.
The backstory to this new chapter is heartbreaking. Serjeant injured her hand while on tour and with the customary stoicism of circus folk continued to perform for months with what turned out to be a broken wrist. While in the throes of navigating this bad news (three months to recover) she discovered that the real trouble was actually her shoulder. The surgery required to ameliorate this would require 18 months away from circus, unimaginable pain and a period of enforced self-reflection. She emerged from this winter of discontent with her trademark fortitude and strength and a determination to re-evaluate her practice.
Serjeant decided to rework her award-winning 2014 solo show Jerk, which investigates the hypnic jerk that we experience as we go to sleep, a phenomenon exacerbated in those who are highly physically active. Jerk had won her the Star of the Festival at the Brighton Festival and was a collaboration with experimental physical theatre and ensemble writer-director John Britton from UK-based DUENDE, who had taught her many years ago when she was a student at NICA (National Institute of Circus Arts, Melbourne).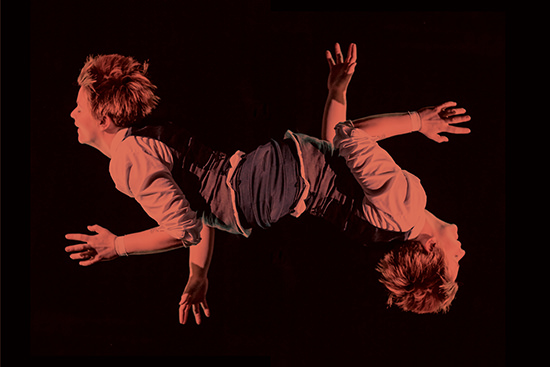 Emma Serjeant, promotional image, Jerk
Jerk diverged strongly from her work with Casus in its use of pre-recorded voice-over and its emphasis on character, as the mise-en-scène is built on the idea that we are witnessing a real woman experiencing/remembering and then forgetting a series of extreme physical traumas. This story contextualises virtuosic routines within the perimeters of an authentic character and her emotional journey. Serjeant miked herself to enable the audience to experience what it is like 'inside' the body—the heartbeat, blood flow and breathing—that creates these marvellous feats. In sympathy with this vérité agenda, Jerk was performed in a Speigeltent under natural light.
After her injury, Serjeant could no longer perform and was forced to consider other options for generating work, including directing and writing. She loved directing, but found herself intrigued by the idea of exploring what had been simply a context for Jerk as an actual path for herself as an artist. What if she really committed to the idea of 'the woman' as a character and worked to understand and create her not just physically but also through a writerly process?
And so Grace was born. Serjeant worked lockstep with Britton, sending him fragments of text, ideas and footage. He sent back pieces of dialogue, suggestions and thoughts. Slowly, they built a theatrical world for the circus to sit comfortably within. Having found a composer, Ben Ely, and a lighting and AV-designer, Penny Cunningham, Serjeant is fully embracing the potential for a mimetic world. Grace is now staged in a black box format and, she says, will be lit and proceed like a theatre show, but with circus form and projection as the main storytelling devices.
The clearest evidence of this was the snapshot of the rehearsal room as I entered. The pages of the script had been precisely placed along the edge of the mat that sat underneath the show's circus apparatus, highlighting how the text will cue physical action in the world of Grace.
The show will debut at the Judy and go straight on to the Edinburgh Fringe and if previous form is a guide, probably on to other exotic international locales. Serjeant is known for her tenacity and energy and Grace is only one of a number of fascinating new projects from ESP, including a collaboration with Chicago-based dance company Winifred Haun & dancers called Trashed, a world away from the tender dreamlike tone of Grace but a sign of Emma Serjeant's desire to push to the very edges of circus form.
–
Grace, Emma Serjeant, Judith Wright Centre of Contemporary Arts, 27-30 July
RealTime issue #133 June-July 2016
© Kathryn Kelly; for permission to reproduce apply to realtime@realtimearts.net