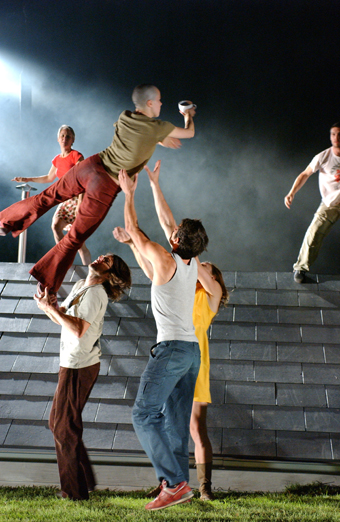 photo Branco Gaica
Already Elsewhere, Force Majeure
Sudden, unexpected events, accidents, the accumulation of fear brought on by irrational obsessions, the inability to let go of the moment when everything changed. In a place where grief becomes a way of life, life still has a way of going on.
Already Elsewhere is set on the roof of a submerged house surrounded by grass—a time capsule of buried histories. Did the roof land there? Was the house buried? What disastrous event brought this about? Seven people, seemingly unrelated, emerge on the scene each haunted by unexplainable events. A man obsessed by his role in a fatal accident…A woman bewildered by the sudden disappearance of her child…A young woman's growing paranoia of everyday life…The guilty survivor…Why her and not her friends? The man who doesn't trust anyone, anywhere…He doesn't even trust the dead.
The cast of actors and dancers take command of the show's material with equal physical and theatrical skill, negotiating the steep incline of the roof with fatalistic determination. The roof is multifaceted, at once benign and playful it also acts as a projection surface relaying images in real time that occur 'out of sight' to the naked eye. Finally it erupts tile by tile as an explosive metaphor to a life lived in fear.
Already Elsewhere's aesthetics pays homage to the work of renowned American photographer Gregory Crewdson. Ingeniously designed (both lighting and set) by Geoff Cobham, this intensely atmospheric work mixes idyllic suburban states with the heightened world of unexpected disaster. With text by the acclaimed Sydney writer Brendan Cowell, sound and music composition by the versatile Paul Charlier and direction by resident artistic director/choreographer Kate Champion, Force Majeure has created a work of world class dance-theatre that doesn't shy away from exploring the disturbing symptoms of our chronic post-September 11 state of fear. In 2005, Already Elsewhere received the Australian Dance Award for Outstanding Performance by a Company." (Text courtesy of Force Majeure.)
credits: director Kate Champion, performers Fiona Cameron, Sarah Jayne Howard, Kirstie McCracken, Veronica Neave, Nathan Page, Byron Perry, Lee Wilson, Tom Hodgson, designer (set and lighting) Geoff Cobham, composer, sound designer Paul Charlier, writer Brendan Cowell, assistant director Lisa Ffrench, artistic associate Roz Hervey; tour to Lyon, performer Narelle Benjamin
performances: premiere Sydney Festival, January 2005; Biennale de la Danse, Lyon, September 2006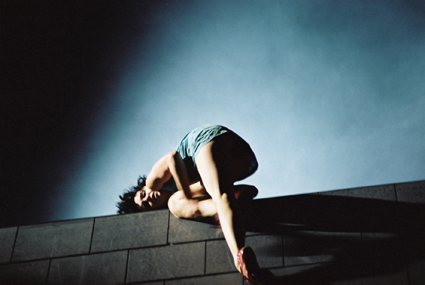 photo Branco Gaica
Already Elsewhere, Force Majeure
reviews/articles – realtime
sydney festival: wilson on wilson, many on cohen
keith gallasch, realtime 66, april-may 2005
biennale de la danse 2006 lyon: the city dances
keith gallasch & virginia baxter, realtime 76, december 2006-january 2007
video
One-minute compilation of already elsewhere and same, same but different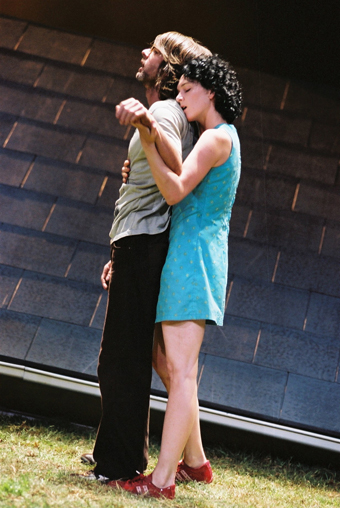 photo Branco Gaica
Already Elsewhere, Force Majeure
other
dark and diverting journey
michael bodey, daily telegraph, january 25, 2005
overlong visit to an unsettling suburbia
deborah jones, the australian, january 24, 2005
missing In action
canberra times, january 26 2005
already elsewhere
jacqueline pascoe, dance australia, january 2005
visit the backyard of humanity
colin rose, sun herald, january 23, 2005
already elsewhere
jill sykes, sydney morning herald, january 22, 2005
© RealTime ; for permission to reproduce apply to realtime@realtimearts.net