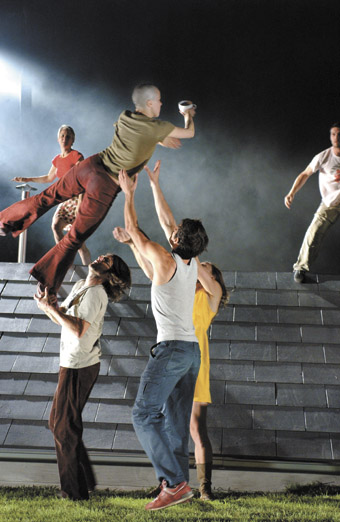 photo Branco Gaica
Already Elsewhere
In 2004 the Sydney Festival at last foregrounded innovation and got some heat for it, and praise. In 2005 it reverted to form, wide-ranging and generalist with lots of interesting shows. A couple of the less heavily produced events proved festival highlights–the address by director-performer Robert Wilson, made possible by an initiative from the Centre for Continuing Education, Sydney University, and the Came So Far for Beauty celebration of the Leonard Cohen canon as performed by a wonderful array of largely Canadian and British singers directed by the American music producer Hal Wilner. The Shen Wei Dance Company from China excited audiences and reviewers and is rumoured to be returning to Australia. Thanks to the festival's stingy press ticketing I didn't see it, and I'd already parted with $128 for a ticket to The Black Rider!
Robert Wilson
Wilson was in town for the staging of The Black Rider, a minor if commercially successful collaboration with William Burroughs (libretto) and Tom Waits (a bevy of nice enough tunes without the magical weave of an opera or musical) but replete with enough of the maestro's sublime design (a rich technicolour expressionism), theatre trickery and lateral vision to satisfy. For some young afficionados raised on videos of the classic Wilson oeuvre in performance studies courses, this briskly paced showbizzy Faustian tale looked too much like a Rocky Horror Show for the intelligentsia. For others it was an entertaining and accessible introduction to Wilson's universe of improbable transformations, signifiers that really do float and a theatre in which the object is as important as the performer, and the performer just as much an object for contemplation. These characteristics were in evidence in Wilson's engaging 90 minute talk where he spoke with relish of the exquisite stillness of untrained performers, the unexpected wisdom of the autist and the power of slowness–telling us the exact number of minutes (26) it would take for a tortoise to cross the stage in his theatre of image.
Delivered in his characteristic drawl, a slowing of time in itself, Wilson joins the long list of American performative autobiographers (from Mark Twain to Will Rogers to Spalding Gray) in his expert, seemingly off-the-cuff blend of anecdote, re-enactment and illustration (here in felt tip pen on paper and projections). He began at the beginning, a life without art until his late teenage years, and then detailed his earliest influences–architecture and dance (Balanchine, Cage and Cunningham)–and their non-narrative transformations of space; and the boys he adopted (one actually, one symbolically), one deaf and one autistic who became performers and collaborators in his work and helped shape Wilson's re-visioning of time and space in the theatre. He described the evolution of works of 7 and 12 hours and more on grand themes, often created with untrained performers, sometimes drawn from communities or from the street (just as much a community for Wilson, he said). He demonstrated the art of being on a stage (as opposed to acting-being-on-stage) and elaborated on the space around the performer. He spoke of the images that consume him and which he creates on stage, refusing to interpret them; of the beam of light that thrills him as it takes 16 minutes to cross the stage–"the light is written from the beginning." He is at times stentorian but also funny, reproducing the phone exchange with his grandmother in which he invites her to come to Paris to play the non-speaking role of Queen Victoria (A Letter to Queen Victoria, 1974-75), and she accepts as calmly as agreeing to a cup a coffee.
Already Elsewhere
Contemporary photographers like Gregory Crewdson and Bill Henson and video and filmmakers like Bill Viola and Matthew Barney create works that look like and sometimes actually have the resources of a small feature film or a major stage work and the credits to match. Crewdson's large, colour photo series, Twilight (1998-2002; published by Harry N Abrams Inc, NY, 2002) exhibits a kind of magical realism in which distracted figures in suburban USA find themselves in rooms that have sprouted flowers, or are caught in shafts of light from the night sky. A giant cone of flowers appears in the middle of a street, a man scales a jack-and-the-beanstalk column also covered in flowers. People find themselves naked in public places. A woman floats like a Pre-Raphaelite Ophelia in her flooded home. Often there's a sense of disaster, particularly of the moment after–a tree crashed through a ceiling, an overturned bus, houses and cars on fire or things more mysterious. In her new work for the Sydney Festival, Kate Champion and designer Geoff Cobham pay tribute to Crewdson with a simulation of his art transformed into dance theatre in a series of haunting tableaux and surreal actions that add up to no narrative in particular though suggestive of some, all enveloped in that long, shocked moment that follows disaster.
In the sustained, claustrophobic opening blackout we hear what we soon take to have been the sound of the disaster. Lights sweep up from behind an immaculately realised house, sunken to its window sills. It's almost all roof. Security guards with torches and real Alsation dogs pass through. The light brightens. Limbs can be seen protruding from windows. Bodies come to life and drag themselves onto the lawn or from over the top of the roof. The survivors gather loosely, assist one another but show no sign of affect, like the numbed townspeople in Werner Herzog's Heart of Glass who have lost their heritage and all meaning with it, or the citizens under the threat of the chemical cloud in Don DeLillo's novel White Noise.
Like Crewdson's images, Already Elsewhere is eerily beautiful to look at and complexly suggestive, but whereas you can linger over a photograph as long as you desire, Champion's creation involves a greater number of images, along with micro-narratives, voiceovers and video projection passages. It's a very busy work and although sometimes generating the power peculiar to Crewdson it rarely gives itself time to make the most of any one image or set of movements. While the work steers clear of a narrative through line, nonetheless some of the performers manifest character traits and obsessions and form uncertain relationships that provide recurring motifs. In Champion's previous work, Same same But Different, these manifested in a lucid structure with mounting intensity and powerfully sustained dance images often entwined with projections of the dancers that enabled them to perform with themselves. The structure of Already Elsewhere is elusive, the personae of most of the performers slender, the video projections insufficiently integrated, the spoken texts dominated by a wearying list-making poetic and too little relationship between word and image. In attempting to give literal voice to what Crewdson-like characters might be thinking (the inner self unseen by parents; guilt fantasies; wish lists; a litany of bitter dislikes) Champion risks undercutting the power of both her visual imagery and her dancers.
There are wonderful and haunting moments scattered across the work–sudden madness as the community races dangerously up and over the roof, taut passages where care could turn to kill (Champion is adept at the embrace that turns to tangle, tussle and wrestle), bodies possessed by itching or convulsive shaking, still in shock, and collective stillnesses, the watching as a plane passes, the final quiet waiting. So too do single images linger with photographic intensity: a strange light emanating from the house; a woman burying herself in the lawn; the tiles of the roof flying off in a late, apocalyptic moment that takes this community no closer to salvation, either in the form of rescue or redemption as characters threaten or withdraw. Already Elsewhere is a great idea, beautifully realised in its design, but otherwise needing radical reconception.
Otherwise
Came So Far for Beauty filled the Concert Hall of the Sydney Opera House thrice with audiences astonishingly young and predictably getting on. Brett Sparks (of LA's The Handsome Family), Nick Cave and Jarvis Cocker provided the requisite baritone vocals, with the rest ranging through the embracing mezzo of Beth Orton on to the wonderfully idiosyncratic, folk inflected voices of the McGarrigle Sisters and Linda Thompson, Martha Wainright's rich, raw twang, to the tenors of Teddy Thompson and Rufus Wainright and the soaring vibrato of Antony, along with the classic harmonies of veteran Cohen backing singers Perla Battalla and Julie Christensen. The great band included the UK veteran guitarist Chris Spedding and an amazingly effective deployment of the musical saw in the hands of David Coulter. Singers sang solo, in duets and trios and in chorus, and proved the durability of the Cohen repertoire. With concert curator Hal Willner, the performers offered an incredibly generous program gratefully received by a passionate audience.
Elision Ensemble's Visionary Landscapes was a small scale festival highlight, but the works it presented were conceptually grand with the intimate Opera House Studio allowing close observation of some virtuosic playing. At the end of the concert we were rewarded with a repeat of the opening work, Brian Ferneyhough's Terrain for solo violin and ensemble (1992). With such a complex work, seeing was learning, in fact seeing was believing, and Graeme Jennings on violin was utterly persuasive in his demonstration of the work's dynamic cogency. Works by Liza Lim, Michael Whiticker and Timothy O'Dwyer (my second experience of his remarkable Sight and sound of a storm in sky country for saxophone and live electronics [2003]) completed an exhilarating and exemplary program.
The Berlin Philharmonic Wind Quintet brought to the festival an astonishing fluency and fullness of tone with their unflinching embrace of Ligeti's 10 Pieces for Wind Quintet and 6 Bagatelles for Wind Quartet along with the sombre and richly inventive Winter Songs for tenor and wind quintet set to e e cummings' poems by the festival's chamber music series curator, Brett Dean, and adroitly sung by Gregory Massingham. Also on Dean's festival program was more popular fare in the form of 12 Angry Cellos, a gathering of fine cellists (including the UK's Robert Cohen and Australia's David Pereira) with works by Xenakis (a fine Retours), Pärt (yes, Fratres) and Villa-Lobos (yes, Bachianas Brasileiras No 5). Dean's own Twelve Angry Men proved to be the most intense of the works. Although the voice of reason (from the famous American stage play which inspired the work) wins in the end the argument is a hard and bitter one, the flurries and storms of entwining string voices more remembered than the resolution.
Sydney Festival Artistic Director Brett Sheehy now moves on to the 2006 Adelaide Festival. Let's hope that his occasional flare with Sydney's small scale festival takes fire with Adelaide's big budget and, for the greater part, its uniquely courageous programming history. In the same year, Lyndon Terracini will launch his first Brisbane Festival after doing great things across the state with the Queensland Music Festival. Kristy Edmunds, with a solid background in programming contemporary dance and avant garde performance in the USA, presents her first Melbourne Festival in October 2003. See our interview with Edmunds in RealTime 67 (June-July).
–
Already Elsewhere, director/choreographer Kate Champion, designer Geoff Cobham, Drama Theatre, Sydney Opera House; Elision Ensemble, Visionary Landscapes, The Studio, Sydney Opera House, Jan 9; Robert Wilson TALK, The Sydney Theatre, Jan 10; The Black Rider, Tom Waits, Robert Wilson, The Sydney Theatre, Jan 17; 12 Angry Cellos, City Recital Hall, Angel Place, Jan 15; Berlin Philharmonic Wind Quintet, Program 1, Verbrugghen Hall, Sydney Conservatorium of Music, Jan 27; Came So Far for Beauty, An Evening of Leonard Cohen Songs, Concert Hall, Sydney Opera House, Jan 28-30; Sydney Festival 2005, Jan 8-30
RealTime issue #66 April-May 2005 pg. 39
© Keith Gallasch; for permission to reproduce apply to realtime@realtimearts.net