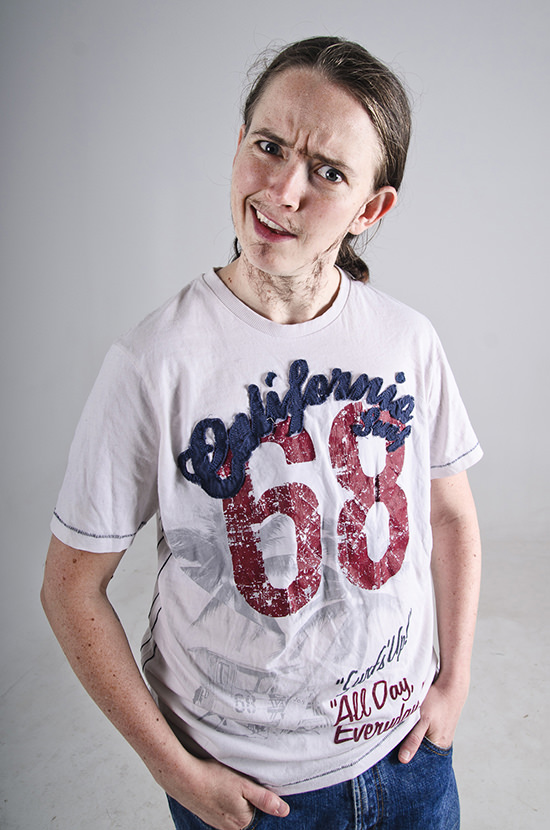 photo Lucy Parakhina
Zoe Coombs Marr
This year Zoe Coombs Marr won the comedy world's second most prestigious prize, the Barry Award at the Melbourne International Comedy Festival, and it's not a stretch to imagine her going on to scoop the number one at Edinburgh too. That double-win has only occurred twice before, but for several reasons she's in with a chance. Firstly, those other two-timers were Dr Brown and Sam Simmons, both of whom are running mates in a kind of loose pack straddling comedy and performance art that also includes Coombs Marr. Secondly, the show in question, Trigger Warning, is such a meta-theatrical tour de force that it threatens to alter the comedy landscape in profound ways. And finally, it's just that funny.
Coombs Marr has been playing with her alter ego Dave for a few years now, and at first the character seemed an easy if welcome mark: a straight, white, male stand-up comic whose casual prejudices and blind privilege are as cringeworthy as they are familiar. That Coombs Marr can make Dave more laughable than lamentable is worth lauding, but with Trigger Warning the figure expands accordion-like to such unexpected lengths that his audience is left reeling.
The conceit of the show sees Dave left becalmed by the 'feminazis' and politically correct spoilsports on Twitter who have responded with outrage to his misogynistic gags. Desperate to find a form of humour that will offend no-one, he enrols at the exclusive Philippe Gaulier school in Paris—exclusive in terms of the price, not the talent required—and embarks upon a quest to find his inner clown. His inner clown, as it happens, is a cranky lesbian in her 30s, who bears a remarkable resemblance to Zoe Coombs Marr, and whose own inner clown in turn looks a lot like an unreconstructed male stand-up named Dave, whose inner clown is… you get the idea. This recursion is only the beginning, and as the attempt to create a kind of "clownception" spools out it becomes an almost unwinnable challenge to work out exactly how many layers deep we are at any one point.
This is a conceptual juggling act whose technical mastery works not simply to illustrate Coombs Marr's genius but to shift our perspective on more than one artistic field. It's not satire, really, since Dave is ultimately a sympathetic figure, a product of an extremely narrow and confining comic culture who honestly can't see an exit from his box. It says something that his sexist jokes are actually funnier than those of the real comedians he's based upon, too. As recognisable as he is, Coombs Marr's drag and the layers of auto-referentiality she employs reveal that the real Daves are playing characters themselves, without necessarily being aware of it. Any comic who witnesses this work will have to ask big questions of themselves between laughs.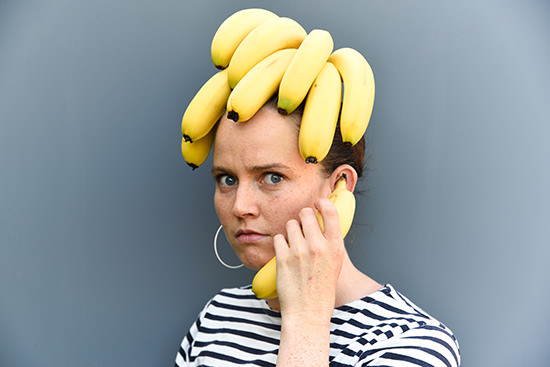 image courtesy the artist
Zoe Coombs Marr
The alternate world of "art comedy" isn't paraded as an ideal retreat from the problematic mainstream of Daves, either—the clowning and mime of peers such as Dr Brown and the many, many comics he has influenced is made just as much fun of here. Dave himself admits he's no fan of these comedians—most of their repertoire is just exaggerated shrugging, he says—and he protests the pretentiousness of comics who think they can get the crowd laughing simply by making eye contact. By the performance's end, Coombs Marr is doing precisely that, of course.
In more conventional parody there must be posited some kind of normalcy from which the object of ridicule is set clearly apart. The brilliance of 'Dave' isn't that Coombs Marr has made fun of the figure who typically occupies that position of normalcy, and whose jokes are at the expense of anything that deviates at all from himself. It's that in unseating him from his position of power, she goes on to destabilise any sense of a norm whatsoever, both within comedy and beyond. Our laughs become the kind of mad flailing of someone drowning, and when the work ends with a wordless act of extremely visceral, physical excess, it is both inexplicable and entirely necessary, as if Coombs Marr is channelling the collective frenzy she's whipped up in her audience.
For many RealTime readers Zoe Coombs Marr will be better known through her work with the trio Post, and these solo forays into comedy might seem a departure from the excellent path that collective has already charted. This isn't a side project. I've heard more than one commentator describe this as Coombs Marr's masterpiece, and for any artist to achieve a triumph such as this just once would be enough. I think there's even more to come.
–
Melbourne Comedy Festival, Zoe Coombs Marr, Trigger Warning; Victoria Hotel, Melbourne, 24 March-17 April
RealTime issue #132 April-May 2016, web
© John Bailey; for permission to reproduce apply to realtime@realtimearts.net