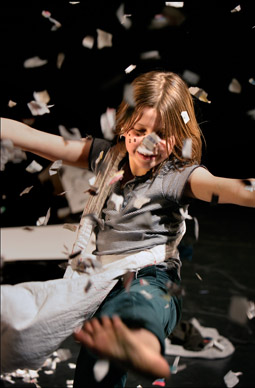 photo Phile Deprez
Martha Marthe Mathilde Matthieu, De Kopergietery
THE 11TH EXPLOSIVE! INTERNATIONAL YOUTH THEATRE FESTIVAL IS, ACCORDING TO THE PUBLICITY MATERIAL, ITS MOST POLITICAL PROGRAM TO DATE, THOUGH YOU WOULD NEVER GUESS IT FROM THE OPENING NIGHT'S SHOW, AMAZONIA, BY BRAZIL'S COMPANHIA APLAUSO. THE SHOW BEGINS WITH PERFORMERS TUMBLING ACROSS THE STAGE AND SCALING UP THE SILKS, ALL WHILE MAKING MONKEY NOISES. WELCOME TO THE JUNGLE. UNFORTUNATELY, THE POLITICS OF THIS PIECE ABOUT A RAINFOREST THAT HAS BEEN RAVAGED BY BOTH COLONIALISM AND NEO-COLONIALISM ARE COMPLETELY AT ODDS WITH THE POLITICS OF ITS PRESENTATION.
There were many uncomfortable moments but the image of a black man standing on stage in a leopard-print loincloth, beaming out at a largely Anglo-Saxon audience, and singing "Brasil!" stands out. Forget the jungle, welcome back to the 19th century, where bare brown bodies are displayed as exotica/erotica for your viewing pleasure. Skin, sex and some capoeira to boot—the Brazilians seemed to confirm every stereotype imaginable in a single performance.
I'm in Bremen, Germany, to perform with Sydney's PACT Youth Theatre in The Speech Givers, a show which draws on the themes of previous PACT shows such as Toxic Dreams (RT73, p16) and Whistling Man (RT77, p44) but which was developed especially for this festival. After watching Amazonia we are beginning to wonder about what we are doing and why. What exactly is international about an international youth theatre festival? To what extent are companies expected to confirm or contest national stereotypes? And what would the audience make of an Australian show about a series of speech acts that only sometimes succeed?
Perhaps the highlight of the festival was Sehnsucht (Longing or Desire), directed and choreographed by Belgian Ives Thuwis and performed by the Forum Freies Theater from Dusseldorf. It begins with the director dancing, slowly at first and then with increasing rapidity until his breath becomes laboured and loud and he retreats to the side of the stage. In what follows, 11 performers aged between 10 and 20 proceed to evoke the barely contained chaos of a party without parents. To the strains of Dusty Springfield's "Son of a Preacher Man", Audrey Hepburn's rendition of "Moon River", and Sonny and Cher's "I Got You Babe", a young woman sips water through a straw from the crevices (ribs, clavicle, navel) of a young man's torso. There is a tense pas de deux between two teenage boys, which proves too much for one of them so he heads across stage and tackles a teenage girl to the ground. She escapes his grasp and stalks off to the couch to sit in a silent sulk, trying but failing to avoid the early onset of post-party blues.
The younger children are oblivious to all this teenage angst, busy as they are playing ping pong, hiding under the table and sending out a string of paper boats across the floor. Once in a while the two groups interact—a young boy spies the sulky girl changing and decides to steal her dress. One tender moment has three of the older members of the group spooning their slightly younger counterparts. It is as if they are already dancing with younger selves, a reminder that you are never too young to experience nostalgia and that even at 16 you can still miss your 10-year-old self. More importantly, it reminds us that there is no such thing as a singular 'youth' and therefore no such thing as a singular 'youth theatre.' The piece comes to climax with an ecstatic version of Lesley Gore's "You Don't Own Me" before the director, who has been standing and watching the entire time, comes back on and dances again.
The songs are the soundtrack of the director's youth not the performers' but because the work is so accomplished we tend to forgive him the indulgent framing device. Besides, perhaps it's a metaphor for working in youth theatre where one is forever standing 'in the wings', casting an adult eye over the chaos, trying to harness erratic energy while instilling a degree of discipline in those beautiful bodies that, ultimately, are not yours to inhabit or even to inhibit. Indeed, they always emphatically reply, "You Don't Own Me."
Thuwis also collaborated on a performance on the next night, Martha Marthe Mathilde Matthieu by De Kopergietery (Gent, Belgium). Each child of the title worked with a professional choreographer, resulting in four curious portraits. These might also have been called Bedroom Boredom because they are about what children do—or more accurately what adults think they might do—when left to their own devices. The first girl walks in wearing what looks like a red party dress but she soon throws it off in favour of some far more comfortable black pants and a loose blouse, freeing her to gallop around the room. She flings cushions about with abandon, turning them into a trampoline to bounce on, a sea to swim in, and skates to glide on. She is utterly absorbed and utterly absorbing but when an older girl comes in wearing her party outfit and carrying a birthday cake, the smaller one scampers off.
Alas, this new girl does little more than loll about on the floor like Lolita. While the piece itself is uninteresting, the juxtaposition with the previous portrait is arresting. What is it that happens to girls? How can someone be so full of agility and agency and then a few short years later be boring beyond belief, desiring nothing more than to be desired? The contrast between this learned feminine passivity and masculine activity becomes even more apparent when a teenage boy enters. He doesn't have half her grace but he is far more intriguing. Loud music blares from his laptop and he lurches around the room, doing bad stunts and telling bad jokes but thinking sweet thoughts. Eventually he steadies himself while listening to the Counting Crows intoning, "I am ready, I am ready, I am ready, I am."
The extensive use of popular music—entire songs played back to back—recurs throughout the festival though not always to the same effect. In fact, the songs in Schauspiel Essen's show Homestories (ballads for the girls and hip hop for the boys) are interspersed with the personal stories of the performers, as well as some odd but occasionally compelling video footage they shot in and around their home town of Essen-Katernberg. Unlike Sehnsucht and Martha Marthe Mathilde Matthieu, Homestories is instantly recognisable as 'youth theatre.' The production was facilitated by Armenian director Nuran David Calis who lived in the city of Essen's troubled social district of Katernberg for six months while collecting the stories of the young collaborators, many of whom are migrants. Homestories had been awarded the Sociale Stadt 2006 (Social City 2006) prize so perhaps the social coherence it promotes is more important than the artistic coherence it lacks.
What is obvious from these three performances, as well as from the production of Hamlet (co-produced by the festival's German hosts, the Schlachthof theatre, with the Dutch company Growing Up in Public theatre and the Danish director Jeroen Kriek) is that they do not explicitly engage with notions of nationality. Indeed, through the very fact of their being, these 'international' collaborations simultaneously ignore and problematise the idea of the nation. This implicit approach contrasts with the rather blunt approach of the last show, k-ENTER-n, which looks at issues of globalisation through a regrettably rudimentary lens. If Amazonia resorts to national caricatures then k-ENTER-n, which was also produced by Schlachthof theatre, resurrects socialist clichés. The play has evil corporations threatening to take over the world via the internet and the program even refers to the "stormy oceans of capitalism." PACT's The Speech Givers is neither an international collaboration, nor agit-prop theatre, nor an attempt to think through the identity of Australia. Even so, it may have been interpreted that way, with people commenting that the show was 'very athletic' or that they were expecting something 'sunnier.'
Far from sunny, The Speech Givers depicts the necessity and impossibility of speaking in general, and of speaking up and speaking out in particular. The six performers prepare the space and then themselves to stand and deliver the speech of a lifetime. These public speeches are well-intended but ill-executed—white noise overwhelms one speaker while a wave of mass hysteria sinks another. More private speeches happen when performers accost one another as they stride across the stage, cruising the corridors of power. Once again, the speakers are inaudible, inscrutable, impossible. Ultimately, whether public or private, promising or compromising, these speech acts are also solitary acts, monologues that may or may not be understood by the addressee. The piece finishes with the six performers and the sound artist walking to the front of the stage and sitting face to face with the audience. Together they listen to the strains of Elgar's Chanson de Matin and look at the strain on each other's faces, suggesting that perhaps the most radical speech act of all is to sit and listen, to try and move beyond monologues towards dialogue.
Perhaps this is the point of the festival more generally: to introduce artists to other artists and to other audiences and in doing so to start a quiet conversation. Nothing more and nothing less, but still no mean feat in an age of megaphone diplomacy.
1tth Explosive International Youth Theatre Festival, Bremen, Germany, Sept 14-15, www.explosive-info.de
RealTime issue #82 Dec-Jan 2007 pg. 38
© Caroline Wake; for permission to reproduce apply to realtime@realtimearts.net