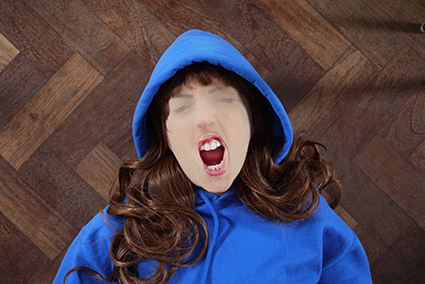 photo Tash Tung
Elizabeth Bernholz (Gazelle Twin) Unsound, Adelaide Festival of Arts
But most of us don't. Not really. There's the occasional rhythmic knee-bending, weight-shifting and some head-swinging. There's also enough machine-made smoke and moving LED lighting to make any raver happy, but the throbbing mass of bouncing bodies never quite manifests.
In a different environment some of the acts may very well be party-pumpers, but programmed in the context of Unsound, the signature experimental electronic music event for the Adelaide Festival, the clever mix of artists creates a kind of sympathetic resonance so that all the sonic offerings are received with an attitude of 'serious listening.'
Thursday
Lawrence English (AUS) establishes the tone by asking the audience to lie on the floor. English is currently mining the territory of his latest album, Wilderness of Mirrors (see review/interview), creating epic shifting dronescapes out of harmonic material wrapped in rubble. He starts by accumulating dirty and increasingly hysterical sound layers from the eerie scream of an Aztec death whistle. The flight to first climax is rapid and risky. Where can he go from here? But English is adept at layering and after the diminuendo he quickly constructs another wall of sound into which he carves his sonic bas-relief. However the series of crests and troughs wears itself out, as the penultimate escalation has the audience clapping, thinking the performance over when there is still an epilogue pending.
Gazelle Twin (Elizabeth Bernholz, UK), in blue hooded tracksuit and stockinged facemask, is a surprise highlight. She has a simply fantastic voice that she loops and saturates to make tuned and textured noise, over which she adds soaring lead vocals. Her pared-back beats, played by a similarly hooded anonymous fellow could certainly compel you to dance, if you weren't so awestruck by that voice. The production is slick yet the effect is still deeply visceral. The recordings I'd been listening to certainly intrigued, but Gazelle Twin really shines live.
Container (Ren Schofield, US) offers the perfect example of the thinking-dancing tensions inherent in the programming of Unsound. He works with beats and noise, or noisy beats, adding a crunchy complexity to his techno palette. Earlier in the set his minimalist rhythmic phrases slip over the top of each other creating shifting relationships of changing pulse. His head nods to a phraseology of his own hearing while we lock in and fall out of time, happily adjusting to his skipping rhythms. As the set continues the sound becomes fuller, and perhaps more regular, and there is more movement on the floor.
The first night finishes with the distinctly undanceable psychedelic noise rock of Fushitsusha (Japan) led by Keiji Haino. The glorious long hair of the three men (Haino's now silver) whips and flails as they relentlessly progress through their loping, angular assault, the drum and bass forming a broken landscape over which Haino's dark and dirty guitar lashes like an apocalyptic storm. It's brutal yet strangely lulling, or is it numbing, in its relentless tumble of notes and noises.
Friday
Night two launches with UK artist Matthew Barnes/Forest Swords' soaring folktronica that transitions every now and then to dance music—a big alt-pop sound, tightly performed. The Bug (Kevin Martin, UK) plays on our addiction to bass by alternately withholding then dropping it, not always when we're ready. His set takes off with the addition of his two guest MCs, Miss Red (Israel) and Manga (UK), who cajole us onto the party plane. Which is where Shackleton (UK) finds and keeps us with his smart mix of hypnotic, spare, yet intricately crafted beats and sample shards.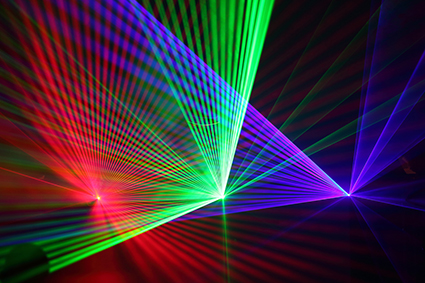 photo Tony Lewis
Robin Fox, Unsound, Adelaide Festival of Arts
The highlight of night two, programmed as the second act, is the special commission Double Vision from ATOM™ (Uwe Schmidt, Germany/Chile) and Robin Fox (Aus). Here we witness an epic battle of figuration and abstraction. ATOM's glitchy beats are accompanied by monochrome visuals of shapes and silhouettes made from pixel-building blocks, front-projected onto the stage. Fox's red, green and blue lasers shoot geometric shapes at us from the front, etching scribbles on the back wall. His abstractions are framed by ATOM who at one point issues the written text accompanied by a machine-voice: "LED, photography, video, colour TV/ Mr Fox will make you see in RGB." Fox's influence is implicit as ATOM's black and white figures begin to break up and take on pixels of red, green and blue. Sonically, it's a curious combination, the two inputs generally seeming distinct, yet happily co-existing, Fox forming a dirty base grid over which ATOM's glitches twitch and skitter. Fox's RGB Laser concept is so complete, it's a tough call to incorporate other inputs, but emphasising the two artists' differences is a solid strategy.
Saturday
Kicking off the final night Mika Vainio (Finland/Germany) plays a challenging set for some, generating interrupted rhythms and sharp machine noises with lots of sudden stereo panning and awkward silences. Maybe there is a sound check issue as it looks/sounds like he's still testing the system, but it's also this sense of play and exploration along with the purity and abstraction of his palette that make his performance one of the more engaging for the more experimentally inclined.
Dopplereffekt (Gerald Donald with To Nhan, US) offer a generous set of their ersatz Kraftwerk music. It's well executed and entertaining in its retro-futurist earnestness. However, playing their deliberately limited synth-sounds for what seemed like over an hour pushes the patience of some of us. (The accompanying video sequence based on footage of the Large Hadron Collider, with the artists cutely inserted, is interesting the first three times.)
The third night is plagued by last-minute cancellations—Model 500 due to ill health and Heiroglyphic Being for reasons unspecified. HTRK (AUS) is flown in as a replacement and seems distracted or poorly sound-checked. Their music relies on an enveloping swampy fusion of vocals, crunchy beats and guitar abstractions but in this performance it struggles to cohere. Only in their final track do they seem to hit their stride. Kevin Martin, this time under his King Midas Sound System guise, steps in to fill the other cancellation and plays a more experimental set than the night before—slowed and deconstructed dance tracks with some truly shredding, swirling, noise epiphanies that bring the festival to a suitably exultant end.
With no stated curatorial theme beyond "experimental and electronic," Unsound excels at creating a context in which the noisy, the abstract and the big-beat can generate heat and friction often resulting in a fascinating fusion. Of course, this mix of musics happens all the time in the non-commercial underground—in warehouses and galleries and garages around the country. But it doesn't happen at scale in the mainstream festival sphere. Over the years What is Music? and Room 40's Open Frame have invited a number of significant international electronic artists to Australia who traverse the overground/underground divide, but Unsound and its alliance with the Adelaide Festival, ups the scale and is a most welcome addition.
Adelaide Festival: Unsound 2014, curators Mat Schulz, David Sefton, 12-14 March, Freemasons Hall, Adelaide
RealTime issue #126 April-May 2015 pg. 11
© Gail Priest; for permission to reproduce apply to realtime@realtimearts.net