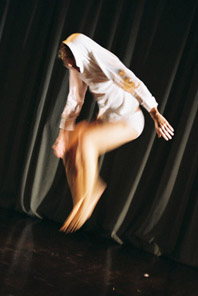 photo Heidrun Löhr
Martin del Amo, Under Attack
Solo Series #1
Following his Unsealed of 2004, Martin del Amo's Under Attack is another utterly engrossing solo, the second part in a trilogy, this one moving in even closer on the first part's grief (the artist's for the death of a lover) and the impasses of ambition (in the first del Amo's desire to sing, here a female dancer's career thwarted when she lends her skill to a virtual performer–an animated cartoon dragon). The grief here is the kind that can pull your legs from beneath you: an animating force, love, has left you or the moves you thought were yours have been copyrighted away. If you were a marionette, your strings would have been cut. There's a strong sense of that cut in Under Attack, but who's done the cutting? Del Amo ponders the biblical story of Jacob wrestling the angel, asking if it was really an angel or something else, something denied or unacknowledged, our own puppetry, our own string cutting? This performance had me re-reading Victoria Nelson's wonderful The Secret Life of Puppets (Harvard University Press, 2001).
In the beginning a neat, still, white-suited del Amo stands in the distance against a wide cream curtain, amidst a machine pulse that sounds curiously organic. As in Unsealed, he walks and walks, but less purposefully this time, goes to speak to us, then doesn't. The walking is interrupted by a burst of neat leaps. Finally he speaks, initiating the series of reflections on Jacob and the angel, the dancer and the dragon, and on a death. Between each episode his walking is breached by sudden involuntary movements, a kind of escalating possession, its force thrust up through the body into the arms and into the head racked side to side. He discards his clothing piece by piece. He is ever more the puppet, perpetually propelled, awash with sweat, legs dropping away from beneath him.
The tales continue to be calmly told. Grief is addressed. The grim details of a postmortem uttered. The dancer gets more work as the dragon, but no one will employ her to dance–her moves too much like that famous cartoon character. Del Amo puts his clothes back on, but it's not easy, a sock, for example seems determined to move away from the foot. The self is dressed, reassembled and still once more, but with one bare foot, like Oedipus ('wounded' or 'swollen foot', or 'limping'). Tragic. There's a burst of leaps to live, bracing violin sawing. Control has returned, but everything has changed.
Gail Priest's sound design is a more extravert presence in this part of the trilogy. In the first it was more a subliminal amplification of the performer's body, here it's pulse and impulse, but is it driver or driven, puppeteer or puppet, angel or inner devil? Whatever, Under Attack is a sublimely moving and highly integrated creation.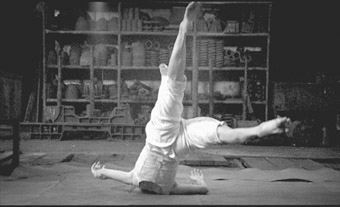 Narelle Benjamin in Cordelia Beresford's I Dream of Augustine
Reeldance Installations#01
Interval allows just enough time to take in a couple of One Extra's Reeldance Installations#01, a significant intiative, installed in the Performance Space galleries. The Julie-Anne Long and Sam James collaboration, The Nun's Picnic (RT65, p13), combines a wardrobe-cum-dressing table replete with photographs, tiny videos, clothing, books and a few intimate possessions that might belong to a nun, all framed by a subjective video journey through a forest screened on the adjoining walls. The delicate, almost sombre ambience is a foretaste of Long's performance, Nun, next on the dance program that night. In another room is Cordelia Beresford's installation, I Dream of Augustine featuring dancer Narelle Benjamin in 2 finely crafted black and white films. One has Benjamin performing between 2 chairs in acts of suspension and elevation deploying the magic of both film and a dextrous body. The other is a thing of beauty, a visual litany of simple if sometimes mysterious texts ("A beautiful woman rearranged by anonymous hands"; "not her, she is not real"), antique body diagrams and an intense movement vocabulary set in an old machine shop, their juxtapositions yielding lateral reflections on dance, the body and language. To be seen again, and again.
Breathing Hole
In the second part of Solo series no. 1 Nikki Heywood speaks and moves through a dark, claustrophobic reverie, adopting the persona of "a woman in a chilly zone…obsessed by a man trapped below the ice." The image fans out to include the Russian sailors who a few years ago went down with their nuclear submarine and even further to the fate of all of us as the polar caps melt and we all go under. The persona seems to be of "a girl who didn't know the weight of things" (program note), but for whom the performance represents perhaps an expansion of empathy. I write "seems" and "perhaps" because on one viewing the verbal and aural density of this work, the brevity of images and the heightened expressiveness in the delivery worked against contemplation. This is atypical of Heywood's usual attention to detail, the power of sustained images and avoidance of the literal. It's worth noting that Heywood, a major artist in my book, has been consistently denied serious funding for many years while investing her talent in supporting other artists and doing them proud. It's time that changed and Heywood was honoured with the time and space that creation requires.
NUN
Julie-Anne Long steps inside a habit, adopting a nun persona but without characterisation, just generating an "essence…something to do with the elusive and complex feelings of the eroticism of being alone" (program note). Like the Reeldance installation this a serious work. There are flashes of humour as the nun dances to Elvis (Take My Hand Precious Lord) or Tammy Wynette (You'll Never Walk Alone), but each says something more about the moments of freedom in a sequestered life that might seem ordinary to us (or perhaps just as liberating). And some of those moments are ecstatic, as in the Wynette, as the nun leaps and swoops and the light turns white. As in the installation there's a sense of entering someone else's private space, this time from a distance, the nun glimpsed at domestic duties through a small window on the Performance Space proscenium arch. But as she draws near the audience, the projected image of the house slips into the distance, the forest around it enlarging, inviting her into free space, ever private even in such openness. But it's the smallest movements, the little images glimpsed through windows and doors that are the most memorable, declaring the nun's otherness and self-contained aloneness.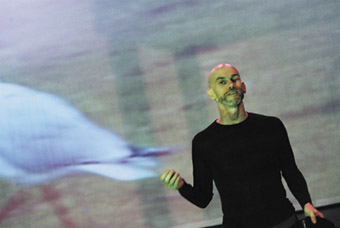 photo Heidrun Löhr
Brian Carbee, In the Dark
In the Dark
This work, presented mid-February in the same venue, has it all: talent (performers Michael Whaites, Narelle Benjamin, Julie-Anne Long, Brian Carbee and UK director Wendy Houstoun) and movie-making. The wobbly but enticing governing conceit comes replete with an opening trailer ("what they got was the dance of a lifetime)", various takes, calls for closeups and long shots and episodes of direction (Carbee drolly calling the shots in front of finished film). Scattered in between are gameshow antics (Whaites as a wonderfully startled host), distracted political diatribe with a smile (Long wearing a huge feathered head dress) and over-determined dance (Benjamin to a set of ridiculously demanding instructions). Performed with engaging ease amidst a sense that anything could happen, the work immediately recalls the UK's Forced Entertainment with their penchant for imploding monologues, epic list-making, impro, gruelling durational turns and post-pomo theatre-wrecking (once upon a time mislabelled as 'deconstruction'). Same, but very different, after all these are dancers, and a great night was had by all, though exactly what we had left me a little in the dark.
One Extra & Performance Space, Solo Series#1, Martin del Amo, Under Attack; Nikki Heywood, Breathing Hole; Julie-Anne Long, NUN; Performance Space, Feb 23-March 6
In the Dark, a movement & video performance, director Wendy houstoun, performers Julie-Anne Long, Narelle Benjamin, Michael Whaites, Brian Carbee, lighting Neil Simpson, sound Drew Crawford; Performance Space, Feb 3-13
One Extra, Reeldance Installations#01, curator Erin Brannigan, works by Cordelia Beresford, Samuel James, Julie-Anne Long, Narelle Benjamin, Heidrun Lohr; Performance Space, Feb 10-March 6
RealTime issue #66 April-May 2005 pg. 33-
© Keith Gallasch; for permission to reproduce apply to realtime@realtimearts.net