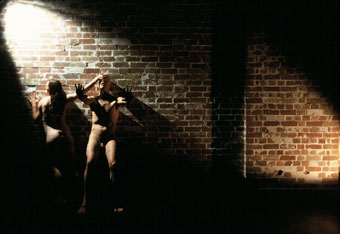 photo Mark Dyson
Elise May, Brian Lucas, Churchill's black dog
Beneath his gruff, no-nonsense exterior, Winston Churchill experienced a world of darkness and depression manifested in violent mood swings, emotional doubt and personal insecurities. Churchill called it his "black dog." In a new work created by Clare Dyson in collaboration with performers Avril Huddy, Brian Lucas, Vanessa Mafe-Keane and Elise May, the dog takes centre stage. Churchill's black dog is the result of Dyson's tenure as artist in residence at the Judith Wright Centre of Contemporary Arts, and had its first public showing in Brisbane in April prior to a full production in Canberra later this year.
Churchill's black dog attempts to choreograph depression and make physical the effect on sufferers' family and friends. It's an ambitious aim, but this collective of established Brisbane-based artists, working under the name Subject to Change, has created a strong exploratory piece that slips in and out of historical specificity (ie Churchill's 1940s) to creatively respond to questions such as: what was the effect of the illness on Churchill's wife or Virginia Woolf's husband? Is the black dog a metaphor for conquest or acceptance; familiarity or ownership?
In an unsettlingly silent prologue, the piece opens with 2 naked bodies vulnerable against a brick wall. The stage is littered with autumnal leaves and, in a far corner, there is a bathroom. As a house's inner sanctum, the bathroom harbours private turmoil and here Huddy silently flails in a bathtub of despair; while at a sink the everyday rituals of cleansing and shaving continue on empty faces.
The dulcet tones of popular 1940s music begin as a man in long johns (Lucas) hunches over a table purposefully reciting the micro tasks involved in the simple act of signing off and posting a letter. The process of naming and listing each action is a survival strategy, a way for this character–could it be Churchill?–to maintain a semblance of control over the present. Later, the table becomes a sanctuary, with the tall man curling into a foetal position beneath it while a voice-over narrates common familial refrains: "I am really worried about you…You can't just lie there…You need to make more of an effort…You're pathetic…You're not trying hard enough…Sad and pathetic."
Throughout the performance, the torment and anguish of the mind seeks bodily expression. At times, a well-worn physical vocabulary of mental illness is relied upon: anxious twitching, frenzied scratching and butoh-esque muscular strain. All 4 performers follow their own trajectories around the confined space, appearing not to see each other as they play with shadows and sweep up leaves. In theory, this individualised action seems appropriate to the dislocation and isolation of depressive illness, but the longer it is sustained, the more dissipated the energy of the piece becomes. Where are they taking us? Is the historical context meant to clothe each performer in character or are we meant to read this as an everyman/everywoman experience? The ensemble has worked together to create some strikingly original images and text but they are mostly disconnected moments–which is perhaps the intention. For the most part, the audience's eye is drawn inexorably toward Lucas who best embodies mental turmoil with a startling clarity and fluidity of movement. With him, depression builds as a slow eruption from within.
There is brief respite in a series of delightful knock-knock jokes posed by Lucas as he sits inert facing a door. But the atmosphere soon darkens again as the performers gravitate together in a paranoid calling to the abyss: "Does it matter if you lose your favourite game?…Does it matter if you lose your mind?…Does it matter?" The choreography shifts to convey an angsty and torrid wretchedness. The solo energy that has characterised most of the performance finally becomes collective and, in turn, more forceful and compelling. We are torn from the 1940s as the performers drop and writhe in cold blue light. In time, each finds the fortitude to stand again and, although one woman continues to collapse, the overall image is of strength gained in a momentary togetherness. A sense of hope, perhaps, in the body collective?
Returning to the sepia light and wartime songs, the context turns historical once more. Churchill is in the bath, though he soon disappears. May sits at the table reading aloud from a newspaper: "Dr Genie's tips for stress-free living." Lucas reappears pushing the entire bathroom set-piece across the stage and turns it around, away from the public gaze.
We are left with the women, carrying on as usual with a public veneer of competence. Despite internal eruptions of their own, they continue with the laundry, with listing, with ordering, with dressing. Lucas returns to the open door to await the comforting arrival of a cat, but "the dog has come to stay for a while"–and in this performance we have glimpsed its true estranging effect.
Churchill's black dog, creator Clare Dyson in collaboration with performers Avril Huddy, Brian Lucas, Vanessa Mafe-Keane, Elise May; lighting designer/production manager/photographer Mark Dyson; text advisor Gordon White; music Sia and Sunno; sound Chris Neehause; Judith Wright Centre of Contemporary Arts, Brisbane, May 27-2
RealTime issue #67 June-July 2005 pg. 30
© Mary Ann Hunter; for permission to reproduce apply to realtime@realtimearts.net