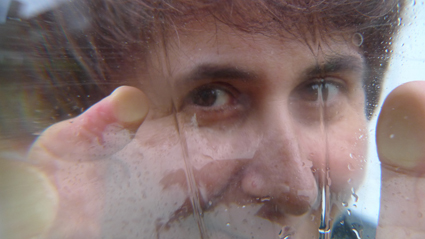 photo Liz Scrimgeour
Suzon Fuks
SUZON FUKS IS A BRISBANE-BASED MEDIA ARTIST, CHOREOGRAPHER AND DIRECTOR WHO EXPLORES THE INTEGRATION AND INTERACTION OF DANCE AND MOVING IMAGE THROUGH PERFORMANCE, SCREEN, INSTALLATION AND ONLINE WORK. SHE IS CURRENTLY AN AUSTRALIA COUNCIL FOR THE ARTS FELLOWSHIP RECIPIENT. FUKS DESCRIBES HER NEW WORK, WATERWHEEL, AS "AN ONLINE SPACE WHERE YOU CAN INTERACT, SHARE, PERFORM AND DEBATE ABOUT WATER AS A TOPIC AND METAPHOR, WITH PEOPLE AROUND THE WORLD OR RIGHT NEXT DOOR! IT IS COST-FREE, ACCESSIBLE WITH JUST A CLICK, AND OPEN TO EVERYONE OF ALL AGES. IT FOSTERS CREATIVITY, COLLABORATION AND INTER-CULTURAL-GENERATIONAL EXCHANGE." I ASKED FUKS ABOUT HER MOTIVATION AND AMBITIONS FOR THE WORK.
What is it about water that drove you to create Waterwheel?
I come from a country in Europe where it rains a lot and I wasn't aware of water scarcity at all. Living in India for three years changed my perception about access to water. I had to wake up on time to fill my vessels from a tap in the street that ran only twice a day for half an hour. I had to boil it and keep it in a specific place in the house. So I built my life and time around this access to water.
When I moved to Brisbane it was a beautiful 'garden city.' During the drought of 2005 I worked most of the year overseas and coming back, I could see from the plane window everything was brown. Sad! It looked like a dying body. At that time I went for a walk at Wivenhoe Dam. A very striking image remains in my mind. A dried out fish caught in a small bush on the edge of the reservoir. The water level had gone down so much that the fish had been caught there, died and dried out.
I became more interested in the politics of water. I started questioning how in developed countries we have access to things and information and take so much for granted. Water is becoming a commodity. I observed that most water infrastructures are made by men, but in developing countries the collection and handling of water is usually a matter for women.
In 2008 I helped organise a networked performance with five cities around the world. We were talking about the drought in Brisbane and a group of artists in Curitiba were saying that in Brazil governments are fighting over the Guarani, one of the world's biggest and most abundant aquifers, to own part of it for the future. It was interesting for me to see that, through the internet, people can share different perspectives on water.I'd like to share this growing awareness, and find ways to deal with water issues.
In what ways do you see water as a tangible element of your art?
Artistically, I'm interested in the contrasts and extremes of water: transparency, opacity, stillness, turbulence, the violence of water and its patterns. To me, the patterns in water hold secrets. Things are entangled there: the fluidity, stripes and rhythms make links between graphic, choreographic, musical and cinematic forms. If we could decode the patterns, we could find a writing somehow and an understanding between these disciplines.
I'm constantly collecting water samples in video and audio. With Igneous I have done two shows with actual water: Liquid Skin and Mirage (both in 2006). And before that, in 2004, Thanatonauts and Body In Question, used water in their video-scenography. I know that artists have been using water for a long time and the interest is increasing. It seems to me like a requiem for water. Before it dies.
In my memory, public water had a different presence in cities than it does now. Fountains were places of social gathering and where to get fresh water when walking from place to place. Now they are being covered. All that is left are signs saying: there once was a spring. So I thought it would be interesting to have a repository, not only of artistic works but about water in general, in order to keep a trace of our stories, cosmogonies and lifestyles, because water, cultures and cities are changing.
Did Queensland's recent flooding influence the work?
The flood felt like a state of war. There was nothing that could be done to stop it, and it was violent. Water is not always transparent, reflecting the blue sky, but can be really dirty, smelly and sticky. The mainstream media were really making people scared, repeatedly showing the most dramatic images and playing the most dramatic commentary. Meanwhile, on social media people were infiltrating like water, in a constructive way, giving helpful tips. The water issue made discussions deeper.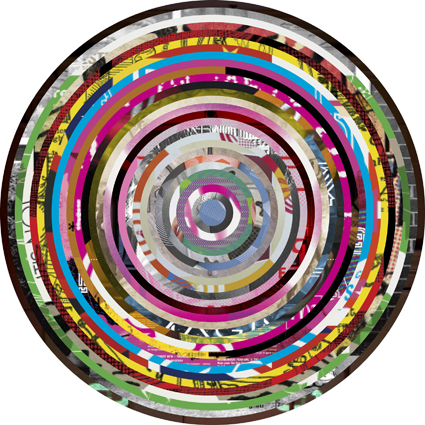 Waterwheel interface
Are you a 'water person'?
Definitely. I'm not an excellent swimmer, but I go swimming every day if I can. It's my way of keeping fit. I find baths and water spaces relaxing and rejuvenating. When visiting a new country, I'm interested to know about water rituals and customs, and which places they have for them. It's a way for me to better understand the place and meet people.
What can we expect when we enter the Waterwheel site?
The main thing on the Waterwheel homepage is a wheel made up of concentric rings that represents the latest 40 uploads. Anyone can log-in and upload, access and comment on that media, and message other users. From there they can go to the "Fountains" map and the "Tap."
Users, individually or with a "Crew," can use the Tap for a performance or presentation with webcams, media from Waterwheel, drawing tools and text chat, all on one web page. What's very new is that any media item placed on the Tap can be moved, resized, flipped and layered over other media. Audience can engage with each other and the Crew by simply clicking on a link without having to install anything. Years of research in networked performance allowed me to see the pros and cons of, and determine the best tools, from those I found in various online platforms I used.
There are many levels on which to engage with the site and the project. Whether you're initiating a project individually or collaborating with others or contributing to an existing one or simply spectating. A curator could get in contact with an artist, or scientists and activists in contact with their colleagues. It's a new mode for expression, exhibition or festival.
Who are you working with on Waterwheel?
In the first year of my Australia Council fellowship I presented the Waterwheel concept in various circumstances, conferences and in sharing sessions with peers and colleagues onsite and online. I got lots of feedback, which helped to evolve the concept and I received grants from Arts Queensland and Brisbane City Council to extend the project and the team.
Waterwheel is a really collaborative project. My main partner in building up the site is Inkahoots, a Brisbane-based studio of graphic designers, programmers and a copywriter. Artists around the world are helping with the testing of the Tap. In terms of getting feedback in order to advance the project, I asked a forum of peers to come at certain times to give oral as well as written responses.
My co-artistic director of Igneous, James Cunningham, is an external eye for the experimentation on the Tap and its integration into an on-site installation performance that will happen during residencies in October and December at the Judith Wright Centre. For that event there is an entire team: dramaturg (Doug Leonard), performer (Sofia Woods), set designer (Rozina Suliman), interactive system designer (Nathen Street), production manager/lighting designer (Felicity Organ-Moore), IT technician (Will Davis), PR person and someone taking on a new role linking 'crew' members online and onsite.
I've been networking for a long time and via the internet with fellow performers in Canada, USA, Brazil, Europe, Lebanon, Indonesia, India, New Zealand and South America. For the launch of Waterwheel on August 22, I hope that this network will present a short program of performances and presentations.
You have written that water will also be metaphorical in the work: In what way?
I tried to make the whole Waterwheel project using water vocabulary because of the theme and the parallel between this vocabulary and the Internet. The words waterwheel, fountain, tap, crew, dock also give an idea to people, to the audience, of how to use the site. Users can also take a metaphorical interpretation of water for the content of the media they upload—like a dance inspired by water's qualities or a video of sand rippling down dunes like liquid.
Above all what do you hope to achieve with Waterwheel?
I hope to raise awareness about water issues and works, that people will generate new avenues, new works and new ways of presenting and performing, finding their own style within the venue and the tools that Waterwheel offers. I'd like the project to foster sharing and creativity, cross-cultural conversation, intergenerational exchange and debate and help people who have controversial projects, ideas, or are in conflict, to make issues more public and facilitate decision-making and practical action.
How do you feel about living so intensively with a work about water?
Every day I see the relation and relevance with the work and what is happening in the world. Like the transformative aspect of water I am trying to be open and flexible and adjusting to what is happening. It's intense because it has lots of different aspects, it's beautiful and sometimes it's really terrible. The tsunami in Japan and the aftermath of the Fukushima nuclear meltdown has affected my way of apprehending the world. Knowing that we are not reaching the tipping-point but are totally in it is terrifying, but at the same time, interesting to see how we can react to that in a human and positive way.
Waterwheel: http://water-wheel.net/, launching August 22. Deadline for proposals for launch August 12
RealTime issue #104 Aug-Sept 2011 pg. 42
© Keith Gallasch; for permission to reproduce apply to realtime@realtimearts.net