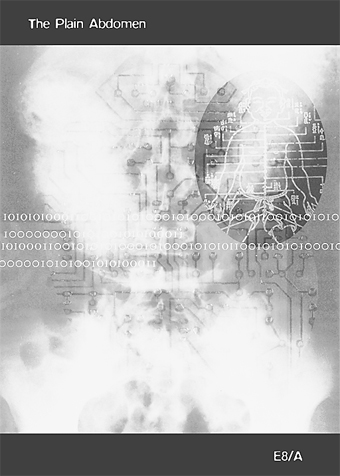 Norie Neumark and collaborators, Dead Centre: the body with organs
Dead Centre: the body with organs
Norie Neumark and collaborators
This sound/performance installation explores and plays with bodily organs as they are being reconfigured in computer culture. It explores computers as one particular incarnation of organs. The work also plays with the way art, not just science, can create metaphors through which we understand and interact with the biological and technological world.
Collaborators: Norie Neumark, sound, direction; Amanda Stewart, text, vocals; Maria Miranda, images; Greg White, sound design, programming.
A conceptual and technical challenge was to have complex, integrated but dynamic sound including composed, performative, and interactive sounds. Another was to create an affective interactivity that is a tendency rather than a trigger. It was also a challenge to have non-representational visuals that respond both to the sound and ideas.
Norie Neumark is a sound and new media artist. Her CD-ROM, Shock in the Ear, won major awards in Australia and internationally. Amanda Stewart is an experimental poet and sound artist. Maria Miranda is a visual artist. Greg White is a composer and programmer. (Maria and Greg also collaborated on Shock in the Ear.)
Completed July 1999, exhibited at The Performance Space, Sydney. New Media Arts Fund, Australia Council, NSW Ministry for the Arts.
Marine
Rodolphe Blois, Randall Wood
Marine is about our ambivalent relationship with water, the emotions it inspires of attraction and fear. A collaboration between soundscape composer Rodolphe Blois and filmmaker Randall Wood, Marine is in the early stages of creative development. It combines electro-acoustic music, cinematic and theatrical elements—a 50 minute "cinema for ears" work. Projected onto 3 screens almost enclosing the audience, the images are being constructed in response to electro-acoustic compositions from abstracted or anecdotal views of water showing natural or techno-based fluid qualities and the movements, reflections and distortions of forms and sources. Marine questions conventional relations between sound and screen and the omnipresence of visual images in cinema, proposing an alternative by giving the sonic dimensions a richer and more prominent role.
Randall Wood is a documentary filmmaker and a visual theatre projection artist. He produces documentary films with a social and humanitarian focus for education and television. His most recent film production is Selo! Selo! for SBS TV (see OnScreen in RealTime #32). His visual theatre work integrates large multi-image projection with dance, puppetry and drama. He is a key collaborator with Brisbane based visual theatre company Brink Performance (Under the Big Sky 1997).
Completion 2000.
The Invisible Songs Project
Steven Ball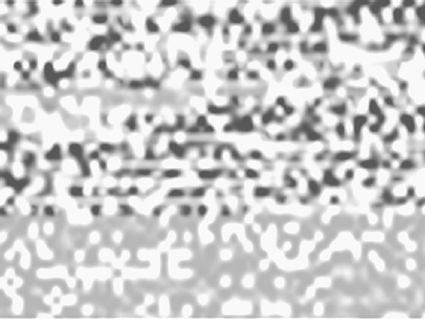 Steven Ball, The Invisible Songs Project
My current work in progress researches 'digital materialism', a term coined to suggest the 'raw material' of media, and translating the code between sound and image. The animated results will be integrated with investigations of the nature of particular places as a series of short video 'songs.' An extensive treatment of this work can be found in the latest Cantrills Filmnotes (no. 91/92, 1999).
As an unfunded (to date) project the working process is necessarily opportunistic and utilises whatever available resources I can freely access. Consequently the biggest technical challenges are largely practical and logistical ones of the storage and transportation of large files and finding enough time to work on it.
I have worked as a film, video and installation artist intermittently since graduating from an English art school in the early 80s. For some years I was closely associated with the Melbourne Super 8 Film Group and produced a large number of films in that gauge. In addition I have worked as a writer as well as curator and administrator with a number of local screen culture organisations
www.starnet.com.au/sball [expired] Completion 2000.
Public Art
the building that speaks
Robyn Backen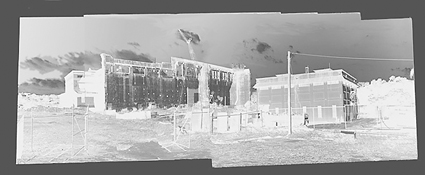 Robyn Backen, the building that speaks
the building that speaks is a public art project proposed by Robyn Backen and is at present in the development stage with its principal commissioner, the Brisbane Powerhouse Centre for the Live Arts. This project focuses on the facade of the building. the building that speaks has an interior and an exterior. The exterior utilises the existing windows/portholes on the boilerhouse facade as a frame from which to blink Morse Code out towards the city. The interior will house a computer which will host the messages. One of the possible messages may be the final Morse Code transmitted by a French vessel (1997) "calling all, this is our last cry before our eternal silence." The public will also be able to send messages from the computer to the facade.
The interior and exterior will be married by a computer interface. The facade lights will be generated by a computer interface and a Morse Code translator/switcher. Director will synthesise texts generated by the interaction of members of the public with a touch screen. These texts will be displayed and compiled into histories.
Robyn Backen is a Sydney-based artist focusing on installation and public art projects. She is one of the artists commissioned to develop a public art work for the Sydney Sculpture Walk; this work is in its final stages of completion. Robyn Backen is represented by Roslyn Oxley9 Gallery.
Likely completion: early 2000. Brisbane Powerhouse Centre for the Live Arts.
RealTime issue #32 Aug-Sept 1999 pg. 17
© RealTime ; for permission to reproduce apply to realtime@realtimearts.net