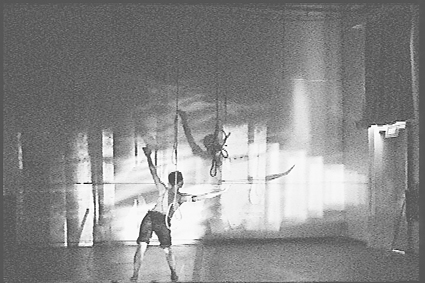 Hellen Sky, Company in Space, Architecture of Biography
Architecture of Biography
Hellen Sky, Company in Space
Architecture of Biography (working title) is a multiform interactive performance work and installation constructing metaphorical relationships to architectural space and universal biographies.
Collaborating artists: Hellen Sky, concept and direction; John McCormick, computer systems, design; Margie Medlin, image & light; spatial design, Simon Barley; dramaturgy/text, Margaret Cameron; sound design, David Chesworth; performers, Ros Warby, Louise Taube, Alan Widdowson, Margaret Cameron.
The challenge is in collapsing traditional relationships between movement, text, image, space, score, and in defining appropriate digital interactive systems, audio and image, and their methods of delivery through traditional and responsive digital means.
Hellen Sky, Co artistic director Company in Space, is a choreographer, performer, image maker creating performance and installation work using dance and new media. These works have been extended as telematic performances, bringing new relationships between performer, audience and site, most recently in Escape Velocity at IDAT '99 (International Dance and Technology), Arizona/Melbourne. Hellen is also Co-artistic Director of Dancehouse.
Completion 2000. Collaborative development funded by New Media Arts Fund, Australia Council.
Lampscape Fate
Cazerine Barry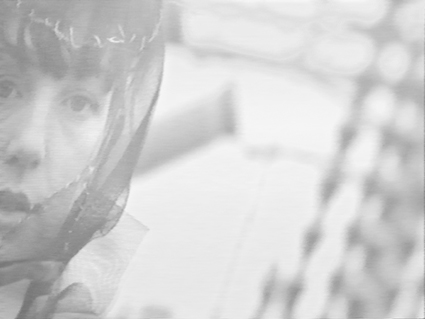 Cazerine Barry, Lampscape Fate
Tools: 1 dancer, 1 computer, 1 camera, 1 video projector. Psychological evocations of the historically infantile. Technically speaking, this is a solo performance; the use of projected multiple performers, however, leaves the audience with the impression of a much larger ensemble. Ethereal and layered images are projected into the performance, literally and conceptually. Sequential video images are used to create a spatial context for the movement while simultaneously exploring temporal and spatial distortion.
Challenges. 1. To perform by myself and sustain interest. 2. To create an image-story in seamless and illusory partnership with the performance. 3. To employ a process which alternates between digital and performance creation, allowing each to reinform the other. 4. To be realistic about the time it takes to adjust moving image compositions that could have taken days to make. 5. To defer the yearning for more time, money and hard-drive space.
Cazerine Barry is a choreographer, performer and video artist. Awards have included a Scholarship to the American Dance Festival, Australian Cinematography Award for FEAR co-produced with Adrian Hauser; an Asialink Fellowship and a residency with the Australian Indonesian Institute co-directed with Kate Mackie. New Media Fellowship, Choreographic Centre 1998.
Work in progress performance, KYKLOS cultural event, September 3 – 4, North Melbourne Arts House. Complete performance for Tokyo International Festival of the Arts, October 1999; Taipei and Hong Kong for Little Asia Tour produced by Hirano Pty Ltd and Melbourne City Council.
At Home Not Alone
John McCormick
An interactive online environment (developed out of company in space's The Pool is Damned) allowing a global audience to construct the realities of four characters and the effects of power on their lives. Realities are constructed in realtime by choreographing gestures and rhetorical audio soundtrack.
Challenges: to maximise global audience interaction through web TV delivery systems; to ensure sound and video environment are malleable over the modem; to create a multi-user environment allowing more than one person to communicate through the site simultaneously.
John McCormick Co-director company in space and currently a visiting artist at RMIT Interactive Information Institute. John has been designing interactive dance works and computer systems allowing performer and audience to influence outcomes in the work. He is currently researching networking systems, ISDN and WEB Broadcasting for current and future projects.
Completion September 99. Arts Victoria and AFC New Media.
RealTime issue #32 Aug-Sept 1999 pg. 16
© RealTime ; for permission to reproduce apply to realtime@realtimearts.net