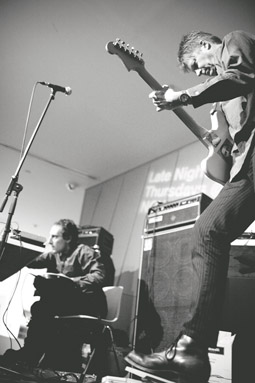 photo Laki Sideris, www.melbournejazzphotos.com
Oren Ambarchi, Nels Kline, Melbourne International Jazz Festival
THE MELBOURNE INTERNATIONAL JAZZ FESTIVAL LOST ONE OF ITS STAR TURNS WEEKS BEFORE IT STARTED, WITH CECIL TAYLOR CANCELLING DUE TO ILLNESS. WHILE THAT'S AN UNDENIABLE BLOW, A STRONG FESTIVAL RECOVERS QUICKLY DUE TO THE OVERALL PROGRAMMING QUALITY; THIS EVENT, HOWEVER, FELT LIKE THE WALKING WOUNDED AFTER TAYLOR'S CANCELLATION. (WHY THEY DIDN'T ASK TAYLOR'S ACCOMPANIST TONY OXLEY TO COME REGARDLESS AND PLAY SOLO PERCUSSION IS BEYOND ME.) MY EXPERIENCE OF THE FESTIVAL WAS CHERRY-PICKED, I'M NOT ASHAMED TO ADMIT, BUT I'D LOVE FOR ONCE TO TURN UP TO ONE OF THESE FESTIVALS AND BE OVERWHELMED WITH CHOICE.
The festival for me started with a lock-out, unable to gain access to the Charlie Haden Liberation Music Orchestra, which had been moved from outdoors to BMW Edge due to inclement weather. My first encounter with artist-in-residence Haden, then, was the screening of Rambling Boy. It scored high for featuring some incredible footage of the Ornette Coleman Quartet in their element, but I couldn't help but wish some of the choices of talking heads had been more inspired, and at points the film really lacked any kind of aesthetic backbone, relying too much on chronology and not enough on meta-musical content. More discussion of Haden's place in the free jazz ferment of the 1960s and 70s would have been appreciated, for example. The question and answer session after the film could have pushed the discussion of the overlap of art and politics much further, particularly given it's something Haden's spent plenty of time addressing with the Liberation Music Orchestra.
Charlie Haden's Quartet West played the following night at the Melbourne Recital Centre, a space that feels custom-designed for classical music. As such the sound left something to be desired, particularly Haden's bass: it's never a good sign when the star of the quartet you're watching is mixed out of existence. Some of Quartet West's music cloys, and the overarching theme of 'music for film noir' means things never really break into the feverish sweat I'm often after with jazz. But there were moments of revelation—a gorgeous rendition of Ornette Coleman's "Lonely Woman" that slowly, almost deliberately, expounded on the melancholy at the heart of Coleman's most enduring melody to great effect; and some of Ernie Watt's turns on the tenor sax, particularly his solo in the first piece, which had my neighbour turn to me and proclaim, 'it's just like Slayer'—precisely the kind of cross-generic thought that should be brought to bear on a lot more of these shows.
Then to the National Gallery of Victoria on Thursday night, for their early evening 'Art Chat', this time with Oren Ambarchi and Nels Cline as willing victims. Question time with Ambarchi and Cline was like pulling teeth. While it's hard to strike a balance between interrogation and openness, the questions felt remedial and stilted, and the answers were uninspired (if genial). The duo performance fared little better, partly due to Ambarchi's immovability—one of the negative side-effects of so clearly defining your own aesthetic parameters is that it can be hard to break free of your own concepts and engage with your playing partner. And while there's something to be said for the post-AMM, post-Keith Rowe 'laminal' approach to improvisation, where playing 'parallel' to those you share the stage with can provide some more intriguing outcomes than the traditional combative or 'call-and-response' modes of improvising, it didn't work here, and Cline's entreaties to coax Ambarchi out of his shell were met with paralysis.
Nels Cline's solo set supporting the Laughing Clowns fared better, if only because it allowed him the chance to move through ideas at his own pace. But there's something slightly unappealing about the phantasmagorical element of Cline's playing; his preparations and FX get in the way of the internal logic and credibility of his performances, such that you walk away feeling his aesthetic has been defined by his tools, and not vice versa. This is surprising, given the richness and individuality of Cline's music with the his trio or Carla Bozulich and Wilco. While he's not overawed by his kit, he's sometimes over-determined by it—that the moments where he plays it straight lapsed into clichéd jazz noodling or limp post-rockisms are, however, all the more puzzling. You risk being called a traditionalist within certain circles these days for asking a guitarist to play their instrument 'properly', but that's where Cline really excels, and it's a shame to have caught him in less than inspiring form.
If a lot of the Melbourne International Jazz Festival felt tentative, or ill-conceived, it seemed appropriate that Australia's Laughing Clowns should sweep in from outside of jazz and completely own The Forum's stage—indeed, this was final, irrefutable proof that we're dealing with rock at its best, not 'jazz-rock' or 'jazz-punk.' If anything, what the band achieves is the kind of group solidarity at a meta-level that great jazz groups aspire to and occasionally reach—that's their lasting relationship with jazz; it's nothing as base as generic similarity. There's a barely constrained fury at the heart of songs like "Everything That Flies" (the set's stand-out) which I'd only caught glimpses of at Sydney's All Tomorrow's Parties. More surprisingly, the way their group-mind unfolds has me thinking more of noise artists like Borbetomagus or Wolf Eyes—a surprising outcome, but the way they translate their energy into almost uncontrollable streams of white light recalls the most rock-reverent noise groups I've seen or heard much more than any of Kuepper's supposed 'peers.'
I guess that, structurally, finishing with the Laughing Clowns made sense—save the best 'til last, go out with a bang etc. But I left the Melbourne International Jazz Festival with a fairly sour taste in my mouth, largely because the opportunity of programming some genuinely provocative, risky shows was squandered. This is not a simple-minded call for more avant garde music. Truth be known, the problem wasn't even that both 'streams' (mainstream and underground) were under-catered—it was that you could coherently read these streams in the program in the first place. What happens when you throw away these archaic notions, when the rule book goes missing? We're probably going to have to wait a lot longer to find out.
2009 Melbourne International Jazz Festival, various venues, Melbourne, April 26-May 2
RealTime issue #91 June-July 2009 pg. 48
© Jon Dale; for permission to reproduce apply to realtime@realtimearts.net