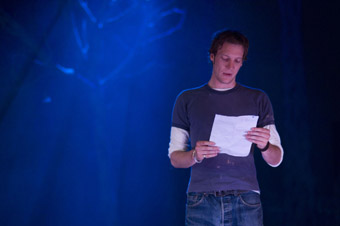 photo Shane Reid
Nathan O'Keefe, The Unchartered Hour
THIS UNCHARTED HOUR IS A HOME-GROWN CULTURAL PRODUCT, NURTURED THROUGH CREATIVE DEVELOPMENT BY DIRECTOR CHRIS DRUMMOND AND PRESENTED BY BRINK PRODUCTIONS AND THE STATE THEATRE COMPANY OF SOUTH AUSTRALIA IN ASSOCIATION WITH ADELAIDE-BASED CHAMBER MUSIC COMPANY, THE FIRM, AND THE ADELAIDE FESTIVAL CENTRE'S INSPACE PROGRAM. ALONG THE WAY, PLAYWRIGHT FINEGAN KRUCKEMEYER WAS AWARDED ONE OF THE 2006 PREMIER'S LITERARY AWARDS—THE JILL BLEWETT PLAYWRIGHT AWARD—FOR THE CREATIVE DEVELOPMENT OF A PLAYSCRIPT BY A SOUTH AUSTRALIAN WRITER.
The mechanisms of creative development demand cultural recognition of a project in advance of its production. What is recognised as 'cultural' in the process of development is a project's pitch and promise, its core components and key personnel. Program notes from the playwright recall the process of the work's projection as akin to the rise and fall of civilisation. "Great walls of ideas once set in stone would crumble and be rebuilt", wrote Kruckemeyer of the developmental process he undertook with Drummond and the artistic team assembled by Brink Productions.
The world premiere of This Uncharted Hour bears the hallmarks of a striving for cultural recognition. The play tells an intense family story of assured appeal. A son relives the trauma of growing up in a family stricken with grief. His mother lost a baby, then her husband's love. The set, designed by Gaelle Mellis with lighting by Geoff Cobham, has an elemental, existential feel: a bare tree stripped of its leaves, a park bench and a pool of water, a kitchen table and some chairs, a telescope for stargazing at the night sky.
The music, from composers Raymond Chapman-Smith and Quentin Grant of The Firm, is ensconced in European tradition. Their notes record how, in their composing, they embraced the lieder of Franz Schubert and the German poetry of the Romanticist Novalis and the modernist Rainer Maria Rilke. Schubert's 'Nacht und Träume' (Night and Dreams) is performed in the production by soprano Emma Harwood and pianist Jamie Cock, along with music composed by Chapman-Smith and Grant.
The two musicians and a baby grand are elevated inside a box cut into one of two walls which frame the set. At one point, the musicians are amusingly treated as recorded music. "Shut the fuck up", yells Nathan O'Keefe as Luka, the troubled son. Harwood stops singing and turns to leave. "Turn it back on", yells Elena Carapetis as Penny, the grieving mother. With a musician's patience, the soprano returns to resume her song. For much of the production, however, the mood is mournful and melancholic.
In her persistent grieving, Penny is attended by an ineffable Young Man, the dead infant had he grown up. Played with abstract clarity by Lachlan Mantell, the Young Man also haunts Luka, shadowing the living son's insecurities with moving precision and elusive poetry. Paul Blackwell plays Adam the husband who withdraws from his wife's grief by having an affair with Sarah, a single woman he meets while out jogging.
Michaela Cantwell's Sarah is enjoyably neurotic. Her breathless excitement at Adam's heaving attention, her experience of self-identifying frustration at the video shop and the singular solace she finds in eating chocolate ground her character amongst everyday things. Sarah's appearance in a peach-pink party frock with striking blue handbag and chunky blue shoes strikes an image more moving in its materiality than the poetry of the kitchen table and broken plumbing in the bathroom through which the breakdown of Penny and Adam's relationship played itself out. It led me to wonder about the production's aesthetic strategy of appealing to the poetry and music of European Romanticism while seeking to articulate modernist intensities of everyday experience.
Without the Romantic night-dreaming of Schubertian lieder to elevate the production's claim to cultural recognition, the everyday intensity of Luka's opening story about running over a dog may have led the production to more credibly aestheticise its sentimental investment in the cult of cuteness, that formidable cultural industry of babies and pets, of innocence lost and unconditional love, which now so pervasively promises delivery from moral distraction.
The production diverted this aesthetic challenge into the backwaters of Romanticism. In securing cultural recognition, its cloying sentiments languished exposed and unassailed. The Stillbirth and Neonatal Death Support Service lent to the production this little epitaph: "Some have a lifetime/ Some just a day/ Love isn't something/ You measure that way".
jet of blood
Antonin Artaud, whose celebrated idea for a theatre of cruelty has long rattled the presumptions of literary theatre, wrote just three play scripts. His first, Le jet de sang (Jet of Blood) from 1925, remained unperformed during his lifetime. The script is short: it takes about five minutes to read aloud. According to one source, its first production, for Peter Brook's and Charles Marowitz's Season of Cruelty in 1964, ran for just three minutes.
Olivia Allen's rare production of Jet of Blood for Ignite won the Best Ensemble award at the 2006 Melbourne Fringe and recently had a season in The Space for this year's Adelaide Fringe. Allen milks some sixty minutes of theatricality from the surrealist succession of images in Artaud's script.
A young man and his doll-lover torn from their bed. A scatter of body parts crash to the floor. A warrior cry-baby babbles away. A giant spider dances. A bird-lady feeds the young man mouth-to-mouth. A sex-starved priest feeds his ravenous dog-servant. A plague of scorpions escapes from beneath a woman's skirt.
Allen literalises each image within a hyper-theatrical flurry of cabaret makeup, costume changes, puppetry and running props, lighting shifts and scenic revelations. It is the remarkable sound design with live audio processing from Hayley Forward that gives coherence, zoom and focus to the flow.
The cumulative effect is rather cute, not cruel. This is game-play surrealism, recalled with fond nostalgia from our avant-gardist past and served up as sweet confection within the safety of a virtual world.
The Uncharted Hour, writer Finegan Kruckemeyer, director Chris Drummond performers Paul Blackwell, Michaela Cantwell, Elena Carapetis, Lachlan Mantell, Nathan O'Keefe, singer Emma Horwood, pianist Jamie Cock, designer Gaelle Mellis, lighting Geoff Cobham, composers Raymond Chapman-Smith, Quentin Grant; Brink Productions, State Theatre Company of South Australia, in association with The Firm and the Adelaide Festival Centre's iNSPACE program; The Space, Adelaide Festival Centre, Feb 9-24
Ignite Productions, Jet of Blood, by Antonin Artaud, director Olivia Allen, performers Amelia Best, Roderick Cairns, Grant Cartwright, Austin Castiglione, Julian Crotti, Simon Stone, Katherine Tonkin, Lara Tumak, design Adam Gardnir, lighting Luke Hails, sound design Hayley Forward; iNSPACE, The Space, Adelaide Festival Centre, March 8-11
RealTime issue #78 April-May 2007 pg. 36
© Jonathan Bollen; for permission to reproduce apply to realtime@realtimearts.net