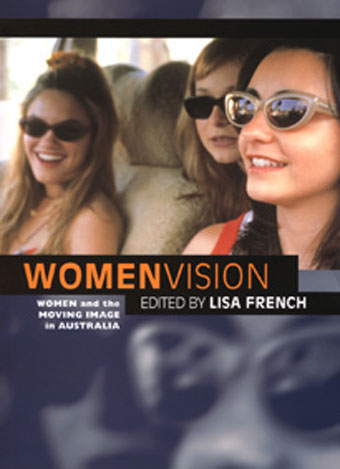 Lisa French ed, Womenvision: Women and the Moving Image in Australia, Damned Publishing, Melbourne, 2003
When Japanese Story blitzed the 2003 AFI Awards most of its honours were received by women. Given this, some might think that women have finally achieved equal footing with men in the Australian audiovisual industry. However, this is not quite the reality.
For all the success of female directors such as Gillian Armstrong, Jane Campion and Jocelyn Moorhouse, producers like Jan Chapman, and television executives such as Sandra Levy (head of television at the ABC), inequalities remain. According to the 2001 census, there has been little recent change in the percentage of women working in Australian film: 44% compared to the 43% recorded in the previous census year of 1996. Women represented only 28% of directors. Female producers fared better at 45% but writers fell from 50% to 39%. There are still few women found in technical areas even if there were significant increases in some of these occupations (Australian Film Commission, Get the Picture, www.afc.gov.au/gtp/oeoccupxgender.html Jan 2, 2004). While these numbers suggest many obstacles remain for women entering the industry, there are many remarkable stories of their considerable impact on Australian cinema.
Many of these stories are found in Womenvision, an anthology on women's participation in the Australian audiovisual industry, edited by Lisa French. By comparing Womenvision to a similar work published 17 years earlier, Don't Shoot Darling!: Women's Independent Filmmaking in Australia (Annette Blonski, Barbara Creed, Freda Freiberg, Greenhouse Publications, Melbourne, 1987), we develop a comprehensive understanding of important gains and contributions in different areas of the industry during this period. These achievements have taken place in a continually shrinking funding environment. Specific programs like the Women's Film Fund ended and funds for experimental and independent films, in which women filmmakers are still most likely to participate, diminished. The lack of funding for childcare is still one of the biggest barriers to many women remaining in the industry.
Womenvision is divided into 5 parts, bringing together perspectives on the historical, industrial, economic and social factors influencing women's input to the industry and how their works are critically received at the beginning of this new century. It includes personal essays from practitioners in technical occupations, ranging from director of photography Jane Castle's reflections on being behind the camera on mainstream productions, to the musings of Fiona Kerr, a 3D artist working for computer games companies. Also included are accounts from an animator, an editor and short, art, documentary and experimental filmmakers. These essays are mixed with scholarly texts on the history of women's involvement in the industry, the representation of gender and identity, the development of particular female character types, and discussions of the work of directors such as Monica Pellizari, Clara Law, Tracey Moffat and Jane Campion. There are also interviews with Ann Turner, director of Hammers over the Anvil (1991) and Dallas Doll (1994), and the successful team behind Japanese Story and Road to Nhill (1997), Sue Brooks, Sue Maslin and Alison Tilson.
All these entries are framed by a 'postfeminist' point of view. A difficult term to pinpoint, French defines postfeminism in her chapter "Short Circuit: Shorts and Australian Women Film-Makers" as a position that "essentially describes…re-engaging with feminisms to see how relevant they are." Postfeminism can be understood as a position that offers a more fluid vision of gender and identity (sexual and/or otherwise) than that proposed by second wave feminisms.
Certain entries in Womenvision, particularly those written by older practitioners, are nostalgic for the sense of community and sisterhood that characterised groups like the Sydney Film-Makers Co-op in the 1970s. One of the main goals of second wave feminism at that time was to raise women's political consciousness and actions under one uniform opposition to the patriarchal order.
A major omission in both Womenvision and Don't Shoot Darling! is any discussion of actors. Why don't the female faces that represent the Australian moving image industry in the global market merit attention? Why isn't there any discussion of the global attraction of celebrated and multi-award winning performers such as Nicole Kidman, or the multi-Emmied Judy Davis, Cate Blanchett, Toni Collette, Naomi Watts, Rachel Griffiths and Frances O'Connor? Why are Australian women performers so sought after? Does it have anything to do with how we nurture and develop their talents through our professional schools and how these link to the national audio-visual industry? What marks these actors as different? Do they have an impact on shifts in the representation of women and the roles available to them? These questions deserve consideration.
Like other anthologies, there is a certain unevenness in the quality of the writing in Womenvision, yet together the contributors strongly convey the diversity, creativity and dynamism of the Australian women involved in one of the most successful national audiovisual industries. Womenvision testifies to the fact that women have always and will continue to surmount obstacles to equality. As Lisa French notes: "the success of women in Australian moving image industries is attributable to hard work and talent; they have done it on their own merits—which are considerable."
See also Nathalie Brillon on Canadian Film Funding

RealTime issue #59 Feb-March 2004 pg. 24
© Nathalie Brillon; for permission to reproduce apply to realtime@realtimearts.net