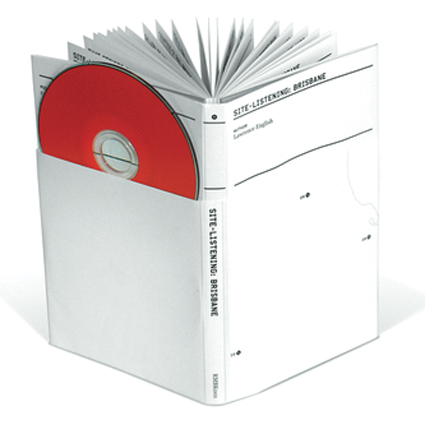 ite-Listening: Brisbane, Guidebook and 3" CD, Room 40
LAWRENCE ENGLISH WANTS US TO EXPAND OUR PERCEPTION. HE DOESN'T JUST WANT US TO PAY MORE ATTENTION TO SOUND, BUT TO PREFERENCE OUR EARS IN OUR SENSORY ENGAGEMENT WITH PLACE. THIS IS HARDER THAN IT SOUNDS. FOR ONE, OURS IS INCREASINGLY A VISUAL WORLD, FORMED, LIVED AND KNOWN THROUGH TEXT AND IMAGE. SECONDLY, OUR EARS HEAR CEASELESSLY, BUT OUR BRAINS ARE TRAINED TO PROTECT US, APPLYING 'NEUROLOGICAL COTTON WOOL' THAT FILTERS AND PROTECTS US FROM THE SHEER MASS OF AUDITORY INFORMATION WE ENCOUNTER IN EVERYDAY LIFE.
This idea is not a new one, as audiophiles know—the concepts of acoustic ecology and the human mediation of the environment through sound have been around for 50 years or more. English himself has extensively promoted the idea of careful listening to spaces to cultivate a sense of sonic aesthetics through phonography in some of the world's wildest places. His latest intervention is in many ways the natural next step for the project he terms site-listening—a handbook to guide the listener to experience and apprehend the sounds of various locations in and around South-East Queensland.
Site Listening: Brisbane invites us to offset our ordinary ocular-centrism in a guided tour of some 17 natural and manmade sites within the Greater Brisbane region. The book includes discussions of the act of listening in Brisbane, opening with a short essay by English outlining the project and closing with essays by Nick Earls and David Toop. The quintessential Brisbanite, Earls emphasises sound's snapshot function, pointing out how some of the most familiar and pervasive sounds in our day-to-day life—the beep of a reversing truck or the click of a resident gecko ("40 to a house on average")—haven't always been here but rather, over the last two decades or so, have insinuated themselves into the normal sound of living here. Though he also considers sound's transience, Toop provides an insight on the "bizarre, totally unfamiliar sounds" the city serves up to an outsider. One of his most memorable descriptions is of the evening roost of squabbling flying foxes, "hung messily from the trees as if a cargo of broken black umbrellas had been dumped from a plane flying overhead" and sounding like "a large man wallowing in a bathtub filled with squeaky rubber ducks."
The sites we are guided to in the book are precisely noted with a colour image, map and GPS co-ordinates and a short description of the possible sounds the listener may hear unfolding at different times of day. The guide covers the city's orifices: its airport, port, marina, railway and other major organs, like the football stadium and Gallery of Modern Art. The city's lungs are also included in the form of inner- and outer-city parklands, matchless wetlands and state forests. Throughout the book, English's highly attuned sonic sensibilities—both legacy and matrix of his field recording practice—result in fine-grained textual description of the sound-making structures and bioacoustics in each site. While the guide's locations, and numerous others, are listed on the project's website—part of English's ongoing and expanding mission to psycho-acoustically map Queensland—this little book is an important publication. An attractive object, its cover cleverly folding out to display an A4-sized map of the locations, it is only just bigger than an audiotape, making it the perfect size for a pocket when not being consulted on location.
Some Brisbanites may feel a little conflicted about the choice of locations. On the one hand, there is a particular thrill in revisiting a familiar location, such as the heritage-listed Highgate Hill lookout on the knoll of Dornoch Terrace, a popular spot during visually spectacular events such as fireworks and eclipses. The site-listening approach suggests "recommended time: late night." On the other hand, natural locations are incontrovertibly special sites, such as the Tinchi Tamba tidal wetlands teeming with life-giving mangroves. Many, if not most, are (largely) protected by state legislation, or at least widely acknowledged for their cultural and environmental value. In a fast-growing region there are other sites around this city that, though not yet recognised or protected, are just as important—"spaces where life occurs," to use Christian Norberg-Schultz's famous phrase.
While it's great to see mention of local, unofficial landmarks such as the Griffin Park bat colony, there is a rare opportunity here for advocacy on behalf of numerous other significant sites threatened by the city's insatiable hunger for space. Inner-city bushland, dwindling koala habitats and historic architecture critically endangered by 'sustainable development' in a rapidly disappearing Brisbane come to mind. Their non-inclusion means that the book centres on mainly known locations, and has longevity—it will still be relevant long after endangered places are developed. Then again, being mentioned in a book like this could prove very pertinent to ongoing efforts to preserve and retain these spaces. Considering the locations that are included, it's worth remembering that legislation can always be changed, and that even those places currently designated as reserves are only a planning decision away from permanent disappearance.
English mentions this constant flux, and in many ways this book's quiet insistence that we spend our time not just passing through or looking at, but paying real attention to 'place' acts as an implicit assertion of the public value of these and other shared landscapes. To visit the geographies mapped in this guide is to realise how readily the process of privileging sound reveals details the eye can overlook, and how much the 'spirit' of a place emerges from interactions between the environment and the human sensorium. The quiet act of dwelling intentionally in these locations generates an awareness of the small and meaningful within the infinite and the everyday. As Toop puts it, when we really listen to sites, what we hear, when we realise we are "just one moving point in a distinctive web of resonances, atmospheres, pressure waves, echoes, signals and silence," is our place within them. This may be the most valuable guidance of all: that landscape is not just something we behold with our senses, but something to which we are also beholden.
Lawrence English, Site-Listening: Brisbane, Guidebook and 3" CD, publisher Room40, catalogue no. RMBK001, design ORDNER, Ralph Steinbrüchel, sponsor Queensland Music Festival; http://sitelistening.com/; http://room40.org/store/lawrence-english-site-listening
RealTime issue #103 June-July 2011 pg. 42
© Danni Zuvela; for permission to reproduce apply to realtime@realtimearts.net