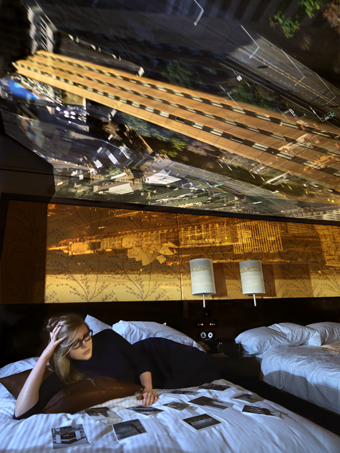 courtesy the artist and Stills Gallery Sydney
Room 2516, Shangri-la, Isobel (2013), Robyn Stacey, Guest Relations
In Christopher Nolan's 2010 feature film Inception, the city vertiginously bends, buckles and warps, inverting our sense of up, down and other dimensions. Although Nolan's trickery quickly runs out of puff—opportunities to play more radically with architecture and urban space are not taken up—the initial shock stays with you. A similar sensation is felt on first seeing Robyn Stacey's contemplative photographic exhibition, Guest Relations.
Although there is no movement or suggestion of it in these very still images, we see that the outside world has entered a number of rooms, turning walls into screens. Inverted cityscapes hover spectacularly over human figures at rest. Perhaps we are witnessing thoughts or dreams—or someone else's projections.
Stacey invites us to enter that familiar otherworld of the hotel room, that private/public domain that can be at once comforting and alienating. Most of the lone subjects (there's one couple) gaze outwards, though not at us. Some appear stunned or at least stilled. One is asleep with her back turned, one wears a sleep-mask, others appear self-absorbed, one of them meditating, momentarily unaware that they're being watched. Neither do they appear to register that, on the walls and ceiling that contain them, the world outside is encroaching and not in the form of any conventional view.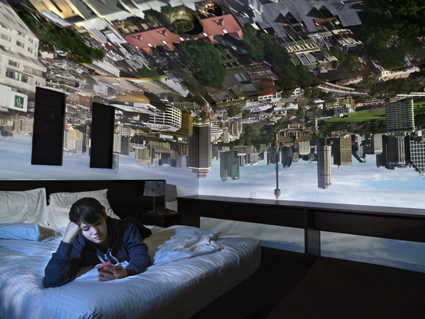 courtesy the artist and Stills Gallery Sydney
Room 1306, Mercure Potts Point, Jodi (2013); Robyn Stacey, Guest Relations
The effect is distinctly eerie, suggestive of subconscious states and fragmented narratives. At the same time, as with any illusion, you want to know 'how' this unnerving blend of the not-quite everyday of hotel rooms and the fantastic has been achieved. Stacey has employed the camera obscura (or pin-hole camera), an ancient technique (from at least the 5th century) that uses a pinhole of light in a darkened room to project the world upside down and reversed. She occupied hotel rooms, which often have very good city views, and invited friends and others to sit for her perfectly in silence for long periods, lit by a torch in order not to destroy the illusion with intrusive light.
Initially the result of a residency at Sofitel on Collins in Melbourne, the project was also played out in Sydney, Brisbane, Gold Coast and Sunshine Coast. In Sydney images, the Opera House spills over a bed and the ugly Toaster is rendered golden. The War Memorial hovers over the meditating man. Skyscrapers hang stalactite-like from the dark. Notably, there are no human intruders, just buildings and parks as if, perhaps, with their own agency.
Once you've grown used to the uncanniness of the images, their beauty and sense of inner calm take over, their suggestive complexity at odds with the simplicity of Robyn Stacey's truly dexterous deployment of simple means in a hi-tech age.
Robyn Stacey, Guest Relations, Stills Gallery, Sydney, 9 Oct-9 Nov
RealTime issue #118 Dec-Jan 2013 pg. 46-47
© Keith Gallasch & Virginia Baxter; for permission to reproduce apply to realtime@realtimearts.net