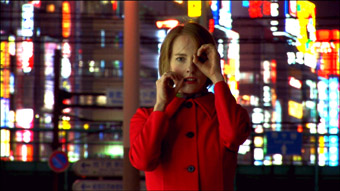 Shona Erskine, Will Time Tell? by Sue Healey
A woman in a red coat stands still on a street corner as traffic passes in front of her. We see her again as trains pass behind her; neon lights flash. She dances a jig along a travelator, moving the wrong way. She is seen in the grain of slow motion super8 film, alone with shoes off, leaping, turning and running. Sue Healey's dance film, Will Time Tell? offers a view of passing time through the speeded up and slowed down journey of this woman in red against the background of Tokyo. Yet, in the director-choreographer's approach to the theme of time, it is movement, in all its many forms, that is most strongly focused on.
The film opens with shots of the woman, dancer Shona Erskine, seated on a train, the flicker of colours from a window reflection trailing across her face. These shots are interspersed with Erskine performing a precise gestural sequence. With her hands forming alternately into binocular and camera shapes and neatly rearranging them across her face, Erskine shapes her vision or mimes the gestures of tourists, whose view is so often framed photographically.
Another scene has Erskine looking directly at the camera, laughing and approaching it with familiarity. These opening scenes are filmed on Super 8, evocative of the amateur footage of holidays past. This look and Erskine's short shift dress, all paisley-like swirls, could place her in the 60s. She is positioned against the Japanese background with her pale skin and bright red lips as an outsider, but the choice of costume seems to locate her as slightly out of time too.
The high definition scenes, however, locate the film firmly in the present, and also introduce the play with speeds within the frame. We see Erskine, still but for the jerking movement of her arms, at a train station, while trains and people appear and disappear in fast motion around her. She could be conducting traffic or simply being moved by all this bustling energy. Later, there is a slowed down tai chi like movement sequence performed by a group of Japanese dancers, with pedestrians passing by in real time. In most of the scenes, Erskine is seen slow against the backdrop of fast or real time motion of the outside world. Again, she is the traveller/outsider.
In a post screening discussion of Will Time Tell, Sue Healey noted that although the film began as an experiment in shooting in external light out of the studio, it is, like much of her recent work, preoccupied with notions of time. For a dance film (a hybrid of forms in which playing with time seems unavoidable) this concept seems a complex undertaking. However, Healey takes a compositional approach, each scene having a specific reference to time through speed, rhythm and directionality, as well as references to clichés such as 'time stood still' or 'marking time.' There is the literal journey of the traveller, of trains coming and going, but also a journey in the cinematic narrative sense, with Erskine as central character in a foreign city.
What emerges is a film that is not unlike a travelogue, dealing in the currency of memory or nostalgia that we are used to seeing on the screen. In particular, I am reminded of those tourism advertisements for Melbourne where a lone woman reminisces on her visit, as we see shots of her wandering streets, meeting with friends, eating, laughing and drinking. But Will Time Tell is much more than this. There is the framing quality of Ben Walsh's Japanese sampling soundtrack, the sheer radiance of Erskine's cinema screen presence, and most of all Healey's interest in choreography.
There is something about travelling in a foreign country and not understanding the language which makes movement and gesture apparent. Sue Healey's film captures this sense of travel, through the large-scale organized movement of trains and crowds to the particular details of friends meeting. In one scene Erskine is pinned against a fence, awkwardly close to a group who perform an intricate choreography composed of the gestures of shaking hands, greeting and laughing. Erskine's physically cumbersome presence highlights the sense of outsider through the particularity of movement in what would otherwise be a familiar scene.
The aspect I most enjoy in Will Time Tell? is seeing the fine precision of movement in Healey's dance vocabulary set against the wider, incidental movements of Tokyo, the city and its inhabitants. This recontextualising of the dance within this cinematic background allows a broader, more nuanced reading of Healey's choreographic terrain.
–
Will Time Tell?, a film by Sue Healey in collaboration with performers Shona Erskine, Ryuichi Fujimura, Makiko Izu, Mina Kawai, Yuka Kobayashi, Norikazu Maeda, director of photography Mark Pugh, composer Ben Walsh, editor Peter Fletcher; 2006