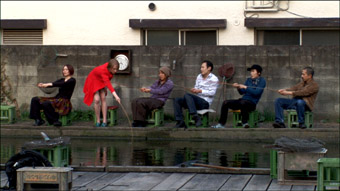 Will Time Tell?, Sue Healey
In her dance film, Will Time Tell?, Sue Healey follows a woman's journey as she explores an alien city in which she is an obvious misfit. Time is manipulated and transformed around this lone figure, through jump cuts, slow motion and reversals, as she discovers new faces and places in a world that is unfamiliar. She wears a bright, blood-red coat: the deep, velvety hue is reflected on her lips. Peering into the lens, her hands delicately placed around her eyes, inquisitively looking through these hand-made binoculars, she views a foreign landscape.
in this 12 minute experimental film Healey investigates notions of time—how time can change our perception of place and how place can alter our sense of time. Time is discombobulated and morphed within a constant flux of images. The film opens with colourful sweeps of light, moving past at hyper-speed. Horizontal streaks of light flicker over the film's focal subject, dancer Shona Erskine, her pale face lingering before the film cuts to an image of a speeding train—its details then becoming lost, blurring in and out of the frame.
The train, both friend and foe to the weary traveller, is an image repeated throughout the film. In one episode, I brace myself as I am taken on a joy-ride, the camera in the front of the train confronting its viewers with a fast forward wide shot. Like IMAX or virtual reality cinema, the screen seems to engulf even the peripherals of my vision and pull me into its world. I am out of my comfort zone: a music box plays as the audience is sped through the city in a flurry. Relief, the focus changes, back to observing. The red-sheathed figure, distinct in an environment of colourful fragments, intersects with others on a trajectory through time and space. Erskine forms brief relationships, which are all too quickly broken. Prolonged connections are rare for the lone explorer.
Though isolated, the woman shares a brief intimacy. In a tiny, seemingly claustrophobic restaurant, a man sits by her leaning on a small, rectangular table pressed against a window. They are soaring, sitting on the edge—observing, resting and folding napkins in nervous excitement. From a high-angle, over-the-shoulder shot we witness this awkward yet cosy interchange. The camera angle cuts to a view from directly behind, Erskine turning to us with a coy cheekiness as hands intertwine in an elegant dance with this stranger. They fold, overlap and tenderly touch, for a moment withdrawn from a frenzied, tumultuous world.
In another atypical moment of tranquility, in a little paradise in the hub of the city where the noise of the metropolis is stifled, carp bubble and splash in a man-made pond. The camera follows Erskine and others in a slow motion pan as they sweep their fishing rods across the water, in sync with perfect parallel spaces between. The sound slows, changing from an effervescent vaudeville-like tone to a light, calming one. The shift in dynamic makes Erskine and audience drowsy. We empathise with her—restless, jet-lagged and impatient—as she builds a makeshift bed out of three milk crates and fidgets to make herself comfortable.
Erskine awakes to navigate her way once more through this obscure, elaborate urban maze. She dances among others, though this time she is not the central focus. She is situated right of frame in a wide shot of a serene park in vivid contrast to the mechanics of the city. The dancers, in ordinary street clothes, move through a series of simple gestures, which when performed in unison create a dramatic choreographic structure. Erskine's sweet, subtle gestures juxtaposed with her expansive, wild movements, take her body on an adventure that leads her onto a hill top at sunset. Her silhouetted figure, positioned centre-frame in a wide angle, un-edited shot, dances her last dance, a silent goodbye.
The shot changes: the dancer's clothes remain but she has vanished. A shop mannequin is dressed in what once was Erskine's, her experiences and stories now seemingly lost. Sue Healey's Will Time Tell? has followed a woman and seen her sucked into a cultural vortex where she finds herself immersed in yet simultaneously cut off from a bizarre utopia.
–
Will Time Tell?, a film by Sue Healey in collaboration with performers Shona Erskine, Ryuichi Fujimura, Makiko Izu, Mina Kawai, Yuka Kobayashi, Norikazu Maeda, director of photography Mark Pugh, composer Ben Walsh, editor Peter Fletcher; 2006