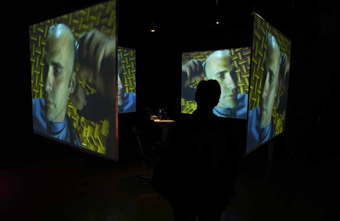 Iain Mott, Close, installation
Under the direction of Lisa Logan, Experimenta's major annual event for 2001 was more like a festival, with the Media Lounge at the centre of a series of screenings, events and web effluence on the theme of 'waste.' Black Box theatre was decked out for the occasion in an excessive pile of techno-garbage: old circuit-boards, mutated monitors, broken TVs, defunct phones and alarm clocks as well as the odd deformed bicycle and rusty compost tumbler. If the post-industrial wasteland aesthetic seemed a little uninspired, the theatrical décor provided a moody venue for a diverse collection of new media art. Twenty-one artists from Australia, India, Korea, China and the USA were billed as presenting works. Unfortunately, this was reduced to 20 when Katrien Jacobs' Libidot 2001: Sexy Flowers (USA) installation was unceremoniously removed an hour before the opening due to its pornographic content (see RTpost).
Easily the most memorable piece was Ian Haig's Excelsior 3000—Bowel Technology Project (2001), featuring 2 'super toilets' located in the centre of the space. "I was greatly relieved to see the 'Dunny Installation'", one visitor scrawled in the comments book. Indeed, this treatise in anal fixation provided a welcome escape from some of the more tired themes of Australian new media art (genetics, AI, etc). Literalising Paul Virilio's observation that high-technology has paradoxically disabling effects, Haig's twin sculptural assemblages are awash with lights, plumbing, hydraulic systems and other gizmos. It's a fantasy toilet, allowing the user to select, using a retro push button interface, various bowel motivation material to watch on small screens (including gushing mudflows which the artist calls "pornography for your bowel"). A dysfunctional excess of technology, like Terry Gilliam's Brazil, Haig's parody extends his work in the convergence of the utilitarian into the fantastic. With toxic sound by Philip Samartzis—including deep frequencies from under the toilet bowl—the work takes an old theme, the relationship of the body and technology, and makes it at once ordinary and perverse. Of the important precedents for exhibiting excrement culture in art contexts—Duchamp's urinal, Manzoni's cans of shit and Oldenburg's pop toilets—none is more participatory. As Dominique Laporte argues in his book History of Shit, the toilet contributed heavily to the creation of the bourgeois Western individual, so it was pleasing to see people enthusiastically embark on a public trip to the throne.
In Iain Mott's Close (2001) you sit on a barber's chair surrounded by 4 large video screens and, through the abnormal proximity of a soundscape offered by headphones, experience a haircut from start to end. The video shows a man shaved to his eyebrows against a sound chamber (which could almost be a virtual landscape or hair follicles), while binaural recording offers the unnerving feel of having your scalp scraped by a razor. John Tonkin's video These are the Days (1994), is more subtle, with its sheets of paper gently falling to the floor and a soundtrack counting them as they fall (courtesy of Philip Glass)—a shame it was presented in what was really a passageway.
Of the numerous interactives, Natasha Dwyer's Appeal R-Tip (2000) broke down the contrast between the rubble and all the desirable hardware by adding bits of rubbish to the keyboard and plastic wrap to the mouse. Presented on upturned rubbish bins, you place an order for trash, but the work really needs to be online. Same goes for Shilpa Gupta's Sentiment Express (India 2001), where we request love-letters from India behind a pink curtained booth. Other engaging Australian works were included, such as Leon Cmielewski and Josephine Starrs' Dream Kitchen (see RT 37 p22). However, the poetics of Korea's premier net artist Young-Hae Chang's flashy text work Samsung Project and Lotus Blossom, wonderful to break the monotony of routine computer use, was lost in this messy offline context. Similarly, a video projection of Quake excerpts by Chinese artist Feng Mengbo (Q3 1999) looked barely distinguishable from promotion for the game. Liu Wei's video of people scavenging to recycle bits of garbage in a Beijing rubbish tip (Underneath, China 2000), presented on a massive widescreen TV, seemed more likely to positively confuse our media imaginaries.
Waste was a befitting theme for Experimenta, since there's hardly another product in the world that contains as many hazardous materials and has such a toxic effect on the environment as the eternally obsolete outputs of the high tech industry. And, given that the the Media Lounge was evidently popular with a range of audiences, especially younger ones, perhaps it was appropriate that some of the work looked like the residue of a school display (such as a glib presentation of 'new media' at various historical moments – paper, CD, etc.). With the rhetoric of 'art for everyone' in the air, we have to accept the good with the bad; and hope there's room for the as yet unclassified.
Waste Interactive Media Lounge, Experimenta Media Arts, Black Box, Victorian Arts Centre, Melbourne, Oct 19-Nov 3. Unless indicated, works referred to are Australian.
RealTime issue #46 Dec-Jan 2001 pg. 20
© Daniel Palmer; for permission to reproduce apply to realtime@realtimearts.net