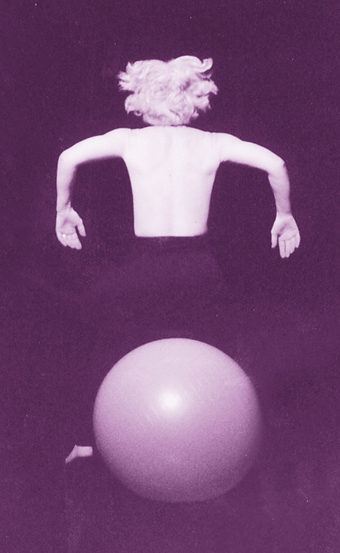 photo Andrew Beck, X -Events
Alice Cummins, No Fixed Point
There is an Old Law (God knows where it comes from) that says genres cannot be mixed. Yet, it would seem that the post-Star Wars audience demands that genres be mixed in a big way. So why is there so much policing of the boundaries in foyers around the land? Why is there always a little panic when dancers begin to speak? Perhaps it is something about the limitless intelligibility of rhythm and the abstraction of dance that sits as a burnishing trace element in the minds of the punters and irks them when genres are mixed. But genres need to be mixed. To know the law, we need to test the limit of the law.
Dancers are Space Eaters, the third biennial festival of contemporary dance at PICA, tested a whole clump of limits. Despite the attention to the issue, dancers using spoken text was not really a point of anxiety for this well-balanced festival. There was a strong blend of dance films, forums, performances, Q&A sessions, informal drinks, workshops, overseas guests and local artists with good attendance that created a buzz. A healthy blend of brilliant, promising, stupid, boring, inspiring, witty and contemplative work challenged established orthodoxy. One of the biggest challenges to dance earnestness came in the form of the new genre of stand-up-dance routines.
Grishia Coleman (a former member of the Urban Bush Women) one of the workshop teachers, volunteered a cheeky work-in-progress from NY called Modern Love. This was apparently a selection of scraps and vestiges from her a cappella group's performances which are terrific, I am sure. This solo performance, however, did not amount to much more than bits of 'choreographed music', pseudo-sci-fi-mic jabber, a bit of cello, a pinch of Cab Calloway and a tantalising refusal to dance. However, Grishia did advance the dull dance/text debate by theorising the possibility of incorporating movement, music and song in an integrated whole—I only wish I'd seen it in practice.
Rakini's R.E.M (Rapid Eye Mudras) were by turn titillating, captivating, thought provoking and yes, she did dance, and I thought how much can be said with just one swirling hand. Yet it was her text that made this a very funny performance. Indeed, if a common theme did emerge in the 3 weeks of this festival, it was the place of stand-up, shimmy-down, movement-comedy in postmodern dance. It all went beyond burlesque and into off-the-cuff, witty soft-shoe one-liners. There was no need for the safety of parody. Strange Arrangements and Sete Tele & Rob Griffin were hilarious. But Wendy Houstoun is the Woody Allen and Dawn French of solo movement theatre.
Happy Hour was an incredibly exciting stand-up site specific performance at the Fuel Bar. Houstoun became barmaid then barfly, bouncer then blousey raconteur in a precise observation of the narrative arc of a drinking session. Happy Hour is made up of all those meaningless fragments of bar room crapola—it is an essay on loneliness, petty stupidities, and poignant clichés. "The artist who wrote this song is a fucking genius" is repeated again and again, spilling the uncanny madness of drinking intimacies across the sodden floor. "It's just rubbish!" says Houstoun in her perfectly pitched quiet voice (that insinuates this is not a performance), as she points to an ashtray or the performance or what we may think of her performance. Her twisted idioms brim with double shots of humour that gradually transform into strangely insightful mini-tragedies as the perspiration drops slide down the glass. Here there are no questions about the text/movement brew—it's a heady mix. It is performance at the limits. The audience didn't know these limits or where the end was—well it was at a Peter Stuyvesant after unceasing applause.
Melbourne's Trotman & Morrish gave us Avalanche, for the first 10 minutes a sublime dream of cardboard box minimalism taped with pregnant poignancy. Beautiful boxes. Great lighting. Unfortunately, the sublime dripped into the soporific and then into a yawning disappointment. Although along with Morrish, I too fetishise cardboard boxes, his stand-up box-kissing routine did not explore the full eroticism of a big, clean, hard cardboard box. The movement caused no groundswells and did not articulate anything new or old or witty or scopophilic.
Alice Cummins and Tony Osborne's No Fixed Point was just that, an endless slippery chain of moments, movements, phrases, fragments, passages, blurbs, bits and jokes. I have never before seen so sumptuous a performance retrospective. This was a tantalising journey exploring the artists' favourite fragments from their solo and collaborative works over the last 9 years that for me have set the standard (but not the limit) for the genre. The chronological segments of the 7 works slid into a cohesive, dynamic unity and allowed an insight into 2 extraordinary performance careers. The extracts from No Fixed Point (1991) at the beginning of the evening looped piquantly with the new work The Perfect Couple (1999) devised specifically for the festival. The measured mad chase, passion and release of the first piece flowed into the desperate possessiveness of the last. Both performers displayed exceptional simplicity and pure madcap. For both the devoted audience and the performers it was a highly emotional evening, rare in this unsentimental city. It may have been prophetic that in tackling the difficulty of recreating old works, Cummins and Osborne signalled new beginnings. (And have left Perth for Sydney. Eds).
A weekend of 20 or more dance films and videos was an excellent and rare introduction to contemporary choreographers, many outside Australia—where this genre is more common. It's hard to tell in what order these video performances were made—stage and then video or self-sufficient films with movement. Probably a healthy confusion. My favourites included the 2 sexy and robust pieces by Cholmondeleys and the Featherstonehaughs, Cross Channel and Perfect Moment (great art direction); Gravity Feed's strangely affecting Bridge of Hesitation and The Welsh Men of Canmore's inspiring Men, filmed in the Rockies with old fellas shaking more than their tail feathers.
But the 2 most powerful, voluptuous and mesmeric films were DV8's Dead Dreams of Monochrome Men (UK 1989) and Iztok Kovac's Vertigo Bird (Slovenia 1996). They were erotic in wildly different ways but both focused on the rough trade flat out cool passion of the scrambling escape from concrete spaces. A pregnant woman dancing hard on harder tiles and men hitting hard dance club walls even harder. These were visceral, explosive, full-contact ruminations into social spheres and hard body politics that left me screaming for more. They were even better on second viewing. Dancers are Space Eaters is a vital, edgy festival of contemporary genre-busting that rocked my boundaries.
Dancers are Space Eaters, Perth Institute of Contemporary Arts, October 18 – November 6
RealTime issue #34 Dec-Jan 1999 pg. 31
© Grisha Dolgopolov; for permission to reproduce apply to realtime@realtimearts.net