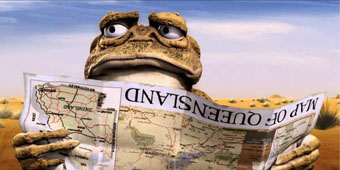 Cane Toad—What Happened to Baz?
For the 2003 AFI Awards, "a panel of accredited industry professionals" whittled the list of 47 short fiction and animation films down to 4 finalists in each category. It's a lot of whittling and in the process you're always going to lose something. In the case of animation, the loss is serious and the outcome is a misshapen vision of the artform in Australia. What were these professionals thinking? The Projectionist (14 minutes, director Michael Bates, producer Anna Messariti), already an international prizewinner, is one of the most striking works of animation of recent years. Perhaps, with its pixilated human performers and its real city setting there was uncertainty about its status as animation; perhaps the slow unfolding without apparent narrative—rather a reverie, a state of being—didn't engage the judges in this post-postmodern era of chronic addiction to story-telling. It's small compensation that The Projectionist snuck into the nominations for Best Achievement in Sound and for Cinematography in the Non-feature film categories but not for Short Fiction or Short Animation.
Competition for the big prize between The Projectionist and that other international prizewinner, the clay animation Harvie Krumpet (see the interview with director Adam Elliot, RT#57), could have made for instructive comparisons and a telling outcome. Both entail particularly intensive methods of making, both evoke the life of a solitary European migrant and both implicitly pay homage to the animation traditions of middle Europe. Both are unusually serious in tone for animated film in this country even though one is patently comic. Both share the European penchant for metaphysical whimsy. As the situation stands, Harvie Krumpet will easily sweep the board. Although its competitors are finely crafted and one of its number almost has the wit to rise above a conceit, Elliot's labours are so intensive at some 20 minutes of animation, and his mood so consistently droll and adult, that he must win.
What of the other contenders? Cane Toad—What Happened to Baz? (directors David Clayton, Andrew Silke) is expertly made digital cartooning, an episodic gag (with a clumsy title) about the various nasty fates likely to beset these voracious, cute-ugly predators. The cruellest, for a yob toad it seems, is to be stuffed, dressed in a tutu and stuck in a tourist shop window. That's Baz's fate. In the meantime and in the tradition of the American animated cartoon, his fellows meet gruesome ends, the most spectacular being dismemberment by a Victa mower with a spray of toad blood and guts across the lens. Unlike their animated US cousins these guys don't bounce back to life: Cane Toad's fatalism is much more thorough. What's more, through its beer-swilling cane toad narrator, the film's anthropomorphism plays back as a metaphor for the dumb Australian male—loves a yarn, a good laugh at fate and enjoys a bit of Schadenfreude. Slender, if grimly enjoyable stuff, best in the volume of visual detail and some nice play with point of view. Cane Toad—What Happened to Baz? won a Triple J Moonlight Framebreaks competition and is screening in international competitions.
Susan Kim's Mother Tongue (6 mins, producers Lea Croydon, Susan Kim) reminded me of a few precious, illustrated books for children, fundamentally still and painterly, beautiful if static. However, compared with the big picture lives of The Projectionist and Harvie Krumpet, Mother Tongue is unusually specific (though it shares the migration theme). It focuses on a period of adaptation in a Korean child's life. Her father migrates to Australia ahead of her family. She is told he has "gone on an adventure." She manages by making him a sound tape everyday. She also learns English—we see words and human figures on the textbook page magically unfold and dissolve. The sad coda to this quietly reflective animation is the narrator's comment that "I never spoke my language again." Though not particularly compelling, Mother Tongue does open up some cross-cultural territory, not least in its visual style.
One viewing of Hello (director Jonathan Nix; 6'30 mins, produced by David Atkinson, Jonathan Nix, edited by Jeremy Parker) didn't seem enough. Again, the isolation of the protagonist is central, but here love solves that. The conceit is a nice one, a humanoid world where everyone has a sound device for a head—the central male has a portable cassette-radio player atop his shoulders, his beloved a CD Walkman with small speaker 'ears' and a sage, aged acquaintance an antique turntable and horn speaker. The deftness of the line drawings (hand drawn, ink on paper and 2D and 3D animation), the imaginatively realised backgrounds and the swelling, movie-ish fantasy of the conclusion elevate the slightness of the material and a conceit that is not taken very far…but perhaps far enough when the protagonist plugs into his beloved. Hello has received an AIM Graduate Award and Best Animated Production and Best Use of Sound in an animated production in the 2003 ATOM Awards. You can see drawings and clips from the film at http://studionix.com/hello.html. Nix is clearly an animator to watch if he can make more of this material.
Harvie Krumpet (23 mins, director and animator Adam Elliot, producer Melanie Coombs, editor Bill Murphy, sound by Peter Walker) is quite a feat, a carefully measured tale of feelgood misery coolly narrated by Geoffrey Rush. This mini-epic packs a lot in without ever feeling hurried: a European peasant birth, Tourette's syndrome, migration to Melbourne, magnetisation by lightning, the pleasures of nudism, a tussle with testicular cancer, a thalidomide child, a dead wife, life as a hermit, as clinically insane, as a drunken finger puppet street performer and, finally, in a home for the aged, as a near-suicide. But Harvie persists, though it's not always clear why, especially towards the end of this fraught life of disadvantage, disability and loss where Elliot seems happy to have us simply believe in Harvie's will to live and sentimentality overtakes an otherwise carefully constructed pathos. It hardly seems enough to be reassured by one of Harvie's sustaining aphorisms: "life is like a cigarette, smoke it to the butt." I began too, to doubt that I had heard mention of Tourette's, since curiously, nothing is made of it. Nor is there much to be made of Harvie's cultural transposition. Nor is the internal logic of the film always clear in its unfolding of Harvie's catalogue of considerable woes, but we learn to accept its quiet relentlessness and his cartoon character durability. As ever, Elliot forgoes spectacle and for the most part keeps a lid on sight gags, focusing instead on character and detail, looking to amuse and to disturb (most affectingly with a limbless child). Although his technique is conventional claymation, perhaps it's Elliot's seriousness more than anything which has won him plaudits and awards (at Annecy this year: Palmars du 27th Festival du d'animation Prix FIPRESC Press Award, the Prix du public Audience Award and the Prix special du jury; and Leeds, the Louis Le Prince award in the short film animation competition).
As the longest of the nominated animations and the most thought-out and sustained, Harvie Krumpet is clearly the winner. However, while the quality of the other contenders is not in doubt, it remains a pity that The Projectionist wasn't admitted to do battle with Harvie. For the record, The Projectionist has recently added best Experimental Film, LA Short Film Festival (USA) to its growing list of awards that include the Kino/Dendy Award for Creative Excellence in an Australian Short Film (Melbourne International Film Festival), Grand Prix at the Tampere International Film Festival (Finland) and Best Experimental Film Atlanta International Film Festival (USA).
The AFI Award For Best Short Animation was won by Harvie Krumpet. The AFI Award for Best Cinematography in a Non-Feature film was won by The Projectionist .Hello was awarded Best Sound In A Non-Feature Film.
RealTime issue #58 Dec-Jan 2003 pg. 21-
© Keith Gallasch; for permission to reproduce apply to realtime@realtimearts.net