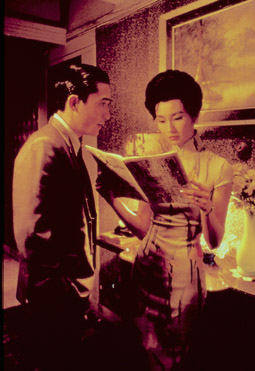 Tony Leung & Maggie Cheung, In the Mood for Love
Tony Leung Chiu Wai is one of the most sought after actors in Asia, having made by his estimate 60 films, among them John Woo's classics Bullet In The Head and Hardboiled, Hou Hsiao Hsien's City Of Sadness and Flowers Of Shanghai and Tran Anh Hung's Cyclo. In July he will begin shooting alongside Maggie Cheung and Zhang Ziyi (of Crouching Tiger fame) in Zhang Yimou's new film and foray into the Chinese swordplay genre. He is on his first ever visit to Sydney and Melbourne to promote his new film In The Mood For Love, in which he plays an understated role opposite Maggie Cheung as they discover that their mutual spouses are having an affair. At a public appearance in Sydney's Chinatown he was mobbed by enthusiastic fans. He has arrived in Australia without entourage or interpreter, and has a gentle and unassuming manner.
Wong Kar Wai has said that the time in which In The Mood For Love is set holds a lot of memories for him. What memories does it hold for you?
I was born in Hong Kong in 1962 so I still have some memories of that time. The situation was the same for me (the shared apartment of In The Mood For Love). We needed to share everything with others, I mean the apartment and our privacy too. So I was shocked on the first day I went on the set. It was almost the same as when I was a kid. I think the relationship between people, between neighbours was very close at that time. People seem to be more isolated now.
Tell me about how you got into acting?
It was by coincidence. I wasn't satisfied with what I was doing at the time…I was a salesman of home appliances and I couldn't see my future even if I worked hard. Suddenly one day I saw something on TV, they were looking for new talents, so I got into the training class and I found that it was very interesting. Somehow I found a way to express myself in front of others without being shy. Mainly because of my background I'm very good at hiding my emotions and I keep everything inside. So after I get into training class I find a way to express myself, I can cry, I can scream, I can do everything. I enjoy the process and I love acting because it's a kind of therapy for myself, a way in which I can express my own emotions. But I don't do it for fame or money, so I don't really care about it; fame means nothing to me.
You're happy about winning best actor award at Cannes for your role in In the Mood For Love?
Yes. I was also nominated in 1997 for Happy Together…(I was at Cannes and) at the last moment they asked if I was still there so everybody thought I'd get the prize. There were only 2 left in the final, that is me and Sean Penn, but finally I lost it. I was quite upset at the time. We don't do movies for any prize, but once you know that you have a chance you want it too. So I thought, it doesn't really matter I'll come back again. So I went 3 times in 4 years and the last time I got it, so I think maybe last year was lucky.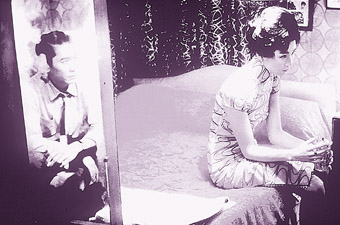 Tony Leung & Maggie Cheung, In the Mood for Love
With In the Mood For Love, there are some publicity shots with Maggie Cheung which suggest it might have been a very different film. Were you surprised when you saw the final cut?
Of course, every time I was surprised, every time he (Wong Kar Wai) will surprise me. No-one knows what the story is about before the premiere, so every time when I see the movie I feel very frustrated. I was always looking for the missing parts: "Where is the love scene? Where is the scene I have with Maggie?"
You've worked with Wong Kar Wai through his directing career. What's he like to work with?
He is very good at telling stories and he is very talented, very casual, very cool and always wears sunglasses. I don't know what's going on behind those sunglasses. He is the first director who can get rid of my Method acting because the way he makes movies without a script; everytime it's like making an adventurous journey, you know we don't know anything, what will happen next, so it's quite challenging. It's another way of making movies especially for an experienced actor who has a lot of knowledge about acting and some stereotyped expression. So working with him is something different.
What's the hardest thing that he's made you do?
I think the hardest thing is making Happy Together. At first when he approached me he asked me to play a gay role in the movie and I said, "I don't think I can do that", and ends up he gave me a fake script and flew me to Buenos Aires. After I settled there for one and a half months he said "I think (if) you play a gay guy it would be more interesting." I said, "What?" But what can I do, everybody was there and everything was ready (pause) and I find out that I'm playing a gay guy. But I finally did it.
You've also worked with another of Hong Kong's greatest directors, John Woo.
When I was working with him on Hardboiled I said, "We shouldn't do this scene like this, I can't cry in front of others in this scene." And he said, "No, I think we should do it." I said "Okay." He's very hard to compromise, he's very stubborn, but he's very nice.
Have you been offered any roles that might tempt you to Hollywood?
I have received a lot of offers in the past few years but I think the characters for Asians are very restricted as you can see—gangster or martial arts roles. Actually I never think of establishing my career in the States but I don't mind if there's the right character…If the project is interesting and the people are interesting, it doesn't really matter where you shoot that movie.
You've never wanted to leave Hong Kong?
I love Hong Kong. I don't have a reason to leave. No matter what happened to my place I won't leave.
In the Mood for Love, director Wong Kar Wai, Dendy Cinemas, screening nationally; see page 14 for Simon Enticknap's review.
RealTime issue #42 April-May 2001 pg. 13
© Juanita Kwok; for permission to reproduce apply to realtime@realtimearts.net