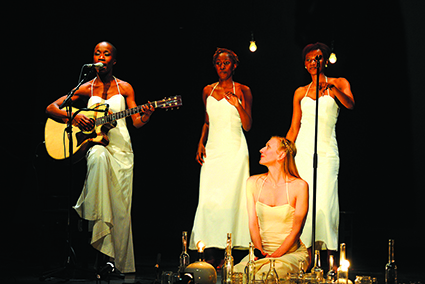 photo Mark Alan
Desdemona
"I'm thinking it would be more fulfilling for the viewer if she or he had read Othello." Toni Morrison, NY Times, October 2011
Filling in at short notice for our reviewer suddenly confined to quarters with a twisted ankle and having no time to read the play, I invite a friend to accompany me to Desdemona, a former schoolteacher who'd spent the best part of a decade casting light on Othello for students. As it turns out, a close knowledge of the play proves in her opinion to be more of a disadvantage.
In his personal introduction, director Peter Sellars prepares us for a meditation. The stage is suitably serene—four narrow mounds of soil embedded with soft fluorescent light and glass jars containing candles as might be encountered in a burial ground. Desdemona's ritual reappraisal of the events of Shakespeare's play is carried out in the after-life.
The production works multi-vocally. Desdemona (Tina Benko) slips the confines of the play to recite her version of events in the slow, sensory, 'right on' tones of Toni Morrison, at times dropping into a resonant bass to channel Othello himself. In contrast, Malian singer/composer Rokia Taororé, eyes often downcast and with minimal gestures, delivers a smooth and sensuous counterpoint in song accompanied by two female vocalists and two musicians on traditional African instruments.
A word in Shakespeare's text provides the impetus for Morrison's departure—mention of "Barbary" and, following quickly on, the possibility that the maid who raised Desdemona was African and strongly influential in her upbringing.
There is a sense at the outset that we're in for some revelations. Traororé as Barbary is a graceful presence, her strong words at the outset instructing the desultory Desdemona ("My name means misery") in her feminine powers. But as the ritual unfolds and the rhythms of Sellars' staging recur, the conceit drifts into question. "I am not the meaning of a name I did not choose," says Benko's Desdemona and I wonder, for instance, just how far a character may stray from the mind that imagined her and still answer to that name.
Distracted now, it occurs to me that an audience seated in the round or at closer quarters might have more sense of connection with this work. As it is, in the large space of the Sydney Theatre, the static Benko's voicing of three characters now—she has added Iago's wife Emilia—is having a distancing effect. Though Rokia Traroré's songs attempt to disrupt Desdemona's view of her predicament, she still appears to see herself through the eyes of her lover—taking on his voice, giving the impression she's possessed by this man's spirit or that the two exist in the one body.
"What happened to Iago and jealousy?" whispers my friend. Next day she emails, "Othello's tragedy is that he doesn't know himself and he's coerced by the deceitful Iago into betrayal, believing that the innocent Desdemona has been unfaithful to him with Cassio. He's already jealous of Cassio and willing to trust Iago over the woman he loves."
Wednesday and we're still tossing it around. Certainly, we agree, there's beauty and pity in Traororés music, which is full of sad restraint. But we'd expected Toni Morrison might have something stronger to say about this tale of a good and trusting woman going willingly to her death at the hands of her lover.
And then, in this production Desdemona is faced with an unlikely confession from Othello to a secret shared with Iago that they had raped two elderly women watched on by a young boy. Refusing forgiveness, Desdemona professes enduring love and surrenders once more to her fate. But, we wonder, where is the regret beyond that final line, 'We should have talked about this'?
By Friday the two of us agree that while we've enjoyed talking through Desdemona, what Toni Morrison has described as a 'talking back' to Shakespeare is perhaps less revealing than a more directly engaged dialogue with the play might have been.
Desdemona, Toni Morrison's Re-imagining of Othello, Director Peter Sellars, Sydney Festival 2016 Roslyn Packer Theatre, 23-24 October
RealTime issue #130 Dec-Jan 2015 pg. 47
© Virginia Baxter; for permission to reproduce apply to realtime@realtimearts.net