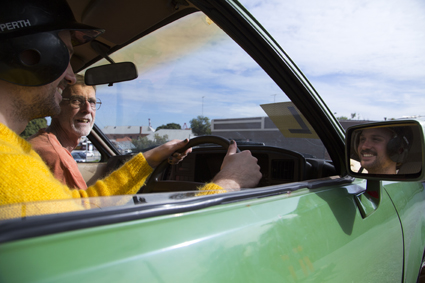 promotional photo Tarryn Gill
Proximity Festival 2014
Proximity Festival, Australia's celebration of one-on-one performance, finds big dreams, plans and talents being brought to bear on the most intimate artistic performance experience.
Proximity Festival 2014 has a new home at the Fremantle Arts Centre for its three programs running from 22 October to 2 November. Producer Sarah Rowbottam has been sharing the helm with co-founders James Berlyn and Kelli McCluskey since the festival's inception, and is enthusiastic about the many "firsts" added to the one-on-one performance festival's composition each year.
2012 welcomed the first Proximity Festival, with daily bumping in and out of an eclectic collection of shows at The Blue Room Theatre in the middle of the frenzy of Fringe World, where it won the Spirit of Fringe Award. 2013 found Proximity Festival occupying an entire venue, enjoying more established settings in the studios, gallery spaces and random nooks and crannies of PICA and introducing the public Symposium and artists' Lab programs. This year, moving away from Northbridge to the Fremantle Arts Centre, the Symposium program has changed to include all festival artists in the keynote, an intensive weekend Masterclass for the general public has been introduced, a national curatorium has been assembled and artist Julie Vulcan has been invited in as provocateur, bringing new ideas and experience to the core curatorial team.
The 12 micro-performances range widely not only in their use of space, but in the scope of their coverage of artistic practice and topics. Rowbottam is enthusiastic about the power of the "subtle but strong messages" possible in the un-themed collection. In Let's Make Love, Jen Jamieson scientifically examines the bonding hormone oxytocin with you, but minus the romance, while in The Queue, Toyi-Toyi Theatre will test your 'Australianness.' Air from different eras generates atmosphere in Emily Parsons-Lord's Different Kinds of Air, A Plant's Diary; voices lead the way in Dance with Me by Sylvia Rimat; and Ian Sinclair's Learner may cause stress as you teach him how to drive. Vulcan says, "some of the simplest ideas are the most beautiful" and some of the most basic ideas are also the most evocative. "Not all performances in a program will affect you in the same way. Even if only two out of four capture your attention, the other two are a bonus, which would be the case in any hour-long performance", just as most staged theatre, consisting of spaced climactic points, will not be uniformly compelling.
Three programs of four shows apiece accommodating a total audience of 12 each night work against the aims of most arts festivals. Stepping away from the notion of bigger being better, Rowbottam cites fellow festival founder James Berlyn's belief: "There are equally big pay-offs for audience and performers in small-scale, intimate and one-on-one works"—a philosophy that sees Proximity Festival create a space for the audience and artist to grow and create something new with each and every performance.
Before the festival, the artists are put through a two-week developmental program, Proximity Lab, overseen by the festival's provocateurs, a process that Rowbottam says is "important in breaking preconceptions." The Lab and Masterclass also bring together artists with an interest in the form. Vulcan is enthusiastic about the "richness of gathering artists together, an inspiring aspect" that develops one-on-one practice. And the festival is educating audiences about this artform; she is confident that "growth will come through word of mouth."
Rowbottam is also keen on making artists self-sufficient beyond discovering the essentials of their art, with a pragmatic workshop on how to market themselves and create opportunities in the commercial reality of the contemporary art world. Alongside developing a sense of the global market for one-on-one works, Rowbottam wants artists to "keep to the spirit of the performance, while considering everything that can go wrong," to consider personal and artistic boundaries both for artist and audience in the potentially confrontational nature of one-on-one presentation. Vulcan says that artists "can forget about the needs of the audience and assume the audience wants to be there and creating with them." As provocateur she encourages the artists to think in terms of an exchange of gifts via performance, to consider what is being given and on what levels.
With a national curatorium, guest provocateur, a more diverse opening night, its Lab and Masterclass, Proximity Festival is finding every way to grow, save for raw audience numbers. But each night is sold out. More inquisitive audiences seek the experience of participation. The opening night Party for 1 promises to be lots of fun, with lateral thinking shaping the planning process. Rowbottam reminisces about rejected plans for 2013's initial opening night, which included sitting down at the bar for a quiet drink with all 12 audience members, but this year's plan looks more interesting, offering a celebration of one-off performances, music and "hidden surprises," along with the cake. Even the keynote speech at the Symposium is evolving, with the 12 performers each delivering intense insights into their work with one-minute manifestos.
Proximity Festival 2014 promises great things, not only in itself, but in the development of artists, audiences and tourable works in the years ahead.
See RealTime Profiler 6 for Ben Brooker's interview with Cat Jones, a 2014 Proximity Festival artist.
Proximity Festival 2014, advisor, provocateur James Berlyn, co-curator, producer Sarah Rowbottam, co-curator Kelli McCluskey, provocateur Julie Vulcan, artists James Berlyn, Caroline Garcia, Jen Jamieson, Cat Jones, Loren Kronemyer, Tanya Lee, Emily Parsons-Lord, Sylvia Rimat, Hallie Shellam, Ian Sinclair, Alina Tang, Toyi-Toyi Theatre; Fremantle Arts Centre, 22 Oct-2 Nov; www.proximityfestival.com
RealTime issue #123 Oct-Nov 2014 pg. 13
© Nerida Dickinson; for permission to reproduce apply to realtime@realtimearts.net