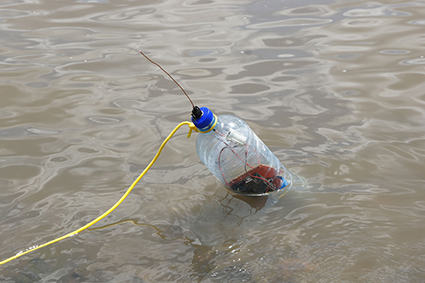 From Landung in Australien, an exploration of refugee and asylum seeker policies presented by QUT Creative Industries Precinct and Christoph Wachter & Mathias Jud as part of Move On:European Media Artists in Residence Exchange
Three reports, two months, one message: our detention centres cannot stand.
On 15 February, the government tabled the Australian Human Rights Commission's Forgotten Children report. The horrific details include women deciding to terminate pregnancies rather than raise their babies in detention, infants saying 'officer' as one of their first words, toddlers learning to walk in areas infested with crabs that have "claws strong enough to remove a human toe with ease," children being toilet-trained in bathrooms flooded with urine and faeces, teenagers self-harming on numerous occasions, one being revived after a suicide attempt, mothers cutting themselves with broken plates and attempting to suffocate themselves with plastic bags, a profoundly deaf family living without hearing aids for over six months meaning that they were completely cut off from everyone in the centre, and detainees being called by number rather than by name, 14 years after the Flood Report condemned the practice. In short, conditions are the worst they have ever been.
But none of this got any attention because the government was too busy attacking, and the media too busy defending, the AHRC's President, Professor Gillian Triggs. Two weeks later, the same pattern of independent report, government reply, media reproach and public indifference replayed itself in response to Juan Mendez, the UN Special Rapporteur on Torture. Meanwhile, the government sat on the Moss Report into Recent Allegations Relating to the Conditions and Circumstances at the Regional Processing Centre in Nauru, finally releasing it on 20 March. Unlike Triggs, Moss was able to visit Nauru and did so twice, interviewing detainees as well as staff. It is arguably the most detailed and most damning of the three documents, confirming reports of physical and sexual assault, rape and corruption. Yet still, silence.
These reports and their receptions have become performances, which is not to say that they are false—far from it, they are lethal and they are real. Rather it is to say they have become social scripts or cultural rituals through which we enact our grief, guilt and ultimately apathy. For what are we to do?
For policy makers, the difficulty is that Australia has had two periods of minimal boat arrivals and they have almost nothing in common. The period from 1981-92 was underpinned by strong regional cooperation, first through the Orderly Departure Program and then the Comprehensive Plan of Action, and the policies of mandatory detention, interdiction, excision and the like were unheard of. By contrast, the period from 2002-08 was underpinned by the Pacific Solution, which relied precisely on those policies as well as offshore processing and temporary protection visas. Currently, we seem to have a nightmarish 'solution' that combines the worst of both worlds, by effectively regionalising the dirty work of detention and outsourcing the difficult work of resettlement to the nations least equipped to deal with it.
For artists, the problem is two-fold. When more than 12,000 asylum seekers arrived by boat in the period from the beginning of 1999 to the end of 2001 (the so-called 'fourth wave'), artists responded almost immediately. In the wake of the Tampa incident, the Pacific Solution, the Children Overboard election and the sinking of the SIEV X, these responses increased exponentially. There were scores of novels, poems, plays, performances, installations, films, painting and photographs (see our archive). In 2008, when the then Minister for Immigration Chris Evans announced that the Labor Party would seek to wind back the worst of the Pacific Solution, there was a sense of pride among the artistic and activist communities: together, their many 'moments of resistance' had contributed to a 'movement of resistance' (the phrase is Pierre Bourdieu's) and that movement had effected real change. This now seems embarrassingly optimistic: Evans has left politics, politics has gone right, and policy has gone wrong.
Far from succeeding, then, artists and activists have failed. Even worse, many of their aesthetic strategies have been recuperated and repurposed by the government. The Department of Immigration and Border Protection's No to People Smuggling channel on YouTube features several videos, one of which looks strikingly like the last scene of version 1.0's CMI (A Certain Maritime Incident); and another that looks and sounds like verbatim theatre. Never mind the comic books distributed last year (The Guardian, 11 Feb, 2014).
The issue for artists this time around is not how to humanise the dehumanised, but how to intervene in a visual culture where art now functions as a weapon against the very people art sought and still seeks to support. One option is to withdraw, as happened with the Sydney Biennale last year, but it can't be the only one and I examine some recent responses in the following pages.
For asylum seekers, the problems are multiple and multiplying. For the fifth wave, ie those refugees who have arrived since 2009, it is clear that the Enhanced Screening Process has probably sent people to their deaths and that Regional Processing has definitely done so. Indeed, Monash University's Australian Border Deaths database puts the number of people who have died since 1 January 2000 as a result of our border policies at 1,969 in total. Not that surviving is necessarily easy, especially for those who arrived at the turn of the 21st century. Young adults who were then 18 are 33 now; Shayan Badraie, the tiny boy who appeared mute and traumatised on our TV screens in 2001, is probably about 20 now and possibly on one of our campuses. How devastating must it be to hear this ugly debate again, but this time as a permanent resident or naturalised citizen? It is no surprise that former refugees are doing some of the most innovative advocacy, for example RISE (Refugees, Survivors and Ex-Detainees; tag line "Nothing about us without us") and some of the most interesting artwork, for instance Sha Sarwari's installations and photographs (see this issues cover image). The next step will be for them to write reviews such as those that follow on these pages.
And what of Australians, whether natural-born or naturalised, who watch on with a mixture of fatigue and fatalism? For my part, I have drafted an apology to survivors of immigration detention to be delivered by the Australian Prime Minister at the time of her choosing. It's not enough of course, but it reminds me what the finish line might look like. The task now is to plot a path from here to there. And you, what will you do?
————
A Draft Apology to the Survivors of Immigration Detention
RealTime issue #126 April-May 2015 pg. 3
© Caroline Wake; for permission to reproduce apply to realtime@realtimearts.net