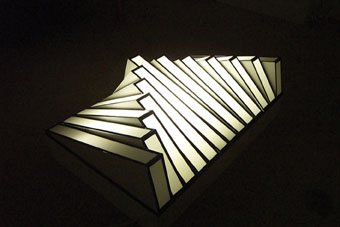 Ben Murrell, Untitled (Wall Relief) V6.06, 2003
Fresh Cut is the Institute of Modern Art's (IMA) annual exhibition of South-East Queensland's recent art school graduates. Rather than selecting works according to a 'best of' criteria, Fresh Cut is a curated exhibition. This presents a challenge, since the art school is an environment where art making is compulsory and diversity accentuated. Attempting to find and articulate any prevailing theme for an exhibition under such conditions is fraught with problems, and the quality of work in any graduating year can never be assured. Too often over the last 8 years, Fresh Cut curators have presented us with a group of highly disparate works strung together by a tenuous rationale.
This year's exhibition, curated by Chris Handran, was not entirely exempt from these problems though it did offer a slightly different curatorial approach. Rather than searching for a grand link between all 12 artists, Handran selected works which provoked a personal response. The result was a diverse collection featuring video, ceramics, interactive technologies, paintings and installation.
In his catalogue essay Handran noted, "No single theme or style characterises these works, though a number of affinities have come to light." Wonderlands, private rooms, untold tales and natural selection are the terms through which Handran spoke of such affinities. The dividing of the exhibition into separate rooms under each term created a focus on linking clusters of works rather than a singular overarching rationale.
In gallery 1 visitors were welcomed by an infestation of curious creatures in David Spooner's Mantle. Reminiscent of a domestic interior, yet given over to fabric fancies and plastic excess, Spooner's work was appropriately lit by warm artificial and natural light. Accompanying this work was Kate Dickson's Wallflower series, a suite of large-scale documentary photographs of posters which Dickson had installed across Brisbane's cityscape. The posters took the form of a female figure, depicted in a cartoon style, usually close to life size and wearing colourful, fashionable clothing.
In gallery 2, the lighting was more subdued, and this darkening trend continued in galleries 3 and 4. Catherine Chui's standout work, Betweeness, is composed of walking sticks recast from various media including noodles, newspaper, maps, dictionaries, coins, beer caps and koala fur. Hung like ladders and bridges across one corner and consuming almost a quarter of the room, the soft shadows of walking sticks cast against the walls was quietly arresting. Chui's work lends itself to reflective moments, as it references the artist's personal relationship with her walking stick, which both frees her from immobility and signifies her disability. The media Chui selects also references her journey from Hong Kong to Australia and her continual crossing between cultures.
Gallery 3 is the largest and is often an awkward space. Handran overcame any difficulties by installing works using very little light. Except for spots on oil paintings by Sonya G Peters, the only light in this gallery was emitted by the works themselves. Ben Murrell's luminous architectural sculptures were beautifully placed, their fluorescent light enveloping the viewer. Adjacent to these shining installations was the glow of Alice Lang's video projection and fabric installation. Avoiding a conventional square frame, Lang projected her video at an acute angle to the wall so that the frame became a morphed elongated quadrilateral. This suited the monster-like imagery from sessions recorded in cheap hotel rooms, in which Lang moves in and out of frame wrapped in satin sewed into bulbous and irregular shapes. Beyond Lang's projection, 3 monitors sat on low pedestals replaying surveillance camera footage of Katherine Taube's opening night performance, depicting her dressing and undressing in an interior lit box.
The increasingly dark journey continued in gallery 4, with a display of Julia Dowe's slowly evolving video work and Svenja Kratz's installation using interactive technologies.
This year's Fresh Cut did not completely do away with the curatorial challenge but rather pared it back to the achievable and consumable. The exhibition is driven by the desire to provide positive outcomes for local emerging artists, but as Timothy Morrell stated at the end of his 1999 catalogue, Fresh Cut is also "a snapshot of a slightly shaking moment that makes focusing difficult. What matters is what happens next."
Fresh Cut, curated by Chris Handran, artists Megan Bennett, Catherine Chui, Kate Dickson, Julia Dowe, Joshua Feros, Krystal Ingle, Svenja Kratz, Alice Lang, Ben Murrell, Sonya G Peters, David Spooner, Katherine Taube, Institute of Modern Art, Brisbane, Feb 6-March 13
RealTime issue #60 April-May 2004 pg. 38
© Sally Brand; for permission to reproduce apply to realtime@realtimearts.net