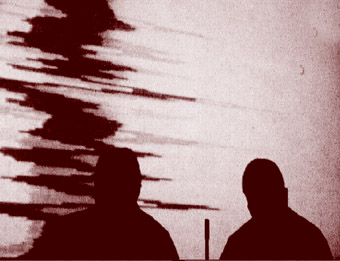 photo netochka
Pan Sonic (Newtown RSL)
The Australian What Is Music? festival, directed by Oren Ambarchi and Robbie Avenaim, has become a regular outlet for new and experimental music since it began in 1994 (see RT 35, p24). This year's event was the biggest and most well attended festival so far and can be seen as a coming of age, attracting a huge audience and an impressive line up of both local and international performers.
From the first night it was clear that there is an audience for such a festival. Last year was let down by an appalling venue in Kings Cross which caused many to stay away. This time the festival moved around; in Sydney at Imperial Slacks gallery, Harbourside Brasserie, Chauvel Cinema and Newtown RSL; in Melbourne at an array of venues including Punters Club, Revolver, Rechabite Hall and numerous pubs. The events spanned 6 nights in Sydney and 11 in Melbourne. The audience in Sydney was impressive, from 200 on the first night to over 500 on the last. The sheer size of the festival was like nothing ever seen in this part of the world for experimental, and predominantly Australian, performers.
The opening night saw well-known local Pimmon (who played a beautiful and well received solo set) paired with Hecker, the German laptop-er from the Mego label. Their sounds bounced around the gallery veering towards the grating and complex sounds that the Austrian label Mego is known for. Other highlights included Dworzec from Melbourne who played an incredibly fragile set, the audio hanging by a thread. Their sound, produced by guitar/electronics/synthesiser/accordion, felt like it could easily slip into lost noodlings or, as is the case here, hold a captivated audience on the edge of their seats. The final set by Minit brought a long evening to a wonderful come down, as their fine electronic sounds played out through electronics and a harmonium. The harmonium gave texture and Torben Tilly added an interesting visual aspect, sitting at the keyboard, dancing along to the beats that briefly appeared. The opening evening saw the electronic end of the contemporary experimental music spectrum, a definite aesthetic emerging as these artists seem to work closely with what can only be described as beauty, juxtaposed with a smattering of harsh noise to wake the dreaming head.
The second night showed off the other end of the spectrum, that of old-school improv. We heard Cor Fuhler (Netherlands) play prepared piano, Tony Buck with a drum solo, Loop Orchestra with tape loops, the sax/laptop combo of Max Nagel and Josef Novotny (Austria), and a computer piece by Julian Knowles, an audio work played to a slow-mo video of a long drive in the rain. The last performance, an interesting listen from the grouping of Tony Buck, Chris Abrahams (both from The Necks) and Jon Rose. Rose yet again felt the need to have a go at computer generated music, stating that his violin was a personal computer. His position is absurd and shows a strange sort of bitterness, no better than the crazy idea that one instrument is better than another.
The third night was held at the Chauvel where Farmers Manual (Vienna) played a 2 hour set of sound and video. Farmers Manual ask the audience to literally change their expectations of what music is and how they approach a performance, both in the sense of perception and entertainment. The work was created in real time through a network of data flows that utilised a vast array of data and information, much of which was never intended for music, let alone sound. The results are a long process that ebbs and flows from what sounds simply like noise through to a highly developed and structured audio output. The set ended on a high of strobing visuals and loud bass driven audio which left the audience in near shock. In Melbourne they played to a packed club but the basic, although shortened, outcome was very similar.
Makigami Koichi (Japan) was the biggest surprise of the festival for many. In performance he used a startling array of vocal techniques, veering from khoomei (throat-singing) to mock opera to Jews harp. The style was cut-and-paste with Koichi juxtaposing funny sounds with perplexing tones, theatre and dance. During his performance in Sydney, the audience was in fits of laughter, cheering at the end of each piece and demanding an encore. This style is not new to free improvisation; the difference here was the reaction from the audience, not usual for improvisation. In Melbourne the audience treated the work with awe-struck respect and in return were treated to a number of extended khoomei and Jews-harp pieces.
The final Sydney night at the RSL in Newtown was packed, at least 500 people through the door, for what turned out to be much removed from easy listening. This was by far the loudest evening of the Sydney leg of the festival. Smallcock and Nasenbluten played at volume and even the DJ packed a punch. The key performance was Pan Sonic (Finland) who stood behind their instruments, looking very blank, as they blasted out analogue bass from their ancient equipment. Pan Sonic audio is full to the point where it really hurts and many ears had fingers pushed firmly into them. The band have a long history in minimal electronic music which often borders on dance. Their current set gives up much of their experimental history for an easier to cope with 4/4 basis.
We can only hope that next year's What is Music? festival continues to grow and open the vast range of experimental music to a quickly developing audience.
What is Music? 2001, Sydney, February 18-23; Melbourne, February 25-March 7; www.whatismusic.com
RealTime issue #42 April-May 2001 pg. 39
© Caleb K; for permission to reproduce apply to realtime@realtimearts.net