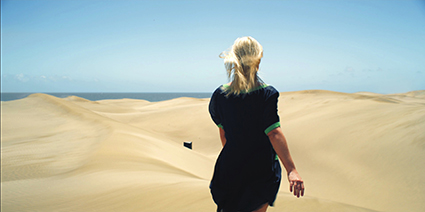 still from Michel Van der Aa's The Book of Sand
In soaring song-speech, Kate Miller-Heidke intones Jorge Luis Borges' The Book of Sand with fragments from other of his stories. She's the lone figure (except when she encounters herself) in Dutch composer and multimedia artist Michel Van der Aa's engrossing interactive online video work commissioned by the Sydney and Holland Festivals and made freely available online (give it time to download—watch the timer bottom left).
Playing a Borgean Alice, Miller-Heidke is lost in overlapping worlds that constitute the infinity of the endless book the writer conjures and which consumes its reader. She runs circles on desert dunes from which shoot translucent strips inscribed with arcane script. But, like Alice, she is actively curious. In one room she herself 'writes' the symbols on the blank 'paper' by gently pouring sand onto it; in another she prints the text with sand as if it is ink, adjusting a bizarre printer with switches that break up the soundtrack. The sense of the infinite and corresponding material impermanence is haunting, made moreso when time reverses. Our narrator falls asleep, the 'paper' slipping serpent-like around her and rising in a grainy mist of sand—a thin column of it flows up from her brow and then another from her open mouth as we hear her sing "I saw the Aleph."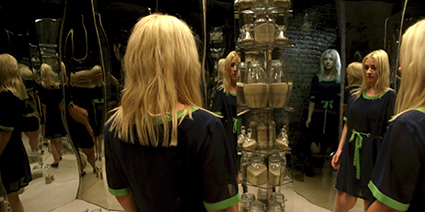 still from Michel Van der Aa's The Book of Sand
The musical accompaniment is propulsive nigh jazz-rock minimalism—more lyrical than chugging—over which the singer's voice flies with infinite ease, although the text is tightly scored to suggest looping recurrence. Miller-Heidke sings solo or is double tracked or finely accompanied a capella by the 12- voice Nederlands Kamerkoor, adding a sense of the sacred that comes with notions of the infinite and the curious mysticism conjured by Borges.
The writer's devotees might find the dramatising of his work an overloading of the magic his writing already coolly and ironically invokes. For newcomers Van der Aa's creation might be a welcome initiation.
The interactive element allows the viewer to switch between locations or you can just let the work run—until you feel the need to break out into another space or return to one more closely. Miller-Heidke's singing is lucid but there is a subtitle option, English or Dutch, if you wish.
Michel Van de Aa's The Book of Sand, "a festival gift to Sydney," says director Lieven Bertels, is well worth entering for its peculiarly attractive evocation of disorienting relativities which make us feel small—save for the sheer scale of our prompted imaginations—or exist not at all: "I saw all the mirrors on earth and none of them reflected me."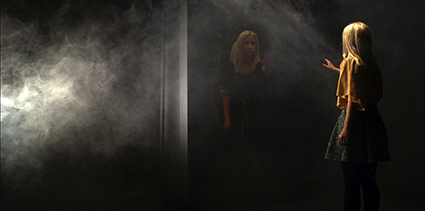 still from Michel Van der Aa's The Book of Sand
http://thebookofsand.net/

Michel Van der Aa, The Book of Sand, free interactive digital artwork, Sydney Festival, 2015-16
RealTime issue #129 Oct-Nov 2015 pg. web only
© Keith Gallasch; for permission to reproduce apply to realtime@realtimearts.net