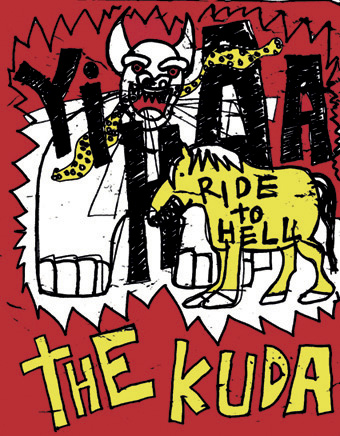 commissioned for APT7, image courtesy the artists
– ruangrupa (Indonesia), THE KUDA: The Untold Story of Indonesian Underground Music in the 70s 2012, Band artwork
HAVING LONG ANTICIPATED THE "ASIAN CENTURY," THE ASIA PACIFIC TRIENNIAL OF CONTEMPORARY ART (APT) HAS FIRMLY ESTABLISHED ITSELF AS ONE OF THE GREAT AUSTRALIAN ART EVENTS, OPENING OUR SENSES AND INTELLECTS TO THE CULTURAL WEALTH OF THE REGION THROUGH PAINTING, SCULPTURE, INSTALLATION, FILM, VIDEO AND POWERFUL PERFORMANCES. THE PHRASE "CONTEMPORARY ART" IN THE TITLE BELIES THE TRIENNIAL'S INCLUSION OF STRIKING TRADITIONAL PRACTICES NOT ONLY FOR THEIR ARTISTRY BUT FOR THE CONTEXT AND INSPIRATION THEY OFFER NEW GENERATIONS OF ARTISTS. THERE IS NOTHING LIKE AN APT.
Russell Storer, Head of Asian and Pacific Art at the Queensland Art Gallery, tells me that a multitude of APT7 works engage with video, music, animation and a variety of performance modes. Six young artists from Jogjakarta "with a strong element of street culture" and working collectively, as ruangrupa, across music and video address "the crazy competitive scene in that country at the moment, and histories using archival photographs and reworking them." For THE KUDA: The Untold Story of Indonesian Underground Music in the 70s (one of a number of APT7 commissions), Storer says the group "has been researching 70s rock during the Suharto era and finding resonances with the Brisbane music scene in the Bjelke-Petersen period. Working with graffiti artists and musicians they're creating a narrative around a fictive Indonesian band that had a presence in Brisbane in the 70s."
In The secret life of objects, another young Indonesian artist collective, Tromarama, uses comic stop-motion animation and video featuring everyday objects. In the APT catalogue Fiona Neill describes their practice as indicative of a flourishing DIY aesthetic in Indonesia which has grown from the necessity to 'make do' with the materials and technology at hand." In a music video format, the possessions (shoes, handbags) of the well-to-do young bicker and bully in an increasingly consumerist society.
Yuan Goang-Ming, Taiwanese artist and influential new media art teacher, says in an interview in the APT catalogue, "In 2009, four months after the birth of my first child, my father died of stomach cancer. For those four months I faced the incompatibility of a new and a fading life, while imagining my child's future and retracing my father's past" (interviewer Amanda Slack-Smith, July 2012, APT7 catalogue). Storer describes the panoramic three-channel video work, Disappearing Landscapes, as "reflecting on cycles of life and death using extraordinary pans and zooms underwater, through drains and through the home." Yuan Goang-Ming sees himself as having "experimented with a form of image-making between cinema, documentary and video art, in an attempt to accurately express my thoughts at the time." The video includes "the reconstruction of my father's study, which is a surrealist dreamscape for me." It's an eerily beautiful and sometimes spectacular work which can be glimpsed on YouTube.
From India, Raqs Media Collective, "formed in 1992 by Jeebesh Bagchi, Monica Narula and Shuddhabrata Sengupta to explore urban geography, epistemology and creativity through emerging media technologies" will bring an archival installation of documents, books and films to APT7. Raqs members are well-known to Australian media artists as participants in the founding of Sarai, "the New Delhi-based research centre and archive dedicated to critical discussion on urban experience." Apparently the collective's name describes the ecstatic state entered by whirling dervishes; it could simply refer to dance or be an acronym for 'rarely asked questions'" (Reuben Keehan).
reaching out to western asia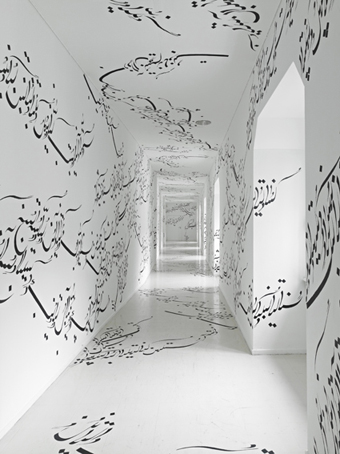 courtesy the artist
Parastou Forouhar (Iran/Germany), Written room 1999-ongoing, Stadtgalerie Saarbruecken, Germany 2011
For the first time APT is geographically expanding its reach to include western Asia, all the way to Istanbul. Iranian artist Parastou Forouhar (Iran/Germany), working with calligraphy, will 'write' a room in which she will then perform with musicians. She says, "What emerges again and again in my works is a tension between apparently harmless surfaces and what is actually represented by the content" (interview Bree Richards, July, 2012). Turkish artist Inci Eviner, says Storer, looks at Europe from a feminist Turkish perspective, at times absurd and bawdy. Her work has three video channels titled Demonstrations, Violence and Immigrants which include political marches—the banner texts created by the artist— and belly dancing, sports day movement ("a series of leg movements seeming like an ungendered can-can"), burning fields out of which arise new buildings, and images pertaining to the plight of refugees. "The crisis created by the refugee pushed me towards the re-discovery of the body. It was important to catch the traces of totalitarian regimes in bodily gestures; it opened a venue for exploration beyond rationality" (Kathryn Weir, interview with Eviner, September 2012).
In Rulers and Rhythm Studies, music and sound artist Cevdet Erek, from Turkey, works with rulers to measure out personal, political and musical chronologies, determined for example by the incidence and duration of coups. In A Piece of the Middle East, an American-Jordanian artist, Oraib Toukan, has set up a fictional real estate agency with which to sell off the troublesome Middle East. In a series of video works inspired by Amin Malouf's The Crusades through Arab Eyes (1983), Egyptian artist Wael Shawky recreates the history of the Crusades from new perspectives. He transforms predictable historicising by having children play all the roles. In the catalogue interview he told Russell Storer, "the most important part of using kids in all my work [is] because they don't have this dramatic memory about anything…It doesn't leave the value of the work to the skills of the actor. The historical event becomes the main issue." In other works on the same subject, Shawky uses finely crafted ceramic marionettes and elaborate sets, focusing, says one writer, in a Brechtian manner on political rather than religious motivations (excerpts can be seen on YouTube).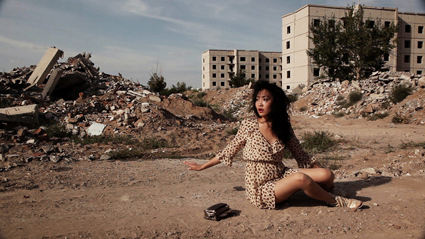 image courtesy the artist and Priska C Juschka Fine Art, New York
Almagul Menlibayeva, (Kazakhstan/Germany), Kurchatov 22 (stills) 2012
Almagul Mellibayeva's new work, the five-channel video work The Ground Recalls (Kazakhstan/Germany), says Storer, will resonate with Australian viewers. It's set in Kurchatov in north-west Kazakhstan in the former Soviet Union, near the centre of 40 years of nuclear testing, that left a legacy of toxic residue. The work is part documentary, part symbolic fiction ("dramatised scenes of women performing strange gestures in degraded landscapes"). In the APT catalogue Jose Da Silva writes, "Through her videos and photographs, Menlibayeva has explored the idea of developing a new contemporary mythology for Central Asia, one that engages with what she has termed 'Romantic Punk Shamanism' to reflect a rebellious celebration of nature and the spiritual aspects of Kazakhstan's nomadic heritage and shamanistic, pre-Islamic religious traditions."
closer to home
In (disarmed) imagining a Pacific Archive, Torika BOLATAGICI (Australia/Fiji), Mat HUNKIN (New Zealand/Samoa), Teresia TEAIWA (United States of America/Kiribati/New Zealand), will focus on the militarisation of the Pacific, while Aboriginal Australian artists, Daniel Boyd, Lorraine Connelly-Northey, Michael Cook, Timothy Cook and Shirley Macnamara will deploy a variety of media to reflect on a sense of place—personal and collective.
True to the enduring spirit of the APT and QAG there will be 13 works for children, including a massive 30 metre ephemeral, architectural work outside the gallery. The Asia Pacific Triennial of Contemporary Art has long been a great playground for adults too, displaying an abundance of colour and political directness Australians are mostly not used to. The Australian Government, with its Australia in the Asian Century White Paper, looks like it's going to attempt, at long last to catch up with the Asia Pacific Triennial.
7th Asia Pacific Triennial of Contemporary Art (APT7), Queensland Art Gallery & Gallery of Modern Art, Dec 8 2012-April 14 2013, free; www.qagoma.qld.gov.au
RealTime issue #112 Dec-Jan 2012 pg. 8
© Keith Gallasch; for permission to reproduce apply to realtime@realtimearts.net