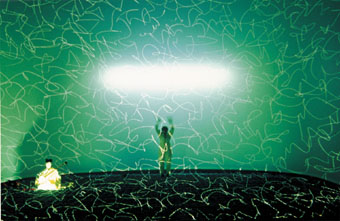 photo Klaus Grünberg
Heiner Goebbels, Hashirigaki
Brett Sheehy has taken on the mantle of artistic director of the Adelaide Festival of the Arts for 2006. In his 2004 Sydney Festival (his term finishes 2005) there are signs of an exciting, concentrated vision that could augur well for Adelaide where the considerable budget also allows for greater depth of programming and for a festival to be a work of art, a finely wrought, visionary vessel.
Must-sees…
Sydney Festival programs of the past have usually included a few must-see shows that demonstrate the passions and mutating forms of contemporary performance, dance and music. This time there's a host of them: music theatre maestro Heiner Goebbels' Hashirigaki; the edgiest of choreographers, Meg Stuart; the film of John Adams' opera The Death of Klinghoffer; the Wesley Enoch/Legs on the Wall collaboration, Eora Crossing; Kronos Quartet; Bang on a Can All-Stars cellist Maya Beiser; Def Poetry Jam; Asian Dub Foundation; George Piper Dancers; Chunky Move's Tense Dave; Chamber Made Opera's Phobia; James Brennan's The Glass Garden; Jon Rose and Hollis Taylor's Great Fences of Australia; and new music ensemble Elision's Tulp, The Body Public (our cover photo) in collaboration with new media artist Justine Cooper and composer John Rogers. It's a substantial lineup with some welcome challenges of the kind that Sydney audiences too rarely experience.
The visual arts program is also strong, focusing on a handful of significant creators headed by a pioneer of installation, video art and multimedia performance, Nam Jun Paik who will be featured both at the Art Gallery of NSW and in the Opera House forecourt. The show at AGNSW will include documentation of his 1976 visit to Australia with the late Charlotte Moorman who collaborated with Paik, performing on cello while held aloft above the Opera House by helium-filled balloons and elsewhere wearing the TV Bra for Living Sculpture. Paik again returns to the forecourt, this time with a large part of his 32 cars for the 20th century play Mozart's Requiem: silver painted vintage cars filled with electronic detritus surround a neon and laser tower built by Paik collaborator, New Yorker Norman Ballard. Provocateurs Tracey Moffat and the late Leigh Bowery will have retrospectives at the MCA. Photographers Cherine Fahd and Trent Parke will populate Circular Quay and Martin Place with their idiosyncratic images.
There's spectacle of course and it's free: Of Angels and Light by Compagnia di Valerio Festi is to be performed on the Olympic Boulevard, Olympic Park for 3 nights, with artists amidst and above the crowd in a light show of aerial feats and supernatural imagery.
Music theatres
Also in Sydney's west, there's a feast of music theatre in Breaking the Cycle, a program of performances accompanied by a 2-day forum presented by Music Theatre Sydney and Riverside Theatre. Melbourne's Chamber Made Opera will present Phobia. In his online review for RealTime of the work, Jonathan Marshall wrote that "composer Gerard Brophy's score for Phobia…draws heavily upon the Foley skills and sense of fun displayed by the members of percussionist Graeme Leak's ensemble, the Ennio Morricone Experience…Through this theatre of sound effects, miked-up celery crunching and gentle mugging on the part of the performers, the narrative and themes of Alfred Hitchcock's Vertigo are torn apart and scattered throughout an overt performance of sound, identity and text…with a radioactive afterglow produced by film noir's psychosexual ambiguities."
Breaking the Cycle includes another significant Melbourne work, James Brennan's The Glass Garden; Judy Glen's Melba and Moncrief; a concert performance of the first act of composer Drew Crawford's fascinating work-in-progress, Eugene & Roie about Eugene Goossens and Rosaleen Norton, the Witch of King Cross; and for young audiences Oz Opera's Software and the Sonicsphere workshops hosted by Carlos Russell and Margery Smith.
The Riverside Theatre in Paramatta is also presenting Stone Sleeper, a music theatre work from Bosnian composer and director Mirsad (Giga) Jeleskovic setting the poems of Mak Dizdar for a capella choir and 8 musicians, dancers, actors and singers.
The music theatre centrepiece of the festival is Goebbels' Hashirigaki. Even a concert performance of Goebbels' Surrogate Cities at this year's Queensland Biennial Festival of Music was an intensely theatrical experience, and the composer's Black on White at the 1998 Adelaide Festival was one of that great festival's high points. Hashirigaki is something altogether different in the unfolding ouevre of Goebbels' creations. It radically juxtaposes but makes sense of juxtaposing passages from Gertrude Stein's novel, The Making of Americans, The Beach Boys' masterpiece Pet Sounds and traditional Japanese folk music taken to new places. The astonishing set and lighting design is by Klaus Grunberg. Willi Bopp, as ever, designs the Goebbels' sound world.
By the way, don't miss The Lab, instrument-maker virtuosi and musical wits Graeme Leak and Linsey Pollak's mad scientist routine showing 3 nights only at the ArtHouse Hotel.
Cinematic musics
The film of John Adams' opera The Death of Klinghoffer won the 2003 Prix Italia. It will have 2 screenings during the festival, a rare opportunity to see it on the big screen. It's a powerful work about the hi-jacking of the Achille Lauro cruise ship by Palestinian terrorists with Adams and librettist Alice Goodman striving to understand both sides and courting the inevitable controversy, still felt strongly in the USA. The film's director, Penny Woolcock, claims to have made the work more accessible by adding realist fictional narratives.
Another cinematic music theatre experience, but one with a mix of live and screened performance is La Haine with music by the British intercultural music group Asian Dub Foundation. The acclaimed 1995 black and white film about racism and class, youth violence and police brutality is shown with a live soundscore by the Foundation with "bass'n'drum, bhangra and electro-klezmer." Add Chamber Made Opera's Phobia to La Haine and The Death of Klinghoffer and you'll enjoy a fascinating perspective on sound and cinema.
Tulp: be in it
Not exactly music theatre, but a close relative in the era of hybrid arts, Tulp: The Body Public is a musical, surround-sound and visual exploration of the human body inspired by Rembrandt's famous painting The Anatomy Lesson of Dr Thomas Tulp. Composer-musician John Rogers can write engagingly and accessibly (the musical The Sunshine Club 1999, the score for Bob Cat Dancing, Mt Isa for the 2003 Queensland Biennial Festival of Music) but also viscerally as in Inferno (2000) for Elision. And visceral Tulp is. Visual artist Justine Cooper's internationally lauded videos Moist and Excitation make beautiful the red and blue flow, under microscopy, of bodily fluids. She has also exhibited MRI scans of cross-sections of her own body (see p28).
In December Cooper and Rogers will be collecting sound and body images from volunteers at AGNSW to use in Tulp. The performance space will be made of latex membrane, a screen for these and other images, with the musicians' bodies as well as their instruments wired for sound. Brisbane-based and admired across Europe, Elision is always exciting, its new music dynamically integrated with design, its passion wrought with intelligence.
The newest music
The Kronos Quartet needs no introduction, but they will introduce you to a remarkable range of music across cultures and forms, proving how far this one group have extended the string quartet repertoire. Witness it yourself, especially in the second of their 2 programs, Caravan. Maya Beiser, the cellist from the wonderful Bang on a Can All-Stars presents a perfect companion program (Pärt, Golijov, Reich, Andriessen, Lang) to Kronos' first concert (Ruvueltas, Gubaidulina, Reich, Vasks, Golijov), creating a revealing cross-section of contemporary music.
Ross Edwards' 4th Symphony, Star Chant, like Gorecki's 3rd is driven by an embracing melody and is accompanied here by projected images of the heavens (David Malin) while John Adams' On the Transmigration of Souls, a reverie on September 11, is presented with a filmscape by Greg Barrett commissioned by the festival. The program inlcudes Chris Gordon's Peace on Earth and features the Sydney Symphony Orchestra with Gondwana Voices, Cantillation and the Sydney Children's Choir.
Watch out too for the Music House to House series, with Lisa Moore (Bang on a Can All-Stars) performing piano works by Kats-Chernin, Bresnick, Rzewski and Schwitters, all composed with text for recitation: the yield is intense, the theatricality striking.
Composer-violist Brett Dean heads 2 strong programs with works by Birtwistle, Boulez and Lentz in one and Lim, Sculthorpe, Messiaen, Ravel, Lentz again (and worth it) and Tulp's John Rogers.
Last word…on dancing
Alongside Goebbels' Hashirigaki, the most significant programming in the festival is Alibi, a creation of Brussels-based American choreographer Meg Stuart and her company, Damaged Goods. With powerful, fragmented dancing that appeared to be on the edge of physical and psychological distress, No longer Readymade and No One is Watching were the dance sensations of the 1996 Adelaide Festival.
The company's dramaturg, New York-based writer André Lepecki writes: "As long as we move and are moved (in the 2 senses of the word, as motion and emotion), there will always be this disquieting accumulation, generation and degeneration of bodies inside the limits of our own bodies and inside the patterns of our daily choreographies: bodies of knowledge, bodies of feelings, bodies of lovers, bodies of sorrows. To acknowledge so human a predicament, the one of being always multiple, always contradictory, always in lack, constitutes the first step by which choreography can emerge."
Also in the strong lineup of dance are Michael Nunn and William Trevitt (both ex-Royal Ballet) performing works by leading UK choreographers Matthew Bourne, Michael Clark, Akram Kahn, Russell Maliphant and Christopher Wheeldon. Chunky Move will present their Melbourne Festival hit, Tense Dave (see p 8), a fantasia of crumbling identity and voyeurism performed magically on a revolve stage.
There are many other shows in the 2004 Sydney Festival, but the constellation of new music, music theatre works, installations and cinematic music events makes for a great program for the festival-goer looking for a rewarding festival trajectory. Add to that some adventurous dance and you've got a festival to pick you up, kick you around, seduce and delight you.
2004 Sydney Festival, Jan 8-26; www.sydneyfestival.org.au
RealTime issue #58 Dec-Jan 2003 pg. 13
© Keith Gallasch; for permission to reproduce apply to realtime@realtimearts.net