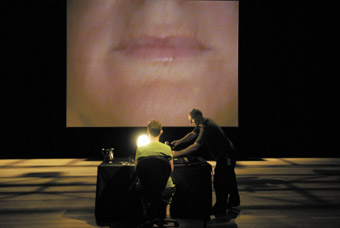 photo Heidrun Löhr
Barbara Campbell and technician Richard Manner preparing for night 1001 webcast of 1001 nights cast at Performance Space at Carriageworks, March 17, 2008
"MY OTHER IMAGE OF THE PROJECT IS THAT OF A HOME; AS SUCH IT COULD ACTUALLY PRECEDE ME. IT COULD ALWAYS EXIST AS A HOME-SPACE, AND ONE THAT I COULD INHABIT QUITE COMFORTABLY RATHER THAN DRAG AROUND LIKE A BURDEN."
BARBARA CAMPBELL
During the two-and-three-quarter years or so between June 21, 2005 and March 17, 2008 I lived at four different addresses in Melbourne, which is to say that I moved house three times. It is my impression today that these moves involved numberless hours of hushed sorting, packing and unpacking of furniture and belongings. And numberless mornings of improvising what I needed from those various boxes, bags or teetering stacks of things that were to hand. Home now in Melbourne, where I am writing this reflection, is a rundown weatherboard house; there is a gas fire crackling and, on the mantlepiece above, a vase of early hyacinths—their scent pervades the room.
During the same two-and-three-quarter years or so I was one of 243 contributors to Barbara Campbell's online performance project 1001 nights cast, which culminated in a webcast from Sydney's Performance Space at CarriageWorks on March 17. Throughout the preceding interval of 1000 evenings, Campbell lived or stayed at 33 different addresses in seven countries across the globe. And wherever she was residing, or perhaps simply pausing in her travels, at sunset she performed for live webcast a story composed just hours earlier; a story delivered to her online, by a writer with whom she had been in contact through the day, at first with a 'prompt' for inspiration—a word, or a cluster of words sourced from an online news report about the Middle East.
From its inception 1001 nights cast was confidently reliant on the transnational reach of internet communication: on its ability to condense and elude geographical borders into an experience of spatial ambiguity. Yet a conceptual key to the structure of the project lies in the definition of Campbell's storytelling as 'performance': as an event webcast over 1001 nights, this would take place in real time determined to the minute by the geophysical fact of sunset in the artist's location. The video broadcast telescoped the action of this event into an image of the artist's mouth—the moist, pliant movement of her shaping and voicing each word of the day's story with lips, teeth, tongue, and breath. [For each broadcast Campbell placed a numbered stud, corresponding to the number of the story, into her tongue piercing. Eds] The story itself might be clearly understood as an elaborate invention, a fictive tale. But for the several minutes of its telling, some partial, fleshly proof of the storyteller's living presence could be witnessed. In an interview of July 2006, Campbell affirmed, "My audience will just have to wait to be assured that I'm still there the next day. I hope that some sort of transference happens then: if I'm alive during this performance, then you too must be alive, watching and listening" (RT73, p30).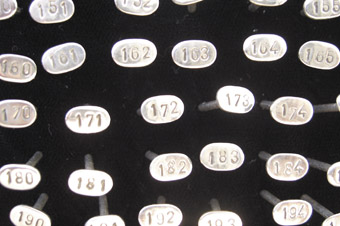 photo Barbara Campbell
ft – Barbara Campbell, tongue studs for 1001 nights cast (detail), sterling silver, each 0.4 x 0.8 x 2 cm, 2007
Though appearing on a flat screen, the fleshly proof of Campbell's survival was provocatively that of a threshold opening onto her body's interior. The audience for the final performance at CarriageWorks viewed the video magnified to spectacular proportions, as though to dramatise the playful excess of fears and desires, words and images that the project had garnered up to that occasion.
The foregrounding of the mouth as a visual focus emphasised that, from its inception, the logic of 1001 nights cast was existential—a matter of turning and returning attention to subjective, interior experience. This logic is invoked by the website's explicit reference to the legendary figure of Scheherazade, the Arabic woman who gains a reprieve from death by nightly weaving spells of stories that demonstrate the variety and complexity of the human condition. A similar logic—though, in Campbell's case, of reprieve from mourning—can be inferred from the website introduction: "In a faraway land a gentle man dies. His bride is bereft. She travels across continents looking for a reason to keep living. Every night at sunset she is greeted by a stranger who gives her a story to heal her heart and continue with her journey" (http://1001.net.au/).
Hence for its 1001 nights Campbell's project was essentially premised on the space of the body-mind, and on a question about being and time, a question that might now be risked outright, rather than enacted and displaced into allusion: 'how does the time of the everyday lifeworld relate to the time of emotional pain?' Yet even as it reinterprets Scheherazade's wise and clever recourse to 'a talking cure', the 1001 nights cast was never detatched from circumstances of the contemporary lifeworld—or at least from meanings given to these circumstances by published journalism on the Middle East situation. Through the prompts and their sources the project's motivating question has always carried collective, societal implications; it has always considered, therefore, the time of everyday lifeworlds that are beset by violence, conflict, political rupture and uncertainty.
Ritual, and collaborative preparation for ritual were Campbell's modes of interrogation. Paradoxically these were also the project's means of domesticating its existential bias, which was each day 'brought home', and into untold homes, via the screens of personal computers. The webcast's atmosphere of precarious intimacy; the imaginative and affective stimulus afforded by the prompts and stories, all proved profoundly resilient—as indeed did Barbara Campbell. Impressively so. Without doubt, I have been gratefully reassured by the sustained ritual of her performances.
Campbell felt highly accountable to her audiences, and particularly to those who wrote for her project. As the first and last of the 243 writers, she thoroughly empathised with the emotions produced by the fixed deadline each day, emotions which might easily range from euphoria—creative freefall—to severe anxiety. By her own account, this empathy was heightened on the date of her final performance: she later described the episode in a group email to the project writers: "After six hours of narrative struggle I had nine documents open with half-formed ideas and bits of nothingness. At 4pm (before a sunset time of 7.10pm) I threw it all away and channelled you all into a structure that was robust enough to handle everything I wanted to say…I had just enough time to shower, change and taxi to the theatre to make it to the 6.30pm tech run."
An audience of 100 writers and supporters had gathered at CarriageWorks, and Campbell appeared in a smart green dress, a dress the colour of an unmown lawn after steady rain. This green seemed chosen to represent a state of vibrancy, flourishing renewal.
Campbell's unrehearsed solution to the challenge of the '1001st night' was to reiterate the prompt and closing lines of stories already archived on the project website. Using a compact, antiphonal form, she paid tribute to the collaborative momentum of the 1001 nights cast, and tested—if such a test were needed—the generative potential of that which would formally outlast the two-and-three-quarter years or so of her performance practice.
Barbara Campbell has confirmed that the 1001 nights cast website "will remain up for the forseeable future." One-thousand-and-one prompts can be found neatly stacked under the heading "Search the Archive." They are rendered in jewel-like shades of watercolour. Arrayed with them are links to the stories that Campbell first performed, and the stories' opening lines. This is a veritable treasure-house of images.
Unlike the contents of my own boxes and bags through the past two-and-three-quarter years or so, this stuff of manifold histories will always be buoyant—stored weightlessly, for sorting as a swift and weightless act. A hushed unpacking will surely yield appreciation of the critical relationship between improvisation and survival.
Barbara Campbell, night 1001 live webcast; Performance Space, CarriageWorks, Sydney, March 17, http://1001.net.au/
RealTime issue #86 Aug-Sept 2008 pg. 28
© Cynthia Troup; for permission to reproduce apply to realtime@realtimearts.net