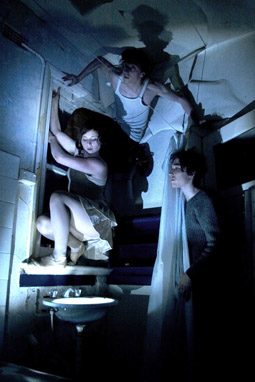 photo Alicia Ardern
Silvertree & Gellman, Scattered Tacks
The creators of Scattered Tacks, Skye Gellmann, Terri Cat Silvertree and Aelx Gellmann are fast building a reputation as physical theatre innovators with a performance language all of their own. In this edition Jana Perkovic reviews the recent Art House showing of Scattered Tacks.
The trio variously trained in circus and physical theatre as children working with Cirkidz, Kneehigh Puppeteers and then Urban Myth Theatre of Youth in Adelaide and in later years in corporeal mime and traditional and contemporary Japanese theatre forms.
Aelx Gellman describes himself as "a creative masochist, unusualist and escape artist, specialising in random feats of dexterity and prestidigitation." To this we might add the human spelling error! The Gellmanns studied at NICA and all were involved in co-founding companies (Rambutan, Shuttlecock) along the way. The three went on to gather a string of Best Emerging and Most Promising awards including for Skye Gellman in 2007 Most Promising Male Actor at Melbourne's Short and Sweet festival.
In 2008 their signature work, Scattered Tacks won the Melbourne Fringe Award for Most Outstanding Production and in 2009 was programmed by Yaron Lifschitz at CIRCA for their showcase of new works at Brisbane Powerhouse. This is where our reviewer Douglas Leonard was taken by the work: "No extraneous effects. Fragments of a life obscurely shared were dimly recreated. The light distorted, flattened and sculpted identifiable shapes into pure, foreboding forms." (See full review.) Lifschitz described Scattered Tacks as "one of the most challenging and significant pieces of New Circus to emerge in years." In the same year, the work toured to Noorderzon Performing Arts Festival in the Netherlands.
Skye Gellmann is currently developing a solo performance for the 2010 Sydney Fringe Festival called Eyes Fight, Projector Light, "a minimalist circus experiment involving an acrobatic body and the cutting light of a slide projector." It will be is directed by Terri Cat Silvertree who is also developing her own solo performance. RT
www.scatteredtacks.skyebalance.com
RealTime issue #97 June-July 2010 pg. 34
© RealTime ; for permission to reproduce apply to realtime@realtimearts.net