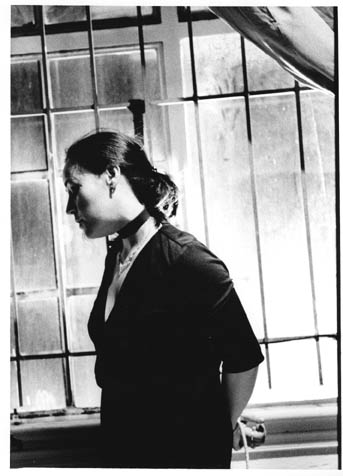 photo Heidrun Löhr
Alicia Talbot, I Love You xxx
From the time we first meet Alicia in her dressing gown in the foyer, being asked if we have any 'special requests' for the evening, and are then moved upstairs to be presented with her naked body in a display cabinet with a brown paper bag over her head, we're apparently being offered this woman for the fulfilment of our fantasies. She's the faceless female behind the glass, like a sex worker in Amsterdam, although already preparing for her 'final exit.'
We then move into her intimate and plush boudoir, kitted up like a brothel complete with silken cushions and a real fluffy puppy. She's now the charismatic fox we're all watching as she firmly coerces us into paying more for the show. Soon we are slipping coins and notes into her purse like men in a strip club—competing for the privileges of her sexual attentions and our public face. The hostess tells us that she will play out and indulge a number of fantasies for the gentlemen and for our entertainment. She excites the audience before it is clear, perhaps,what the full implications of this relationship will be.
Any initial embarrassment born as a reaction to her sexual showcasing manifests itself in spunky flirtations from the men she chooses for short role-plays. It seems like this is the show for everyone that's ever wanted pillow talk with a prostitute, but has been too PC and theatre-going. The dominant stance is soon dropped and in its place a pervasive romanticism drives the feminine role into instant surrender on the slightest exchange. She gets an audience member to ring her mobile phone and then gushes a power-draining exposé of her obsessional thinking. Asked what word comes to mind when we think of 'love', we answer 'intimacy', 'close', 'sex', though this soon contrasts with the more Lacanian notion the show has in mind of 'offering something you don't have to someone who doesn't want it anyway.' Alicia won't ameliorate any longer; Joni Mitchell soon segues into Leonard Cohen. The men are still talking dirty on command, stroking her hair, complicit as ordered. Meanwhile she's demeaning herself further and further, becoming more and more abused and debased in ever more submissive roles—as she demurs, "I hope this was the experience you wanted?"
After her hands are tied behind her back and her collar latched to window bars she tells a story of a birthday present to a boyfriend in which she promises to reply "I will with pleasure" to every his request. The boyfriend gets two of his mates over to use her as a piece of sexual furniture, for oral and anal in a classic pornographic menage a trois pose. He stands and watches, while she considers her ultimate act of love without realising that he will instead leave her, presumably because of the depravity of her self-sacrifice. After this Bataille-like monologue she asks if someone from the audience will come and untie her. A man rushes over, tenderly loosens the ropes and releases the catch—male roles leap out on cue.
The show ends with a demonstration of the limits of this audience/performer interaction. Closing her eyes Alicia asks if anyone in the audience will love her, put their arms around her? There's an awkward lull, a sudden complicity with all the other rejections—it would take a bigger masochist than Alicia to stand up at this point. What if a woman did? The show has so far been hardcore hetero, the relationship has always been orientated.
If there is a linearity to this narrative of romantic decline and victimhood, then as the audience leaves after the performer has not returned to bow for her applause, Alicia as sex worker remains indifferently talking on her mobile phone outside the studio room. Perhaps sex work is suggested as the character's only way to become a defiant operative in the sexual exchange. This never-ending performance is vintage Talbot, and memories from her other performances remain—monologues on oral sex in utes, the audience eating chocolate from between her thighs, and a blurring of the boundaries of performer/performance when she once showed her (real?) scars. Talbot's work often seems to re-suggest formative teenage experiences of sex, where 'healthy' boundaries and lines of respect are not clear. Part self-destructive relationship spinning in the same old tight cycle and part, almost glorious, homage to the psychosexual, I Love You xxx mines heterosexuality along its glimmering schisms—where masochistic female strategies and sadistic male rebuttals are not in fact a perfect match. Explicit about the potential violence and possible arrestations of such desire, the performance leaves it up to the audience to consider any reconstructive possibilities for themselves.
I Love You xxx, writer-performer Alicia Talbot, director Nigel Kellaway, lighting Simon Wise, Performance Space August x – September x. I Love You xxx was created by Alicia Talbot and John Baylis as part of a Performance Space residency in 2000.
RealTime issue #51 Oct-Nov 2002 pg. 43
© Keri Glastonbury & Christen Cornell ; for permission to reproduce apply to realtime@realtimearts.net