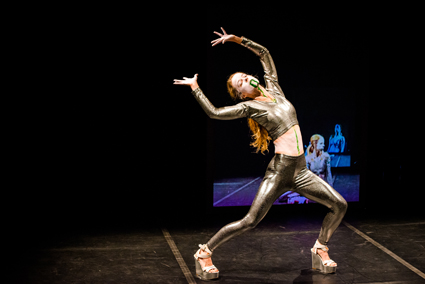 photo Gregory Lorenzutti
Atlanta Eke, Body of Work
The importance of the Keir Choreographic Award cannot be underestimated in the challenging climate in which independent choreographers work in this country. The prizes not only alert us to emerging talents and reward them with heightened visibility and cash (the Judge's award, $30,000; the People's Choice Award, $10,000) but perhaps the Award also signals where contemporary dance is headed. The latter, moreso than the winners, was the subject muttered about in the Carriageworks foyer after the awards announcement, as it was during Performance Space's SCORE season (see pp19-23).
I can't recall when I've heard, post-show, so much uncritical enthusiasm on the one hand and scorn on the other. There were eight semi-finalists: Sarah Aiken (VIC); James Batchelor (VIC); Tim Darbyshire (VIC); Matthew Day (VIC); Atlanta Eke (VIC); Shaun Gladwell (NSW); Jane McKernan (NSW); and Brooke Stamp (VIC); their works were performed at Melbourne's Dancehouse. The works of the four finalists Aiken, Eke, Day and McKernan were on show at Sydney's Carriageworks. (Perhaps the next showings should be telecast from one venue to the other.) What triggered debate was form. Award-winner Atlanta Eke's Body of Work was even less a dance work than Monster Body, her much acclaimed segueing of dance, performance art and installation. Body of Work's media dimension—the performer's manipulated view of her 'actual' and virtual selves—suggested potential which the Award money might help realise.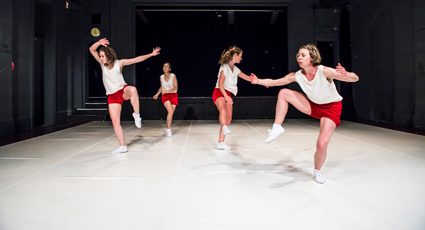 photo Gregory Lorenzutti
Carli Mellow, Angela Goh, Leeke Griffin, Lizzie Thomson, Mass Movement, Jane McKernan
Matthew Day's Rites (a take on Nijinsky's The Rite of Spring) was critically limited by its short duration and an awkward dramatic structure, but the work did spring from his body, as ever not looking like any dance we've seen, for which I'm grateful. Sarah Aiken's Three Short Dances was Bauhaus-lite, more installation than dance, its large geometric shapes moving unrevealingly and the artist's balancing of long poles on head, hands and shoulders aesthetically inexpressive. Jane McKernan's Mass Movement was based on an improvisational structure which gave the work cogency, a great sense of nervy fluidity (suspenseful even as we waited for various patterns to resolve into a singularity of purpose) and featured actual dancing. McKernan won the audience vote (if foyer talk was anything to go by, Eke was also highly popular).
If there was a shortage of remarkable dancing in the final of the Keir Choreographic Award, there were ample signs of a young generation's preoccupation with the body relative to its mediatised self, states of being, game structure and installation, none of them particularly new but certainly warranting renewed and regenerative investigation. Matthew Day (as evident in previous works) is the most idiosyncratic choreographer but his durational approach doesn't mesh well with a competition requiring 20-minute creations (he came in around 10 minutes). Although conventional notions of dance haven't figured highly in the finals, there are choreographic sensibilities at work, if not to everyone's taste.
Expressions of disgruntlement centred on a perceived appropriation of dance by other art forms, not least the electronic arts, hence disappointment at the selection of video artist Shaun Gladwell as a semi-finalist (the award is open to non-dance artists who don't necessarily even work with dancers) and irritation with Atlanta Eke's limited movement palette and a po-mo overload of references that don't add up to dance. Ironically, the movement to centre-stage of other practices in dance has been fostered by a generation of successful Australian choreographers who have fruitfully collaborated with photographic, video, sound, fashion, music and installation artists to yield aesthetically and intellectually ambitious works in which dance is primary but at the same time one part of an array of forces corralled by artists who describe themselves first as directors, then as choreographers.
There are dance artists and followers who feel that dance is being buried alive beneath other artforms—or displaced by notions of what constitutes art. Therefore, Natalie Abbott's Maximum is not a dance work, it's 'just conceptual;' Antony Hamilton's Keep Everything is 'over-blown,' 'tricksy dance theatre' (although the dancers' virtuosic skills are much admired, as if not choreographed), but Narelle Benjamin's Hiding in Plain Sight is 'the real thing'—entirely a dance work, one comfortably rooted in the lyrically fluent modern dance tradition of the last century, if blessed with the choreographer's idiosyncratic demands on the body's flexibility. Angst has also been expressed about recent works by Philip Adams and Luke George (page 26) which evoke ritual, the spiritual and the paranormal, their creations more akin to live art than dance. Is dance about to go missing?
Modernism's challenge to ballet early in the 20th century and the Postmodern upheavals of the 1960s are still being felt in an artform which is at once born of highly disciplined, inherently conservative training, often from childhood, and a sometimes surprising openness to experiment. A desire for purity of expression has been central to these movements, expression freed of theatricality, narrative and psychologising—pure dance, of itself and nothing more. The Trisha Brown: From All Angles (see p15) program in the Melbourne International Arts Festival in October will track the evolution of this artist's seminal aesthetic from un-dancerly performance art-like events to highly integrated, collaborative stage works—without Brown ever abandoning first principles.
Dance in the early 21st century is hugely diverse, complex and rampantly hybrid; it's not surprising that there's a desire to return to something essential (as in certain improvisational practices) or to at least further the abstraction and clarity of line in the dance of the second half of the 20th century with its entwined lineage of ballet, Modernism and Postmodernism.
Is a (mostly) generational battle looming over form and a perceived subordination of dance to other forms, or was it just a Sydney thing—in a state without a major dance school, with small university dance courses under threat and inordinately strong competition for arts funding? Given the unusually passionate, if not loudly expressed, opinions about the Keir Choreographic Awards (predictably there were complaints about the appropriateness of the judging panel, which included Mårten Spångberg, "the acclaimed 'bad boy' of [European] contemporary dance" [press release]), it would be healthy for the Sydney dance scene, and beyond, if these views were publicly discussed rather than rumoured. Was there dancing? Will there be dancing?
It is critical, from time to time, to ask what constitutes dance and how it renews and extends and even perhaps limits itself—as in the 90s with the incorporation of a greater range of body regimes and technologies. Interviewed in Bodies of Thought: 12 Australian Choreographers (RealTime-Wakefield Press, 2014), choreographer Helen Herbertson says, "…there's such an enormous scope for dance to be applied. I almost feel like it's lost a kind of specificity of being about physicality… So I think we are slightly in danger of dance looking like it's just a kind of tool to be used. I'm waiting for a kind of re-flowering of really specific, particular detailed language."
Congratulations to Atlanta Eke and Jane McKernan and to Phillip Keir and his partners, Carriageworks and Dancehouse, for bravely supporting emergent choreography in whatever form it takes. Long may the Awards persist and, like many an art prize, controversially test our collective taste and judgment.
–
Carriageworks, Dancehouse and The Keir Foundation: Keir Choreographic Award, finals, Carriageworks, 17-19 July; Performance Space, SCORE, Carriageworks, Sydney, 1 Aug-7 Sept
RealTime issue #123 Oct-Nov 2014 pg. 29
© Keith Gallasch; for permission to reproduce apply to realtime@realtimearts.net