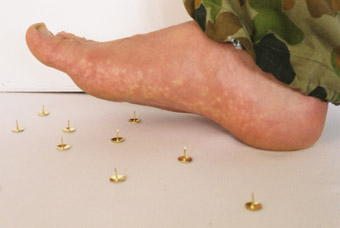 photo Heidrun Löhr
Wages of Spin
From the version 1.0 bunker, David Williams, one of the makers of A Certain Maritime Incident, which provocatively rewrote the verbatim theatre idiom and pulled huge audiences eager to chew over Australian evil, reflects on the motivation for the company's new show, The Wages of Spin.
The Wages of Spin charts both the War on Iraq and the culture wars. In poring over the documents from the war and its electoral aftermath, we were struck by two things. Firstly the outrage about the torture of kittens on a Sydney railway station makes national newspaper front pages, erasing ongoing revelations about Abu Ghraib abuses. Kitten torture is widely regarded as a more significant sign of catastrophic moral decline than the torture of Iraqis under the power of Coalition forces in 'free' Iraq. The kitten saga sucks all the media oxygen from the Abu Ghraib stories. We the people are happy to move on.
Secondly, we were struck that out of a year's worth of newspaper front pages, Delta Goodrem appears to be on every second one. Delta has cancer. Delta has romances. Delta is ditched. Meanwhile Falluja is being obliterated and the piles of uncounted Iraqi dead grow larger. These are obviously the real issues, and it's time political theatre got real. Some of us have been mugged by reality, and it's an uncomfortable feeling.
It's clear that no decent Australian citizen truly believes that Australia's good name has been dragged through the mud entering a war under false pretences, and then failing to adequately prepare for the peace. So we've got to get with the program. Performance makers have a responsibility to provide bang for buck. Can't be wasting taxpayers' money at a time like this. We'll need it for our boys on the front line, fighting for our freedom. In this 'real' context, freedom means compliance and democracy means silence. The silent majority are the only people worthy of citizenship, but only if they stay silent. We read between the lines in Gerard Henderson, Miranda Devine et al, and hear the call to shut up and let real Australians get on with the business of being comfortable, relaxed and proud.
Version 1.0 promise problems for the converted. As our dramaturg Paul Dwyer puts it attacking the hypocrisies of our representatives is "like money for jam." We have to find another bit of purchase on the slippery surface of the spin machine. Everyone knows that Australia went to war on a lie. But so what? Freedom and democracy are worth fighting for, aren't they? We are good people, aren't we?
We hope The Wages of Spin, like the plaintive meows of the kitten, gets under the skin. We think it's dark and dangerous, and completely not the show that we expected to make. Join us for the rollercoaster ride. There may be casualties.
version 1.0, The Wages of Spin, Performance Space, Sydney, May 20- June 5 Bookings 02 9698 7235; The Street Theatre, Canberra, July 20-30, bookings 02 6247 1223
RealTime issue #66 April-May 2005 pg. 41
© David Williams; for permission to reproduce apply to realtime@realtimearts.net