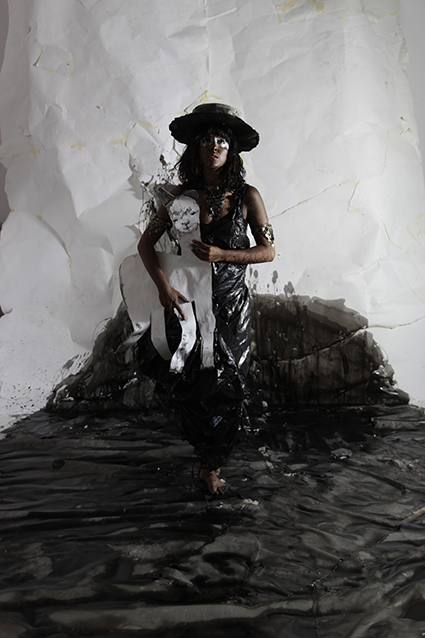 photo Fleur Elise Noble
Tina Torabi, From the Rubble, Perth Theatre Company and PICA
From the Rubble is a multi-disciplinary work that coheres around a confronting theme to produce a considered, touching whole. Inspired by stories of Australian journalist Sophie McNeill, director Melissa Cantwell eschews any traditional theatrical narrative arc to piece together a montage performance that echoes the tales and lives "from the rubble" of human conflict. Performers take their places alongside puppets of different scales, video footage, silhouettes and delicate tricks of lighting to portray the fractured nature of existence and memory when personal routines are devastated by warfare.
Mei Saraswati, Tina Torabi and Mikala Westall impress with their ability to convey the reactions of children and young people to the events around them—playing games in the rubbish in the streets while their parents are bombed as they shop. In larger than life projections of the characters being interviewed, the actors deliver compelling thoughts on memory, survival and hope. These interviews feel far too close to home—unmediated by interpreter, subtitles or unfamiliar accents; such a simple shift yields a strong impact.
Puppetry is prominent, the youngsters creating figures from the paper-strewn, derelict landscape—a simple bird, a toy house, a boat with a magical glowing sail or a disconcerting 'baby' that becomes a missile. While already impressive, the puppetry combines with video projections created by Fleur Elise Noble to take us further into the horrors of devastation. With projected architectural imagery aligning with paper stage structures to create a multi-dimensional landscape, Noble takes us inside the claustrophobic nightmare experienced by a family group of 52 people who silently hid in a house before fashioning a white flag and walking through the conflict in search of safe haven. She presents us with a silent old woman picking through rubble, finding fragments of images—the faces of loved ones—providing director Cantwell with the means to communicate feelings beyond everyday expression.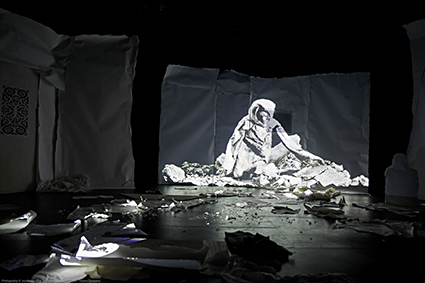 photo Jon Green
From the Rubble, Perth Theatre Company and PICA
A range of musical styles carries some of the more challenging moments. Saraswati's singing is employed strategically; combined with occasional simple string accompaniment it is heartrending in the sweetest way. Delivering situation updates, the voice of a reporter (Tracey Vo) in the war zone carries weight, the familiar authoritative tone enhancing a sense of verisimilitude. Lighting takes on many tasks, transforming the simple set with use of silhouettes, shadow play and subtler tones in between the many demands for clear video projection.
Suddenly the set partly collapses to reveal a cosy lounge-room with a television set on which the man who took responsibility for his family members and placed his hope in a makeshift white flag, speaks. The shock of seeing an image of the actual person is exacerbated by his fatherly concern for his children's reactions to losing their home and their hopes for the future. All the technical niceties of this incredible production come back to this sharing of human experience, the shock realisation of the depth of commonality that emerges from the rubble.
Perth Theatre Company with PICA, From the Rubble, concept, director Melissa Cantwell, visual designer Fleur Elise Noble, story inspiration Sophie McNeill, PICA Performance Space, Perth Cultural Centre, Northbridge, 16-28 March
RealTime issue #126 April-May 2015 pg. 40
© Nerida Dickinson; for permission to reproduce apply to realtime@realtimearts.net