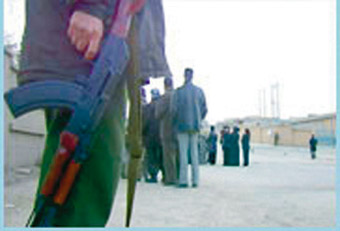 Laura Poitras, My Country, My Country
During his 6 years as Executive Director of the Melbourne International Film Festival, James Hewison made his mark on festival programming in a number of ways. Arguably his most significant achievement was the development of a discrete festival section focusing on films from the Middle East. Given the increasingly complex nature of politics in that region, Hewison's prescience has ensured the Homelands section of the festival has assumed an increasingly topical and urgent emphasis. As in previous years, the 2006 program provided some of the most provocative films on offer in the festival.
Evenly divided between documentary and fiction, a more modestly scaled but rigorous selection of 10 films comprised this year's program. Unsurprisingly, the American/Iraqi conflict provided both direct and oblique inspiration for filmmakers from the US and the Middle East.
In Prisoner 345, Lebanese director Abdallah El Binni provides a now chillingly familiar account of incarceration without charge at the Guantanamo Bay detention centre. El Binni makes a forceful argument for a probable case of mistaken identity in relation to Al Jazeera cameraman Sami al-Hajj and, in the course of his investigations, highlights the arguably unjust and unnecessarily punitive treatment of 'terrorist suspects'. El Binni's occasional 'Mike Moore' moments are mitigated by comprehensively compiled footage, alarming testimony from former Guantanamo detainees, and an effectively unsettling soundtrack.
James Longley's Iraq in Fragments explores the post-Saddam era from the perspectives of the 3 dominant Iraqi political forces. Focusing on a handful of individuals to represent Sunni, Shiite and Kurdish interests, and combining minimal narration with striking imagery, this impressionistic work owes a considerable debt to Werner Herzog's masterful take on the first Gulf War aftermath, Lessons of Darkness (1992). Despite the swag of awards the film has garnered, Iraq in Fragments is a spectacularly beautiful but ultimately incoherent document. Its failure to meaningfully illuminate the complexities of the Iraq situation is also exacerbated by the conspicuous and inexplicable absence of female perspectives.
In contrast, My Country, My Country, directed by compatriot US filmmaker Laura Poitras, provides a salutary lesson in rigorously structured, compelling documentary filmmaking. As with Longley, Poitras narrows her focus to an individual subject in order to illustrate the wider Iraqi socio-political context. The director follows Baghdad medico and aspiring Sunni politician Dr Riyadh as he administers free medical treatment, encourages his Sunni constituents to vote in the historic 2005 Iraq election and interacts with his large and exuberant family.
A quietly charismatic personality, Dr Riyadh experiences gradual disillusionment with his party and the electoral process, a feeling compounded by the relentless violence in Baghdad and the palpable suffering of fellow Iraqis. Canvassing the opinions of a range of other electoral players including US military personnel, UN staff, Kurdish militia, and private Australian contractors, Poitras paints a dispassionate but telling picture of the grim and conflicting realities of life after Saddam.
Tackling an earlier historical period while making explicit the 21st century parallels, Kurdish writer-director Hiner Saleem delivers an equally damning indictment of Iraq's longstanding ethnic tensions. At times a disconcerting combination of drama and black comedy, Kilometre Zero follows the exploits of young Kurdish soldier Ako (Nazmi Kirik). Drafted into Saddam Hussein's army during the 1988 Iran-Iraq conflict and ordered to repatriate a dead soldier to his family, Ako is forced to share the long journey with a defiantly anti-Kurd Arab driver.
The absurdities of a repatriation process impeded by relentless bureaucratic obfuscation provide some light relief, but Saleem's incisive script is ultimately more interested in interrogating the nature of his country's internal conflicts. The acerbic dialogue, no-frills shooting style, striking framing of the scorched Kurdish countryside and impressive performances made this film a rewarding, if sobering, experience.
A trio of films from Israeli filmmakers addressed the broad thematic of marginalisation. Tomer Heymann's Paper Dolls details the exploits of 5 transexual Filipinos living in Tel Aviv. Part of the foreign guest worker influx following the 2000 closure of the Israeli-Palestinian border, the men are dedicated aged care workers by day and flamboyant, lip-synching cabaret performers by night. Isolated from both their Filipino families and the broader Israeli community, and entirely dependent on their employers for visa status, these people occupy an increasingly tenuous position. As with his 2002 documentary, It Kinda Scares Me, Heymann's film is a rambling and occasionally self-indulgent affair, but is ultimately redeemed by the poignant plight and honesty of the 5 subjects profiled.
Filipino aged care workers also provide one of the central storylines in prominent Israeli director Eyal Halfon's ironically titled, multi-strand narrative What A Wonderful Day. This complexly plotted, Altmanesque, multi-character drama foregrounds the economic and socio-cultural difficulties facing illegal immigrants working in Israel. Anchored by the figure of Franco (Uri Gavriel), a tough, gambling addicted ex-cop facilitating the illegal sex worker trade, the travails of the keenly observed ensemble of characters make clear the unsavoury living conditions, discriminatory attitudes and emotional vicissitudes of illegal work. Managing the tonal shifts from grim realism to occasional humour with aplomb, Halfon's film was one of the most impressive of the Middle Eastern entries.
Where Halfon tackles the marginalisation of foreign workers in Israel, writer-director Yoav Shamir's Five Days details the predicament of Israeli 'foreigners' of another kind. Documenting the 2005 forcible 'disengagement' of Jewish settlers from the Gaza Strip, Shamir gets up close and personal to the key figures involved. Led by Noam Shapira, the settlers dig in for a long fight, elaborate military strategies unravel and ordinary Israeli citizens mobilize in support of the settlers. With virtually unlimited access to the man overseeing the disengagement, the genial and charismatic Major General Dan Harel, this fascinating documentary lays bare the ongoing tensions in Israeli society while revealing an unexpected side of armed forces operations.
Perhaps the most moving and inadvertently poignant film in the Homelands program was the French-Lebanese co-production A Perfect Day. Co-directed by Joana Hadjithomas and Khalil Joreige (the team also responsible for The Pink House and Amad), this beautifully restrained, Antonioniesque mother and son drama is above all a paean to contemporary Beirut. As the narcoleptic Malek (Ziad Saad) roams the streets avoiding his melancholic mother and searching for his estranged girlfriend, static images of the same intimate streetscape are contrasted with the frenetic energy of the downtown metropolis and spectacular aerial panoramas. Oblique conversations, long silences, expressive lighting and crucially, the signature image of a driver scanning the Beirut streets make A Perfect Day in equal parts family melodrama, 'city symphony' and urban road movie. This finely calibrated film, with its overt references to Lebanon's traumatic civil war past, was made even more resonant in the knowledge that during the course of the festival, Beirut suffered devastating damage in the latest eruption of Middle Eastern hostilities.
In the two Iranian contributions to the Homelands program, trenchant socio-political commentaries are embedded in the dilemmas of individual characters. It's Winter is a forceful depiction of a young mother's struggles when abandoned by her husband in a remote rural setting. Rafi Pitt's third feature addresses the specific difficulties of rural unemployment and the grim working conditions in Iran's urban manufacturing sector. Minimal dialogue, moody cinematography and sympathetic characterization make Pitt's film a modest but effective parable reflecting the social and economic challenges facing contemporary Iran.
The central protagonist in prominent Iranian director Majid Majidi's The Willow Tree is a blind, middle-aged academic. Rather than mining the conventional trope of the blind seer, Majidi restores vision to his main character, transforming him into an increasingly conflicted individual who cannot adjust to his rehabilitated status. Acclaimed for his award-winning works including Children of Heaven and The Colour of Paradise, Majidi's most recent film is something of a disappointment. Despite his trademark meditative pacing and visual lyricism, the overwrought tenor of the work and elliptical editing style make this a less satisfying film. Unlike the symbolic appeal of the blind and mute young protagonists in earlier works, there is a histrionic, self-indulgent quality to this older character's predicament that ultimately distances rather than engages the viewer.
In her recently published Cinemas of the Other: A Personal Journey with Film-Makers from the Middle East and Central Asia, Gönül Dönmez-Colin notes that The Willow Tree is a departure for Majidi in featuring a mature protagonist and a professional cast. Majidi is one of several directors featured in this comprehensive collection of interviews with both leading and less well-known filmmakers from the region. In addition to an incisive general introduction, Dönmez-Colin prefaces each interview with a short but informative overview of the director's work.
While the interview with Majidi deals predominantly with her Baran (2001), Dönmez-Colin's questions canvass a wide range of issues including the symbolic significance of child characters in the work of prominent Iranian directors, multiculturalism, the political climate and censorship issues in Iran. Iranian directors dominate the Middle-Eastern section of the book, which includes equally revealing interviews with pre-eminent filmmakers Abbas Kiarostami, Moshen Makhmalbaf and Jafar Panahi (the subject of a retrospective at this year's MIFF alongside the Homelands program).
Emphasising the importance of understanding filmmaking in relation to the socio-political context of individual countries, Dönmez-Colin's questions often investigate broader issues around cultural production, in addition to aspects of individual directorial style and content.
Despite some minor translation errors, a somewhat reader-unfriendly layout and the absence of an index, the extensive filmography and expansive series of interviews make Dönmez-Colin's book a valuable contribution to understanding the increasing influence of filmmakers from this region.
2006 Melbourne International Film Festival, July 26-Aug 13
Gönül Dönmez-Colin, Cinemas of the Other: A Personal Journey with Film-Makers from the Middle East and Central Asia, Intellect Books, Bristol, 2006.
RealTime issue #75 Oct-Nov 2006 pg. 21
© Rose Capp; for permission to reproduce apply to realtime@realtimearts.net