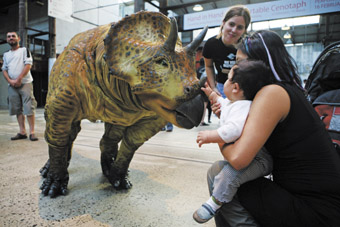 photo Prudence Upton
Erth dinosaur, designers Steve Howarth, Bryony Anderson , Chris Covich, Phil Downing, Clalre Milledge, Ferdinand Mana
TWO DINOSAURS ROAMED THE VAST FOYER FOR THE JOINT LAUNCH OF THE 2008 CARRIAGEWORKS AND PERFORMANCE SPACE PROGRAMS, A PALPABLY EXCITING MOMENT AFTER THE 2007 SETTLING IN FOR BOTH ORGANISATIONS. THE AMIABLE BEASTS ARE UTTERLY CONVINCING CREATIONS BY ERTH PHYSICAL & VISUAL THEATRE INC, ONE OF THE COMPANIES RESIDENT AT CARRIAGEWORKS.
Like big, slow puppies, the dinosaurs mingled with the large, if surprised crowd, making a brief appearance before leaving for Los Angeles—they were commissioned by the Los Angeles County Natural History Museum. A proud Scott Wright from Erth declares that the creatures are anatomically correct but is at pains to point out, because they're often asked about it, that the company has nothing to do with the multi-million dollar Walking with Dinosaurs show. Wright is emphatic, these are human-driven body puppets; look, no animatronics!
Festivals at CarriageWorks in 2008 include Platform 1 Hip Hop Festival, Sydney Writers' Festival, the return of Underbelly public arts lab + festival (after its successful celebration of underground and emerging artists in 2007), the Sydney Children's Festival and the second Destination Film Festival, curated by Megan Spencer. Synergy Percussion will present two concerts (one of Reich and Xenakis compositions, the other with Swiss drummer Fritz Hauser and sound designer Bob Scott) across the year, and Sydney Dance Company three productions with new works by Meryl Tankard, London based choreographer Rafael Bonachela and New York-based Aszure Barton. The year's program also includes young experimental theatre company The Rabble in Salome and newly resident company Force Majeure in a return season of their Sydney and Adelaide Festival hit, The Age I'm in.
The Performance Space program is well under way. Soon the space presents Experimenta Playground [RT 81, p34], the biennial of media art, ReelDance Festival 2008 [see page 22], Back from Front, a major new dance work from Dean Walsh [p33] and Branch Nebula's Paradise City [on its Mobile States national tour after its trip to South America]. In the winter program there's a new dance work, Ground Up, from Bernadette Walong, inspired by the Rainbow Serpent, the Live Festival of works in development with the special appearance of London's Pacitti Company, and a life-sized house created by a Matthieu Gallois as part of an installation program titled Makeshift, Suspended House, and Habits & Habitat.
Visual and sound artists David Haines and Joyce Hinterding will present their large-scale sculptural installation, Anechoic Chamber, in the Performance Space's Spring program. The chamber will be properly anechoic—totally sound-proof and devoid of resonance. Townsville's Dance North, after their successful collaboration with Splinter Group on the acclaimed Road Kill, will perform Underground (set on a subway in rush hour and slipping into a dream world) and Tess de Quincey [p32] her new work, Triptych, focusing on air, electricity and water and using large projections wrapped around the audience.
It's a big year for CarriageWorks and Performance Space, offering programs which will maintain continuity, sustain innovation and make the future. The venue will be busier than ever, the new Anna Schwartz Gallery (to open with a major Mike Parr exhibition later in the year) will add yet another dimension to this new home to the contemporary arts. RT
www.cariageworks.com.au
www.performancespace.com.au
RealTime issue #84 April-May 2008 pg. 37
© RealTime ; for permission to reproduce apply to realtime@realtimearts.net