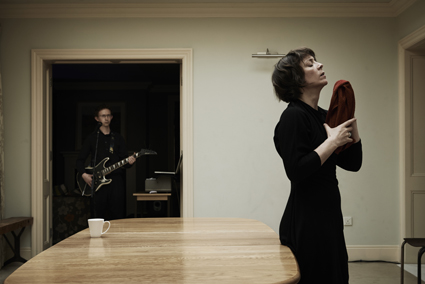 photo Ros Kavanagh
Tom Lane, Katherine O'Malley, Wake, Chamber Made Opera
What looks like a coffin but sounds like a musical instrument? Rory Grubb's original electric ceramophone, as seen in Chamber Made Opera's Irish-Australian production Wake as part of Limerick City of Culture.
What first appears to be a rather macabre white coffin, funereally draped outside the back garden patio door of an exquisite Limerick family home, later reveals itself to be embedded with tuned ceramic pots and clever electronic components. The metaphoric significance of flowerpots embedded into a coffin is quite poignant, if you stop and think about it. But apparently that was all my own projection, as their functional raison d'être, invented by Grubb, who plays them, is genuinely acoustic.
That's the thing about this open, subtle show—directed by Maeve Stone in association with an eclectic pantheon of collaborators—it offers space for the spectator to make his or her own associations, and is not at all pushy. It creeps up on you and suddenly you find yourself in its grip, all emotional, and wondering 'how did that happen?'
When you set foot across the threshold of this dream home in South Circular Road, you are invited to take your shoes off and roam freely around the entire ground floor, to sink into the sofas, listen to the grand piano being played nonchalantly by Fionnuala Gygax, or hang out with the sombre Katherine O'Malley in her slo-mo sandwich making (you'll be eating them later, as at any wake you have ever attended). Here, there are clever video projections, by the staircase, on the ceiling, in the media room, all by Australian Christie Stott. There, on the table in the drawing room is a pile of sympathy cards, all addressed to "The Ryan Family."
We accompany the bereaved O'Malley on her thoughtful, pathos-imbued domestic preparations for a familiar ritual that is more than likely about to take place. It feels like being in a hyper-real movie at points. Even though as we wander around the beautiful home at our own volition, we wonder, is this it? Will anything happen? Grubb plays a bicycle wheel like a cello. Tom Lane dons his electric guitar.
In our own time, all 25 of us one by one take a seat around the large sandwich-making table and O'Malley, the woman of the house, executes a subtle choreography around and on top of it, sometimes catching it and shaking it. She locates a crumpled piece of paper with her personal, lowly uttered speech written out on it. Okay, she has to deliver this. Reluctantly, accompanied by a few bars from Lane on electric guitar, she articulates her fragmented few words about her mother, whom she had, she says, for 39 years of her life. The ceramophone kicks into action outside the window.
Then the bit we were all hoping would happen, to bring this poignant ritual to a close—we are offered sandwiches, whiskey and port.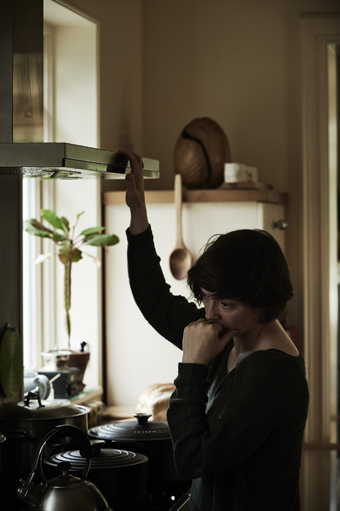 photo Ros Kavanagh
Katherine O'Malley, Wake, Chamber Made Opera
The eternal topic of death can be approached in a number of different ways. While over at the Galway International Arts Festival, the play Ballyturk is wowing crowds with a high-octane, frantic, hyper-charged Enda Walsh attack on the subject, here in a leafy Limerick suburb, Chamber Made Opera is adopting a subtle, less is more strategy to deal with the same unavoidable fact of our mortality.
The Australian company, imported by Limerick City of Culture to collaborate with an array of talented Irish artists, manifests its mission statement of re-inventing our bellowing, big-lunged impressions of what opera can be, with quirky little instruments, the unsaid, heartfelt mutterings and careful installations and interventions in an actual family home. Catch this gorgeous experience if you can.
This review originally appeared in the online magazine Vulgo and is reproduced with permission.
Limerick City of Culture Commission: Chamber Made Opera, Wake, concept, director Maeve Stone [IRE], concept John Rodgers [AUS], performer, choreographer Katherine O'Malley, composer, sound design Tom Lane [IRE], video design Christie Stott [AUS], dramaturg Tamara Saulwick [AUS], musician, sound design Roy Grubb [IRE]; Limerick, Ireland, 15-20 July
RealTime issue #123 Oct-Nov 2014 pg. 44
© Deirdre Mulrooney; for permission to reproduce apply to realtime@realtimearts.net