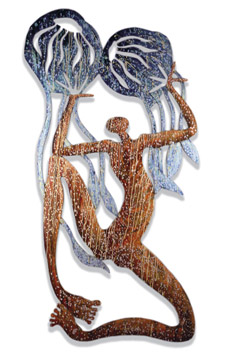 photo David Campbell
Arone Meeks, Irukanji, 2004, Sculpture
Along with one of the fastest urban growth rates in Australia, Cairns has developed a cultural sophistication that is fuelled by a creative mix of colliding and colluding cultures. This continues to change the face of far north Queensland's cultural, business and civic hub. Strong influences from traditional and urban Aboriginals along with Torres Strait Islanders, Melanesians and Pacific people mix with the remnants of local pioneering dynasties and droves of young families migrating from southern states. With over 2 million tourist visitors each year, Cairns holds a place as one of Australia's top 5 gateways. All this generates activities that tessellate into a rich social and cultural mosaic.
A significant contemporary visual arts culture has emerged with professional players—KickArts operating impressive galleries at the new Centre of Contemporary Arts, the Tanks Art Centre's wonderfully robust and atmospheric interiors, The Cairns Regional Gallery's converted neo-Georgian spaces and the grandeur of the Cairns Convention Centre. The latter has acquired a remarkable collection of large-scale contemporary art through the Queensland State Government's Art Built-in policy which has run for the last decade or so.
In this political climate, artists are either borne along with the sweeping tides of change, or are activists speaking out about indiscriminate and inappropriate development. There are many artists working with a localised culture and lifestyle, a few with sustainable careers. National and international interest is bestowed upon those artists whose work has some resonance with current issues, and who've developed networks with industry peers. Three such artists are Arone Meeks, Zane Saunders and Samuel Tupou. Meeks and Saunders are urban Aboriginal artists and Tupou has Pacific Islander heritage.
Arone Meeks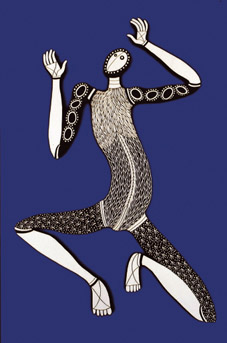 photo David Campbell
Arone Meeks, Bird Totem, 2003, Sculpture
Arone Meeks was born in Sydney in 1957, but grew up in Cairns before attending art school in Sydney. He was a founding artist with the Boomalli Aboriginal Artists Coorporation in Sydney and initiated the annual NAIDOC exhibition at the Tanks Art Centre in Cairns, creating dialogue between communities and showcasing the work of Indigenous artists. Meeks has been awarded significant fellowships including the first Indigenous Australian residency at Cite des Arts in Paris.
Meeks grew up with his initiated grandfather and spent time with one of the North's most celebrated Indigenous artists, Thancoupie, whom he describes as "Athoy"—spiritual mother. He has lived with the Mornington Island community, finding strength in its social foundation.
He produces paintings, sculpture and prints that express a passion for country, spirituality, sexuality and politics. Meeks' path is one that redefines his connections through art mediums. The spiritual is actualised through art and his response is one of "working it through" an intuitive process. He is able to express a unique spiritual response to country that has a harmony in connecting disparate worlds. His subjects are sourced from nature and are represented with both cultural responsibility and the expressiveness of contemporary art. Arone's Indigenous links are with the Kokomidiji of Cape York, around Laura, the site of renowned rock art galleries filled with graceful drawings of quinkans (spirits). Laura is known as a place of Aboriginal magic and sorcery; it is also the location for the biannual Angnarra Aboriginal Dance Festival. Walking through this country has a palpable effect on the artist. He feels a physical reaction to sacred country that helps forge kinship relationships, a sense of self and "renewing the dreaming."
Meeks' practice is based intuitively on the shifting definition of cultural identity. It has a connection to dreams and experiences that have touched his soul. Sexuality also has an influence and is conceptualised as part of the human matrix. As an urban Aboriginal who inhabits a world in proximity to traditional tribal lands and communities, he describes his practice by saying, "I am hunting for lost pieces of myself." It is a process where imagination comes from within and is possibly an inexhaustible source for his art. For Arone Meeks the process of painting is great therapy for defining self and existence. He finds humanity in the gesture of the mark and this is evident in much of his work. His art objects are like his children, sent off into the world, and like children the finished objects take their time to reveal their full consequences to him.
Zane Saunders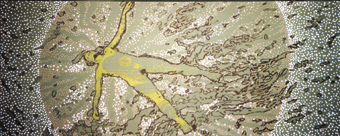 photo David Campbell
Zane Saunders, Call, 2004, Acrylic on Canvas
Zane Saunders was born in Cairns in 1971. He identifies with the Butchulla (Bajala) of Fraser Island some 1500km to the south. He grew up in Kuranda and went to school in Townsville. His mother encouraged a return to Cairns so that he could attend art school at Cairns TAFE. Saunders has a Gungu Yimithir language name given by a Hopevale elder. The name—Ngamu Mangal Bungal—means "clever hands." As a community ranger for Angnarra at Laura, he was a delegate to the International Rock Art Symposium in Alice Springs. Although he has found it challenging to survive as an artist, he has works in the collections of the Australian National Gallery, Queensland Art Gallery, National Gallery of Victoria and an impressive string of state, corporate and private collections.
Saunders' strength in drawing is evident in much of his painting and printmaking. His practice of developing surfaces and colour, while composing forms with layers of symbolism is informed by visions and ideas. In the last year he has begun to present short performances in conjunction with exhibition openings or mixed bill dance events. These have incorporated shamanistic characters informed by traditional Aboriginal dance and stories. His interest in performance is to find ways to include the audience directly in the experience. This investigation has been fuelled by the desire to learn more skills and have a range of possible responses to particular situations. This is indicative of the way he seeks challenges as an artist. For Saunders the process of creating new work is to engage with new mediums. This keeps the act of art-making fresh and challenges him to develop different skills.
Zane Saunders' concerns are about the collision of cultures and beliefs. This includes politics in the community and the effects of colonisation. He interrogates social barriers around belief, and the shifting notion of religion and spirituality. His current work has progressed to referencing human form, identity, social values and a sense of spirit and religion. Performance brings his practice closer to the physical body in an investigation of what makes us the same or different. His ultimate responsibility is to carry a message about spiritual connection, for he believes art is an educational process that offers us spiritual strength.
Samuel Tupou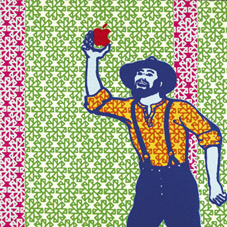 photo David Campbell
Samuel Tupou, Candy Apple, 2005, Screenprint on Perspex
Samuel Tupou was born in New Zealand in 1976. He arrived in Australia in 1982, living in the Northern Territory. After completing visual art studies in Townsville and Lismore, he moved to Cairns in 1998. He has Tongan heritage.
Tupou came to sell T-shirts in the tourism frenzy of Cairns. In stark contrast to the other graduates from art school who 'moved to Melbourne', he was attracted by the tropical climate that reminded him of the area around Gove, NT where he grew up.
His artworks are generally silk-screen prints on perspex. Derived from an 80s retro style, they are influenced by street advertising. The work fits into commercial environments and has a functionality ideally suited to the often dank, humid conditions of the tropics. Tupou's works are immediately accessible; employing the familiar 'found' imagery and symbols, as well as simple materials used as substrate. Perspex and vinyl foam are less susceptible to mould and do not require framing—making them the perfect art materials for rainforest homes. Works from his 2005 KickArts exhibition New Tapa were acquired for the collections of the Australian National Gallery and Cairns Regional Gallery.
Influences on Tupou are everyday encounters with symbols and patterns. Many are appropriated from the internet, from magazines or CD covers, removed from their original context and layered in varying degrees of complexity through his screen-printing process. He works from an idea, which starts to take form through digital 'sketches' using Photoshop. The idea can sometimes start as a title that then requires searching for images, or fragments from his bank of images come together to create a new work.
Using traditional Tongan tapa patterns found in books brought to Australia by his grandmother, a background is developed over which figurative symbols and clichéd imagery in high key colour is added. This creates enough tension and interest to take the work to other reference points. There is ambiguity in his work around cultural identity and 'bi-culturalism.' For Tupou a work can start quite innocently as a collection of self-reflective mementos and reminders of youthful experiences. He is quite happy for the work to be open to interpretation. Finding new contexts for appropriated advertising imagery can also extend the universal mythologies associated with them. Like the ever-popular Pop Art style, Sam Tupou believes tapa patterns give his work currency well into the future.
–
Zane Saunders' exhibition Lone Guinea Fowl opens April 14, KickArts lower gallery; Arone Meeks' solo exhibition opens May 5 in KickArts upper gallery, Centre of Contemporary Arts, 96 Abbott St, Cairns. www.kickarts.org.au; Samuel Tupou's New Tapa-Summer Collection, showed at IMA, Brisbane, Dec 13, 2005-Jan 28, 2006.
RealTime issue #71 Feb-March 2006 pg. 41
© Russell Milledge; for permission to reproduce apply to realtime@realtimearts.net